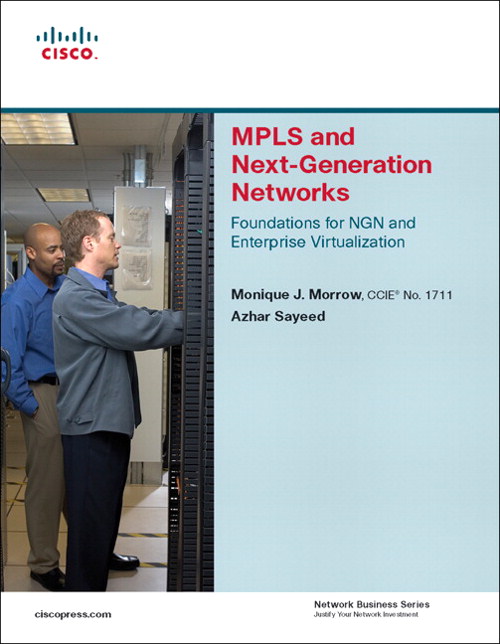 Register your product to gain access to bonus material or receive a coupon.
MPLS and Next-Generation Networks: Foundations for NGN and Enterprise Virtualization
eBook (Watermarked)
Your Price: $25.59
List Price: $31.99

This PDF will be accessible from your Account page after purchase and requires the free Adobe® Reader® software to read it.

The eBook requires no passwords or activation to read. We customize your eBook by discreetly watermarking it with your name, making it uniquely yours.
Copyright 2007
Dimensions: 7" x 9"
Pages: 432
Edition: 1st
eBook (Watermarked)
ISBN-10: 1-58705-422-1
ISBN-13: 978-1-58705-422-8
Understand the business case for deploying MPLS-based services and solutions
Provides network managers and architects a precise MPLS primer
Defines MPLS service problems and their associated solutions
Includes ROI models for MPLS-based solutions
Discusses pros and cons of various options for each MPLS service
Network managers often question the value that MPLS brings to their business environment. This book provides them with a precise guide for evaluating the benefits of MPLS-based applications and solutions. The book guides the network manager through the business case for MPLS by exploring other technology alternatives, including their applications, benefits, and deficiencies. Understanding the service creation process as the basis for MPLS-based solutions is pivotal when describing the benefits that MPLS offers. Furthermore, the book explores MPLS technology and its components, providing an overview of the architecture necessary to reap the true advantages that MPLS brings to a service provider or enterprise network. These advantages include new revenue opportunities and a total cost of ownership reduction that positively impacts a company's bottom-line. ROI models and case study examples further confirm the business impact and help decision-makers create a blueprint for MPLS service creation. Specific aspects such as security, network management, advanced services and the future of the technology complete the book, helping decision makers assess MPLS as a candidate for implementation. In short, you can use this comprehensive guide to understand and build a business case for the inclusion of MPLS in your network.
Table of Contents
Contents
Introduction
Part I The Business Case for MPLS
Chapter 1 Dynamics of Service Creation and Deployment
Industry Dynamics and Challenges
What About the Enterprise Market?
Service Provider Business Engineering
Business Drivers and Requirements
Enterprise Customers
Enterprise Motivations for Migrating to Layer 3 Services
Service Providers and Enterprise: The Battle of Outsourcing Versus Do-It-Yourself
Do-It-Yourself
Enterprise Segmentation
Central Services with an Enterprise Campus
Subscribing to a Managed Layer 3 MPLS VPN Service
The Case for Building VPNs—Layer 2 or Layer 3
Existing Technologies—Frame Relay, ATM, and IP-Based Networks: What Can They Solve?
Frame Relay
Asynchronous Transfer Mode
The Internet Protocol
Service Examples
Summary
Chapter 2 The Scope of Service Types
Overview of Layer 2 Services
Ethernet Services
Next-Generation Network Overview and Interworking Functions
Layer 3 Services
Remote Access
Value-Added Services
Summary
Part 2 The Technical Case for MPLS
Chapter 3 Technology Overview: Making the Technology case for MPLS and Technology Details
Available Technologies and Options
Why MPLS? (High-Level Detail)
MPLS and Quality of Service
Differentiating Service with Traffic Engineering
Multicast
Benefits
MPLS Technology Details
Layer 3 VPNs
Peer-to-Peer Model
VRF and Its Function
MPLS Label Stack Role
Topologies
Carrier Supporting Carrier and Inter-Provider Autonomous Systems
Traffic Engineering
DiffServ
Layer 2 VPNs
Summary
Part 3 MPLS Services and Components
Chapter 4 Layer 2 VPNs
Taxonomy
Introducing AToM
Pseudowire Systems Architecture
Packet Forwarding
Layer 2 Transport Types (Like-to-Like)
Ethernet Service
Link Layer Service
Frame Relay Service
ATM Service117
Configuration of Pseudowires
Layer 2 Interworking
Interworking Modes
Interworking Models and Applications
Virtual Private LAN Service
Considerations for VPLS
Provisioning and Signaling
LDP Signaling
BGP Signaling
Benefits of L2VPNs
Inter-AS L2VPNs
Supported IETF Standards
Summary
Standards and References
Part 4 Layer 3 VPNs1
Chapter 5 Technology Overview
Separation of Routing Information Between VPNs
Constrained Distribution of Routing Information
Forwarding Packets Through the Network Core
Packet Flow Through the Network
Corporate Intranet
Corporate Extranet
Internet Access
Dedicated per-VPN Internet Access
Shared PE—Internet and VPN
Dedicated PE—Shared Backbone
Managed Central Service—Shared Internet Access
Scaling MPLS VPNs to Multi-AS, Multi-Provider, and Hierarchical Networks
Inter-AS VPNs
Carrier Supporting Carrier
Heterogeneous Networks
Managed Central Services
Making Applications and Services VRF-Aware
VRF-Aware Address Management
Supported IETF Drafts
Summary
Standards and References:
Chapter 6 Remote Access and IPSec Integration with MPLS VPNs
Technology Overview
Dial Access
Individual Access
CE Dial Backup Access
Dial-Out Access
DSL Access
Routed Encapsulation
Bridged Encapsulation
Cable Access
PE-CE Routing Protocols
Scalability and Network Convergence for Remote Access
Summary
Chapter 7 MPLS Security
Security and NGN
Security Overview and MPLS
MPLS VPN and Security
Attack Scenarios
Internet/Extranet and MPLS Security
IPSec
MPLS VPN (BGP VPN) Security Issues and Options
Layer 2 and Unmanaged VPN Service Considerations
Design Option Examples
Carrier's Carrier Network and Inter-Autonomous Considerations
Customer Edge Router Security Considerations
Overall Best Practice Recommendations
Summary
Standards and References
Chapter 8 Traffic Engineering
Problem Statement
Technology Overview
IGP Extensions and Distribution of Constraints
Signaling of TE Tunnels
Forwarding Packets Through the Network Core
Sequence of Operation
TE Tunnel Maintenance
TE Applications and Examples
Intra-Area TE
Inter-Autonomous System TE
Quality of Service and TE
Traffic Handling of Delay-Sensitive Traffic
Protection and Restoration
Link Protection
Node Protection
Path Protection
Usage Scenarios
Scalability of Protection Mechanisms
Scaling MPLS TE
MPLS Traffic Engineering and Multicast
Standards and References
Summary
Chapter 9 Quality of Service
Problem Statement
IP QoS
QoS Building Blocks
IntServ
DiffServ
Packet Handling
The Hybrid Model
MPLS QoS
MPLS DiffServ
Traffic Engineering and DiffServ
DiffServ-Aware Traffic Engineering
MPLS QoS Service Examples
Point-to-Cloud Model
Olympic Service Model
Traffic-Engineered Voice Model
Virtual Leased Line
On-Demand QoS
MPLS and IntServ
Traffic Flows to MPLS DiffServ Mapping
Tunnel-Based Admission Control
Standards and References
Summary
Chapter 10 Mutlicasts and NGNs
Problem Statement
MPLS Multicast VPN Overview
Multicast VPN Operational Details
MPLS Multicast VPN Applications and Examples
Multicast Security and Management Considerations
Standards and References
Summary
Chapter 11 IPv6 and MPLS
Problem Statement
Technology Overview
IPv6 PE
Multiprotocol BGP Extensions
Packet Path
IPv6 VPNs (6VPE)
Route Tagging
Virtual Routing and Forwading with IPv6
Packet Path
The Coexistence of IPv4 L3VPN and IPv6 L3VPN
IPv6 Network Core
Inter-AS Networks for 6PE and v6VPNs
IPv6 QoS
MPLS QoS for IPv6
Management and IPv6
Summary
Part 4 Bringing Your MPLS Plan Together
Chapter 12 Network Management and Provisioning
Problem Statement
Fault Management, Configuration Management, Accounting Management, Performance Management, and Security Management
MPLS OAM
VRF-Aware ICMP Ping and LSP Ping/Trace Mechanisms
Dealing with Equal Cost Multipaths
Noncompliant Routers
LSR Self-Test
Virtual Circuit Connection Verification and Bidirectional Forwarding Detection
A Word About Interworking OAM
Any to Any
Local Switching
Encapsulation Types and Modes
ATM over MPLS
ATM N:1 Mode
ATM 1:1 Mode
AAL5 SDU Mode
AAL5 PDU Mode
Frame Relay over MPLS
Generic Failure Types
Interface Failure
Pseudowire Failures
Tunnel LSP Failures
Configuration Management for MPLS-Based Networks
Accounting for MPLS-Based Networks
Performance Management for MPLS-Based Networks
Security Management for MPLS-Based Networks
Per-VPN Management
IP Addressing
VRF-Aware Network Address Translation
Supported MIBs
Standards and References
Summary
Chapter 13 Design Considerations: Putting it All Together
VRF-Aware Feature
IP Addressing: VRF-Aware DHCP
DHCP Deployment Examples
Deployment Guideline Summary
VRF-Aware Network Address Translation
NAT-PE System Flow
Inside-to-Outside Packet Flow
Outside-to-Inside Packet Flow
Deployment Guideline Summary
Management, Provisioning, and Troubleshooting
Equipment Scalability Versus Network Scalability
Network Element Characteristics
Network Parameters
Network-Wide Scale
Management and Scalability
Layer 2 VPNs—What to Expect
Same Grade of Service
Planning and Sizing
Density
Management
Summary
Chapter 14 MPLS Case Studies
The Background on Equant
Equant Business Drivers
Equant Services
VPN Bridge Case Study
Background
Customer Issues/Objectives
The Account Team's Keys to Success
Case Study Conclusion
Summary
Chapter 15 The Future of MPLS
Integrating IP and Optical Networks (Transport Area)
How Does it Work?
Bandwidth On-Demand Service
Challenges Faced with G-MPLS and UCP
Future Layer 3 Services
Label-Switched Multicast
Dynamic Encrypted VPNs
Content-Based Services
Adaptive Networks for Integration of Voice and Video
Security Enhancements
Future Layer 2 Services
ATM-MPLS Interworking
Layer 2 VPNs Across Multiple Provider Networks
VPLS Service Across a Non-Ethernet Last Mile
Future Enhancements in Provisioning and Management
Adaptive Self-Healing Networks
Increasing Enterprise Deployment of MPLS
Summary
So, What Is the Future of MPLS?
A View from George Swallow
A View from Adrian Farrell
Index
Other Things You Might Like



eBook (Watermarked) $38.39