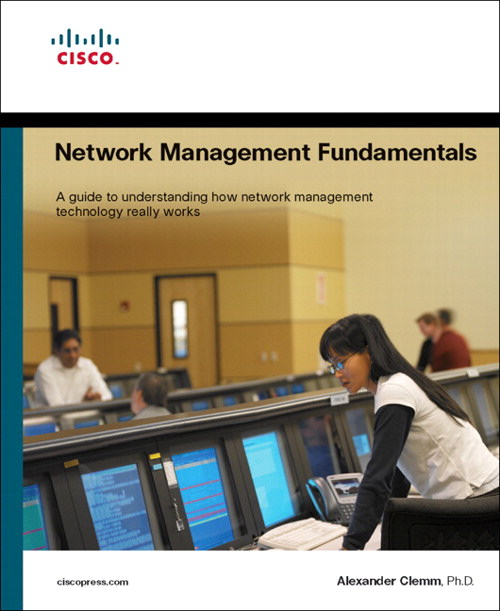 Register your product to gain access to bonus material or receive a coupon.
Network Management Fundamentals
eBook (Watermarked)
Your Price: $38.39
List Price: $47.99

This PDF will be accessible from your Account page after purchase and requires the free Adobe® Reader® software to read it.

The eBook requires no passwords or activation to read. We customize your eBook by discreetly watermarking it with your name, making it uniquely yours.
Copyright 2006
Dimensions: 7-3/8" x 9-1/8"
Pages: 552
Edition: 1st
eBook (Watermarked)
ISBN-10: 1-58705-280-6
ISBN-13: 978-1-58705-280-4
Network Management Fundamentals
A guide to understanding how network management technology really works
Alexander Clemm, Ph.D.
Network management is an essential factor in successfully operating a network. As a company becomes increasingly dependent on networking services, keeping those services running is synonymous with keeping the business running. Network Management Fundamentals provides you with an accessible overview of network management covering management not just of networks themselves but also of services running over those networks.
Network Management Fundamentals explains the different technologies that are used in network management and how they relate to each other. The book focuses on fundamental concepts and principles. It provides a solid technical foundation for the practitioner to successfully navigate network management topics and apply those concepts to particular situations.
The book is divided into four parts:
Part I provides an overview of what network management is about and why it is relevant. It also conveys an informal understanding of the functions, tools, and activities that are associated with it.
Part II examines network management from several different angles, culminating in a discussion of how these aspects are combined into management reference models.
Part III provides more detail into different building blocks of network management introduced in Part II, such as management protocols, management organization, and management communication patterns.
Part IV rounds out the book with a number of management topics of general interest, including management integration and service-level management.
Dr. Alexander Clemm is a senior architect with Cisco®. He has been involved with integrated management of networked systems and services since 1990. He has provided technical leadership for many leading-edge network management development, architecture, and engineering efforts from original conception to delivery to the customer, and he has also served as technical program co-chair of the 2005 IFIP/IEEE International Symposium on Integrated Network Management.
Grasp the business implications of network management
Examine different management reference models, such as Fault, Configuration, Accounting, Performance, and Security (FCAPS)
Understand the building blocks of network management and their purposes
Assess the implications and impact of management technologies and put them in perspective
Prepare for decisions about network management that require an understanding of the "big picture"
This book is part of the Cisco Press® Fundamentals Series. Books in this series introduce networking professionals to new networking technologies, covering network topologies, example deployment concepts, protocols, and management techniques.
Category: Networking
Covers: Network Management
Table of Contents
Introduction
Part I Network Management: An Overview
Chapter 1 Setting the Stage
Defining Network Management
Analogy 1: Health Care—the Network, Your Number One Patient
Analogy 2: Throwing a Party
A More Formal Definition
The Importance of Network Management: Many Reasons to Care
Cost
Quality
Revenue
The Players: Different Parties with an Interest in Network Management
Network Management Users
Network Management Providers
Network Management Complexities: From Afterthought to Key Topic
Technical Challenges
Organization and Operations Challenges
Business Challenges
Chapter Summary
Chapter Review
Chapter 2 On the Job with a Network Manager
A Day in the Life of a Network Manager
Pat: A Network Operator for a Global Service Provider
Chris: Network Administrator for a Medium-Size Business
Sandy: Administrator and Planner in an Internet Data Center
Observations
The Network Operator's Arsenal: Management Tools
Device Managers and Craft Terminals
Network Analyzers
Element Managers
Management Platforms
Collectors and Probes
Intrusion Detection Systems
Performance Analysis Systems
Alarm Management Systems
Trouble Ticket Systems
Work Order Systems
Workflow Management Systems and Workflow Engines
Inventory Systems
Service Provisioning Systems
Service Order–Management Systems
Billing Systems
Chapter Summary
Chapter Review
Chapter 3 The Basic Ingredients of Network Management
The Network Device
Management Agent
Management Information, MOs, MIBs, and Real Resources
Basic Management Ingredients—Revisited
The Management System
Management System and Manager Role
A Management System's Reason for Being
The Management Network
Networking for Management
The Pros and Cons of a Dedicated Management Network
The Management Support Organization: NOC, NOC, Who's There?
Managing the Management
Inside the Network Operations Center
Chapter Summary
Chapter Review
Part II Management Perspectives
Chapter 4 The Dimensions of Management
Lost in (Management) Space: Charting Your Course Along Network Management Dimensions
Management Interoperability: "Roger That"
Communication Viewpoint: Can You Hear Me Now?
Function Viewpoint: What Can I Do for You Today?
Information Viewpoint: What Are You Talking About?
The Role of Standards
Management Subject: What We're Managing
Management Life Cycle: Managing Networks from Cradle to Grave
Planning
Deployment
Operations
Decommissioning
Management Layer: It's a Device… No, It's a Service… No, It's a Business
Element Managment
Network Management
Service Management
Business Management
Network Element
Additional Considerations
Management Function: What's in Your Toolbox
Management Process and Organization: Of Help Desks and Cookie Cutters
Chapter Summary
Chapter Review
Chapter 5 Management Functions and Reference Models: Getting Organized
Of Pyramids and Layered Cakes
FCAPS: The ABCs of Management
F Is for Fault
C Is for Configuration
A Is for Accounting
P Is for Performance
S Is for Security
Limitations of the FCAPS Categorization
OAM&P: The Other FCAPS
FAB and eTOM: Oh, Wait, There's More
How It All Relates and What It Means to You: Using Your Network Management ABCs
Chapter Summary
Chapter Review
Part III Management Building Blocks
Chapter 6 Management Information: What Management Conversations Are All About
Establishing a Common Terminology Between Manager and Agent
MIBs
The Managed Device as a Conceptual Data Store
Categories of Management Information
The Difference Between a MIB and a Database
The Relationship Between MIBs and Management Protocols
MIB Definitions
Of Schema and Metaschema
The Impact of the Metaschema on the Schema
A Simple Modeling Example
Encoding Management Information
Anatomy of a MIB
Structure of Management Information—Overview
An Example: MIB-2
Instantiation in an Actual MIB
Special MIB Considerations to Address SNMP Protocol Deficits
Modeling Management Information
Chapter Summary
Chapter Review
Chapter 7 Management Communication Patterns: Rules of Conversation
Layers of Management Interactions
Transport
Remote Operations
Management Operations
Management Services
Manager-Initiated Interactions—Request and Response
Information Retrieval—Polling and Polling-Based Management
Configuration Operations
Actions
Management Transactions
Agent-Initiated Interactions: Events and Event-Based Management
Event Taxonomy
The Case for Event-Based Management
Reliable Events
On the Difference Between "Management" and "Control"
Chapter Summary
Chapter Review
Chapter 8 Common Management Protocols: Languages of Management
SNMP: Classic and Perennial Favorite
SNMP "Classic," a.k.a. SNMPv1
SNMPv2/ SNMPv2c
SNMPv3
CLI: Management Protocol of Broken Dreams
CLI Overview
Use of CLI as a Management Protocol
syslog: The CLI Notification Sidekick
syslog Overview
syslog Protocol
syslog Deployment
Netconf: A Management Protocol for a New Generation
Netconf Datastores
Netconf and XML
Netconf Architecture
Netconf Operations
Netflow and IPFIX: "Check, Please," or, All the Data, All the Time
IP Flows
Netflow Protocol
Chapter Summary
Chapter Review
Chapter 9 Management Organization: Dividing the Labor
Scaling Network Management
Management Complexity
Management Hierarchies
Management Styles
Management Mediation
Mediation Between Management Transports
Mediation Between Management Protocols
Mediation of Management Information at the Syntactic Level
Mediation of Management Information at the Semantic Level
Stateful Mediation
Chapter Summary
Chapter Review
Part IV Applied Network Management
Chapter 10 Management Integration: Putting the Pieces Together
The Need for Management Integration
Benefits of Integrated Management
Nontechnical Considerations for Management Integration
Different Perspectives on Management Integration Needs
The Equipment Vendor Perspective
Integration Scope and Complexity
Management Integration Challenges
Managed Domain
Software Architecture
Quantifying Management Integration Complexity
Approaches to Management Integration
Adapting Integration Approach and Network Provider Organization
Platform Approach
Custom Integration Approach
Containing Complexity of the Managed Domain
Chapter Summary
Chapter Review
Chapter 11 Service Level Management: Knowing What You Pay For
The Motivation for Service Level Agreements
Identification of Service Level Parameters
Significance
Relevance
Measurability
Defining a Service Level Agreement
Definition of Service Level Objectives
Tracking Service Level Objectives
Dealing with Service Level Violations
Managing for a Service Level
Decomposing Service Level Parameters
Planning Networks for a Given Service Level
Service Level Monitoring—Setting Up Early Warning Systems
Service Level Statistics—It's Fingerpointin' Good
Chapter Summary
Chapter Review
Chapter 12 Management Metrics: Assessing Management Impact and Effectiveness
Network Management Business Impact
Cost of Ownership
Enabling of Revenues
Network Availability
Trading Off the Benefits and Costs of Network Management Investments
Factors that Determine Management Effectiveness
Managed Technology—Manageability
Management Systems and Operations Support Infrastructure
Management Organization
Assessing Network Management Effectiveness
Management Metrics to Track Business Impact
Management Metrics to Track Contribution to Management Effectiveness
Developing Your Own Management Benchmark
Assessing and Tracking the State of Management
Using Metrics to Direct Management Investment
Chapter Summary
Chapter Review
Part V Appendixes
Appendix A Answers to Chapter Reviews
Appendix B Further Reading
Glossary
1587201372 TOC 11/3/2006
Other Things You Might Like

eBook (Watermarked) $38.39