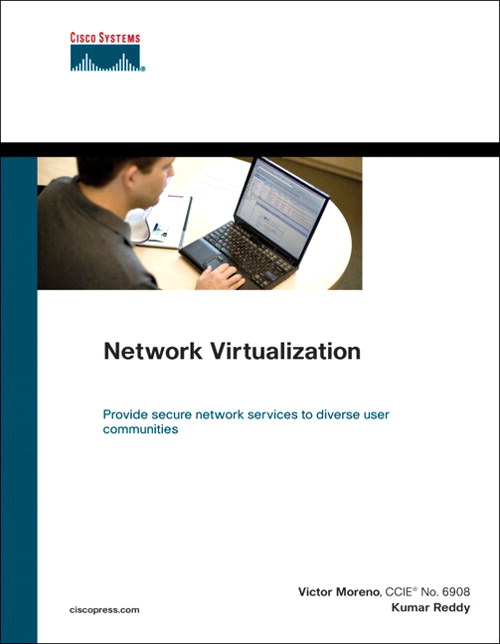 Share
|



Register your product to gain access to bonus material or receive a coupon.
Network Virtualization
Book
Sorry, this book is no longer in print.
Copyright 2007
Edition: 1st
Book
ISBN-10: 1-58705-248-2
ISBN-13: 978-1-58705-248-4
Share network resources and reduce costs while providing secure network services to diverse user communities
Presents the business drivers for network virtualization and the major challenges facing network designers today
Shows how to use virtualization designs with existing applications, such as VoIP and network services, such as quality of service and multicast
Provides design alternatives for different real-world deployment scenarios, with configuration examples and case studies
Today's enterprises have several groups of users with specific needs. The differences between these groups translate into specific network requirements. Within some organizations, these requirements are so dissimilar that the different groups need to be treated as totally separate customers by the enterprise's IT department. As the number of groups increases, keeping them separate and secure is a challenge to IT departments, particularly with the advent of wireless networks, the requirement for enterprise-wide user mobility, and the need for cross group collaboration with resource sharing on a per project basis.
Network Virtualization
provides design guidance for virtualized enterprise networks and arms network architects with the background necessary to make sound technological choices in the face of different business requirements. As a means of introduction,
Network Virtualization
lays out the fundamentals of enterprise network design. The book builds upon these fundamental principles to introduce the different virtualization methods as the logical evolution of the enterprise network architecture. Detailed descriptions of the technology, design principles, network configurations, and real-world case studies are provided throughout the book, helping readers develop a pragmatic understanding of virtualized enterprise network architectures. Specific examples are included that tailor deployment advice to the small, medium, and large enterprise environment.
Online Sample Chapter
Network Virtualization: A Basic Virtualized Enterprise
Downloadable Sample Chapter
Download - 365 KB -- Chapter 3: A Basic Virtualized Enterprise
Table of Contents
Table of Contents
Introduction
Part I A Network Architecture for the Virtual Enterprise3
Chapter 1 Business Drivers Behind Enterprise Network Virtualization
Why Virtualize?
Visitors, Partners, Contractors, and Quarantine Areas
Regulatory Compliance
Secure Service Areas
Network Consolidation
Acquisitions and Mergers
Multitenant Enterprises
Virtual Project Environment: Next-Generation Business Processes
Business Requirements Drive Technical Requirements
Summary
Chapter 2 Designing Scalable Enterprise Networks
Hierarchical Campus Design
Virtualizing the Campus
WAN Design
WAN Provider Service Offerings
WAN Architecture
WAN Resiliency
WAN Routing Considerations
Securing the WAN
WAN Virtualization
Summary
Chapter 3 Basic Virtualized Enterprise
The Virtual Enterprise
Transport Virtualization–VNs
VLANs and Scalability
Virtualizing the Routed Core
The LAN Edge: Authentication and Authorization
Central Services Access: Virtual Network Perimeter
Unprotected Services
Summary
Chapter 4 A Virtualization Technologies Primer: Theory
Network Device Virtualization
Layer 2: VLANs
Layer 3: VRF Instances
Layer 2 Again: VFIs
Virtual Firewall Contexts
Network Device Virtualization Summary
Data-Path Virtualization
Layer 2: 802.1q Trunking
Generic Routing Encapsulation
IPsec
L2TPv3
Label Switched Paths
Data-Path Virtualization Summary
Control-Plane Virtualization–Routing Protocols
VRF-Aware Routing
Multi-Topology Routing
Control-Plane Virtualization Summary
Summary
Chapter 5 Infrastructure Segmentation Architectures: Theory
Hop to Hop
Layer 3 H2H
Single Address Space Alternatives
H2H Summary
Tunnel Overlay for L3VPN
L3VPN Using GRE and IPsec Overlay
Putting It All Together: DMVPN
Layer 3 Tunnel Summary
Tunnel Overlay for Layer 2 VPNs
Layer 2 P2P Overlay Using L2TPv3
Layer 2 P2P Overlay Using MPLS
Layer 2 VPN MP2MP Using MPLS (VPLS)
Layer 2 VPN Summary
Peer-Based Model for Layer 3 VPNs
RFC 2547bis the MPLS Way
RFC 2547bis Forwarding-Plane Alternatives
Index
Other Things You Might Like

eBook (Watermarked) $63.99