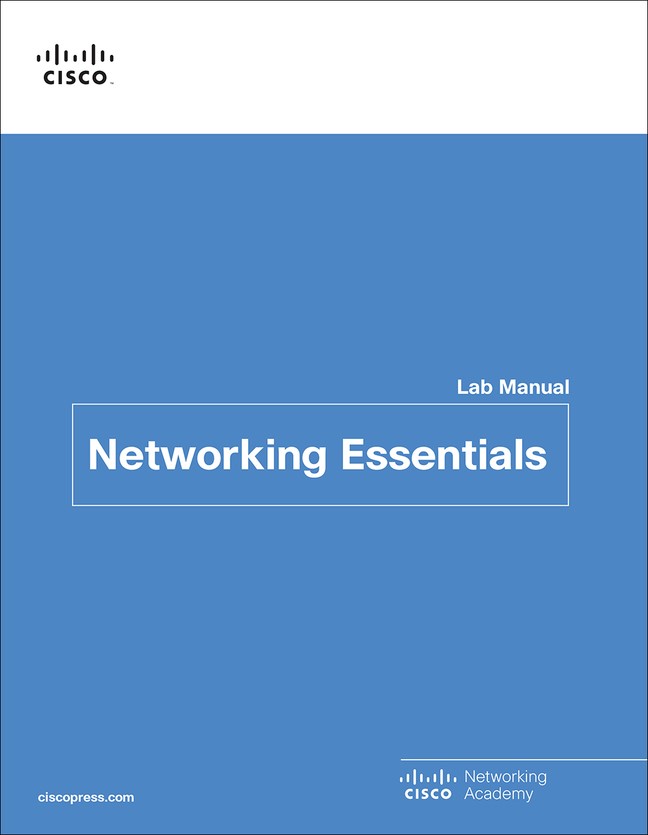 Register your product to gain access to bonus material or receive a coupon.
Networking Essentials Lab Manual
Book
Your Price: $54.00
List Price: $60.00
Usually ships in 24 hours.
Features
Suited for developers, data scientists, cybersecurity specialists, and students
Excellent launching point for a range of career pathwaysfrom cybersecurity to software development to business
No prerequisites required
Copyright 2022
Dimensions: 8-1/2" x 10-7/8"
Pages: 160
Edition: 1st
Book
ISBN-10: 0-13-765926-1
ISBN-13: 978-0-13-765926-5
The only authorized Lab Manual for the Cisco Networking Academy Networking Essentials Course
The Networking Essentials course is for developers, data scientists, cybersecurity specialists, and other professionals looking to broaden their networking domain knowledge. It's also an excellent launching point for students pursuing a wide range of career pathways—from cybersecurity to software development to business and more. A Networking Academy digital badge is available for the instructor-led version of this course. No prerequisites required.
You'll Learn These Core Skills:
Plan and install a home or small business network using wireless technology, and then connect it to the Internet
Develop critical thinking and problem-solving skills using Cisco Packet Tracers
Practice verifying and troubleshooting network and Internet connectivity
Recognize and mitigate security threats to a home network. The 37 comprehensive labs in this manual emphasize hands-on learning and practice to reinforce configuration skills
The Networking Essentials Lab Manual provides you with all the labs and packet tracer activity instructions from the course designed as hands-on practice to develop critical thinking and complex problem-solving skills.
Table of Contents
Chapter 1 Communication in a Connected World 1
1.5.4 Lab–My Local Network 1
Chapter 2 Online Connections 3
2.2.7 Lab–Determine the IP Address Configuration of a Computer 3
Chapter 3 Investigate Networking with Packet Tracer 7
3.3.3 Packet Tracer–Deploy Devices 7
3.3.4 Packet Tracer–Deploy and Cable Devices 9
3.4.3 Packet Tracer–Configure End Devices 11
3.5.1 Packet Tracer–Create a Simple Network 15
Chapter 4 Build a Simple Network 19
4.5.7 Lab–Build a Simple Network 19
4.5.8 Lab–Trace a Route 22
Chapter 5 Communication Principles 25
5.1.4 Lab–My Protocol Rules 25
5.4.5 Lab–Determine the MAC Address of a Host 27
Chapter 6 Network Design and the Access Layer 31
6.2.4 Lab–View Wireless and Wired NIC Information 31
6.4.8 Lab–View Captured Traffic in Wireshark 34
Chapter 7 Routing Between Networks 43
7.1.4 Lab–IPv4 Addresses and Network Communication 43
7.3.3 Packet Tracer–Observe Data Flow in a LAN 47
7.3.4 Lab–Connect to a Wireless Router 50
Chapter 8 The Internet Protocol 55
8.1.2 Packet Tracer–Connect to a Web Server 55
8.2.7 Lab–Use a Calculator for Binary Conversions 57
Chapter 9 Dynamic Addressing with DHCP 63
9.2.5 Packet Tracer–Configure DHCP on a Wireless Router 63
Chapter 10 IPv4 and IPv6 Address Management 67
10.2.3 Packet Tracer–Examine NAT on a Wireless Router 67
10.4.7 Lab–Identify IPv6 Addresses 70
Chapter 11 Transport Layer Services 75
11.1.6 Packet Tracer–The Client Interaction 75
Chapter 12 Application Layer Services 77
12.2.4 Lab–Observe DNS Name Resolution 77
12.3.3 Packet Tracer–Observe Web Request 81
12.4.4 Packet Tracer–Use FTP Services 83
Chapter 13 Build a Home Network 89
13.5.5 Lab–Configure a Wireless Router and Client 89
Chapter 14 Connecting to the Internet 93
14.2.13 Lab–Install Linux in a Virtual Machine and Explore the GUI 93
14.3.8 Lab–Configure a Mobile Device for Wi-Fi Connectivity 98
Chapter 15 Security Considerations 101
15.2.3 Lab - Social Engineering 101
Chapter 16 Configure Network and Device Security 103
16.2.4 Packet Tracer–Configure Basic Wireless Security 103
16.3.8 Lab–Configure Firewall Settings 104
Chapter 17 Cisco Switches and Routers 107
17.5.1 Packet Tracer–Compare In-Band and Out-of-Band Management Access 107
Chapter 18 The Cisco IOS Command Line 111
18.2.6 Packet Tracer–Navigate the IOS 111
18.3.3 Packet Tracer–Use Cisco IOS Show Commands 116
Chapter 19 Build a Small Cisco Network 119
19.1.4 Packet Tracer–Implement Basic Connectivity 119
19.2.4 Packet Tracer–Configure Initial Router Settings 122
19.3.6 Packet Tracer–Configure SSH 126
19.4.4 Packet Tracer–Build a Switch and Router Network 128
Chapter 20 Security Considerations 133
20.3.3 Packet Tracer–Use the ipconfig Command 133
20.3.6 Packet Tracer–Use the ping Command 134
20.3.12j Lab–Troubleshoot Using Network Utilities 136
20.4.3 Packet Tracer–Troubleshoot a Wireless Connection 141
20.7.1 Packet Tracer–Skills Integration Challenge 143
Other Things You Might Like

Book $81.00

eBook (Watermarked) $64.80