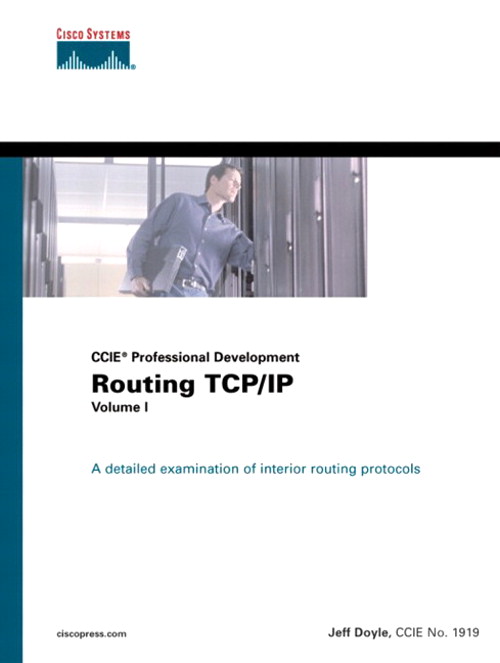 Register your product to gain access to bonus material or receive a coupon.
Routing TCP/IP Volume I (CCIE Professional Development)
Book
Sorry, this book is no longer in print.
Foundation learning for CCIE exams
Copyright 1998
Edition: 1st
Book
ISBN-10: 1-57870-041-8
ISBN-13: 978-1-57870-041-7
A detailed examination of interior routing protocols
Learn the IP interior routing protocols with this approachable, practical presentation
Explore configuration and troubleshooting of IP routing with Cisco routers through case studies
Test and validate your understanding with practical, comprehensive review questions, configuration exercises, and troubleshooting exercises
Further your CCIE preparation while mastering the essential TCP/IP protocols
CCIE Professional Development: Routing TCP/IP, Volume I, takes readers from a basic understanding of routers and routing protocols through a detailed examination of each of the IP interior routing protocols: RIP, RIP2, IGRP, EIGRP, OSPF, and IS-IS. In addition to specific protocols, important general topics such as redistribution, default routes and on-demand routing, route filtering, and route maps are covered. The book emphasizes techniques for designing networks that efficiently utilize and integrate the IP routing protocols. You will gain a deep understanding of IP routing protocols and learn best-practice techniques for implementing these protocols using Cisco routers. As well, this book will help you master the skills necessary to become an effective CCIE.
Each protocol-specific chapter opens with thorough and lucid coverage of the protocol's capabilities and characteristics. Following sections contain configuration and troubleshooting case studies that cover Cisco specific configuration of the protocol and all commands available for it on the most recent Cisco IOS Software version. Finally, review questions and configuration and troubleshooting exercises on each protocol provide an opportunity to practice for the CCIE exam.
The Cisco effort to facilitate the creation of competent network operations center (NOC) and information systems (IS) staff is exemplified in its CCIE program. To support these efforts, Cisco Press is working closely with CCIE program management to create information products that help build the knowledge and expertise of NOC and IS professionals, as well as provide up-to-date, accurate information on technologies addressed in the CCIE program.
The CCIE Professional Development Series volumes are based on CCIE program guidelines from Cisco. This series is a set of technology-specific volumes designed to meet the needs of CCIE candidates.
This book is part of the Cisco CCIE Professional Development Series from Cisco Press, which offers expert-level instruction on network design, deployment, and support methodologies to help networking professionals manage complex networks and prepare for CCIE exams.
Online Sample Chapter
Table of Contents
(NOTE: Each chapter concludes with one or more of the following: Looking Ahead, Recommended Reading, Review Questions, Summary Table, Configuration Exercises, and Troubleshooting Exercises.)

Introduction.

Objectives. Audience. Organization. Conventions and Features.
I. ROUTING BASICS.
1. Basic Concepts: Internetworks, Routers, and Addresses.
Bicycles with Motors. Data Link Addresses. Repeaters and Bridges. Routers. Network Addresses.
2. TCP/IP Review.
The TCP/IP Protocol Layers. The IP Packet Header. IP Addresses ARP. ICMP. The Host-to-Host Layer.
3. Static Routing.
The Route Table. Configuring Static Routes. Per Destination Load Sharing and Fast Switching. Per Packet Load Sharing and Process Switching. Troubleshooting Static Routes.
4. Dynamic Routing Protocols.
Routing Protocol Basics. Distance Vector Routing Protocols. Periodic Updates. Neighbors. Broadcast Updates. Full Routing Table Updates. Link State Routing Protocols. Sequence Numbers. Aging. Interior and Exterior Gateway Protocols. Static or Dynamic Routing?
II. INTERIOR ROUTING PROTOCOLS.
5. Routing Information Protocol (RIP).
Operation of RIP. Classful Routing: Directly Connected Subnets. Classful Routing: Summarization at Boundary Routers. Classful Routing: Summary. Configuring RIP. Troubleshooting RIP.
6. Interior Gateway Routing Protocol (IGRP).
Operation of IGRP. Configuring IGRP. Troubleshooting IGRP.
7. Routing Information Protocol Version 2.
Operation of RIPv2. Configuring RIPv2. Troubleshooting RIPv2.
8. Enhanced Interior Gateway Routing Protocol (EIGRP).
Operation of EIGRP. DUAL: Preliminary Concepts. The DUAL Finite State Machine. Diffusing Computation: Example 1. Diffusing Computation: Example 2. The EIGRP Packet Header. General TLV Fields. IP-Specific TLV Fields. Configuring EIGRP. Troubleshooting EIGRP.
9. Open Shortest Path First.
Operation of OSPF. The Hello Protocol. Network Types. Designated Routers and Backup Designated Routers. OSPF Interfaces. OSPF Neighbors. Flooding. Router Types. Partitioned Areas. Virtual Links. LSA Types. Stub Areas. Destination Types. Path Types. Route Table Lookups. The Packet Header. The Hello Packet. The Database Description Packet. The Link State Request Packet. The Link State Update Packet. The Link State Acknowledgment Packet. The LSA Header. The Router LSA. The Network LSA. The Network and ASBR Summary LSAs. The Autonomous System External LSA. Configuring OSPF. Troubleshooting OSPF.
10. Integrated IS-IS.
Operation of Integrated IS-IS. Subnetwork Dependent Functions. Subnetwork Independent Functions. CLV Fields. The IS-IS Hello PDU Format. The IS-IS Link State PDU Format. The IS-IS Sequence Numbers PDU Format. Configuring Integrated IS-IS. Troubleshooting Integrated IS-IS.
III. ROUTE CONTROL AND INTEROPERABILITY.
11. Route Redistribution.
Principles of Redistribution. Configuring Redistribution.
12. Default Routes and On-Demand Routing.
Fundamentals of Default Routes. Fundamentals of On-Demand Routing. Configuring Default Routes and ODR.
13. Route Filtering.
Configuring Route Filters.
14. Route Maps.
Basic Uses of Route Maps. Configuring Route Maps.
IV. APPENDIXES.
Appendix A: Tutorial: Working with Binary and Hex.
Working with Binary Numbers. Working with Hexadecimal Numbers.
Appendix B: Tutorial: Access Lists.
Access List Basics. Standard IP Access Lists. Extended IP Access Lists. Calling the Access List. Keyword Alternatives. Named Access Lists. Filter Placement Considerations. Access List Monitoring and Accounting.
Appendix C: CCIE Preparation Tips.
Laying the Foundations. Hands-On Experience. Intensifying the Study. The Final Six Months. Exam Day.
Appendix D: Answers to Review Questions.
Appendix E: Solutions to Configuration Problems.
Appendix F: Solutions to Troubleshooting Exercises.
Index.
Other Things You Might Like



eBook (Watermarked) $38.39