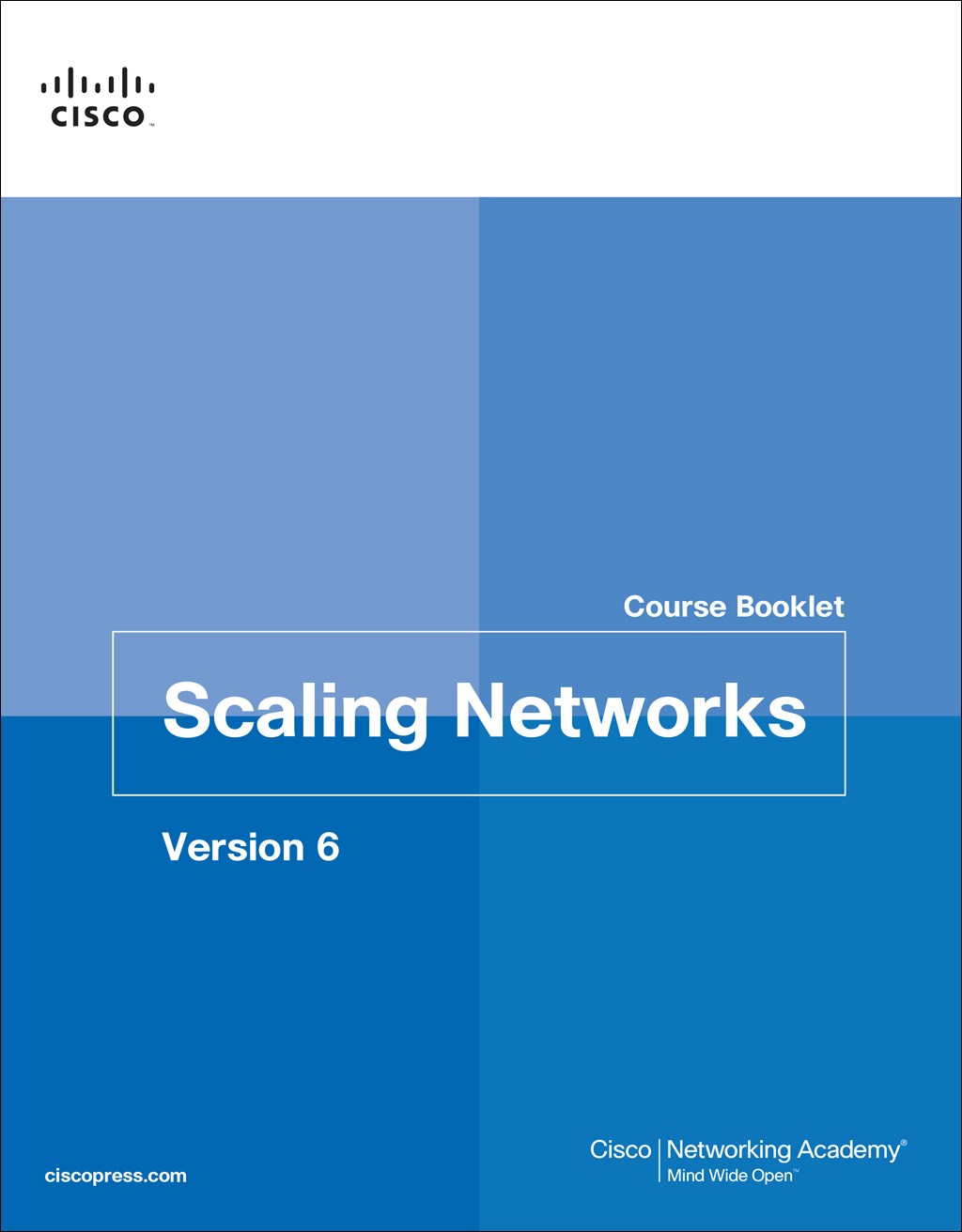 Share
|




Register your product to gain access to bonus material or receive a coupon.
Scaling Networks v6 Course Booklet
Book
Your Price: $33.00
List Price: $36.67
Usually ships in 24 hours.
Copyright 2017
Dimensions: 8-1/2" x 10-7/8"
Pages: 256
Edition: 1st
Book
ISBN-10: 1-58713-430-6
ISBN-13: 978-1-58713-430-2
Course Booklets offer a new way for students enrolled in a Cisco Networking Academy course of the same name to easily read, highlight, and review on the go, wherever the Internet is not available. The text is extracted directly from the online course, with headings that have exact page correlations to the online course. An icon system directs the reader to the online course to take full advantage of the images, labs, Packet Tracer activities, and dynamic Flash-based activities. The books are intended to be used with the course.
Sample Pages
Download the sample pages (includes Chapter 1 and index)
Table of Contents
Chapter 1 LAN Design 1
1.0 Introduction to LAN Design 1
1.0.1.2 Class Activity - Network by Design 1
1.1 Campus Wired LAN Designs 2
1.1.1 Cisco Validated Designs 2
1.1.1.1 The Need to Scale the Network 2
1.1.1.2 Hierarchical Design Model 2
1.1.2 Expanding the Network 3
1.1.2.1 Design for Scalability 3
1.1.2.2 Planning for Redundancy 4
1.1.2.3 Failure Domains 4
1.1.2.4 Increasing Bandwidth 5
1.1.2.5 Expanding the Access Layer 5
1.1.2.6 Fine-tuning Routing Protocols 5
1.1.2.7 Activity - Identify Scalability Terminology 6
1.2 Selecting Network Devices 6
1.2.1 Switch Hardware 6
1.2.1.1 Switch Platforms 6
1.2.1.2 Port Density 7
1.2.1.3 Forwarding Rates 7
1.2.1.4 Power over Ethernet 8
1.2.1.5 Multilayer Switching 8
1.2.1.6 Activity - Selecting Switch Hardware 8
1.2.1.7 Packet Tracer - Comparing 2960 and 3560 Switches 8
1.2.2 Router Hardware 9
1.2.2.1 Router Requirements 9
1.2.2.2 Cisco Routers 9
1.2.2.3 Router Hardware 10
1.2.2.4 Activity - Identify the Router Category 10
1.2.3 Managing Devices 10
1.2.3.1 Managing IOS Files and Licensing 10
1.2.3.2 In-Band versus Out-of-Band Management 10
1.2.3.3 Basic Router CLI Commands 11
1.2.3.4 Basic Router Show Commands 11
1.2.3.5 Basic Switch CLI commands 12
1.2.3.6 Basic Switch Show Commands 12
1.3 Summary 12
1.3.1.1 Class Activity - Layered Network Design Simulation 12
1.3.1.2 Basic Switch Configuration 13
1.3.1.3 Packet Tracer - Skills Integration Challenge 13
1.3.1.4 Summary 13
Chapter 1 Quiz 14
Chapter 1 Exam 14
Chapter 2 Scaling VLANs 15
2.0 Introduction 15
2.0.1 Welcome 15
2.1 VTP, Extended VLANs, and DTP 15
2.1.1 VTP Concepts and Operation 15
2.1.1.1 VTP Overview 15
2.1.1.2 VTP Modes 16
2.1.1.3 VTP Advertisements 17
2.1.1.4 VTP Versions 17
2.1.1.5 Default VTP configuration 18
2.1.1.6 VTP Caveats 19
2.1.1.7 Identify VTP Concepts and Operations 20
2.1.2 VTP Configuration 20
2.1.2.1 VTP Configuration Overview 20
2.1.2.2 Step 1 - Configure the VTP Server 20
2.1.2.3 Step 2 - Configure the VTP Domain Name and Password 20
2.1.2.4 Step 3 - Configure the VTP Clients 21
2.1.2.5 Step 4 - Configure VLANs on the VTP Server 21
2.1.2.6 Step 5 - Verify that the VTP Clients Have Received the New VLAN Information 21
2.1.3 Extended VLANs 21
2.1.3.1 VLAN Ranges on Catalyst Switches 21
2.1.3.2 Creating a VLAN 22
2.1.3.3 Assigning Ports to VLANs 23
2.1.3.4 Verifying VLAN Information 23
2.1.3.5 Configuring Extended VLANs 24
2.1.4 Dynamic Trunking Protocol 24
2.1.4.1 Introduction to DTP 24
2.1.4.2 Negotiated Interface Modes 25
2.1.4.3 Activity - Predict DTP Behavior 25
2.1.4.4 Packet Tracer - Configure VTP and DTP 25
2.1.4.5 Lab - Configure Extended VLANs, VTP and DTP 26
2.2 Troubleshoot Multi-VLAN Issues 26
2.2.1 Inter-VLAN configuration issues 26
2.2.1.1 Deleting VLANs 26
2.2.1.2 Switch Port Issues 26
2.2.1.3 Verify Switch Configuration 27
2.2.1.4 Interface Issues 27
2.2.1.5 Verify Routing Configuration 28
2.2.2 IP Addressing Issues 28
2.2.2.1 Errors with IP Addresses and Subnet Masks 28
2.2.2.2 Verifying IP Address and Subnet Mask Configuration Issues 29
2.2.2.3 Activity - Identify the Troubleshooting Command for an Inter-VLAN Routing Issue 29
2.2.2.4 Packet Tracer - Troubleshooting Inter-VLAN Routing 29
2.2.2.5 Lab - Troubleshooting Inter-VLAN Routing 30
2.2.3 VTP and DTP Issues 30
2.2.3.1 Troubleshoot VTP Issues 30
2.2.3.2 Troubleshoot DTP Issues 31
2.2.3.3 Packet Tracer - Troubleshoot VTP and DTP Issues 31
2.3 Layer 3 Switching 31
2.3.1 Layer 3 Switching Operation and Configuration 31
2.3.1.1 Introduction to Layer 3 Switching 31
2.3.1.2 Inter-VLAN Routing with Switch Virtual Interfaces 32
2.3.1.3 Inter-VLAN Routing with Switch Virtual Interfaces (Cont.) 32
2.3.1.4 Inter-VLAN Routing with Routed Ports 33
2.3.1.5 Packet Tracer - Configure Layer 3 Switching and Inter-VLAN routing 34
2.3.2 Troubleshoot Layer 3 Switching 34
2.3.2.1 Layer 3 Switch Configuration Issues 34
2.3.2.2 Example: Troubleshooting Layer 3 Switching 34
2.3.2.3 Activity - Troubleshoot Layer 3 Switching Issues 35
2.4 Summary 35
2.4.1.1 Conclusion 35
Chapter 2 Quiz 37
Chapter 2 Exam 37
Chapter 3 STP 39
3.0 LAN Redundancy 39
3.0.1 Introduction 39
3.0.1.2 Class Activity - Stormy Traffic 39
3.1 Spanning Tree Concepts 40
3.1.1 Purpose of Spanning Tree 40
3.1.1.1 Redundancy at OSI Layers 1 and 2 40
3.1.1.2 Issues with Layer 1 Redundancy: MAC Database Instability 41
3.1.1.3 Issues with Layer 1 Redundancy: Broadcast Storms 42
3.1.1.4 Issues with Layer 1 Redundancy: Duplicate Unicast Frames 42
3.1.1.5 Packet Tracer - Examining a Redundant Design 43
3.1.2 STP Operation 43
3.1.2.1 Spanning Tree Algorithm: Introduction 43
3.1.2.2 Spanning Tree Algorithm: Port Roles 45
3.1.2.3 Spanning Tree Algorithm: Root Bridge 46
3.1.2.4 Spanning Tree Algorithm: Root Path Cost 46
3.1.2.5 Port Role Decisions for RSTP 47
3.1.2.6 Designated and Alternate Ports 48
3.1.2.7 802.1D BPDU Frame Format 49
3.1.2.8 802.1D BPDU Propagation and Process 49
3.1.2.9 Extended System ID 50
3.1.2.10 Activity - Identify 802.1D Port Rules 52
3.1.2.11 Video Demonstration - Observing Spanning Tree Protocol Operation 52
3.1.2.12 Lab - Building a Switched Network with Redundant Links 52
3.2 Varieties of Spanning Tree Protocols 52
3.2.1 Overview 52
3.2.1.1 Types of Spanning Tree Protocols 52
3.2.1.2 Characteristics of the Spanning Tree Protocols 53
3.2.1.3 Activity - Identify Types of Spanning Tree Protocols 54
3.2.2 PVST+ 54
3.2.2.1 Overview of PVST+ 54
3.2.2.2 Port States and PVST+ Operation 55
3.2.2.3 Extended System ID and PVST+ Operation 56
3.2.2.4 Activity - Identifying PVST+ Operation 56
3.2.3 Rapid PVST+ 56
3.2.3.1 Overview of Rapid PVST+ 56
3.2.3.2 RSTP BPDUs 57
3.2.3.3 Edge Ports 58
3.2.3.4 Link Types 58
3.2.3.5 Activity - Identify Port Roles in Rapid PVST+ 59
3.2.3.6 Activity - Compare PVST+ and Rapid PVST+ 59
3.3 Spanning Tree Configuration 59
3.3.1 PVST+ Configuration 59
3.3.1.1 Catalyst 2960 Default Configuration 59
3.3.1.2 Configuring and Verifying the Bridge ID 59
3.3.1.3 PortFast and BPDU Guard 60
3.3.1.4 PVST+ Load Balancing 60
3.3.1.5 Packet Tracer - Configuring PVST+ 61
3.3.2 Rapid PVST+ Configuration 62
3.3.2.1 Spanning Tree Mode 62
3.3.2.2 Packet Tracer - Configuring Rapid PVST+ 62
3.3.2.3 Lab - Configuring Rapid PVST+, PortFast and BPDU Guard 63
3.3.3 STP Configuration Issues 63
3.3.3.1 Analyzing the STP Topology 63
3.3.3.2 Expected Topology versus Actual Topology 63
3.3.3.3 Overview of Spanning Tree Status 63
3.3.3.4 Spanning Tree Failure Consequences 64
3.3.3.5 Repairing a Spanning Tree Problem 64
3.3.3.6 Activity - Troubleshoot STP Configuration Issues 65
3.3.4 Switch Stacking and Chassis Aggregation 65
3.3.4.1 Switch Stacking Concepts 65
3.3.4.2 Spanning Tree and Switch Stacks 65
3.3.4.3 Activity - Identify Switch Stacking Concepts 66
3.4 Summary 66
3.4.1.1 Class Activity - Documentation Tree 66
3.4.1.2 Summary 66
Chapter 3 Quiz 68
Chapter 3 Exam 68
Chapter 4 EtherChannel and HSRP 69
4.0 Introduction 69
4.0.1.2 Class Activity - Imagine This 69
4.1 Link Aggregation Concepts 70
4.1.1 Link Aggregation 70
4.1.1.1 Introduction to Link Aggregation 70
4.1.1.2 Advantages of EtherChannel 70
4.1.2 EtherChannel Operation 71
4.1.2.1 Implementation Restrictions 71
4.1.2.2 Port Aggregation Protocol 71
4.1.2.3 Link Aggregation Control Protocol 73
4.1.2.4 Activity - Identify the PAgP and LACP Modes 73
4.2 Link Aggregation Configuration 73
4.2.1 Configuring EtherChannel 73
4.2.1.1 Configuration Guidelines 73
4.2.1.2 Configuring Interfaces 74
4.2.1.3 Packet Tracer - Configuring EtherChannel 75
4.2.1.4 Lab - Configuring EtherChannel 75
4.2.2 Verifying and Troubleshooting EtherChannel 75
4.2.2.1 Verifying EtherChannel 75
4.2.2.2 Troubleshooting EtherChannel 76
4.2.2.3 Packet Tracer - Troubleshooting EtherChannel 76
4.2.2.4 Lab - Troubleshooting EtherChannel 77
4.3 First Hop Redundancy Protocols 77
4.3.1 Concept of First Hop Redundancy Protocols 77
4.3.1.1 Default Gateway Limitations 77
4.3.1.2 Router Redundancy 77
4.3.1.3 Steps for Router Failover 78
4.3.1.4 Activity - Identify FHRP Terminology 78
4.3.1.5 First Hop Redundancy Protocols 78
4.3.1.6 Activity - Identify the Type of FHRP 79
4.3.2 HSRP Operations 79
4.3.2.1 HSRP Overview 79
4.3.2.2 HSRP Versions 80
4.3.2.3 HSRP Priority and Preemption 80
4.3.2.4 HSRP States and Timers 81
4.3.2.5 Activity - Identify HSRP Terminology and States 81
4.3.3 HSRP Configuration 81
4.3.3.1 HSRP Configuration Commands 81
4.3.3.2 HSRP Sample Configuration 81
4.3.3.3 HSRP Verification 82
4.3.3.4 Lab - Configure HSRP 82
4.3.4 HSRP Troubleshooting 82
4.3.4.1 HSRP Failure 82
4.3.4.2 HSRP Debug Commands 82
4.3.4.3 Common HSRP Configuration Issues 83
4.3.4.4 Packet Tracer - Troubleshoot HSRP 83
4.4 Summary 84
4.4.1.1 Class Activity - Linking Up 84
4.4.1.2 Packet Tracer - Skills Integration Challenge 84
4.4.1.3 Summary 84
Chapter 4 Quiz 86
Chapter 4 Exam 86
Chapter 5 Dynamic Routing 87
5.0 Introduction 87
5.0.1.1 Dynamic Routing 87
5.0.1.2 How Much Does This Cost 87
5.1 Dynamic Routing Protocols 88
5.1.1 Types of Routing Protocols 88
5.1.1.1 Classifying Routing Protocols 88
5.1.1.2 IGP and EGP Routing Protocols 89
5.1.1.3 Distance Vector Routing Protocols 90
5.1.1.4 Link-State Routing Protocols 90
5.1.1.5 Classful Routing Protocols 91
5.1.1.6 Classless Routing Protocols 92
5.1.1.7 Routing Protocol Characteristics 92
5.1.1.8 Routing Protocol Metrics 93
5.1.1.9 Activity - Classify Dynamic Routing Protocols 94
5.1.1.10 Activity - Compare Routing Protocols 94
5.1.1.11 Activity - Match the Metric to the Protocol 94
5.2 Distance Vector Dynamic Routing 94
5.2.1 Distance Vector Fundamentals 94
5.2.1.1 Dynamic Routing Protocol Operation 94
5.2.1.2 Cold Start 94
5.2.1.3 Network Discovery 95
5.2.1.4 Exchanging the Routing Information 96
5.2.1.5 Achieving Convergence 97
5.2.1.6 Packet Tracer - Investigating Convergence 97
5.2.2 Distance Vector Routing Protocol Operation 97
5.2.2.1 Distance Vector Technologies 97
5.2.2.2 Distance Vector Algorithm 98
5.2.2.3 Activity - Identify Distance Vector Terminology 98
5.2.3 Types of Distance Vector Routing Protocols 98
5.2.3.1 Routing Information Protocol 98
5.2.3.2 Enhanced Interior-Gateway Routing Protocol 99
5.2.3.3 Activity - Compare RIP and EIGRP 100
5.2.3.4 Packet Tracer - Comparing RIP and EIGRP Path Selection 100
5.3 Link-State Dynamic Routing 100
5.3.1 Link-State Routing Protocol Operation 100
5.3.1.1 Shortest Path First Protocols 100
5.3.1.2 Dijkstra's Algorithm 100
5.3.1.3 SPF Example 101
5.3.2 Link-State Updates 101
5.3.2.1 Link-State Routing Process 101
5.3.2.2 Link and Link-State 102
5.3.2.3 Say Hello 103
5.3.2.4 Building the Link-State Packet 103
5.3.2.5 Flooding the LSP 103
5.3.2.6 Building the Link-State Database 104
5.3.2.7 Building the SPF Tree 104
5.3.2.8 Adding OSPF Routes to the Routing Table 105
5.3.2.9 Activity - Building the Link-State Database and SPF Tree 105
5.3.3 Link-State Routing Protocol Benefits 105
5.3.3.1 Why Use Link-State Protocols? 105
5.3.3.2 Disadvantages of Link-State Protocols 105
5.3.3.3 Protocols that Use Link-State 106
5.4 Summary 107
5.4.1 Conclusion 107
Chapter 5 Quiz 108
Chapter 5 Exam 108
Chapter 6 EIGRP 109
6.0 Introduction 109
6.0.1 Welcome 109
6.0.1.2 Class Activity - Classless EIGRP 109
6.1 EIGRP Characteristics 109
6.1.1 EIGRP Basic Features 109
6.1.1.1 Features of EIGRP 109
6.1.1.2 Protocol Dependent Modules 111
6.1.1.3 Reliable Transport Protocol 111
6.1.1.4 Authentication 112
6.1.2 EIGRP Packet Types 112
6.1.2.1 EIGRP Packet Types 112
6.1.2.2 EIGRP Hello Packets 113
6.1.2.3 EIGRP Update and Acknowledgment Packets 113
6.1.2.4 EIGRP Query and Reply Packets 114
6.1.2.5 Activity - Identify the EIGRP Packet Type 115
6.1.2.6 Video Demonstration - Observing EIGRP Protocol Communications 115
6.1.3 EIGRP Messages 115
6.1.3.1 Encapsulating EIGRP Messages 115
6.1.3.2 EIGRP Packet Header and TLV 115
6.2 Implement EIGRP for IPv4 116
6.2.1 Configure EIGRP with IPv4 116
6.2.1.1 EIGRP Network Topology 116
6.2.1.2 Autonomous System Numbers 116
6.2.1.3 The router eigrp Command 117
6.2.1.4 EIGRP Router ID 118
6.2.1.5 Configuring the EIGRP Router ID 118
6.2.1.6 The network Command 119
6.2.1.7 The network Command and Wildcard Mask 120
6.2.1.8 Passive Interface 121
6.2.2 Verify EIGRP with IPv4 122
6.2.2.1 Verifying EIGRP: Examining Neighbors 122
6.2.2.2 Verifying EIGRP: show ip protocols Command 122
6.2.2.3 Verifying EIGRP: Examine the IPv4 routing table 123
6.2.2.4 Packet Tracer - Configuring Basic EIGRP with IPv4 124
6.2.2.5 Lab - Configuring Basic EIGRP with IPv4 124
6.3 EIGRP Operation 125
6.3.1 EIGRP Initial Route Discovery 125
6.3.1.1 EIGRP Neighbor Adjacency 125
6.3.1.2 EIGRP Topology Table 125
6.3.1.3 EIGRP Convergence 126
6.3.1.4 Activity - Identify the Steps in Establishing EIGRP Neighbor Adjacencies 126
6.3.2 EIGRP Metrics 126
6.3.2.1 EIGRP Composite Metric 126
6.3.2.2 Examining Interface Metric Values 127
6.3.2.3 Bandwidth Metric 128
6.3.2.4 Delay Metric 128
6.3.2.5 How to Calculate the EIGRP Metric 129
6.3.2.6 Calculating the EIGRP Metric 129
6.3.2.7 Activity - Calculate the EIGRP Metric 130
6.3.3 DUAL and the Topology Table 130
6.3.3.1 DUAL Concepts 130
6.3.3.2 Introduction to DUAL 130
6.3.3.3 Successor and Feasible Distance 131
6.3.3.4 Feasible Successors, Feasibility Condition, and Reported Distance 131
6.3.3.5 Topology Table: show ip eigrp topology Command 132
6.3.3.6 Topology Table: show ip eigrp topology Command (Cont.) 132
6.3.3.7 Topology Table: No Feasible Successor 133
6.3.3.8 Activity - Determine the Feasible Successor 134
6.3.4 DUAL and Convergence 134
6.3.4.1 DUAL Finite State Machine (FSM) 134
6.3.4.2 DUAL: Feasible Successor 134
6.3.4.3 DUAL: No Feasible Successor 134
6.3.4.4 Packet Tracer - Investigating DUAL FSM 135
6.4 Implement EIGRP for IPv6 135
6.4.1 EIGRP for IPv6 135
6.4.1.1 EIGRP for IPv6 135
6.4.1.2 Compare EIGRP for IPv4 and IPv6 136
6.4.1.3 IPv6 Link-local Addresses 137
6.4.1.4 Activity - Compare EIGRPv4 and EIGRPv6 137
6.4.2 Configure EIGRP for IPv6 137
6.4.2.1 EIGRP for IPv6 Network Topology 137
6.4.2.2 Configuring IPv6 Link-local Addresses 138
6.4.2.3 Configuring the EIGRP for IPv6 Routing Process 138
6.4.2.4 The ipv6 eigrp Interface Command 139
6.4.3 Verifying EIGRP for IPv6 140
6.4.3.1 IPv6 Neighbor Table 140
6.4.3.2 The show ip protocols Command 141
6.4.3.3 The EIGRP for IPv6 Routing Table 141
6.4.3.4 Packet Tracer - Configuring Basic EIGRP with IPv6 142
6.4.3.5 Lab - Configuring Basic EIGRP for IPv6 142
6.5 Summary 142
6.5.1 Conclusion 142
6.5.1.1 Class Activity - Portfolio RIP and EIGRP 142
6.5.1.2 Chapter 6: EIGRP 142
Chapter 6 Quiz 144
Chapter 6 Exam 144
Chapter 7 EIGRP Tuning and Troubleshooting 145
7.0 Introduction 145
7.0.1.2 Class Activity - EIGRP - Back to the Future 145
7.1 Tune EIGRP 145
7.1.1 Automatic Summarization 145
7.1.1.1 Network Topology 145
7.1.1.2 EIGRP Automatic Summarization 146
7.1.1.3 Configuring EIGRP Automatic Summarization 147
7.1.1.4 Verifying Auto-Summary: show ip protocols 147
7.1.1.5 Verifying Auto-Summary: Topology Table 148
7.1.1.6 Verifying Auto-Summary: Routing Table 148
7.1.1.7 Summary Route 149
7.1.1.8 Summary Route (Cont.) 149
7.1.1.9 Activity - Determine the Classful Summarization 150
7.1.1.10 Activity - Determine the Exit Interface for a Given Packet 150
7.1.2 Default Route Propagation 150
7.1.2.1 Propagating a Default Static Route 150
7.1.2.2 Verifying the Propagated Default Route 150
7.1.2.3 EIGRP for IPv6: Default Route 151
7.1.2.4 Packet Tracer - Propagating a Default Route in EIGRP for IPv4 and IPv6 151
7.1.3 Fine-tuning EIGRP Interfaces 152
7.1.3.1 EIGRP Bandwidth Utilization 152
7.1.3.2 Hello and Hold Timers 152
7.1.3.3 Load Balancing IPv4 153
7.1.3.4 Load Balancing IPv6 154
7.1.3.5 Activity - Determine the EIGRP Fine Tuning Commands 154
7.1.3.6 Lab - Configuring Advanced EIGRP for IPv4 Features 154
7.2 Troubleshoot EIGRP 155
7.2.1 Components of Troubleshooting EIGRP 155
7.2.1.1 Basic EIGRP Troubleshooting Commands 155
7.2.1.2 Components 155
7.2.1.3 Activity - Identify the Troubleshooting Command 156
7.2.2 Troubleshoot EIGRP Neighbor Issues 156
7.2.2.1 Layer 3 Connectivity 156
7.2.2.2 EIGRP Parameters 156
7.2.2.3 EIGRP Interfaces 157
7.2.2.4 Activity - Troubleshoot EIGRP Neighbor Issues 158
7.2.3 Troubleshoot EIGRP Routing Table Issues 158
7.2.3.1 Passive Interface 158
7.2.3.2 Missing Network Statement 158
7.2.3.3 Autosummarization 159
7.2.3.4 Activity - Troubleshoot EIGRP Routing Table Issues 160
7.2.3.5 Packet Tracer - Troubleshooting EIGRP for IPv4 160
7.2.3.6 Lab - Troubleshooting Basic EIGRP for IPv4 and IPv6 160
7.2.3.7 Lab - Troubleshooting Advanced EIGRP 160
7.3 Summary 161
7.3.1.1 Class Activity - Tuning EIGRP 161
7.3.1.2 Packet Tracer - Skills Integration Challenge 161
7.3.1.3 Chapter 7: EIGRP Tuning and Troubleshooting 161
Chapter 7 Quiz 163
Chapter 7 Exam 163
Chapter 8 Single-Area OSPF 165
8.0 Introduction 165
8.0.1.2 Activity - Can Submarines Swim? 165
8.1 OSPF Characteristics 165
8.1.1 Open Shortest Path First 165
8.1.1.1 Evolution of OSPF 165
8.1.1.2 Features of OSPF 166
8.1.1.3 Components of OSPF 167
8.1.1.4 Link-State Operation 167
8.1.1.5 Single-Area and Multiarea OSPF 168
8.1.1.6 Activity - Identify OSPF Features and Terminology 169
8.1.2 OSPF Messages 169
8.1.2.1 Encapsulating OSPF Messages 169
8.1.2.2 Types of OSPF Packets 169
8.1.2.3 Hello Packet 170
8.1.2.4 Hello Packet Intervals 171
8.1.2.5 Link-State Updates 171
8.1.2.6 Activity - Identify the OSPF Packet Types 171
8.1.3 OSPF Operation 171
8.1.3.1 OSPF Operational States 171
8.1.3.2 Establish Neighbor Adjacencies 172
8.1.3.3 OSPF DR and BDR 173
8.1.3.4 Synchronizing OSPF Databases 173
8.1.3.5 Activity - Identify the OSPF States for Establishing Adjacency 174
8.1.3.6 Video Demonstration - Observing OSPF Protocol Communications 174
8.2 Single-Area OSPFv2 174
8.2.1 OSPF Router ID 174
8.2.1.1 OSPF Network Topology 174
8.2.1.2 Router OSPF Configuration Mode 175
8.2.1.3 Router IDs 175
8.2.1.4 Configuring an OSPF Router ID 176
8.2.1.5 Modifying a Router ID 176
8.2.1.6 Using a Loopback Interface as the Router ID 177
8.2.2 Configure Single-Area OSPFv2 177
8.2.2.1 Enabling OSPF on Interfaces 177
8.2.2.2 Wildcard Mask 178
8.2.2.3 The network Command 178
8.2.2.4 Passive Interface 179
8.2.2.5 Configuring Passive Interfaces 179
8.2.2.6 Activity - Calculate the Subnet and Wildcard Masks 180
8.2.2.7 Packet Tracer - Configuring OSPFv2 in a Single-area 180
8.2.3 OSPF Cost 180
8.2.3.1 OSPF Metric = Cost 180
8.2.3.2 OSPF Accumulates Costs 180
8.2.3.3 Adjusting the Reference Bandwidth 181
8.2.3.4 Default Interface Bandwidths 182
8.2.3.5 Adjusting the Interface Bandwidth 182
8.2.3.6 Manually Setting the OSPF Cost 183
8.2.4 Verify OSPF 183
8.2.4.1 Verify OSPF Neighbors 183
8.2.4.2 Verify OSPF Protocol Settings 184
8.2.4.3 Verify OSPF Process Information 184
8.2.4.4 Verify OSPF Interface Settings 184
8.2.4.5 Lab - Configuring Basic Single-Area OSPFv2 185
8.3 Single-Area OSPFv3 185
8.3.1 OSPFv2 vs. OSPFv3 185
8.3.1.1 OSPFv3 185
8.3.1.2 Similarities Between OSPFv2 to OSPFv3 186
8.3.1.3 Differences Between OSPFv2 and OSPFv3 186
8.3.1.4 Link-Local Addresses 187
8.3.1.5 Activity - Compare and Contrast OSPFv2 and OSPFv3 187
8.3.2 Configuring OSPFv3 187
8.3.2.1 OSPFv3 Network Topology 187
8.3.2.2 Link-Local Addresses 187
8.3.2.3 Assigning Link-Local Addresses 188
8.3.2.4 Configuring the OSPFv3 Router ID 188
8.3.2.5 Modifying an OSPFv3 Router ID 189
8.3.2.6 Enabling OSPFv3 on Interfaces 190
8.3.3 Verify OSPFv3 190
8.3.3.1 Verify OSPFv3 Neighbors 190
8.3.3.2 Verify OSPFv3 Protocol Settings 191
8.3.3.3 Verify OSPFv3 Interfaces 191
8.3.3.4 Verify the IPv6 Routing Table 191
8.3.3.5 Packet Tracer - Configuring Basic OSPFv3 191
8.3.3.6 Lab - Configuring Basic Single-Area OSPFv3 192
8.4 Summary 192
8.4.1.1 Activity - Stepping Through OSPFv3 192
8.4.1.2 Packet Tracer - Skills Integration Challenge 192
8.4.1.3 Chapter 8: Single-Area OSPF 192
Chapter 8 Quiz 194
Chapter 8 Exam 194
Chapter 9 Multiarea OSPF 195
9.0 Introduction 195
9.0.1.2 Class Activity - Leaving on a Jet Plane 195
9.1 Multiarea OSPF Operation 195
9.1.1 Why Multiarea OSPF? 195
9.1.1.1 Single-Area OSPF 195
9.1.1.2 Multiarea OSPF 196
9.1.1.3 OSPF Two-Layer Area Hierarchy 197
9.1.1.4 Types of OSPF Routers 197
9.1.1.5 Activity - Identify the Multiarea OSPF Terminology 198
9.1.2 Multiarea OSPF LSA Operation 198
9.1.2.1 OSPF LSA Types 198
9.1.2.2 OSPF LSA Type 1 198
9.1.2.3 OSPF LSA Type 2 199
9.1.2.4 OSPF LSA Type 3 199
9.1.2.5 OSPF LSA Type 4 199
9.1.2.6 OSPF LSA Type 5 200
9.1.2.7 Activity - Identify the OSPF LSA Type 200
9.1.3 OSPF Routing Table and Types of Routes 200
9.1.3.1 OSPF Routing Table Entries 200
9.1.3.2 OSPF Route Calculation 200
9.1.3.3 Activity - Order the Steps for OSPF Best Path Calculations 201
9.2 Configuring Multiarea OSPF 201
9.2.1 Configuring Multiarea OSPF 201
9.2.1.1 Implementing Multiarea OSPF 201
9.2.1.2 Configuring Multiarea OSPFv2 202
9.2.1.3 Configuring Multiarea OSPFv3 202
9.2.2 Verifying Multiarea OSPF 203
9.2.2.1 Verifying Multiarea OSPFv2 203
9.2.2.2 Verify General Multiarea OSPFv2 Settings 203
9.2.2.3 Verify the OSPFv2 Routes 204
9.2.2.4 Verify the Multiarea OSPFv2 LSDB 204
9.2.2.5 Verify Multiarea OSPFv3 204
9.2.2.6 Packet Tracer - Configuring Multiarea OSPFv2 204
9.2.2.7 Packet Tracer - Configuring Multiarea OSPFv3 205
9.2.2.8 Lab - Configuring Multi-area OSPFv2 205
9.2.2.9 Lab - Configuring Multi-area OSPFv3 205
9.3 Summary 205
9.3.1.1 Class Activity - Digital Trolleys 205
9.3.1.2 Chapter 9: Multiarea OSPF 206
Chapter 9 Quiz 207
Chapter 9 Exam 207
Chapter 10 OSPF Tuning and Troubleshooting 209
10.0 Introduction 209
10.0.1.2 Class Activity - DR and BDR Election 209
10.1 Advanced Single-Area OSPF Configurations 209
10.1.1 OSPF in Multiaccess Networks 209
10.1.1.1 OSPF Network Types 209
10.1.1.2 Challenges in Multiaccess Networks 210
10.1.1.3 OSPF Designated Router 210
10.1.1.4 Verifying DR/BDR Roles 211
10.1.1.5 Verifying DR/BDR Adjacencies 212
10.1.1.6 Default DR/BDR Election Process 213
10.1.1.7 DR/BDR Election Process 214
10.1.1.8 The OSPF Priority 214
10.1.1.9 Changing the OSPF Priority 215
10.1.1.10 Activity - Identify OSPF Network Type Terminology 216
10.1.1.11 Activity - Select the Designated Router 216
10.1.1.12 Packet Tracer - Determining the DR and BDR 216
10.1.1.13 Lab - Configuring OSPFv2 on a Multiaccess Network 216
10.1.2 Default Route Propagation 216
10.1.2.1 Propagating a Default Static Route in OSPFv2 216
10.1.2.2 Verifying the Propagated IPv4 Default Route 217
10.1.2.3 Propagating a Default Static Route in OSPFv3 217
10.1.2.4 Verifying the Propagated IPv6 Default Route 217
10.1.2.5 Packet Tracer - Propagating a Default Route in OSPFv2 218
10.1.3 Fine-tuning OSPF Interfaces 218
10.1.3.1 OSPF Hello and Dead Intervals 218
10.1.3.2 Modifying OSPFv2 Intervals 218
10.1.3.3 Modifying OSPFv3 Intervals 219
10.1.3.4 Packet Tracer - Configuring OSPFv2 Advanced Features 220
10.1.3.5 Lab - Configuring OSPFv2 Advanced Features 220
10.2 Troubleshooting Single-Area OSPF Implementations 220
10.2.1 Components of Troubleshooting Single-Area OSPF 220
10.2.1.1 Overview 220
10.2.1.2 OSPF States 220
10.2.1.3 OSPF Troubleshooting Commands 221
10.2.1.4 Components of Troubleshooting OSPF 221
10.2.1.5 Activity - Identify the Troubleshooting Command 222
10.2.2 Troubleshoot Single-Area OSPFv2 Routing Issues 222
10.2.2.1 Troubleshooting Neighbor Issues 222
10.2.2.2 Troubleshooting OSPFv2 Routing Table Issues 223
10.2.2.3 Packet Tracer - Troubleshooting Single-Area OSPFv2 223
10.2.3 Troubleshoot Single-Area OSPFv3 Routing Issues 223
10.2.3.1 OSPFv3 Troubleshooting Commands 223
10.2.3.2 Troubleshooting OSPFv3 224
10.2.3.3 Lab - Troubleshooting Basic Single-Area OSPFv2 and OSPFv3 225
10.2.3.4 Lab - Troubleshooting Advanced Single-Area OSPFv2 225
10.2.4 Troubleshooting Multiarea OSPFv2 and OSPFv3 225
10.2.4.1 Multiarea OSPF Troubleshooting Skills 225
10.2.4.2 Multiarea OSPF Troubleshooting Data Structures 225
10.2.4.3 Packet Tracer - Troubleshooting Multiarea OSPFv2 226
10.2.4.4 Packet Tracer - Troubleshooting Multiarea OSPFv3 226
10.2.4.5 Lab - Troubleshooting Multiarea OSPFv2 and OSPFv3 226
10.3 Summary 226
10.3.1.1 Class Activity - OSPF Troubleshooting Mastery 226
10.3.1.2 Packet Tracer - Skills Integration Challenge 227
10.3.1.3 Chapter 10: OSPF Tuning and Troubleshooting 227
Chapter 10 Quiz 229
Chapter 10 Exam 229
9781587134302 TOC 5/15/2017
Unlimited one-month access with your purchase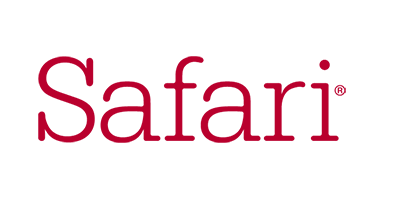 Other Things You Might Like