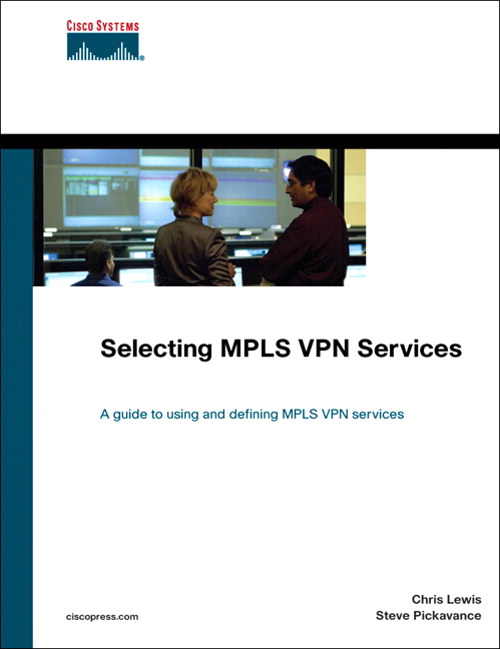 Share
|



Register your product to gain access to bonus material or receive a coupon.
Selecting MPLS VPN Services
Premium Website
Sorry, this book is no longer in print.
Copyright 2006
Edition: 1st
Premium Website
ISBN-10: 1-58705-191-5
ISBN-13: 978-1-58705-191-3
A guide to using and defining MPLS VPN services
Analyze strengths and weaknesses of TDM and Layer 2 WAN services
Understand the primary business and technical issues when evaluating IP/MPLS VPN offerings
Describe the IP addressing, routing, load balancing, convergence, and services capabilities of the IP VPN
Develop enterprise quality of service (QoS) policies and implementation guidelines
Achieve scalable support for multicast services
Learn the benefits and drawbacks of various security and encryption mechanisms
Ensure proper use of services and plan for future growth with monitoring and reporting services
Provide remote access, Internet access, and extranet connectivity to the VPN supported intranet
Provide a clear and concise set of steps to plan and execute a network migration from existing ATM/Frame Relay/leased line networks to an IP VPN
IP/MPLS VPNs are compelling for many reasons. For enterprises, they enable right-sourcing of WAN services and yield generous operational cost savings. For service providers, they offer a higher level of service to customers and lower costs for service deployment.
Migration comes with challenges, however. Enterprises must understand key migration issues, what the realistic benefits are, and how to optimize new services. Providers must know what aspects of their services give value to enterprises and how they can provide the best value to customers.
Selecting MPLS VPN Services helps you analyze migration options, anticipate migration issues, and properly deploy IP/MPLS VPNs. Detailed configurations illustrate effective deployment while case studies present available migration options and walk you through the process of selecting the best option for your network. Part I addresses the business case for moving to an IP/MPLS VPN network, with a chapter devoted to the business and technical issues you should review when evaluating IP/MPLS VPN offerings from major providers. Part II includes detailed deployment guidelines for the technologies used in the IP/MPLS VPN.
This book is part of the Networking Technology Series from Cisco Press®, which offers networking professionals valuable information for constructing efficient networks, understanding new technologies, and building successful careers.
Online Sample Chapter
Implementing Quality of Service Over Cisco MPLS VPNs
Downloadable Sample Chapter
Download - 387 KB -- Chapter 5: Implementing Quality of Service
Table of Contents
Part I Business Analysis and Requirements of IP/MPLS VPN
Chapter 1 Assessing Enterprise Legacy WANs and IP/VPN Migration
Current State of Enterprise Networks
Evolutionary Change of Enterprise Networks
Acme, a Global Manufacturer
Acme's Global Span
Business Desires of Acme's Management
Acme's IT Applications Base
Acme's IT Communications Infrastructure
New WAN Technologies for Consideration by Acme
Layer 3 IP/MPLS VPN Services
Layer 2 IP/MPLS VPN Services
Convergence Services
Internet Access
Mobile Access and Teleworker Access
Voice Services: Service Provider Hosted PSTN Gateway
Voice Services: Service Provider Hosted IP Telephony
Summary
Chapter 2 Assessing Service Provider WAN Offerings
Enterprise/Service Provider Relationship and Interface
Investigation Required in Selecting a Service Provider
Coverage, Access, and IP
Financial Strength of the Service Provider
Convergence
Transparency
IP Version 6
Provider Cooperation/Tiered Arrangements
Enhanced Service-Level Agreement
Customer Edge Router Management
Service Management
Customer Reports and SLA Validation
Summary
Chapter 3 Analyzing Service Requirements
Application/Bandwidth Requirements
Backup and Resiliency
Enterprise Segmentation Requirements
Mapping VLANs to VPNs in the Campus
Access Technologies
Frame Relay
ATM
Dedicated Circuit from CE to PE
ATM PVC from CE to PE
&nbsp
Index
Download - 89 KB -- Index
Other Things You Might Like



eBook (Watermarked) $38.39