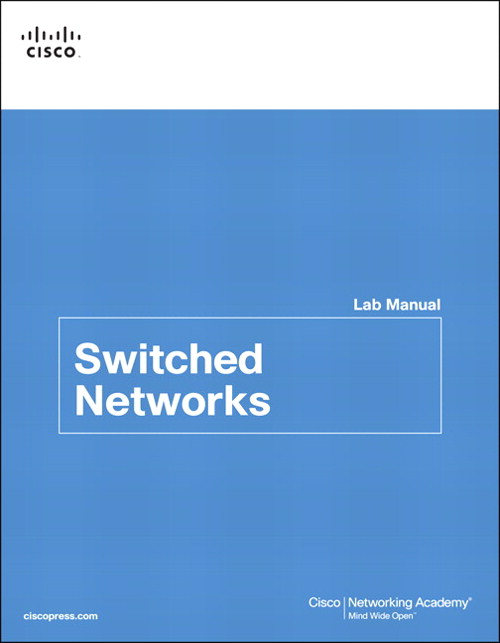 Share
|



Register your product to gain access to bonus material or receive a coupon.
Switched Networks Lab Manual
Book
Sorry, this book is no longer in print.
Features
The printed collection of all the labs from the course provides easy to read, highlight, and review on the go, wherever the Internet is not available.
Copyright 2014
Dimensions: 8-1/2" x 10-7/8"
Pages: 216
Edition: 1st
Book
ISBN-10: 1-58713-327-X
ISBN-13: 978-1-58713-327-5
Switched Networks Lab Manual
The only authorized Lab Manual for the Cisco Networking Academy Switched Networks course in the CCNA Routing and Switching curriculum
Switched Networks Lab Manual contains all the labs and class activities from the Cisco® Networking Academy course. The labs are intended to be used within the Cisco Networking Academy program of study.
Related titles:
CCNA Routing and Switching Practice and Study Guide
Book: 978-1-58713-344-2
eBook: 978-0-13-351761-3
CCNA Routing and Switching
Portable Command Guide
Book: 978-1-58720-430-2
eBook: 978-0-13-338136-8
Switched Networks Companion Guide
Book: 978-1-58713-329-9
eBook: 978-0-13-347646-0
Switched Networks Course Booklet
Book: 978-1-58713-326-8
Sample Pages
Download the sample pages (includes Chapters 1-3)
Table of Contents
Chapter 1 — Introduction to Switched Networks ......................................................................... 1
1.0.1.2 Class Activity – Sent or Received ........................................................................................... 1
1.1.3.6 Lab – Selecting Switching Hardware ..................................................................................... 2
1.3.1.1 Class Activity – It's Network Access Time ............................................................................ 7
Chapter 2 — Basic Switching Concepts and Configuration ......................................................... 9
2.0.1.2 Class Activity – Stand By Me ................................................................................................. 9
2.1.1.6 Lab – Configuring Basic Switch Settings ............................................................................ 10
2.2.4.11 Lab – Configuring Switch Security Features ...................................................................... 24
2.3.1.1 Class Activity – Switch Trio ................................................................................................. 34
Chapter 3 — VLANs ....................................................................................................................... 35
3.0.1.2 Class Activity – Vacation Station .......................................................................................... 35
3.2.2.5 Lab - Configuring VLANs and Trunking .............................................................................. 37
3.2.4.9 Lab - Troubleshooting VLAN Configurations ...................................................................... 49
3.3.2.2 Lab – Implementing VLAN Security .................................................................................... 55
3.4.1.1 Class Activity – VLAN Plan ................................................................................................. 63
Chapter 4 — LAN Redundancy .................................................................................................... 65
4.0.1.2 Class Activity – Stormy Traffic ............................................................................................. 65
4.1.2.10 Lab – Building a Switched Network with Redundant Links .............................................. 67
4.3.2.3 Lab – Configuring Rapid PVST+, PortFast, and BPDU Guard............................................ 76
4.4.3.4 Lab – Configuring HSRP and GLBP .................................................................................... 86
4.5.1.1 Class Activity – Documentation Tree ................................................................................... 94
Chapter 5 — Link Aggregation ..................................................................................................... 95
5.0.1.2 Class Activity – Imagine This ............................................................................................... 95
5.2.1.4 Lab – Configuring EtherChannel .......................................................................................... 96
5.2.2.4 Lab – Troubleshooting EtherChannel ................................................................................. 103
5.3.1.1 Class Activity – Linking Up................................................................................................ 110
SwitchedStudent.indb iv 12/5/13 10:57 PM
Chapter 6 — Inter-VLAN Routing ............................................................................................. 111
6.0.1.2 Class Activity – Switching to Local-Network Channels .................................................... 111
6.1.2.4 Lab – Configuring Per-Interface Inter-VLAN Routing ...................................................... 113
6.1.3.7 Lab – Configuring 802.1Q Trunk-Based Inter-VLAN Routing ......................................... 118
6.3.2.4 Lab – Troubleshooting Inter-VLAN Routing .................................................................... 124
6.4.1.1 Class Activity – The Inside Track ....................................................................................... 132
Chapter 7 — DHCP ...................................................................................................................... 133
7.0.1.1 Class Activity – Own or Lease? .......................................................................................... 133
7.1.2.4 Lab - Configuring Basic DHCPv4 on a Router ................................................................. 134
7.1.2.5 Lab – Configuring Basic DHCPv4 on a Switch ................................................................ 140
7.1.4.4 Lab – Troubleshooting DHCPv4 ........................................................................................ 149
7.2.3.5 Lab – Configuring Stateless and Stateful DHCPv6 ........................................................... 157
7.2.4.4 Lab - Troubleshooting DHCPv6 ......................................................................................... 170
7.3.1.1 Class Activity – IoE and DHCP .......................................................................................... 177
Chapter 8 — Wireless LANs ........................................................................................................ 179
8.0.1.2 Class Activity – Make Mine Wireless ................................................................................. 179
8.1.2.10 Lab – Investigating Wireless Implementations ................................................................ 180
8.4.2.3 Lab – Configuring a Wireless Router and Client ................................................................ 183
8.5.1.1 Class Activity – Inside and Outside Control ...................................................................... 200
Other Things You Might Like

Book $72.00

eBook (Watermarked) $57.60

Book $54.00