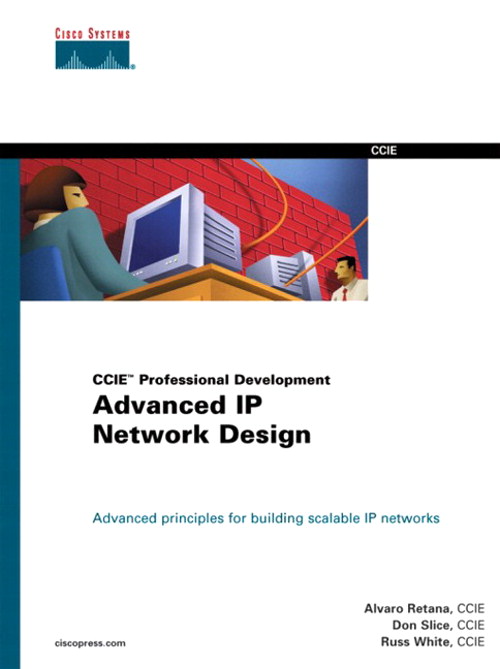 Share
|



Register your product to gain access to bonus material or receive a coupon.
Advanced IP Network Design (CCIE Professional Development)
Book
Sorry, this book is no longer in print.
Foundation learning for CCIE exams
Copyright 1999
Edition: 1st
Book
ISBN-10: 1-57870-097-3
ISBN-13: 978-1-57870-097-4
A core textbook for CCIE preparation
Learn how to apply effective hierarchical design principles to build stable, large-scale networks
Examine broken networks and discover the best methods for fixing them
Understand how the right topology enhances network performance
Construct the most efficient addressing and summarization scheme for your network
Prevent network failure by applying the most appropriate redundancy at the network core, distribution layer, and access layer
Extend your network's capabilities through proper deployment of advanced IGP- and EGP-based protocols
Advanced IP Network Design provides the solutions network engineers need to grow and stabilize large IP networks. Technology advancements and corporate growth inevitably lead to the necessity for network expansion. This book presents design concepts and techniques that enable networks to evolve into supporting larger, more complex applications while maintaining critical stability.
Advanced IP Network Design provides you with a basic foundation to understand and implement the most efficient network design around the network core, distribution and access layers, and the common and edge network services. After establishing an efficient heirarchical network design, you will learn to apply OSPF, IS-IS, EIGRP, BGP, NHRP, and MPLS. Case studies support each protocol to provide you with valuable solutions to common blocks encountered when implementing an IGP- or EGP-based network
Advanced IP Network Design offers expert-level solutions and help with CCIE exam preparation through the following features: practical discussion and implementation of CCIE-level networking issues; case studies that highlight real-world design, implementation, management, and troubleshooting issues; scenarios that help you put the presented solutions to use; and chapter-ending review questions and exercises.
Online Sample Chapter
Applying the Principles of Network Design
Table of Contents
I. FOUNDATION FOR STABILITY: HIERARCHICAL NETWORKS.
1. Hierarchical Design Principles.
2. Addressing & Summarization.
3. Redundancy.
4. Applying the Principles of Network Design.
II. SCALING WITH INTERIOR GATEWAY PROTOCOLS.
5. OSPF Network Design.
6. IS-IS Network Design.
7. EIGRP Network Design.
III. SCALING BEYOND THE DOMAIN.
8. BGP Cores and Network Scalability.
9. Other Large Scale Cores.
IV. Appendixes.
A. OSPF Fundamentals.
B. IS-IS Fundamentals.
C. EIGRP Fundamentals.
D. BGP Fundamentals.
E. Answers to the Review Questions.
Glossary.
Index.
Other Things You Might Like

By Wendell Odom
Book $47.99
eBook (Watermarked) $19.99