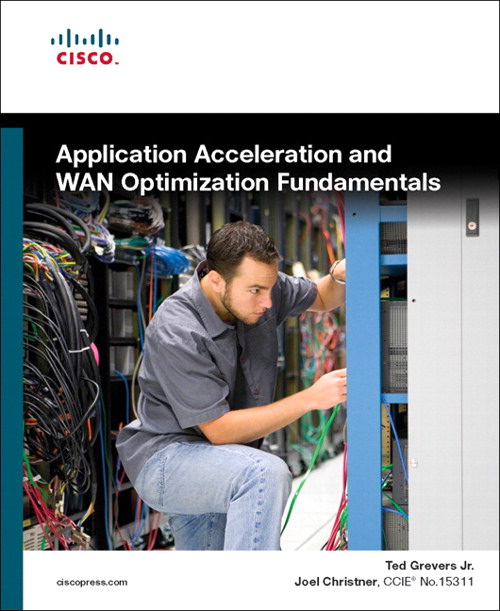 Register your product to gain access to bonus material or receive a coupon.
Application Acceleration and WAN Optimization Fundamentals
Book
Sorry, this book is no longer in print.
Copyright 2008
Edition: 1st
Book
ISBN-10: 1-58705-316-0
ISBN-13: 978-1-58705-316-0
IT organizations face pressure to increase productivity, improve application performance, support global collaboration, improve data protection, and minimize costs. In today's WAN-centered environments, traditional LAN-oriented infrastructure approaches are insufficient to meet these goals. Application Acceleration and WAN Optimization Fundamentals introduces a better solution: integrating today's new generation of accelerator solutions to efficiently and effectively scale networks beyond traditional capabilities while improving performance and minimizing costs through consolidation.
Ted Grevers and Joel Christner begin by reviewing the challenges network professionals face in delivering applications to globally distributed workforces. You learn how accelerators are transforming application business models, enabling IT departments to centralize and consolidate resources while also delivering consistently superior performance.
Grevers and Christner show how to identify network consumers, prioritize traffic, and guarantee appropriate throughput and response times to business-critical applications. You learn how to use quality of service techniques such as packet classification and marking and traffic policing, queuing, scheduling, and shaping.
Next, you compare options for integrating accelerators and optimization services into your network and for optimizing content delivery. The authors show how to address application protocol-related performance problems that cannot be resolved through compression or flow optimization alone. In the final chapter, the authors walk you through several real-world scenarios for utilizing accelerator technology.
Ted Grevers, Jr., is the solution manager for the Cisco® Video IPTV Systems Test and Architecture (C-VISTA) team. He has extensive experience in the content delivery network (CDN) market, focusing on enterprise and service provider content delivery and application optimization needs.
Joel Christner, CCIE® No. 15311, is the manager of technical marketing for the Cisco Application Delivery Business Unit (ADBU). He has extensive experience with application protocols, acceleration technologies, LAN/WAN infrastructure, and storage networking. Grevers and Christner are key contributors to the design and architecture of Cisco application delivery and application acceleration solutions.
Provide high-performance access to remote data, content, video, rich media, and applications
Understand how accelerators can improve network performance and minimize bandwidth consumption
Use NetFlow to baseline application requirements and network utilization
Ensure network resources are allocated based on business priorities
Identify performance barriers arising from networks, protocols, operating systems, hardware, file systems, and applications
Employ application-specific acceleration components to mitigate the negative impact of latency and bandwidth consumption
Integrate content delivery networks (CDN) to centrally manage the acquisition, security, and distribution of content to remote locations
Leverage WAN optimization technologies to improve application throughput, mitigate the impact of latency and loss, and minimize bandwidth consumption
Optimize the performance of WANs and business-critical WAN applications
This book is part of the Cisco Press® Fundamentals Series. Books in this series introduce networking professionals to new networking technologies, covering network topologies, sample deployment concepts, protocols, and management techniques.
Category: Cisco Press/Networking
Covers: Network Optimization
Online Sample Chapter
Overcoming Transport and Link Capacity Limitations Through WAN Optimization
Downloadable Sample Chapter
Table of Contents
Ch>
Managing Applications 3
Testing New Applications 4
Reducing Application Latency 5
Managing Distributed Servers 6
Protecting Data on Distributed Servers 6
Providing Timely Remote Service and Support 8
Using Centralized Management Methods 8
Facing the Unavoidable WAN 8
Changing the Application Business Model 9
Consolidating and Protecting Servers in the New IT Operational Model 10
Server Consolidation 11
Compliance, Data Protection, Business Continuity, and Disaster Recovery 15
Summary 18
Chapter 2 Barriers to Application Performance 21
Networks and Application Performance 21
Bandwidth 25
Latency 33
Throughput 45
Application and Protocol Barriers to Application Performance 50
Application Protocols 51
Network Stability 57
Operating System Barriers to Application Performance 61
Microsoft Corporation 61
Sun Microsystems 63
Red Hat 64
Hewlett-Packard 65
IBM 66
Hardware Barriers to Application Performance 67
Central Processing Unit 67
Random Access Memory 69
Disk Storage 70
File System Considerations 74
Network Interface Cards 79
Summary 81
Chapter 3 Aligning Network Resources with Business Priority 83
Viewing Network Utilization 84
NetFlow 84
Network Based Application Recognition 90
Employing Quality of Service 92
Packet Classification 95
Pre-Queuing Operators 96
Queuing and Scheduling 100
Post-Queuing Optimization 105
Understanding Accelerator Control Features and Integration 106
Overview of Accelerator Technology 106
Integrating Accelerators into the Network 117
Architecture of Accelerator Services 121
Summary 125
Chapter 4 Overcoming Application-Specific Barriers 127
Understanding Application-Specific Acceleration 128
Application-Specific Caching 128
Advantages of Application-Specific Caching 129
Cache Validation and Content Freshness 130
Streaming Media: RTSP, HTTP, and Flash 146
Web-Based Database Applications 149
Read-Ahead 154
Message Prediction 157
Pipelining and Multiplexing 159
Summary 161
Chapter 5 Content Delivery Networks 163
Evolution of Content Delivery Networks 164
Understanding CDN Solutions 165
A Common Content Distribution Scenario 166
Understanding CDN Components 168
Managing a CDN 173
Identifying Target Content 173
Understanding Protocol Requirements 173
Choosing Suitable Content Acquisition Methods 174
Managing Multiple Platforms Across Distributed Networks 178
Managing Costs 180
Usage Planning 181
Sharing the WAN 183
Using Desktop Management Suites with Content Delivery Networks 184
Combining Solutions 185
Combining Management Functions 185
Establishing Storage Requirements 187
Using Centralized Network Settings 188
Centralized Streaming Control 189
Centralized Administration of Authentication and Authorization 189
Centralized Access Control List Administration 191
Centralized SNMP Control 192
Centralized Monitoring 192
Centralized Edge Management 193
Understanding Content-Serving Protocols 194
CIFS 194
HTTP 195
HTTPS 196
FTP 197
RTSP 197
TFTP 199
Streaming Media Live or On Demand 199
Live Streaming 199
Video on Demand 200
Authenticating Requests for Prepositioned Content 200
Acquiring Content 202
Cookie-Based Acquisition 204
Origin Server Content Placement 204
Content Size Considerations 205
Department-Managed Portals 207
Understanding CDN Distribution Models 207
Direct Fetch 207
Distributed Hierarchy 210
Understanding Time-of-Day Distribution 215
Know the Network 216
Unicast Distribution 217
Multicast Distribution 218
Encrypted and In-the-Clear Distribution 223
Understanding Software-Based Content Delivery Networks 224
Native Protocol Playback of Streaming Media 226
Streaming Media and Executive Demand 228
Understanding Explicit and Transparent Proxy Modes 230
Using CDN Calculation Tools 231
General Content Storage 232
Streaming Media Storage 233
Calculating Content Delivery Times 234
Summary 235
Chapter 6 Overcoming Transport and Link Capacity Limitations 237
Understanding Transport Protocol Limitations 238
Understanding Transmission Control Protocol Fundamentals 240
Connection-Oriented Service 241
Guaranteed Delivery 242
Bandwidth Discovery 246
Overcoming Transport Protocol Limitations 250
Of Mice and Elephants: Short-Lived Connections and Long Fat Networks 251
Overcoming Packet Loss-Related Performance Challenges 258
Advanced TCP Implementations 261
Accelerator TCP Proxy Functionality 267
Overcoming Link Capacity Limitations 270
Accelerators and Compression 271
Accelerator Compression Architectures 281
Summary 289
Chapter 7 Examining Accelerator Technology Scenarios 291
Acme Data Corporation: Protecting Data and Promoting Global Collaboration 292
Observed Challenges 294
Accelerator Solution 295
C3 Technology LLC: Saving WAN Bandwidth and Replicating Data 302
Observed Challenges 303
Accelerator Solution 303
Command Grill Corporation: Improving HTTP Application Performance 308
First Attempts to Improve Application Performance 309
Accelerator Solution 309
Almost Write Inc.: Implementing Content Delivery Networking 314
Observed Challenges 316
Accelerator Solution 316
Summary 320
Appendix A Common Ports and Assigned Applications 323
Appendix B Ten Places for More Information 347
Foreword
Index
Introduction
Other Things You Might Like


Cisco Certified Support Technician CCST Networking 100-150 Official Cert Guide Premium Edition and Practice Test

By Russ White
Premium Edition eBook $47.99

eBook (Watermarked) $38.39