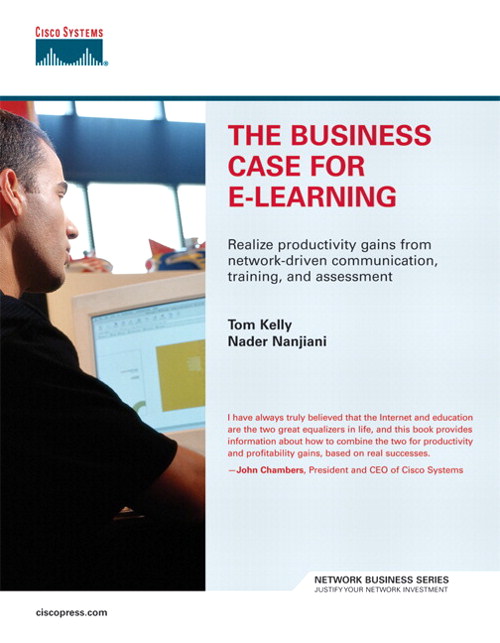 Share
|



Register your product to gain access to bonus material or receive a coupon.
Business Case for E-Learning, The
Book
Sorry, this book is no longer in print.
Copyright 2005
Edition: 1st
Book
ISBN-10: 1-58720-086-4
ISBN-13: 978-1-58720-086-1
Realize productivity gains from network-driven communication, training, and assessment
What sets apart The Business Case for E-Learning?

Unified approach to e-learning. Covering knowledge sharing, training, and assessment. E-learning components such as online testing and certifications are uniquely combined.
Productivity. The cause for rather than a consequence of e-learning. The Business Case for E-Learning demonstrates cases and methods in e-learning to those seeking productivity advantages for their organizations and ecosystems.
Focus on ecosystem. Those seeking productivity advantages across the entire supply chain or value chain of delivery can benefit from the presented perspective.
Recommendations go beyond organizational gains to cover resellers and customers.
Results and returns. See case studies and empirical evidence of the value and return on investment (ROI) that demonstrate the success of a cohesive e-learning program. Learn how Cisco Systems saved $142 million in one year using e-learning.
I have always truly believed that the Internet and education are the two great equalizers in life, and this book provides information about how to combine the two for productivity and profitability gains, based on real successes.
-John Chambers, President and CEO of Cisco Systems
The Business Case for E-Learning is the first book that demonstrates the productivity gains provided by Internet learning through a unique approach combining e-communication, e-training, and e-assessment. Beyond theory, The Business Case for E-Learning is based on practical experience in developing and deploying programs that bolster profitability. This book offers you practical recommendations for best practices and return on investment and provides lessons learned from real-world experiences.
The Business Case for E-Learning presents several case studies that range from the challenges of learning in Africa to the emergence of corporate knowledge-sharing communities. Case studies on Toyota, BearingPoint, Element K, and other e-learning leaders demonstrate how e-learning best practices can yield value for any organization. One case study quantifies how Cisco Systems in one year generated $16 in value for every dollar spent on an e-learning program.
Managers need to prove to companies that an e-learning program can result in demonstrable productivity gains. Through The Business Case for E-Learning, you learn to avoid unnecessary trial and error with e-learning and take advantage of the e-learning experience documented by authors Tom Kelly and Nader Nanjiani.
You can visit the companion website for The Business Case for E-Learning at www.cisco.com/go/book/elearning.
This volume is in the Network Business Series offered by Cisco Press. Books in this series provide IT executives, decision makers, and networking professionals with pertinent information about today's most important technologies and business strategies.
Online Sample Chapter
E-Learning Goes Global: How the Cisco Networking Academy Transforms Lives
Downloadable Sample Chapter
Download - 1.68 MB -- Chapter 6: E-Learning Goes Global
Table of Contents
I. UNDERSTANDING THE BUSINESS IMPACT OF E-LEARNING.
1. Vaulted: From the Classroom to the Boardroom.
A Once-in-a-Hundred-Year Flood: After the Bubble.
The Three Waves of E-Learning at Cisco.
The Productivity Imperative.
A C-Level Perspective: Banking on the Knowledge Worker.
The Promise of E-Learning: Learning in Lean Times.
Internet Learning: Options and Alternatives.
End Notes.
2. Internet Learning–A Productivity Tool.
Charting a Course.
Synergy.
A Matter of Semantics.
The Scope of Productivity Improvements.
The Advantages from an Employer Perspective.
The Advantages from an Employee Perspective.
No Technology Religion.
A Premium on Skills.
Learner Driven More Than Learner Centric.
Target Audiences.
End Notes.
3. E-Learning Under the Microscope.
Benefits of Formulating a Business Case.
E-Communication.
Beyond Awareness: Retention and Motivation.
Video over IP: An E-Communication Breakthrough.
E-Training.
E-Assessment.
Determining a Value on Investment for E-Learning.
Arriving at the Numbers.
Principles Behind the Numbers.
Conclusion.
Endnotes.
II. BUSINESS SUCCESS WITH E-LEARNING.
4. BearingPointMakes a Grand Slam with Internet Learning: A Case Study.
Case Summary.
Introduction.
The Point of Inflexion.
Building on Success.
Nimble and Productive.
What's in Store?
Look Out, Land Mines Ahead.
Ways of Winning in the Enterprise.
Recommendations on Leading E-Learning.
Conclusion.
5. Learner Driven at the University of Toyota: Pioneers of Just-in-Time Advocate "Hands-On" Skills.
Case Summary.
Background.
Just-in-Time Learning: A Business Function at Toyota.
Cost-Effective Business Model.
Even "Know-It-Alls" Can't Escape.
Deploying a Productivity Cycle at Toyota.
Conclusion.
6. E-Learning Goes Global: NetworkingAcademy Transforms Lives.
Case Summary.
Background.
How the Program Works.
Industry-Responsive Curriculum.
Train-the-Trainer Model.
Blended Learning with E-Assessment.
Underserved Segment.
Impact of the Program.
Benefits to Cisco.
Changing Lives One Life at a Time.
Conclusion.
7. Targeted Learning: Are You Indeed Ready?
Case Summary.
Rationale Behind Targeted Learning.
From "Best Trained" to "Most Competent".
The Development Cycle: A Three-Step Process.
Learning Portals for Productivity: Facilitating the Manager.
Conclusion.
8. Productivity in the Extended Enterprise: Internet Learning Offers a Competitive Edge with Channel Partners.
Case Summary.
The Value Proposition.
A Program That Rewards Learning.
The Learning Challenge.
PEC: A Viable Learning Solution.
Feedback About PEC.
Business Benefits of PEC.
Recommendations for Building an Extended Enterprise.
Conclusion.
9. Picking a Networking Dream Team.
Integration Challenge at Equant.
Merger Relied on Talent.
Certified Talent Delivers Results.
Benefits to Equant.
Conclusion.
Endnotes.
10. Certifications as a Branding Tool: Sponsoring a Certification Program.
Certifying Partners or Resellers at Cisco.
Creating a Certification Program.
Developing a Certification Program.
Conclusion.
Endnote.
III. DEPLOYING YOUR E-LEARNING EFFORTS: BEST PRACTICE.
11. The Building Blocks.
Begin with Knowledge-Sharing Tools: E-Communications.
Functional Integration.
Cross-Functional Management.
Technical Tools and Capabilities.
Content Life Cycle Management.
Distributed Authoring.
Skills Gap Analysis.
Learner Buy-In.
Locus of Control.
Conclusion.
12. Organizing an Internet Learning Initiative.
Prepare a Case for Internet Learning in Your Organization.
Senior Management Sponsorship.
Assess Build Versus Buy Options.
Implement the Pilot.
Measure and Report Tangible Results.
Prepare a Proposal for Expanding the Pilot.
Ongoing Governance.
Implement for Results.
Build to Scale.
Aim to Integrate.
Keep It Flexible.
Ensure Speed and Responsiveness.
Conclusion.
Endnotes.
13. Building an Internet Learning Solution.
Access Tools.
Internet Learning Applications.
Business Operations.
Content Management.
Delivery Management.
Learning Management Services.
The Network Infrastructure.
Cisco Case Study: A Role for Content-Delivery Networks in Internet Learning.
Challenge.
Solution.
Benefits and Results.
Collaborating to Create an Internet Solutions Architecture.
Conclusion.
14. Practitioners' Views on the Business Advantages of E-Learning.
Convergys Learning Solutions: A Perspective on Deployment.
Adopting Seamless Delivery Across the Enterprise.
Achieving Productivity Gains Through an Integrated Approach to E-Learning.
Viewing E-Learning as a Business Process Deployment.
ElementK: A Question of Leadership.
Cisco Communities: Building Customer Loyalty.
Knowledge Sharing Through Communities.
Knowledge Sharing Through Engaging Content.
Knowledge Sharing Through Events.
Justifying the Investment.
Conclusion.
Index
Download - 99.7 KB -- Index
Other Things You Might Like

Online Video $199.99

By Luc De Ghein
Online Video $159.99

eBook (Watermarked) $22.39