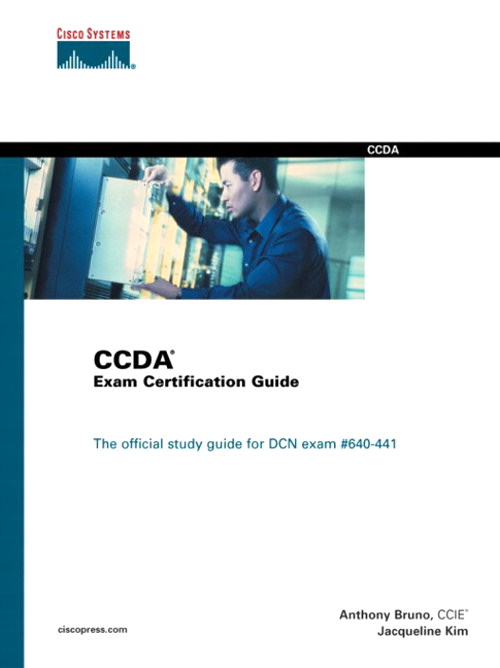 Share
|



Register your product to gain access to bonus material or receive a coupon.
CCDA Exam Certification Guide
Book
Sorry, this book is no longer in print.
Features
The only Cisco Systems-endorsed study guide for the Cisco Support Exam #640-506—No other books are either reviewed or approved for use in CCNP study by Cisco Systems, the creators of the course and exam.

Students are better prepared for the certification exam by learning from the only reliable source. Ex.___
Reviews of all concepts covered on the exam for diagnosing, isolating and resolving network problems.

Prepares students and ensures that they do not need to go to a secondary source for further study prior to sitting for the exam. Ex.___
Extensive use of quizzes, practice questions and scenarios.

Provides a large resource of progressional testing to insure material comprehension. Ex.___
Test bank—Over 200 questions on the CD-ROM. Enables users to practice and review concepts in a simulated test environment.

Allows for identification of areas for further study and builds confidence in material comprehension. Ex.___
Copyright 2000
Dimensions: 7.375 X 9.125
Pages: 550
Edition: 1st
Book
ISBN-10: 0-7357-0074-5
ISBN-13: 978-0-7357-0074-1
The official study guide for DCN exam #640-441
Coverage of the CCDA exam design objectives enables you to discover your knowledge gaps before the exam date. You'll learn to:
Characterize a customer's existing network and identify customer needs
Simplify the complexities associated with analyzing customer network problems and creating Cisco scalable solutions
Predict the amount and types of traffic caused by a customer's applications
Recommend Cisco products, LAN/WAN technologies, routing and bridging protocols, and Cisco IOS Software features that will meet a customer's requirements for performance, capacity, and scalability in small- to medium-sized networks
Assemble Cisco product lines into an end-to-end networking solution
Build a prototype or pilot of the network structure and demonstrate it so that the customer understands that the proposed design meets requirements
CCDA Exam Certification Guide is a comprehensive study tool for DCN exam #640-441. Written by a CCIE and a CCDA, and reviewed by Cisco technical experts, CCDA Exam Certification Guide will help you understand and master the exam objectives. In this solid review on the design areas of the DCN exam, you'll learn to design a network that meets a customer's requirements for performance, security, capacity, and scalability. Each chapter of CCDA Exam Certification Guide teaches you CCDA-related technologies and solutions through specially designed assessment and study features. The "Do I Know This Already?" quizzes help you plan your chapter study, section-by-section objective lists keep you focused on the exam material you need to master, case studies challenge your design skills, and chapter-ending quizzes test your retention of chapter lessons. Finally, practice questions on the companion CD-ROM enable you to take random sample exams or to focus on an objective area of your choice.
CCDA Exam Certification Guide is part of a recommended study program from Cisco Systems that can include simulation and hands-on training from authorized Cisco Learning Partners, hands-on experience, and Coursebooks and study guides from Cisco Press. In order to find out more about instructor-led, e-learning, and hands-on instruction offered by authorized Cisco Learning Partners worldwide, please visit www.cisco.com/go/training.
Online Sample Chapter
Cisco Network Topologies and LAN Design
Table of Contents


1. Design Goals.


2. Customer Objectives.


3. Application Considerations.


4. LAN Design.


5. WAN Design.


6. Designing for Specific Protocols.


7. Putting it All Together.


8. Building a Prototype or Model.


9. Additional Case Studies.


Appendix A: Glossary.


Appendix B: Suggested Reading.


Appendix C: Answer Guide for Pre and Post Tests.


Appendix D: Cisco SMB Equipment Features and Specifications.

Other Things You Might Like

Premium Edition eBook $47.99

Book $47.99

Designing for Cisco Internetwork Solutions (DESGN) (Authorized CCDA Self-Study Guide) (Exam 640-863), 2nd Edition

By Diane Teare
eBook (Watermarked) $43.99