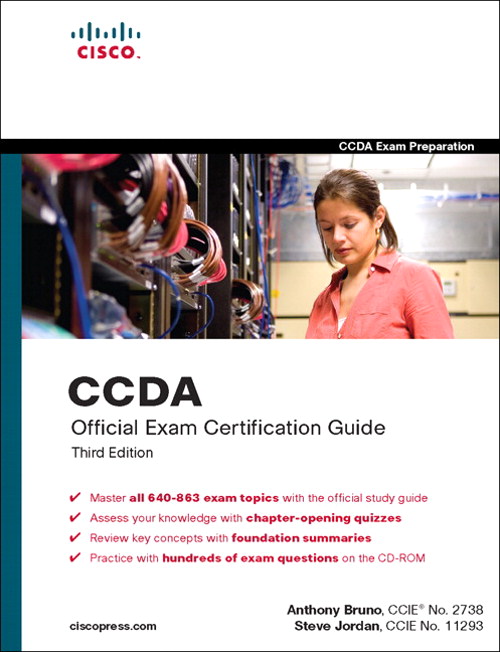 Register your product to gain access to bonus material or receive a coupon.
CCDA Official Exam Certification Guide (Exam 640-863), 3rd Edition
Book
Sorry, this book is no longer in print.
Copyright 2007
Edition: 3rd
Book
ISBN-10: 1-58720-177-1
ISBN-13: 978-1-58720-177-6
CCDA Official Exam Certification Guide
Third Edition
Master all 640-863 exam topics with the official study guide
Assess your knowledge with chapter-opening quizzes
Review key concepts with foundation summaries
Practice with hundreds of exam questions on the CD-ROM
Anthony Bruno, CCIE® No. 2738
Steve Jordan, CCIE No. 11293
CCDA Official Exam Certification Guide, Third Edition, is a best-of-breed Cisco® exam study guide that focuses specifically on the topics for the DESGN exam. Senior networking consultants Anthony Bruno and Steve Jordan expertly cover the latest exam content, helping you identify areas of weakness and improve your knowledge of Cisco network design. Material is presented in a concise manner, focusing on increasing your understanding and retention of exam topics.
CCDA Official Exam Certification Guide presents you with an organized test preparation routine through the use of proven series elements and techniques. "Do I Know This Already?" quizzes open each chapter and allow you to decide how much time you need to spend on each section. Exam topic lists and concise Foundation Summary information make referencing easy and give you a quick refresher whenever you need it. Challenging chapter-ending review questions help you assess your knowledge and reinforce key concepts.
The companion CD-ROM contains a powerful testing engine that allows you to focus on individual topic areas or take complete, timed exams. The assessment engine also tracks your performance and provides feedback on a topic-by-topic basis, presenting question-by-question remediation to the text.
Well regarded for its level of detail, assessment features, and challenging review questions and exercises, this book helps you master the concepts and techniques that will enable you to succeed on the exam the first time.
CCDA Official Exam Certification Guide, Third Edition, is part of a recommended learning path from Cisco that includes simulation and hands-on training from authorized Cisco Learning Partners and self-study products from Cisco Press. To find out more about instructor-led training, e-learning, and hands-on instruction offered by authorized Cisco Learning Partners worldwide, please visit www.cisco.com/go/authorizedtraining.
A. Anthony Bruno, CCIE® No. 2738, is a senior principal consultant with British Telecom with more than 17 years experience in the internetworking field. He has consulted for many enterprise and service-provider customers in the design, implementation, and optimization of large-scale data and IP telephony networks.
Steve Jordan, CCIE No. 11293, is a senior consultant with British Telecom with more than 11 years of experience in internetworking. He has extensive experience with large-scale data-center environments and has designed and implemented various network solutions in the manufacturing, telecommunication, and transportation industries.
This official study guide helps you master all the topics on the DESGN exam, including
Network design methodology
Network structure models
Enterprise LAN design
Wireless LAN design
Enterprise edge module design
WAN design
IPv4 and IPv6
Routing protocol selection
RIP, EIGRP, OSPF, and IS-IS
BGP, route manipulation, and IP multicast
Security management, technologies, and design
Voice architectures and IP telephony design
Network management protocols
Companion CD-ROM
The CD-ROM contains an electronic copy of the book and more than 200 practice questions for the DESGN exam, all available in study mode, test mode, and flash card format.
This volume is part of the Exam Certification Guide Series from Cisco Press®. Books in this series provide officially developed exam preparation materials that offer assessment, review, and practice to help Cisco Career Certification candidates identify weaknesses, concentrate their study efforts, and enhance their confidence as exam day nears.
Category: Cisco Press—Cisco Certification
Covers: CCDA® DESGN exam 640-863
Online Sample Chapter
Border Gateway Protocol, Route Manipulation, and IP Multicast
Downloadable Sample Chapter
Download - 308 KB -- Chapter 12: Border Gateway Protocol, Route Manipulation, and IP Multicast
Table of Contents
Foreword
Introduction
Part I General Network Design
Chapter 1 Network Design Methodology
"Do I Know This Already?" Quiz
Foundation Topics
Intelligent Information Network and Service-Oriented Network Architecture
IIN Framework
SONA
Network Infrastructure Layer
Interactive Service Layer
Application Layer
Benefits of SONA
Prepare, Plan, Design, Implement, Operate, and Optimize Phases
Prepare Phase
Plan Phase
Design Phase
Implement Phase
Operate Phase
Optimize Phase
Design Methodology Under PPDIOO
Identifying Customer Requirements
Characterizing the Existing Network
Steps in Gathering Information
Network Audit Tools
Network Analysis Tools
Network Checklist
Designing the Network Topology and Solutions
Top-Down Approach
Pilot and Prototype Tests
Design Document
References and Recommended Reading
Foundation Summary
Q&A
Chapter 2 Network Structure Models
"Do I Know This Already?" Quiz
Foundation Topics
Hierarchical Network Models
Benefits of the Hierarchical Model
Hierarchical Network Design
Core Layer
Distribution Layer
Access Layer
Hierarchical Model Examples
Cisco Enterprise Architecture Model
Enterprise Campus Module
Enterprise Edge Module
E-Commerce
Internet Edge
VPN/Remote Access
Enterprise WAN
Service Provider (SP) Edge Module
Remote Modules
Enterprise Branch Module
Enterprise Data Center Module
Enterprise Teleworker Module
Network Availability
Workstation-to-Router Redundancy
ARP
Explicit Configuration
RDP
RIP
HSRP
GLBP
Server Redundancy
Route Redundancy
Load Balancing
Increasing Availability
Media Redundancy
References and Recommended Reading
Foundation Summary
Q&A
Part II LAN and WAN Design
Chapter 3 Enterprise LAN Design
"Do I Know This Already?" Quiz
Foundation Topics
LAN Media
Ethernet Design Rules
10-Mbps Fiber Ethernet Design Rules
100-Mbps Fast Ethernet Design Rules
Gigabit Ethernet Design Rules
1000BASE-LX Long-Wavelength Gigabit Ethernet
1000BASE-SX Short-Wavelength Gigabit Ethernet
1000BASE-CX Gigabit Ethernet over Coaxial Cable
1000BASE-T Gigabit Ethernet over UTP
10 Gigabit Ethernet (10GE) Design Rules
10GE Media Types
Fast EtherChannel
Token Ring Design Rules
LAN Hardware
Repeaters
Hubs
Bridges
Switches
Routers
Layer 3 Switches
LAN Design Types and Models
Best Practices for Hierarchical Layers
Access Layer Best Practices
Distribution Layer Best Practices
Core Layer Best Practices
Large-Building LANs
Enterprise Campus LANs
Edge Distribution
Medium Site LANs
Small and Remote Site LANs
Server-Farm Module
Server Connectivity Options
Enterprise Data Center Infrastructure
Campus LAN Quality of Service Considerations
Multicast Traffic Considerations
CGMP
IGMP Snooping
References and Recommended Readings
Foundation Summary
Q&A
Chapter 4 Wireless LAN Design
"Do I Know This Already?" Quiz
Foundation Topics
Wireless LAN Technologies
Wireless LAN Standards
ISM and UNII Frequencies
Summary of Wireless LAN Standards
Service Set Identifier (SSID)
WLAN Layer 2 Access Method
WLAN Security
Unauthorized Access
WLAN Security Design Approach
IEEE 802.1X-2001 Port-Based Authentication
Dynamic WEP Keys and LEAP
Controlling WLAN Access to Servers
Cisco Unified Wireless Network
Cisco UWN Architecture
LWAPP
LWAPP Access Point Modes
LWAPP Discovery
WLAN Authentication
Authentication Options
WLAN Controller Components
WLC Interface Types
AP Controller Equipment Scaling
Roaming and Mobility Groups
Intracontroller Roaming
Layer 2 Intercontroller Roaming
Layer 3 Intercontroller Roaming
Mobility Groups
Wireless LAN Design
Controller Redundancy Design
N+1 WLC Redundancy
N+N WLC Redundancy
N+N+1 WLC Redundancy
Radio Management and Radio Groups
Radio Frequency (RF) Groups
RF Site Survey
Using EoIP Tunnels for Guest Services
Wireless Mesh for Outdoor Wireless
Mesh Design Recommendations
Campus Design Considerations
Branch Design Considerations
Local MAC
REAP
Hybrid REAP
Branch Office Controller Options
References and Recommended Readings
Foundation Summary
Q&A
Chapter 5 WAN Technologies
"Do I Know This Already?" Quiz
Foundation Topics
WAN Technology Overview
WAN Defined
WAN Connection Modules
WAN Comparison
Dialup
ISDN
Frame Relay
Time-Division Multiplexing
SONET/SDH
Multiprotocol Label Switching
Other WAN Technologies
Digital Subscriber Line
Cable
Wireless
Dark Fiber
Dense Wave Division Multiplexing
Ordering WAN Technology and Contracts
WAN Design Methodology
Response Time
Throughput
Reliability
Bandwidth Considerations
Window Size
Data Compression
Optimizing Bandwidth Using QoS
Queuing, Traffic Shaping, and Policing
Priority Queuing
Custom Queuing
Weighted Fair Queuing
Class-Based Weighted Fair Queuing
Low-Latency Queuing
Traffic Shaping and Policing
References and Recommended Readings
Foundation Summary
Q&A
Chapter 6 WAN Design
"Do I Know This Already?" Quiz
Foundation Topics
Traditional WAN Technologies
WAN Topologies
Hub-and-Spoke Topology
Full-Mesh Topology
Partial-Mesh Topology
Remote-Access Network Design
VPN Network Design
Overlay VPNs
Virtual Private Dialup Networks
Peer-to-Peer VPNs
VPN Benefits
WAN Backup Design
Load-Balancing Guidelines
WAN Backup over the Internet
Layer 3 Tunneling
Enterprise WAN Architecture
Cisco Enterprise MAN/WAN
Enterprise WAN/MAN Architecture Comparison
Enterprise Edge Components
Hardware Selection
Software Selection
Cisco IOS Packaging
Comparing Hardware and Software
Enterprise Branch Architecture
Branch Design
Enterprise Branch Profiles
Single-Tier Design
Dual-Tier Design
Multi-Tier Design
Enterprise Teleworker (Branch of One) Design
References and Recommended Readings
Foundation Summary
Q&A
Part III The Internet Protocol and Routing Protocols
Chapter 7 Internet Protocol Version 4
"Do I Know This Already?" Quiz
Foundation Topics
IPv4 Header
ToS
IPv4 Fragmentation
IPv4 Addressing
IPv4 Address Classes
Class A Addresses
Class B Addresses
Class C Addresses
Class D Addresses
Class E Addresses
IPv4 Private Addresses
NAT
IPv4 Address Subnets
Mask Nomenclature
IP Address Subnet Design Example
Determining the Network Portion of an IP Address
VLSMs
VLSM Address-Assignment Example
Loopback Addresses
IP Telephony Networks
CIDR and Summarization
Address Assignment and Name Resolution
Static and Dynamic IP Address Assignment
BOOTP
DHCP
DNS
ARP
References and Recommended Readings
Foundation Summary
Q&A
Chapter 8 Internet Protocol Version 6
"Do I Know This Already?" Quiz
Foundation Topics
Introduction to IPv0
IPv6 Header
IPv6 Address Representation
IPv4-Compatible IPv6 Addresses
IPv6 Prefix Representation
IPv6 Address Types and Address Allocations
IPv6 Unicast Address
IPv6 Anycast Address
IPv6 Multicast Address
IPv6 Address Allocations
Unspecified Address
Loopback Address
IPv4-Compatible IPv6 Address
Global Unicast Addresses
Link-Local Addresses
Site-Local Addresses
Multicast Addresses
IPv6 Mechanisms
ICMPv0
IPv6 Network Discovery (ND) Protocol
IPv6 Name Resolution
Path MTU Discovery
IPv6 Address-Assignment Strategies
Autoconfiguration of Link-Local Address
DHCPv6
IPv6 Security
IPv6 Routing Protocols
RIPng for IPv6
EIGRP for IPv6
OSPFv3 for IPv6
IS-IS for IPv6
BGP4 Multiprotocol Extensions for IPv6
IPv4 to IPv6 Transition Strategies and Deployments
IPv6 over Dedicated WAN Links
IPv6 over IPv4 Tunnels
Dual-Stack Backbones
Dual-Stack Hosts
Protocol Translation Mechanisms
IPv6 Comparison with IPv4
References and Recommended Readings
Foundation Summary
Q&A
Chapter 9 Routing Protocol Selection Criteria
"Do I Know This Already?" Quiz
Foundation Topics
Routing Protocol Characteristics
Static Versus Dynamic Route Assignment
Interior Versus Exterior Routing Protocols
Distance-Vector Routing Protocols
EIGRP
Link-State Routing Protocols
Distance-Vector Routing Protocols Versus Link-State Protocols
Hierarchical Versus Flat Routing Protocols
Classless Versus Classful Routing Protocols
IPv4 Versus IPv6 Routing Protocols
Administrative Distance
Routing Protocol Metrics and Loop Prevention
Hop Count
Bandwidth
Cost
Load
Delay
Reliability
Maximum Transmission Unit (MTU)
Routing Loop-Prevention Schemes
Split Horizon
Split Horizon with Poison Reverse
Counting to Infinity
Triggered Updates
Summarization
ODR
References and Recommended Readings
Foundation Summary
Q&A
Chapter 10 RIP and EIGRP Characteristics and Design
"Do I Know This Already?" Quiz
Foundation Topics
RIPv1
RIPv1 Forwarding Information Base
RIPv1 Message Format
RIPv1 Timers
Update Timer
Invalid Timer
Flush Timer
Holddown Timer
RIPv1 Design
RIPv1 Summary
RIPv2
Authentication
MD5 Authentication
RIPv2 Forwarding Information Base
RIPv2 Message Format
RIPv2 Timers
RIPv2 Design
RIPv2 Summary
RIPng
RIPng Timers
Authentication
RIPng Message Format
RIPng Design
RIPng Summary
IGRP
IGRP Timers
IGRP Metrics
IGRP Design
IGRP Summary
EIGRP for IPv4 Networks
EIGRP Components
Protocol-Dependent Modules
Neighbor Discovery and Recovery
RTP
DUAL
EIGRP Timers
EIGRP Metrics
EIGRP Packet Types
EIGRP Design
EIGRP Summary
EIGRP for IPv6 Networks
EIGRP for IPv6 Design
EIGRP for IPv6 Summary
References and Recommended Readings
Foundation Summary
RIPv1 Summary
RIPv2 Summary
RIPng Summary
EIGRP for IPv4 Summary
EIGRP for IPv6 Summary
Q&A
Chapter 11 OSPF and IS-IS
"Do I Know This Already?" Quiz
Foundation Topics
OSPFv2
OSPFv2 Concepts and Design
OSPFv2 Metric
OSPFv2 Adjacencies and Hello Timers
OSPFv2 Areas
OSPF Router Types
OSPF DRs
LSA Types
OSPF Stub Area Types
Virtual Links
OSPFv2 Router Authentication
OSPFv2 Summary
OSPFv3
OSPFv3 Changes from OSPFv2
OSPFv3 Areas and Router Types
OSPFv3 Link State Advertisements
OSPFv3 Summary
IS-IS
IS-IS Metrics
IS-IS Operation and Design
NET
IS-IS DRs
IS-IS Areas
IS-IS Authentication
IS-IS for IPv6
IS-IS Summary
References and Recommended Readings
Foundation Summary
OSPFv2 Summary
OSPFv3 Summary
IS-IS Summary
Q&A
Chapter 12 Border Gateway Protocol, Route Manipulation, and IP Multicast
"Do I Know This Already?" Quiz
Foundation Topics
BGP
BGP Neighbors
eBGP
iBGP
Route Reflectors
Confederations
BGP Administrative Distance
BGP Attributes, Weight, and the BGP Decision Process
BGP Path Attributes
Next-Hop Attribute
Local Preference Attribute
Origin Attribute
AS Path Attribute
MED Attribute
Community Attribute
Atomic Aggregate and Aggregator Attributes
Weight
BGP Decision Process
BGP Summary
Route Manipulation
PBR
Route Summarization
Route Redistribution
Default Metric
OSPF Redistribution
IP Multicast Review
Multicast Addresses
Layer 3 to Layer 2 Mapping
IGMP
IGMPv1
IGMPv2
IGMPv3
CGMP
IGMP Snooping
Sparse Versus Dense Multicast Routing Protocols
Multicast Source and Shared Trees
PIM
PIM-SM
PIM DR
Auto-RP
PIMv2 Bootstrap Router
DVMRP
IPv6 Multicast Addresses
References and Recommended Readings
Foundation Summary
BGP Summary
Route Redistribution
IP Multicast
Q&A
Part IV Security, Convergence, and Network Management
Chapter 13 Security Management
"Do I Know This Already?" Quiz
Foundation Topics
Network Security Overview
Security Legislation
Security Threats
Reconnaissance and Port Scanning
Vulnerability Scanners
Unauthorized Access
Security Risks
Targets
Loss of Availability
Integrity Violations and Confidentiality Breaches
Security Policy and Process
Security Policy Defined
Basic Approach of a Security Policy
Purpose of Security Policies
Security Policy Components
Risk Assessment
Continuous Security
Integrating Security Mechanisms into Network Design
Trust and Identity Management
Trust
Domains of Trust
Identity
Passwords
Tokens
Certificates
Access Control
Secure Connectivity
Encryption Fundamentals
Encryption Keys
VPN Protocols
Transmission Confidentiality
Data Integrity
Threat Defense
Physical Security
Infrastructure Protection
References and Recommended Readings
Foundation Summary
Q&A
Chapter 14 Security Technologies and Design
"Do I Know This Already?" Quiz
Foundation Topics
Cisco Self-Defending Network
Network Security Platforms
Self-Defending Network Phases
Trust and Identity Technologies
Firewall ACLs
NAC Framework and Appliance
Cisco Identity-Based Network Services
Identity and Access Control Deployments
Detecting and Mitigating Threats
Threat Detection and Mitigation Technologies
Threat Detection and Mitigation Solutions
Security Management Applications
Security Platform Solutions
Integrating Security into Network Devices
IOS Security
ISR Security Hardware Options
Cisco Security Appliances
Intrusion Prevention
Catalyst 6500 Services Modules
Endpoint Security
Securing the Enterprise
Implementing Security in the Campus
Implementing Security in the Data Center
Implementing Security in the Enterprise Edge and WAN
References and Recommended Readings
Foundation Summary
Q&A
Chapter 15 Traditional Voice Architectures and IP Telephony Design
"Do I Know This Already?" Quiz
Foundation Topics
Traditional Voice Architectures
PBX and PSTN Switches
Local Loop and Trunks
Ports
Major Analog and Digital Signaling Types
Loop-Start Signaling
Ground-Start Signaling
E&M Signaling
CAS and CCS Signaling
PSTN Numbering Plan
Other PSTN Services
Centrex Services
Voice Mail
Database Services
IVR
ACD
Voice Terminology
Grade of Service
Erlangs
Centum Call Second (CCS)
Busy Hour
Busy Hour Traffic (BHT)
Blocking Probability
Call Detail Records
Integrated Multiservice Networks
VoFR
VoATM
VoIP
IPT Components
Design Goals of IP Telephony
IPT Deployment Models
Single-Site Deployment
Multisite Centralized WAN Call-Processing Model
Multisite Distributed WAN Call-Processing Model
Unified CallManager Express Deployments
Codecs
Analog-to-Digital Signal Conversion
Codec Standards
VoIP Control and Transport Protocols
DHCP, DNS, and TFTP
SSCP
RTP and RTCP
MGCP
H.323
SIP
IPT Design
Bandwidth
VAD
Delay Components
QoS Mechanisms for VoIP Networks
CRTP
LFI
PQ-WFQ
LLQ
Auto QoS
IPT Design Recommendations
References and Recommended Readings
Foundation Summary
Q&A
Chapter 16 Network Management Protocols
"Do I Know This Already?" Quiz
Foundation Topics
SNMP
SNMP Components
MIB
SNMP Message Types
SNMPv1
SNMPv2
SNMPv3
Other Network Management Technologies
RMON
RMON2
NetFlow
NetFlow Compared to RMON
CDP
Syslog
References and Recommended Reading
Foundation Summary
Q&A
Part V Comprehensive Scenarios
Chapter 17 Comprehensive Scenarios
Scenario One: Pearland Hospital
Scenario One Questions
Scenario One Answers
Scenario Two: Big Oil and Gas
Scenario Two Questions
Scenario Two Answers
Scenario Three: Beauty Things Store
Scenario Three Questions
Scenario Three Answers
Scenario Four: Falcon Communications
Scenario Four Questions
Scenario Four Answers
Part VI Appendixes
Appendix A Answers to Chapter "Do I Know This Already?" Quizzes and Q&A Sections
Appendix B The OSI Reference Model, TCP/IP Architecture, and Numeric Conversion
1587201771 TOC 5/9/2007
Index
Download - 114 KB -- Index
Other Things You Might Like

Premium Edition eBook $47.99

Book $47.99

Designing for Cisco Internetwork Solutions (DESGN) (Authorized CCDA Self-Study Guide) (Exam 640-863), 2nd Edition

By Diane Teare
eBook (Watermarked) $43.99