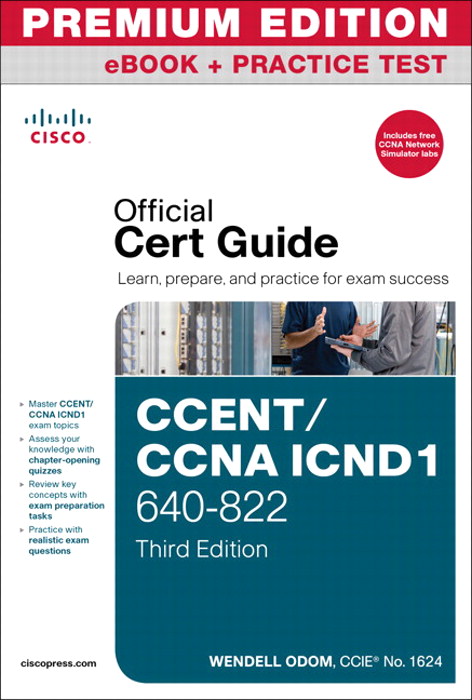 Share
|



Register your product to gain access to bonus material or receive a coupon.
CCENT/CCNA ICND1 640-822 Official Cert Guide, Premium Edition eBook and Practice Test, 3rd Edition
Premium Edition eBook
Sorry, this book is no longer in print.
Product Announcement: Errors in the first printing of this edition have been corrected, and the Premium Edition files now available for purchase have integrated those corrections.
Copyright 2012
Edition: 3rd
Premium Edition eBook
ISBN-10: 0-13-290382-2
ISBN-13: 978-0-13-290382-0
The exciting new CCENT/CCNA ICND1 640-822 Official Cert Guide, Premium Edition eBook and Practice Test is a digital-only certification preparation product combining an eBook with enhanced Pearson IT Certification Practice Test. The Premium Edition eBook and Practice Test contains the following items:
The CCENT/CCNA ICND1 Premium Edition Practice Test, including four complete ICND1 practice exams, four full CCNA practice exams, and enhanced practice test features
PDF and EPUB formats of the CCENT/CCNA ICND1 Official Cert Guide, Third Edition from Cisco Press, which are accessible via your PC, tablet, and Smartphone
About the Premium Edition Practice Test
This Premium Edition contains an enhanced version of the Pearson IT Certification Practice Test (PCPT) software with four complete ICND1 practice exams and four full CCNA practice exams. In addition, it contains all the chapter-opening assessment questions from the book. This integrated learning package:
Allows you to focus on individual topic areas or take complete, timed exams
Includes direct links from each question to detailed tutorials to help you understand the concepts behind the questions
Provides unique sets of exam-realistic practice questions
Tracks your performance and provides feedback on a module-by-module basis, laying out a complete assessment of your knowledge to help you focus your study where it is needed most
Pearson IT Certification Practice Test minimum system requirements:
Windows XP (SP3), Windows Vista (SP2), or Windows 7;
Microsoft .NET Framework 4.0 Client;
Microsoft SQL Server Compact 4.0;
Pentium class 1GHz processor (or equivalent);
512 MB RAM;
650 MB disc space plus 50 MB for each downloaded practice exam
About the Premium Edition eBook
New Edition of Best Selling Official Cert Guide: Updated Content, New Exercises, and Expanded Coverage — PLUS Includes CCNA Network Simulator Lite
The new edition of bestselling CCENT/CCNA ICND1 640-822 Official Cert Guide by Wendell Odom has been updated to refresh the content, add new exercises, and enhance certain topics that are key to understanding for success on the CCENT and CCNA exams. The IP addressing topics have been rewritten and re-organized to mirror proven techniques to learn both the concepts and the specific pieces of the subnetting puzzle. In addition, the TCP/IP and OSI Networking Models and Fundamentals of LANs chapters were also completely updated and rewritten.
Learn, prepare, and practice for exam success
Master CCENT/CCNA ICND1 exam topics
Assess your knowledge with chapter-opening quizzes
Review key concepts with exam preparation tasks
Learn from 60 minutes of Video mentoring
Apply concepts within Network Simulator lab exercises
CCENT/CCNA ICND1 640-822 Official Cert Guide, Third Edition is a best of breed Cisco exam study guide. Best-selling author and expert instructor Wendell Odom shares preparation hints and test-taking tips, helping you identify areas of weakness and improve both your conceptual knowledge and hands-on skills. The book presents you with an organized test preparation routine through the use of proven series elements and techniques. "Do I Know This Already?" quizzes open each chapter and enable you to decide how much time you need to spend on each section. Exam topic lists make referencing easy. Chapter-ending Exam Preparation Tasks help you drill on key concepts you must know thoroughly. A final preparation chapter guides you through tools and resources to help you craft your final study plan. Special troubleshooting sections help you master the complex scenarios you will face on the exam.
This new edition includes a free copy of the CCNA ICND1 640-822 Network Simulator, Lite Edition, complete with meaningful lab exercises, which help you hone your hands-on skills with the Cisco user interface for routers and switches and more than 60 minutes of personal video mentoring from the author focused on subnetting. Go to the back pages of your eBook for instructions on how to access the Network Simulator Lite and personal video mentoring content.
This Network Simulator Lite software, which simulates the experience of working on actual Cisco routers and switches, contains nine free lab exercises, seven skill-builder labs, and two complex configuration scenarios, which cover the following topics:
1. Configuring IP Addresses I
2. Configuring IP Addresses II
3. Connected Routes
4. Static Routes I
5. Static Routes II
6. Subnet Zero I
7. Loopback Interfaces
8. Subnetting and Addressing I Configuration Scenario
9. Static Routing I Configuration Scenario
Well-regarded for its level of detail, assessment features, and challenging review questions and exercises, this official study guide helps you master the concepts and techniques that will enable you to succeed on the exam the first time.
The official study guide helps you master all the topics on the CCENT/CCNA ICND1 exam, including
TCP/IP and OSI networking models
Operating Cisco routers and LAN switches
Ethernet switch configuration and troubleshooting
Wireless LANs
IP addressing and subnetting
Routing protocols
Router configuration and troubleshooting
Network security
WAN concepts and configuration
Table of Contents
Part I Networking Fundamentals
1 Introduction to Computer Networking
2 The TCP/IP and OSI Networking Models
3 Fundamentals of LANs
4 Fundamentals of WANs
5 Fundamentals of IPv4 Addressing and Routing
6 Fundamentals of TCP/IP Transport and Application Protocols

Part II LAN Switching
7 Ethernet LAN Switching Concepts
8 Operating Cisco LAN switches
9 Ethernet Switch Configuration
10 Ethernet Switch Troubleshooting
11 Wireless LANs

Part III IPv4 Addressing and Subnetting
12 Perspectives on IPv4 Subnetting
13 Understanding Classful IPv4 Networks
14 Converting Subnet Masks
15 Analyzing Existing Subnet Masks
16 Designing Subnet Masks
17 Analyzing a Single Existing Subnet
18 Finding All Subnet IDs

Part IV IPv4 Routing
19 Operating Cisco Routers
20 Routing Protocol Concepts and Configuration
21 Troubleshooting IP Routing

Part V Wide-Area Networks
22 WAN Concepts
23 WAN Configuration

Part VI Final Preparation
24 Final Preparation

Appendices (Print)
A Answers to the Do I Know This Already Quizzes
B Numeric Reference Tables
C ICND1 Exam Updates: Version 1.0
Glossary
Index

Appendices CD
D Practice for Chapter 13: Classful Networks
E Practice for Chapter 14: Convert Masks
F Practice for Chapter 15: Analyze Masks
G Practice for Chapter 16: Design Masks
H Practice for Chapter 17: Analyze One Subnet
I Practice for Chapter 18: Find All Subnets
J Additional Scenarios
K Subnetting Video Reference
L Memory Tables
M Memory Tables Answer Key
N ICND1 Open Ended Questions

Other Things You Might Like


By Sean Wilkins
Software Download $87.99