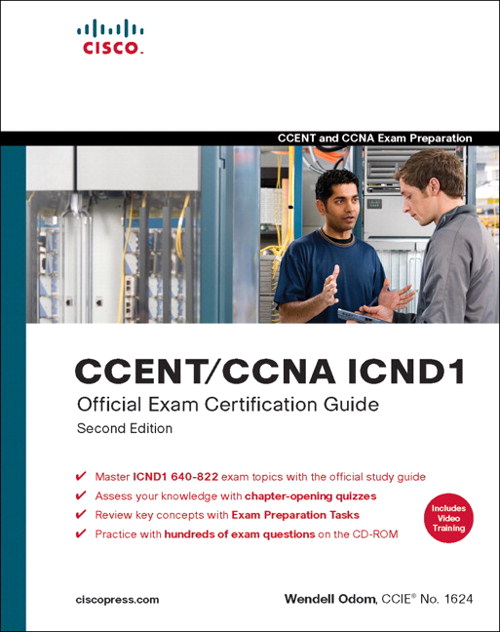 Register your product to gain access to bonus material or receive a coupon.
CCENT/CCNA ICND1 Official Exam Certification Guide (CCENT Exam 640-822 and CCNA Exam 640-802), 2nd Edition
Book
Sorry, this book is no longer in print.
Some users are experiencing an issue with the Boson Practice Test that accompanies this book where the images and exhibits are not showing up. If you experience this problem, all you need to do is go to the c:/Program Files/Boson Software/Boson Practice Tests/ folder and run the BosonCleaner.exe. It should delete all account settings on your machine and eliminate the problem . You will have to restore your exam by using your boson account information which will be your email address and password. Make sure all Boson products are shutdown before you run the cleaner.
Copyright 2008
Edition: 2nd
Book
ISBN-10: 1-58720-182-8
ISBN-13: 978-1-58720-182-0
New Edition of Best Selling Official Cert Guide Available
Includes Updated Content, New Exercises, and Expanded Coverage -- PLUS includes CCNA Network Simulator Lite Edition.
The new edition of bestselling Official Cert Guide is available: CCENT/CCNA ICND1 640-822 Official Cert Guide, Third Edition (ISBN: 978-1-58720-425-8) by Wendell Odom has been updated to refresh the content, add new exercises, and enhance certain topics that are key to understanding for success on the CCENT and CCNA exams. The IP addressing topics have been rewritten and re-organized to mirror proven techniques to learn both the concepts and the specific pieces of the subnetting puzzle. In addition, the TCP/IP and OSI Networking Models chapter was also completely updated and rewritten.

CCENT/CCNA ICND1 640-822 Official Cert Guide, 3rd Edition
ISBN: 978-1-58720-425-8
About the Previous Edition

CCENT/CCNA ICND1 Official Exam Certification Guide, Second Edition, is a best of breed Cisco® exam study guide that focuses specifically on the objectives for the CCENT™ and CCNA® ICND1 exam. This fully updated edition presents complete reviews and a more challenging and realistic exam preparation experience.
Senior instructor and best-selling author Wendell Odom shares preparation hints and test-taking tips, helping you identify areas of weakness and improve both your conceptual knowledge and hands-on skills. The material is presented in a concise manner, focused on increasing your understanding of exam topics and preparing you for the numerous challenges the exams present.
CCENT/CCNA ICND1 Official Exam Certification Guide, Second Edition, presents you with an organized test preparation routine through the use of proven series elements and techniques. "Do I Know This Already?" quizzes open each chapter and allow you to decide how much time you need to spend on each section. Chapter-ending Exam Preparation Tasks sections help you drill on key concepts you must know thoroughly and help increase your speed in answering questions, a difficult hurdle many exam candidates face on the new exams. A Final Preparation chapter guides you through tools and resources to help you craft your final study plan. Special troubleshooting sections help you master the complex scenarios you will face on the exam.
The companion CD-ROM contains a powerful testing engine that allows you to focus on individual topic areas or take complete, timed exams. The assessment engine also tracks your performance and provides feedback on a chapter-by-chapter basis, presenting question-by-question remediation to the text. The bonus DVD contains more than
60 minutes of personal video mentoring from the author focused mainly on bringing difficult subnetting concepts to life.
Well-regarded for its level of detail, assessment features, and challenging practice questions, this book provides you with more detailed information and more realistic practice exercises than any other CCNA study guide, enabling you to succeed on the exam the first time.
CCENT/CCNA ICND1 Official Exam Certification Guide, Second Edition, is part of a recommended learning path from Cisco that includes simulation and hands-on training from authorized Cisco Learning Partners and self-study products from Cisco Press. To find out more about instructor-led training, e-learning, and hands-on instruction offered by authorized Cisco Learning Partners worldwide, please visit www.cisco.com/go/authorizedtraining.
Wendell Odom, CCIE® No. 1624, has been in the networking industry since 1981. He currently teaches QoS, MPLS, and CCNA courses for Skyline Advanced Technology Services (www.skyline-ats.com). Wendell has worked as a network engineer, consultant, systems engineer, and instructor and course developer, and has taught authorized Cisco courses for the majority of the last 14 years.
The official study guide helps you master all the topics on the CCENT and CCNA ICND1 exam, including
TCP/IP and OSI networking models
Operating Cisco routers and LAN switches
Ethernet switch configuration and troubleshooting
Wireless LANs
IP addressing and subnetting
Routing protocols
Router configuration and troubleshooting
Network Security
WAN concepts and configuration
Companion CD-ROM
The CD-ROM contains an electronic copy of the book and 200 practice questions for the ICND1 and full CCNA exams, including simulation and testlet questions, all available in study mode and test mode.
BONUS DVD
The DVD contains more than 60 minutes of personal instruction from the author.
This volume is part of the Exam Certification Guide Series from Cisco Press®. Books in this series provide officially developed exam preparation materials that offer assessment, review, and practice to help Cisco Career Certification candidates identify weaknesses, concentrate their study efforts, and enhance their confidence as exam day nears.
Online Sample Chapter
CCENT/CCNA ICND1 Exam Guide: Introduction to Wireless LANs
Sample Pages
Download the sample pages (includes Chapter 11 and Index)
Table of Contents
Part I Networking Fundamentals
Chapter 1 Introduction to Computer Networking Concepts
Chapter 2 The TCP/IP and OSI Networking Models
Chapter 3 Fundamentals of LANs
Chapter 4 Fundamentals of WANs
Chapter 5 Fundamentals of IP Addressing and Routing
Chapter 6 Fundamentals of TCP/IP Transport, Applications, and Security
Part II LAN Switching
Chapter 7 Ethernet LAN Switching Concepts
Chapter 8 Operating Cisco LAN Switches
Chapter 9 Ethernet Switch Configuration
Chapter 10 Ethernet Switch Troubleshooting
Chapter 11 Wireless LANs
Part III IP Routing
Chapter 12 IP Addressing and Subnetting
Chapter 13 Operating Cisco Routers
Chapter 14 Routing Protocol Concepts and Configuration
Chapter 15 Troubleshooting IP Routing
Part IV Wide-Area Networks
Chapter 16 WAN Concepts
Chapter 17 WAN Configuration
Part V Final Preparation
Chapter 18 Final Preparation
Part VI Appendixes
Appendix A Answers to the "Do I Know This Already?" Quizzes
Appendix B Decimal to Binary Conversion Table
Appendix C ICND1 Exam Updates: Version 1.0
Glossary
Index
Appendix
Other Things You Might Like


Cisco Certified Support Technician CCST Networking 100-150 Official Cert Guide Premium Edition and Practice Test

By Russ White
Premium Edition eBook $47.99