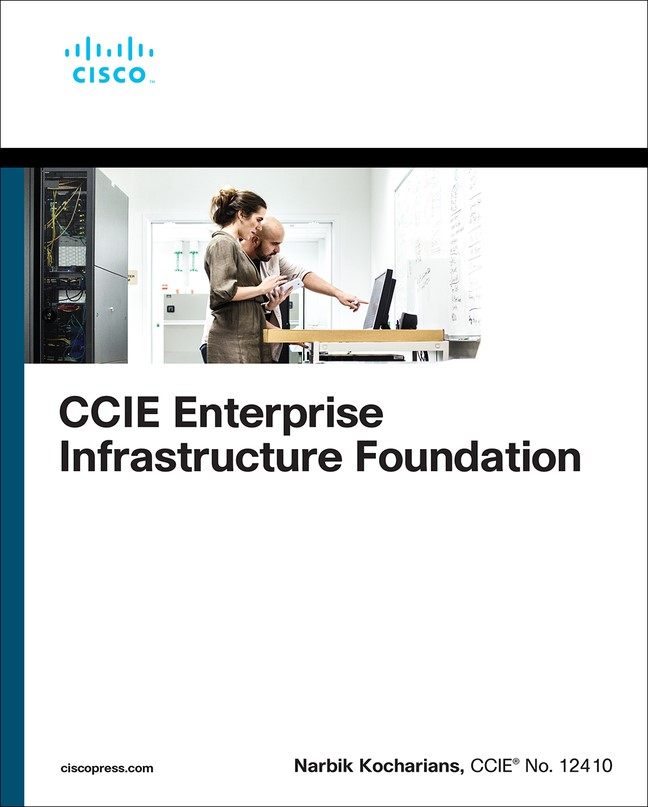 Register your product to gain access to bonus material or receive a coupon.
CCIE Enterprise Infrastructure Foundation, 2nd Edition
eBook (Watermarked)
Your Price: $95.99
List Price: $119.99
Includes EPUB and PDF

This eBook includes the following formats, accessible from your Account page after purchase:

EPUB The open industry format known for its reflowable content and usability on supported mobile devices.

PDF The popular standard, used most often with the free Adobe® Reader® software.

This eBook requires no passwords or activation to read. We customize your eBook by discreetly watermarking it with your name, making it uniquely yours.
Features
Based on the industry-leading CCIE prep classes created by Narbik Kocharians
Presents a full lab walkthrough of a complex configuration comparable to the actual CCIE
Covers essential mature technologies and emerging policy-based, intent-driven solutions
Copyright 2023
Pages: 944
Edition: 2nd
eBook (Watermarked)
ISBN-10: 0-13-737398-8
ISBN-13: 978-0-13-737398-7
Apply Cisco networking theory to modern enterprise environments with 40+ hands-on, CCIE-level labs

Enterprise networking has changed, and so have the Cisco certification paths. It's crucial for networking professionals to bridge the gap between their current knowledge and the deep hands-on expertise they need to succeed at the pinnacle of the profession. Now, renowned Cisco instructor and practitioner Narbik Kocharians helps you make the leap with confidence, whether you're preparing for your CCIE Labs or simply seeking to optimize your own network's reliability, agility, and performance.

Based on Kocharians's widely admired CCIE prep classes, this progressive learning tool combines foundational topics with 40+ lab walkthroughs, revealing how mature technologies and today's increasingly critical software-defined and policy-based solutions fit together. You'll find detailed labs for widely-available emulators, structured illustrations of modern protocol and feature operation, a full lab walkthrough of a complex configuration reflective of the actual CCIE, and more.


Every lab scenario includes full solutions and in-depth explanations: read these as you practice, or solve on your own, and compare your results with the author's. Either way, you'll gain indispensable insight for applying theory to practice in real-world environments---including your CCIE Labs.


Master core Layer 2 switching concepts, including STP, RSTP, MSTP, VTP, VTP Pruning, 802.1Q, ISL Trunking, LACP, and PagP
Master route filtering with IP Prefix-lists
Gain a rock-solid understanding of RIPv2, the Cisco Enhanced Interior Gateway Routing Protocol (EIGRP), and classic Open Shortest Path First (OSPF) routing
Understand Border Gateway Protocol (BGP), the protocol that routes the Internet
Review the Cisco Dynamic Multipoint VPN (DMVPN) from the ground up, overlays/underlays, configurations, switching enhancements, network design, tunneling, and more
Master MPLS and the suite of services it can provide: L3VPNs and beyond
Make the most of IPv6: master address types, assignment, configuration, NDP, SLAAC, and IPv6-enabled DMVPN, OSPFv3, EIGRP, and BGP
Explore the Cisco latest SD-WAN platform, from basic components to WAN edge devices and app-aware Policies
Understand the Cisco SD-Access (SDA) solution for creating scalable, automated, and resilient enterprise fabrics
Sample Pages
Download the sample pages (includes Chapter 4)
Table of Contents
Introduction xxxiii
Chapter 1 Switching 1
Lab 1: Configuring Trunks 1
Lab 2: Configuring EtherChannels 13
Lab 3: Introducing Spanning Tree Protocol 14
Chapter 2 IP Prefix Lists 35
Lab 1: Prefix Lists 35
Chapter 3 RIPv2 39
Lab 1: Configuring RIPv2 39
Lab 2: Helper Map 46
Lab 3: RIPv2 Challenge Lab 48
Chapter 4 EIGRP 51
Lab 1: EIGRP Named Mode 51
Lab 2: EIGRP and Bidirectional Forwarding Detection (BFD) 54
Lab 3: EIGRP Stub 55
Lab 4: EIGRP Filtering 57
Lab 5: Advanced EIGRP Lab 59
Lab 6: EIGRP Authentication 62
Lab 7: EIGRP Challenge Lab 63
Chapter 5 OSPF 65
Lab 1: Running OSPF on the Interfaces 65
Lab 2: OSPF Broadcast Networks 67
Lab 3: OSPF Non-broadcast Networks 69
Lab 4: OSPF Point-to-Point Networks 70
Lab 5: OSPF Point-to-Multipoint and Point-to-Multipoint Non-broadcast Networks 71
Lab 6: OSPF Area Types 72
Lab 7: OSPF Filtering 77
Lab 8: OSPF Summarization 80
Lab 9: Virtual Links and GRE Tunnels 83
Lab 10: Default Route Injection 85
Lab 11: OSPF Authentication 87
Lab 12: OSPF Best-Path Determination 90
Lab 13: OSPF Challenge Lab 92
Chapter 6 BGP 95
Lab 1: Establishing a BGP Session Using the Correct TTL Value 95
Lab 2: Establishing Neighbor Adjacency Using Different Methods 98
Lab 3: Route Reflectors 101
Lab 4: BGP Confederation 104
Lab 5: BGP Backdoor and Conditional Advertisement 106
Lab 6: BGP Aggregation 109
Lab 7: BGP Filtering 111
Lab 8: BGP Load Balancing 114
Lab 9: Remove-Private-AS: A Walkthrough 116
Lab 10: AS Migration 133
Lab 11: BGP Best-Path Algorithm: A Walkthrough 134
Chapter 7 DMVPN 269
Introduction to DMVPN 269
DMVPN Mechanics 283
DMVPN Designs 294
Conclusion 329
Lab 1: Single Hub, Single Cloud 330
Lab 2: Single Hub, Dual Cloud 406
Lab 3: Dual Hub, Single Cloud 511
Lab 4: Dual Hub, Dual Cloud 537
Lab 5: DMVPN NHS Clustering 559
Lab 6: DMVPN and DHCP 573
Chapter 8 MPLS and L3VPNs 585
Lab 1: Configuring Label Distribution Protocol 585
Lab 2: Static and RIPv2 Routing in a VPN 589
Lab 3: EIGRP Routing in a VPN 591
Lab 4: EIGRP Site-of-Origin 593
Lab 5: OSPF Routing in a VPN 595
Lab 6: Backdoor Links and OSPF 597
Lab 7: BGP Routing in a VPN 599
Lab 8: MPLS and NAT 601
Lab 9: Route Targets, Import Maps, and Export Maps 603
Lab 10: Internet Access Methods: Partial Internet Routes 606
Chapter 9 IPv6 609
Lab 1: Acquiring an IPv6 Address 609
Lab 2: DMVPN and IPv6 612
Lab 3: Configuring OSPFv3 614
Lab 4: Summarization of Internal and External Networks 615
Lab 5: OSPFv3 Broadcast Networks 617
Lab 6: OSPFv3 Non-Broadcast Networks 618
Lab 7: OSPFv3 Point-to-Point Networks 620
Lab 8: OSPFv3 Point-to-Multipoint Networks 621
Lab 9: OSPFv3 Cost and Auto-Cost 622
Lab 10: LSAs in OSPFv3 624
Lab 11: OSPFv3 Area Types 626
Lab 12: OSPFv3 Authentication 629
Lab 13: EIGRPv6 632
Lab 14: BGP Configuration 634
Chapter 10 SD-WAN 637
Lab 1: Onboarding WAN Edge Devices 638
Lab 2: Exploring Unicast Routing 664
Lab 3: Configuring Segmentation in All Sites Using VRF 100 and
Lab 4: Configuring vEdge Using a Feature Template 703
Lab 5: Configuring vEdge Using a vManage Feature Template 729
Lab 6: Configuring cEdge Using a BR-2Specific vManage Feature
Lab 7: Configuring vEdge Using a vManage Feature Template and ZTP 782
Lab 8: Configuring an Application-Aware Routing Policy 816
Chapter 11 SD-Access 825
Lab 1: Configuring the SDA Policy Engine 826
Lab 2: SDA Design 835
Lab 3: Building the SDA Campus Fabric 855
Lab 4: LAN Automation 869


9780137374243, TOC, 5/16/2022


Other Things You Might Like


CCNP and CCIE Security Core SCOR 350-701 Official Cert Guide Premium Edition and Practice Test, 2nd Edition

By Omar Santos
Premium Edition eBook $63.99