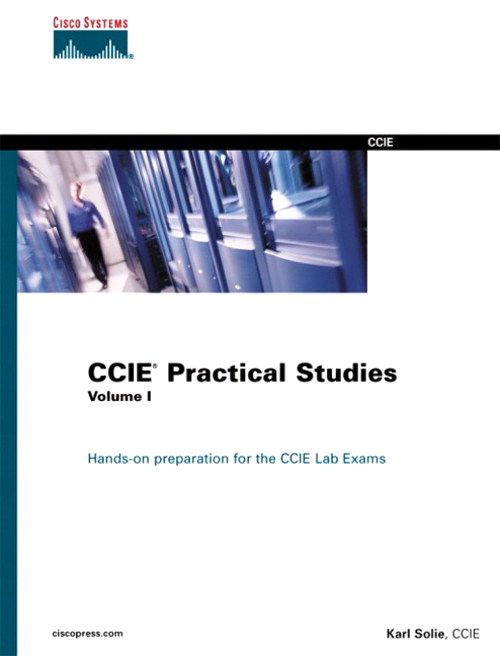 Share
|



Register your product to gain access to bonus material or receive a coupon.
CCIE Practical Studies, Volume I
Book
Sorry, this book is no longer in print.
Click on "Downloads" for lab solutions
Exam preparation for Routing and Switching exam #350-001
Features
Only Cisco Systems-approved materials of its kind.

Students gain knowledge from the source of the exams, courses and technology of the CCIE exam.
Detailed labs and configuration exercises—Teach technologies found on the CCIE exam.

Helps students turn classroom learning into real-world skills.
Detailed instructions allow students to apply conceptual knowledge.

Develops student's problem-solving skills.
Aligned to CCIE exam objectives.

Better prepares student for exam.
Copyright 2002
Edition: 1st
Book
ISBN-10: 1-58720-002-3
ISBN-13: 978-1-58720-002-1
Authored by CCIEs in collaboration with CCIE Program Managers.
In-depth coverage of routing protocols provides both great practical knowledge and exam preparation.
In-depth study and exercises for the CCIE Routing and Switching Lab Exam, CCIE Practical Studies, Volume I focuses on the 1-day lab portion of the exam, largely regarded as the most difficult portion of the CCIE testing process. This book includes in-depth coverage for more than 37 lab scenarios, as well as information on how to design and implement basic to complex networks. Five CCIE simulation labs will test your knowledge and ability to perform in a timed environment.
Table of Contents
I. MODELING THE INTERNETWORK.
1. The key components for modeling an internetwork.
II. MODELING LOCAL AREA NETWORKS, LANS.
2. Identifying and configuring the key components for modeling LANs.
III. CONNECTING LANS WITH WIDE AREA NETWORKS, WANS.
3. WAN protocols and Technologies: HDLC.
4. WAN protocols and Technologies: PPP.
5. WAN protocols and Technologies: Frame Relay.
6. WAN protocols and Technologies: Voice Over X.
7. WAN protocols and Technologies: ISDN.
8. WAN protocols and Technologies: ATM.
IV. ROUTING PROTOCOLS; PROVIDING TRANSPORT FOR DATA FROM ONE NETWORK TO THE NEXT.
9. Distance Vector Protocols: RIP and RIP II.
10. Distance Vector: IGRP.
11. Hybrid: EIGRP.
12. Link State Protocols: OSPF.
V. CONFIGURING AND TRANSPORTING OTHER NETWORK PROTOCOLS.
13. Bridging non-routable protocols and Data Link Switching Plus.
VI. CONTROLLING NETWORKS AND NETWORK ACCESS.
14. Mastering Access Lists.
VII. ENHANCED NETWORK PROTOCOLS; THE QUICK AND DIRTY FEATURE SETS.
15. Configuring NAT.
16. Using HSRP.
17. Configuring NTP.
18. Final Practice Labs.
Appendix A. Route Maps.
Appendix B. ISDN Cause codes.
Appendix C. RFC List.
Appendix D. ISO Model.
Appendix E. Common.
Cable types and pinouts.
Index
Download - 403 KB -- Index
Other Things You Might Like

By Wendell Odom
Book $47.99
eBook (Watermarked) $19.99