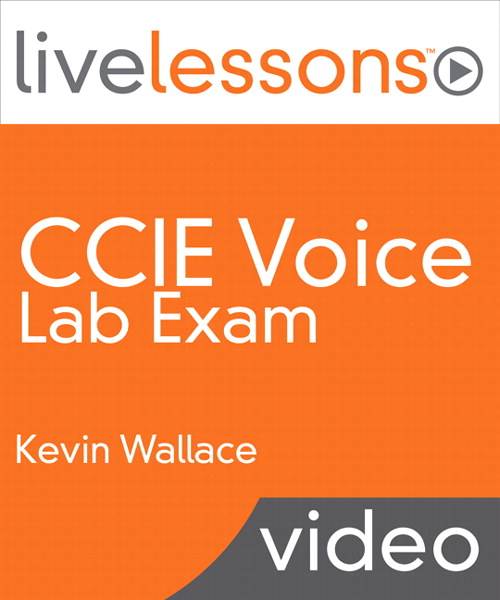 Register your product to gain access to bonus material or receive a coupon.
CCIE Voice Lab Exam LiveLessons (Video Training): IE Voice Alchemy
Student Supplement
Sorry, this book is no longer in print.
Copyright 2013
Edition: 1st
Student Supplement
ISBN-10: 0-7897-5125-9
ISBN-13: 978-0-7897-5125-6
17+ Hours of Video Instruction
CCIE Voice Lab Exam LiveLessons is a comprehensive video training package that helps you prepare for the rigorous CCIE Voice lab exam, an eight-hour, hands-on exam which requires you to configure a Cisco enterprise voice solution over an IP network, by walking you through the various configuration and troubleshooting challenges you will face on the exam.
Expert voice instructor Kevin Wallace provides you with more than 17 hours of video based on the 12 strategies he developed for how to tackle the CCIE Voice lab exam on exam day. The product includes 18 videos that walk you through a mock CCIE Voice lab exam designed by the author to illustrate his valuable 12-step process for exam success, the same method Kevin used to pass the CCIE Voice exam. In addition to these 18 mock-lab tutorials, Kevin also provides you with 12 supplemental video lessons covering both test taking tips and concepts that it is critical to know before attempting the exam. Finally, this hands-on, step-by-step video training tool also includes downloadable documentation that covers base configurations (and a listing of hardware) for all routers and switches, including the PSTN/Frame Relay Switch router as well as all the configurations performed in the mock-lab walkthrough videos.
Skill Level
Advanced
What You Will Learn
Configure routers in a mock CCIE Voice lab
Deploy the Cisco Unity Express Module
Configure CUCM
Configure H.323 and MGCP gateway and HQ call routing
Configure and troubleshoot BR1 call routing and gatekeepers
Implement plus dialing, codecs and MOH
Configure and customize Cisco Unity Connection
Deploy Cisco Unified Contact Center Express
Implement Cisco Unified Presence Server
Configure redundancy
Review exam preparation strategies
Who Should Take This Course?
The primary audience for this product is anyone preparing for the CCIE Voice certification.
Course Requirements
Users should have intermediate-advanced level knowledge of Cisco IP communications and voice over IP networking.
Table of Contents
Video Training #01: Mapping Out Your Day
Video Training #02: Doing EVERYTHING on Switch SW1
Video Training #03: Configuring Router HQ (1 of 2)
Video Training #04: Configuring Router HQ (2 of 2)
Video Training #05: Configuring Router BR1 (1 of 2)
Video Training #06: Configuring Router BR1 (2 of 2)
Video Training #07: Configuring Router BR2 (1 of 2)
Video Training #08: Configuring Router BR2 (2 of 2)
Video Training #09: Doing EVERYTHING on the Cisco Unity Express (CUE) Module
Video Training #10: Basic CUCM Configuration
Video Training #11: H.323 and MGCP Gateway and HQ Call Routing Configuration
Video Training #12: BR1 Call Routing and Gatekeeper Config/Troubleshooting
Video Training #13: Plus Dialing, Codecs, and MOH
Video Training #14: Cisco Unity Connection (CUC) Base Configuration and Customization
Video Training #15: Doing EVERYTHING on Cisco Unified Contact Center Express (UCCX)
Video Training #16: Doing EVERYTHING on Cisco Unified Presence Server (CUPS)
Video Training #17: Configuring Redundancy
Video Training #18: Verification

12 BONUS Videos:
The Bomb Run
Interview with a Proctor
Troubleshooting - The "Deal-Breaker"
In the Arena
Cisco Catalyst 3560 and 3750 QoS Simplified... Seriously!
Let's Get D-I-G-I-T-A-L (Part 1 - Theory)
Let's Get D-I-G-I-T-A-L (Part 2 - Configuration)
Digit Manipulation Fundamentals
Integrating CUC with CUCM using SCCP
Integrating CUC with CUCM using SIP
Configuring CUPC for SoftPhone Mode
Configuring CUPC for DeskPhone Mode
LiveLessons Video Training series publishes hundreds of hands-on, expert-led video tutorials covering a wide selection of technology topics designed to teach you the skills you need to succeed. This professional and personal technology video series features world-leading author instructors published by your trusted technology brands: Addison-Wesley, Cisco Press, IBM Press, Pearson IT Certification, Prentice Hall, Sams, and Que. Topics include: IT Certification, Programming, Web Development, Mobile Development, Home & Office Technologies, Business & Management, and more. View All LiveLessons:
http://www.pearsonitcertification.com/imprint/series_detail.aspx?ser=2185116
Table of Contents
Video Training #01: Mapping Out Your Day
Video Training #02: Doing EVERYTHING on Switch SW1
Video Training #03: Configuring Router HQ (1 of 2)
Video Training #04: Configuring Router HQ (2 of 2)
Video Training #05: Configuring Router BR1 (1 of 2)
Video Training #06: Configuring Router BR1 (2 of 2)
Video Training #07: Configuring Router BR2 (1 of 2)
Video Training #08: Configuring Router BR2 (2 of 2)
Video Training #09: Doing EVERYTHING on the Cisco Unity Express (CUE) Module
Video Training #10: Basic CUCM Configuration
Video Training #11: H.323 and MGCP Gateway and HQ Call Routing Configuration
Video Training #12: BR1 Call Routing and Gatekeeper Config/Troubleshooting
Video Training #13: Plus Dialing, Codecs, and MOH
Video Training #14: Cisco Unity Connection (CUC) Base Configuration and Customization
Video Training #15: Doing EVERYTHING on Cisco Unified Contact Center Express (UCCX)
Video Training #16: Doing EVERYTHING on Cisco Unified Presence Server (CUPS)
Video Training #17: Configuring Redundancy
Video Training #18: Verification
12 BONUS Videos:
The Bomb Run
Interview with a Proctor
Troubleshooting - The "Deal-Breaker"
In the Arena
Cisco Catalyst 3560 and 3750 QoS Simplified... Seriously!
Let's Get D-I-G-I-T-A-L (Part 1 - Theory)
Let's Get D-I-G-I-T-A-L (Part 2 - Configuration)
Digit Manipulation Fundamentals
Integrating CUC with CUCM using SCCP
Integrating CUC with CUCM using SIP
Configuring CUPC for SoftPhone Mode
Configuring CUPC for DeskPhone Mode
Other Things You Might Like


CCNP and CCIE Security Core SCOR 350-701 Official Cert Guide Premium Edition and Practice Test, 2nd Edition

By Omar Santos
Premium Edition eBook $63.99