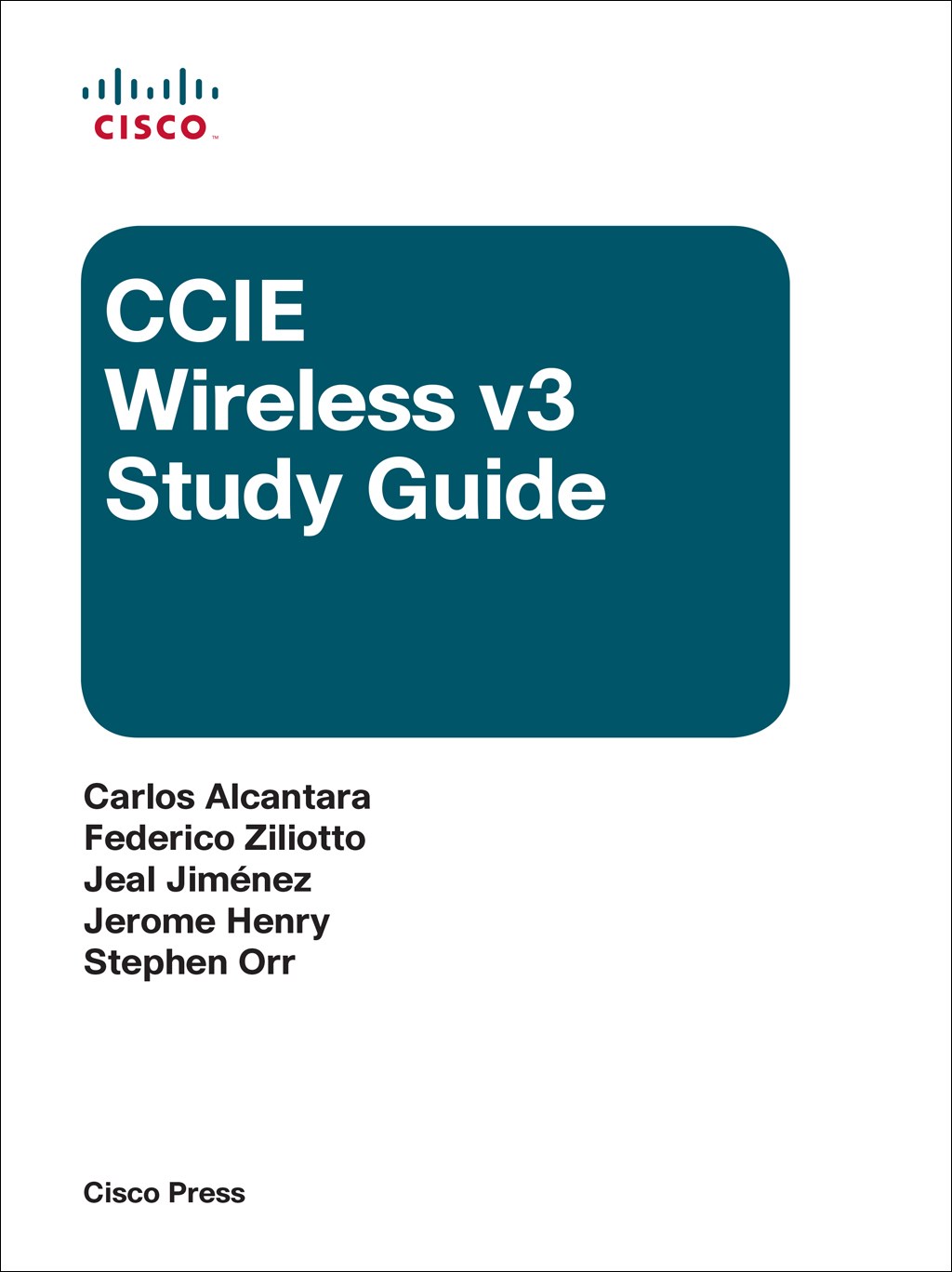 Share
|



Register your product to gain access to bonus material or receive a coupon.
CCIE Wireless v3 Study Guide
eBook (Watermarked)
Your Price: $119.99
List Price: $149.99

This PDF will be accessible from your Account page after purchase and requires the free Adobe® Reader® software to read it.

The eBook requires no passwords or activation to read. We customize your eBook by discreetly watermarking it with your name, making it uniquely yours.
Copyright 2019
Edition: 1st
eBook (Watermarked)
ISBN-10: 0-13-516207-6
ISBN-13: 978-0-13-516207-1
Thoroughly prepare for the revised Cisco CCIE Wireless v3.x certification exams
Earning Cisco CCIE Wireless certification demonstrates your broad theoretical knowledge of wireless networking, your strong understanding of Cisco WLAN technologies, and the skills and technical knowledge required of an expert-level wireless network professional. This guide will help you efficiently master the knowledge and skills you'll need to succeed on both the CCIE Wireless v3.x written and lab exams.
Designed to help you efficiently focus your study, achieve mastery, and build confidence, it focuses on conceptual insight, not mere memorization. Authored by five of the leading Cisco wireless network experts, it covers all areas of the CCIE Wireless exam blueprint, offering complete foundational knowledge for configuring and troubleshooting virtually any Cisco wireless deployment.
Plan and design enterprise-class WLANs addressing issues ranging from RF boundaries to AP positioning, power levels, and density
Prepare and set up wireless network infrastructure, including Layer 2/3 and key network services
Optimize existing wired networks to support wireless infrastructure
Deploy, configure, and troubleshoot Cisco IOS Autonomous WLAN devices for wireless bridging
Implement, configure, and manage AireOS Appliance, Virtual, and Mobility Express Controllers
Secure wireless networks with Cisco Identity Services Engine: protocols, concepts, use cases, and configuration
Set up and optimize management operations with Prime Infrastructure and MSE/CMX
Design, configure, operate, and troubleshoot WLANs with real-time applications
Table of Contents
Foreword xix
Introduction xx
Chapter 1 Planning and Designing WLAN Technologies 1
Describe WLAN Organizations and Regulations 1
802.11 Standards and Protocols 5
802.11 Amendments for Faster Speed 5
802.11 Amendments for Cell Efficiency 6
Plan and Design Wireless Solutions Requirements 8
RF Planning, Design, and Validation 9
RF Design and Site Survey 10
Using a Planning Tool 10
Onsite Surveys 11
Deployment Models 12
RF Operational Models 14
Deployment Validation 17
Summary 19
Chapter 2 Network Infrastructure 21
Introduction 21
Switching Technologies 22
VLANs 22
Private VLANs 24
VLAN Trunking Protocol 26
Spanning Tree Protocol 28
STP Tuning Commands 31
Multiple Spanning Tree 33
Spanning Tree and Wireless 34
EtherChannel 34
CDP and LLDP 39
Power over Ethernet for Access Points 40
IP Layer Refresher 43
IPv4 43
IPv6 46
Multicast 52
Infrastructure Security for Access Points 59
MAC Authentication Bypass 59
802.1X 60
Configuring the Access Point for Authenticating 60
Configuring the Switch 62
Configuring ISE 62
Advanced Settings and Special Cases 66
Securing FlexConnect APs 66
Other Protocols Supporting Wireless 68
SNMP 68
DHCPv4 73
DHCPv6 78
DNS 83
SYSLOG 84
NTP 86
Summary 88
Chapter 3 Autonomous Deployments 89
The Role in the Deployment 90
Root and Non-Root Bridges 92
Workgroup Bridge 98
Mobile WGB 102
Workgroup Bridges for High-Speed Roaming 104
Cisco IOS Autonomous Security 105
Layer 2 Wireless Security 105
802.1X Supplicant at the Non-Root/WGB 110
Local RADIUS Server at the Root 112
Filters 114
Radio Settings 117
Channels 117
Parents 118
Transmitter Power 119
Antennas 119
Data Rates 119
Multicast on Autonomous 121
QoS for Bridging 124
Summary 126
Chapter 4 AireOS Appliance, Virtual, and Mobility Express Controllers 127
Mobility Express 130
Securing Management Access and Control Plane 137
Admin User Authentication and Authorization 137
CPU Access Control Lists 139
Management via Wireless and via Dynamic Interface 141
Working with WLC Interfaces 142
Management and AP-Manager Interfaces 142
Service Port 144
Virtual Interface 145
Dynamic Interfaces 146
LAG: Link Aggregation 148
Deploying Lightweight Access Points 148
Authenticating and Authorizing APs on the Network 149
AP Modes of Operations 154
Accessing Configuration Settings and Logging Options for APs 161
High Availability and Redundancy 163
N+1 and N+N High Availability 164
AP and Client Stateful Switch Over 169
Segmenting Your Wireless Network 170
RF Profiles 171
AP Groups 172
FlexConnect Groups 176
Wireless Security Policies 177
To Layer 2 or To Layer 3? 177
WLAN Security Options 181
Rogue Policies 183
Local EAP, Local Profiling, and Local Policies 186
ACLs and Certificates 189
FlexConnect Deployments 191
What Problem Are We Trying to Solve? 191
FlexConnect Modes and States 191
FlexConnect Specific Features 194
FlexConnect Group Specific Features 195
OfficeExtend 197
Configuring and Troubleshooting Mesh 198
AWPP and Mesh Formation 198
Mesh Topologies 199
AWPP and Mesh Formation 200
Mesh Configuration 200
Mesh Basic Configuration 200
Mesh Page Optional Configurations 203
Mesh Security Configurations 206
Mesh Local Bridging Configurations 207
Troubleshooting Mesh 208
Radio Frequency Management 211
What Problem Are We Trying to Solve? 211
Static Assignment 213
Global Assignment (RRM) 214
Off-Channel Scanning 214
RF Grouping 216
Flexible Radio Assignment 218
Dynamic Channel Assignment 220
Coverage Hole Detection and Mitigation (CHDM) 222
CleanAir 222
Transmit Power Control 224
RF Profiles 225
Data Rates 226
RX-SoP 227
AirTime Fairness 227
Configuring and Troubleshooting Mobility 229
Layer 2 and Layer 3 Roaming 230
Mobility Lists and Groups 231
Mobility Messaging 232
Mobility Anchors 234
Troubleshooting Mobility 235
Wireless Client Roaming Optimization 236
Band Select 236
Load Balancing 238
Optimized Roaming 240
802.11k and 802.11v 243
Fast-Secure Roaming 245
CCKM 247
802.11r/FT 248
Summary 252
Chapter 5 Wireless Security and Identity Management with ISE 253
Identity Management Building Blocks 253
802.1X 253
802.1X Components 254
EAP 254
EAP Methods 255
RADIUS 257
RADIUS Attributes 258
CoA 259
AAA Sequence 259
Identity Services Engine Deployment and Configuration 260
ISE Certificates 263
Network Access Policies 265
Authentication Policy 265
Authorization Policy 268
Profiling Policy 271
Guest Access 273
Guest Services 273
Sponsor Services 274
ISE Integration with Active Directory 275
Device Administration Policies 277
Policy Sets 278
Authentication Policy 279
Authorization Policy 279
Configuring ISE for Wireless 279
Common Configuration 280
Wireless RADIUS Attributes 284
802.1X 289
MAC Filtering and MAC Authentication Bypass (MAB) 297
Local Web Authentication 300
Central Web Authentication 306
Profiling 313
Wireless Device Administration via ISE 316
Summary 319
Chapter 6 Prime Infrastructure and MSE/CMX 321
Managing the Management 321
Basic Operations 325
Working with Devices, Templates, and Audits 325
Operating Maps 327
High Availability 335
Monitoring Tools: Troubleshooting Clients and Working with Reports, Alarms and Events, and Notifications 336
Configuring Jobs 341
Security Operations 341
Mobility Services Engine and Connected Mobile Experiences 344
Location Technologies and Techniques 346
Cell of Origin and Presence 346
Trilateration with Probe RSSI or FastLocate 348
802.11 Active RFID Tags 352
Angle of Arrival (AoA) and Hyperlocation 354
Bluetooth Low Energy 355
Management Access 358
Network Services 359
Location 360
Analytics 366
Connect and Engage 369
CleanAir 375
Wireless Intrusion Prevention System 376
NMSP 384
Summary 385
Chapter 7 WLAN Media and Application Services 387
Introduction 387
QoS Survival Concepts for Wireless Experts 388
The Notion of Differentiated Treatment 388
QoS Design 391
Application Visibility and Identification 394
Layer 3, Layer 2 QoS 396
IPv4 QoS Marking 397
Per Hop Behavior 400
IPv6 Layer 3 Marking 404
Layer 2 802.1 QoS Marking 405
802.11 QoS Marking 407
DSCP to UP and UP to DSCP Marking 409
Downstream 409
Upstream 410
Trust Boundary and Congestion Mechanisms 412
Trust Boundary 412
Congestion Management 414
802.11 Congestion Avoidance 414
TXOP 418
CAC 421
BW Contracts 425
Configurations 429
AireOS 429
QoS Profiles and Bandwidth Contracts 429
Default QoS Mapping 435
DSCP Trust and 802.11u QoS Maps 438
EDCA Parameters 443
WLAN and WMM Configurations 444
CAC Configuration 445
Data Rate Configuration 450
AVC Configuration 451
FastLane Configuration and Client Behavior 456
Enhanced Roaming 462
Managing Video Flows 467
Bonjour/mDNS 475
Bonjour/mDNS Principles 475
Bonjour/mDNS Configuration 476
mDNS Gateway 476
mDNS Profiles 478
mDNS AP 478
mDNS Filtering Options: Priority MAC, Origin, and LSS 479
LSS 480
mDNS Policies 481
AireOS Configuration Summary 483
Autonomous APs 483
DSCP to UP Mapping 484
Retry Options 488
EDCA Parameters 491
Advanced Features 493
Autonomous Application Service Configuration Summary 495
Wired Configuration 496
Trusting DSCP or CoS 496
QoS Policies 498
Class Maps 498
Policy Maps 499
Service Policy 499
Summary 500
9781587206207 TOC 11/1/2018
Other Things You Might Like

By Wendell Odom
Book $47.99

By Wendell Odom
Book $35.99

By Wendell Odom
Premium Edition eBook $35.99