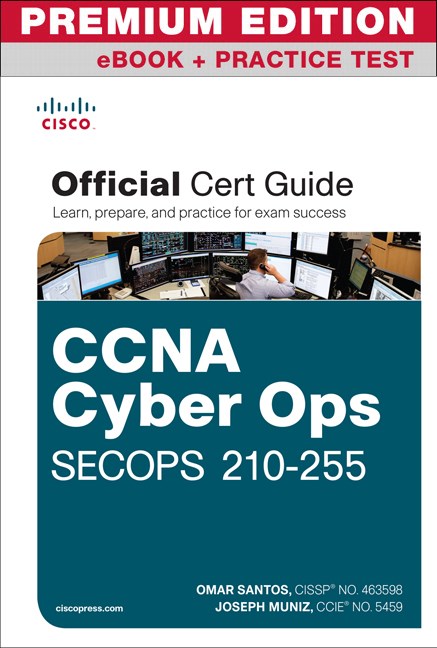 Register your product to gain access to bonus material or receive a coupon.
CCNA Cyber Ops SECOPS 210-255 Official Cert Guide Premium Edition and Practice Tests
Premium Edition eBook
Your Price: $39.99
List Price: $49.99
Copyright 2017
Dimensions: 7-3/8" x 9-1/8"
Pages: 352
Edition: 1st
Premium Edition eBook
ISBN-10: 0-13-460902-6
ISBN-13: 978-0-13-460902-7
CCNA Cyber Ops SECOPS 210-255 Official Cert Guide, Premium Edition eBook and Practice Test
The exciting new CCNA Cyber Ops SECOPS 210-255 Cert Guide, Premium Edition eBook and Practice Test is a digital-only certification preparation product combining an eBook with enhanced Pearson Test Prep practice test software. The Premium Edition eBook and Practice Test contains the following items:
The SECOPS 210-255 N10-005 Premium Edition Practice Test, including four full practice exams and enhanced practice test features
PDF and EPUB formats of the CCNA Cyber Ops SECOPS 210-255 Official Cert Guide from Pearson IT Certification, which are accessible via your PC, tablet, and Smartphone

About the Premium Edition Practice Test
This Premium Edition contains an enhanced version of the Pearson Test Prep practice test software with four full practice exams. In addition, it contains all the chapter-opening assessment questions from the book. This integrated learning package:
Allows you to focus on individual topic areas or take complete, timed exams
Includes direct links from each question to detailed tutorials to help you understand the concepts behind the questions
Provides unique sets of exam-realistic practice questions
Tracks your performance and provides feedback on a module-by-module basis, laying out a complete assessment of your knowledge to help you focus your study where it is needed most

Pearson Test Prep online system requirements:

Browsers: Chrome version 40 and above, Firefox version 35 and above, Safari version 7, Internet Explorer 10, 11, Microsoft Edge, Opera. Devices: Desktop and
laptop computers, tablets running on Android and iOS, smartphones with a minimum screen size of 4.7". Internet access required.
Pearson Test Prep offline system requirements:

Windows 10, Windows 8.1, Windows 7, or Vista (SP2), Microsoft .NET Framework 4.5 Client; Pentium-class 1 GHz processor (or equivalent); 512 MB RAM; 650 MB disk space plus 50 MB for each downloaded practice exam; access to the Internet to register and download exam databases

About the Premium Edition eBook

Learn, prepare, and practice for CCNA Cyber Ops SECOPS #210-255 exam success with this Official Cert Guide from Pearson IT Certification, a leader in IT Certification learning.
Master CCNA Cyber Ops SECOPS #210-255 exam topics
Assess your knowledge with chapter-ending quizzes
Review key concepts with exam preparation tasks
Practice with realistic exam questions

CCNA Cyber Ops SECOPS 210-255 Official Cert Guide is a best-of-breed exam study guide from Pearson IT Certification, a leader in IT Certification learning. Best-selling authors and internationally respected cybersecurity experts Omar Santos and Joseph Muniz share preparation hints and test-taking tips, helping you identify areas of weakness and improve both your conceptual knowledge and hands-on skills. Material is presented in a concise manner, focusing on increasing your understanding and retention of exam topics.
CCNA Cyber Ops SECOPS 210-255 Official Cert Guide presents you with an organized test preparation routine through the use of proven series elements and techniques. Exam topic lists make referencing easy. Chapter-ending Exam Preparation Tasks help you drill on key concepts you must know thoroughly. Review questions help you assess your knowledge, and a final preparation chapter guides you through tools and resources to help you craft your final study plan.
Well-regarded for its level of detail, assessment features, and challenging review questions and exercises, this study guide helps you master the concepts and techniques that will allow you to succeed on the exam the first time.
The study guide helps you master all the topics on the SECOPS #210-255 exam, including:
Threat analysis
Forensics
Intrusion analysis
NetFlow for cybersecurity
Incident response and the incident handling process
Incident response teams
Compliance frameworks
Network and host profiling
Data and event analysis
Intrusion event categories
Table of Contents
Introduction xvii
Part I Threat Analysis and Computer Forensics
Chapter 1 Threat Analysis 3
"Do I Know This Already?" Quiz 3
Foundation Topics 6
What Is the CIA Triad: Confidentiality, Integrity, and Availability? 6
Confidentiality 6
Integrity 7
Availability 7
Threat Modeling 8
Defining and Analyzing the Attack Vector 10
Understanding the Attack Complexity 12
Privileges and User Interaction 12
The Attack Scope 13
Exam Preparation Tasks 14
Review All Key Topics 14
Complete Tables and Lists from Memory 14
Define Key Terms 14
Q&A 15
Chapter 2 Forensics 17
"Do I Know This Already?" Quiz 17
Foundation Topics 20
Introduction to Cybersecurity Forensics 20
The Role of Attribution in a Cybersecurity Investigation 21
The Use of Digital Evidence 21
Defining Digital Forensic Evidence 22
Understanding Best, Corroborating, and Indirect or Circumstantial Evidence 22
Collecting Evidence from Endpoints and Servers 22
Collecting Evidence from Mobile Devices 24
Collecting Evidence from Network Infrastructure Devices 24
Chain of Custody 26
Fundamentals of Microsoft Windows Forensics 28
Processes, Threads, and Services 28
Memory Management 30
Windows Registry 32
The Windows File System 34
FAT 35
NTFS 36
Fundamentals of Linux Forensics 37
Linux Processes 37
Ext4 40
Journaling 41
Linux MBR and Swap File System 41
Exam Preparation Tasks 43
Review All Key Topics 43
Define Key Terms 44
Q&A 44
Part II Network Intrusion Analysis
Chapter 3 Fundamentals of Intrusion Analysis 49
"Do I Know This Already?" Quiz 49
Foundation Topics 52
Common Artifact Elements and Sources of Security Events 52
False Positives, False Negatives, True Positives, and True Negatives 58
Understanding Regular Expressions 58
Protocols, Protocol Headers, and Intrusion Analysis 61
Using Packet Captures for Intrusion Analysis 61
Mapping Security Event Types to Source Technologies 66
Exam Preparation Tasks 71
Review All Key Topics 71
Complete Tables and Lists from Memory 71
Define Key Terms 71
Q&A 72
Chapter 4 NetFlow for Cybersecurity 75
"Do I Know This Already?" Quiz 75
Foundation Topics 78
Introduction to NetFlow 78
What Is a Flow in NetFlow? 78
The NetFlow Cache 80
NetFlow Versions 81
Cisco Flexible NetFlow 96
Flexible NetFlow Records 97
Flow Monitors 102
Flow Exporters 102
Flow Samplers 102
Flexible NetFlow Configuration 102
Configure a Flow Record 103
Configuring a Flow Monitor for IPv4 or IPv6 105
Configuring a Flow Exporter for the Flow Monitor 107
Applying a Flow Monitor to an Interface 109
IPFIX 110
IPFIX Architecture 111
IPFIX Mediators 111
IPFIX Templates 111
Option Templates 112
Introduction to the Stream Control Transmission Protocol (SCTP) 112
NetFlow and IPFIX Comparison 113
NetFlow for Cybersecurity and Incident Response 113
NetFlow as an Anomaly Detection Tool 113
Incident Response and Network Security Forensics 114
Using NetFlow for Data Leak Detection and Prevention 119
NetFlow Analysis Tools 125
Commercial NetFlow Analysis Tools 125
Cisco's Lancope StealthWatch Solution 126
Plixer's Scrutinizer 129
Open Source NetFlow Monitoring and Analysis Software Packages 129
Exam Preparation Tasks 136
Review All Key Topics 136
Define Key Terms 136
Q&A 136
Part III Incident Response
Chapter 5 Introduction to Incident Response and the Incident Handling
Process 141
"Do I Know This Already?" Quiz 141
Foundation Topics 144
Introduction to Incident Response 144
What Are Events and Incidents? 144
The Incident Response Plan 145
The Incident Response Process 146
The Preparation Phase 146
The Detection and Analysis Phase 146
Containment, Eradication, and Recovery 147
Post-Incident Activity (Postmortem) 148
Information Sharing and Coordination 148
Incident Response Team Structure 148
The Vocabulary for Event Recording and Incident Sharing (VERIS) 149
Exam Preparation Tasks 153
Review All Key Topics 153
Complete Tables and Lists from Memory 153
Define Key Terms 153
Q&A 153
Chapter 6 Incident Response Teams 157
"Do I Know This Already?" Quiz 157
Foundation Topics 159
Computer Security Incident Response Teams (CSIRTs) 159
Product Security Incident Response Teams (PSIRTs) 161
Security Vulnerabilities and Their Severity 161
Vulnerability Chaining Role in Fixing Prioritization 164
Fixing Theoretical Vulnerabilities 164
Internally Versus Externally Found Vulnerabilities 165
National CSIRTs and Computer Emergency Response Teams (CERTs) 166
Coordination Centers 166
Incident Response Providers and Managed Security Service Providers (MSSPs) 167
Exam Preparation Tasks 168
Review All Key Topics 168
Define Key Terms 168
Q&A 168
Chapter 7 Compliance Frameworks 171
"Do I Know This Already?" Quiz 172
Foundation Topics 175
Payment Card Industry Data Security Standard (PCI DSS) 175
PCI DSS Data 175
Health Insurance Portability and Accountability Act (HIPAA) 185
HIPAA Security Rule 186
HIPAA Safeguards 187
Sarbanes-Oxley (SOX) 189
Section 302 190
Section 404 190
Section 409 190
Summary 192
References 192
Exam Preparation Tasks 193
Review All Key Topics 193
Complete Tables and Lists from Memory 193
Define Key Terms 193
Review Questions 194
Chapter 8 Network and Host Profiling 197
"Do I Know This Already?" Quiz 197
Foundation Topics 200
Network Profiling 200
Throughput 200
Used Ports 206
Session Duration 211
Critical Asset Address Space 212
Host Profiling 215
Listening Ports 216
Logged-in Users/Service Accounts 220
Running Processes 223
Applications 226
Summary 229
References 230
Exam Preparation Tasks 231
Review All Key Topics 231
Define Key Terms 231
Q&A 231
Part IV Data and Event Analysis
Chapter 9 The Art of Data and Event Analysis 235
"Do I Know This Already?" Quiz 235
Foundation Topics 238
Normalizing Data 238
Interpreting Common Data Values into a Universal Format 238
Using the 5-Tuple Correlation to Respond to Security Incidents 239
Retrospective Analysis and Identifying Malicious Files 241
Identifying a Malicious File 241
Mapping Threat Intelligence with DNS and Other Artifacts 242
Deterministic Versus Probabilistic Analysis 242
Exam Preparation Tasks 244
Review All Key Topics 244
Complete Tables and Lists from Memory 244
Define Key Terms 244
Q&A 245
Part V Incident Handling
Chapter 10 Intrusion Event Categories 247
"Do I Know This Already?" Quiz 247
Foundation Topics 250
Diamond Model of Intrusion 250
Cyber Kill Chain Model 254
Reconnaissance 256
Weaponization 259
Delivery 260
Exploitation 261
Installation 263
Command and Control 264
Action and Objectives 265
Summary 269
References 269
Exam Preparation Tasks 271
Review All Key Topics 271
Define Key Terms 271
Q&A 271
Part VI Final Preparation
Chapter 11 Final Preparation 275
Tools for Final Preparation 275
Pearson Cert Practice Test Engine and Questions on the Website 275
Customizing Your Exams 277
Updating Your Exams 277
The Cisco Learning Network 278
Memory Tables and Lists 278
Chapter-Ending Review Tools 279
Suggested Plan for Final Review/Study 279
Summary 279
Part VII Appendix
Appendix A Answers to the "Do I Know This Already?" Quizzes and Q&A 281
Glossary 295
Elements Available on the Book Website
Appendix B Memory Tables and Lists
Appendix C Memory Tables and Lists Answers
Appendix D Study Planner
9781587147036, TOC, 5/4/2017

Errata
We've made every effort to ensure the accuracy of this book and its companion content. Any errors that have been confirmed since this book was published can be downloaded below.
Other Things You Might Like