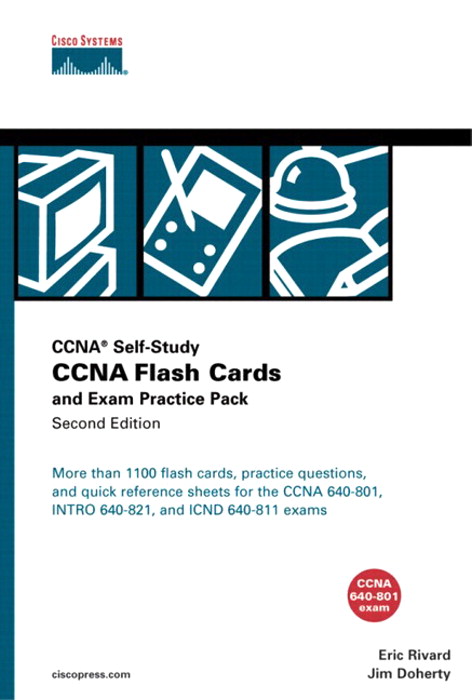 Share
|



Register your product to gain access to bonus material or receive a coupon.
CCNA Flash Cards and Exam Practice Pack (CCNA Self-Study, exam #640-801), 2nd Edition
Book
Sorry, this book is no longer in print.
Copyright 2004
Dimensions: 6" x 9"
Pages: 720
Edition: 2nd
Book
ISBN-10: 1-58720-079-1
ISBN-13: 978-1-58720-079-3
More than 1100 flash cards, practice questions, and quick reference sheets for the CCNA 640-801, INTRO 640-821, and ICND 640-811 exams
CCNA test time is rapidly approaching. You've learned the concepts, you have the experience to put them to use, and now you want to practice, practice, practice until exam time. CCNA Flash Cards and Exam Practice Pack gives you three methods of proven late-stage CCNA exam preparation in one package.
Test Engine
500+ question exam engine with practice simulation question types includes both practice and study modes
Flash Cards
More than 550 flash cards in PC, handheld, and print formats, available in customizable sets
Quick Reference Sheets
All exam topics included in 100+ graphical quick reference sheets
Companion CD-ROM
Contains 550+ flash cards and more than 500 practice test questions. Flash cards are downloadable to Palm OS and Pocket PC handheld devices.
Minimum System Requirements
Windows 98, Me, 2000 Pro, or XP
Acrobat Reader v5.0 or higher
Internet Explorer 4.01 or higher
16 MB RAM for Windows 98 and Me;
64 MB RAM for Windows 2000 Pro and XP
800 x 600 resolution or higher
256 or more colors
Internet Access for "instant" registration
Optional application on CD is functional with most Palm or Palm-OS compliant handheld devices and most Pocket PC handheld devices
This volume is in the Flash Card and Exam Practice Pack Series from Cisco Press. Products in this series arm Cisco Career Certification candidates with a set of exam practice tools, formats, and environments to help them in the final stages of their study regimen and increase recall of key exam topics.
Downloads
To automatically receive updates for your test engine, click the "Check for Updates" box in the software. Be sure you have downloaded the latest version of the software.
The following patch will update the content on the CCNA Flash Cards and Exam Practice Pack CD-ROM test engine. For the test engine patch to take effect, you must have the previous version of the software installed on your computer.
Download Patch -- 6.93 MB
Related Article
Online Sample Chapter
Downloadable Sample Chapter
Download - 632 KB -- Chapter 3: Determining IP Routes
Table of Contents


Foreword.


Introduction.

I. INTRO.
1. Introduction to Networking.
1. Network Devices and Network Topologies.
2. Local Area Networks and Wide Area Networks.
3. Network Media.
4. Switching Fundamentals.
5. Interconnecting Networks with TCP/IP.
6. Routing.
7. WAN Technologies.
8. Operating and Configuring Cisco IOS Devices.
9. Managing Your Network Environment.
II. ICND.
1. Configuring Catalyst Switch Operations.
1. Extending Switched Networks with VLANs.
2. Determining IP Routes.
3. Managing IP Traffic with Access Lists and Network Access Translation.
4. Establishing Serial Point-to-Point Connections.
5. Frame Relay.
6. ISDN.
7. Last-Minute Exam Tips.
III. STUDY SHEETS.
INTRO Study Sheets.
ICND/CCNA Study Sheets.
Errata
Errata - 22 KB -- Errata
INTRO exam on CD-ROM
CCNA INTRO exam: Question ID 173: The correct answer is 1.
CCNA INTRO exam: Question ID 111: The correct answer is 0.
CCNA INTRO exam: Question ID 258 - This simulation question is incorrect. On the simulated router, configure Ethernet 0 with the IP address 170.45.23.1/20, set the hostname to 'boston', and set an encrypted privileged mode password of 'atlantic'
Correction: A 20-bit subnet mask is 255.255.240.0, not 255.255.224.0
Other Things You Might Like