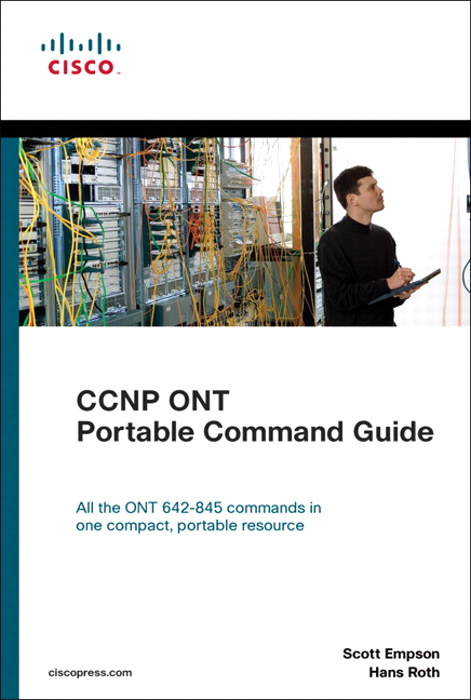 Share
|



Register your product to gain access to bonus material or receive a coupon.
CCNP ONT Portable Command Guide
Book
Sorry, this book is no longer in print.
Copyright 2008
Edition: 1st
Book
ISBN-10: 1-58720-185-2
ISBN-13: 978-1-58720-185-1
All the ONT 642-845 commands in one compact, portable resource
Preparing for the CCNP® certification? Working as a network professional? Here are all the CCNP-level commands for the ONT exam you need in one condensed, portable resource. The CCNP ONT Portable Command Guide is filled with valuable, easy-to-access information and is portable enough for use whether you're in the server room or the equipment closet.
This book will help you memorize commands and concepts as you work to pass the CCNP ONT exam (642-845). The guide summarizes all CCNP certification-level Cisco IOS® Software commands, keywords, command arguments, and associated prompts, providing you with tips and examples of how to apply the commands to real-world scenarios. Sample configurations throughout the book provide you with a better understanding of how these commands are used in simple network designs.
The topics in this portable command guide cover how to do the following:
Describe Cisco VoIP implementations
Describe QoS considerations
Describe DiffServ QoS implementations
Implement AutoQoS
Implement WLAN security and management
Scott Empson is currently the assistant program chair of the bachelor of applied information systems technology degree program at the Northern Alberta Institute of Technology in Edmonton, Alberta, Canada, teaching Cisco® routing, switching, and network design courses in certificate, diploma, and applied degree programs at the post-secondary level.
Hans Roth is an instructor in the electrical/electronic engineering technology department at Red River College in Winnipeg, Canada.
Access all CCNP ONT commands–use as a quick, offline resource for research and solutions
Logical "how-to" topic groupings provide one-stop research
Great for review before taking the CCNP ONT certification exam
Compact size makes it easy to carry with you, wherever you go
"Create Your Own Journal" section with blank, lined pages allows you to personalize the book for your needs
This book is part of the Cisco Press® Certification Self-Study Product Family, which offers readers a self-paced study routine for Cisco certification exams. Titles in the Cisco Press Certification Self-Study Product Family are part of a recommended learning program from Cisco that includes simulation and hands-on training from authorized
Cisco Learning Partners and self-study products from Cisco Press.
Category: Cisco Press–Cisco Certification
Covers: CCNP ONT Certification 642-845
$24.99 USA / $26.99 CAN
Online Sample Chapter
Sample Pages
Download chapter 2, Cisco VoIP Implementations
Table of Contents
Introduction xvi
Chapter 1 Network Design Requirements 1
Cisco Service-Oriented Network Architecture 1
Cisco Enterprise Composite Network Model 2
Chapter 2 Cisco VoIP Implementations 3
Cisco Unified Communications Manager Express (CME) Files 4
Moving Cisco Unified CME Files to the Router Flash 4
Basic Manual CME Setup Using the CLI 5
Enabling Calls in the CME VoIP Network 6
Configuring DHCP for the VoIP Phones 6
Defining a DHCP Relay 7
Enabling Network Time Protocol 8
Creating Directory Numbers 8
Creating Phones 8
CME Auto Configuration Using the CLI 9
Installing IP Communicator 11
Changing Codecs Using the CLI 20
Router Configuration 21
Chapter 3 Introduction to IP QoS 25
Configuring QoS Through the Command-Line Interface (CLI) 25
Using Modular QoS CLI (MQC) for Implementing QoS 25
Step 1: Defining Traffic Classes Using the class-map Command 26
Step 2: Defining Policies for the Traffic Classes Using the policy-map Command 27
Step 3: Applying the Defined Policies Using the service-policy Command 28
Verifying QoS Classes and Policies Created with MQC 29
Configuration Example: Enforcing a Sub-Rate 29
Implementing QoS Using AutoQoS 31
Implementing QoS with Cisco Security Device Manager (SDM) QoS Wizard 32
Monitoring QoS Status with Cisco SDM 36
Chapter 4 Implementing DiffServ 39
Networked-Based Application Recognition (NBAR) for Classification 39
Classification and Marking 40
Step 1: Create a Class-Map for Each Interesting Traffic Grouping 41
Step 2: Choose the Interesting Traffic 41
Step 3: Create a Policy 43
Step 4: Choose the Class of Traffic 43
Step 5: Mark the Traffic in the Class 43
Step 4 (repeated): Choose the Class of Traffic 43
Step 5 (repeated): Mark the Traffic in the Class 43
Step 6: Apply the Policy to an Interface 44
Configuring Priority Queuing (PQ) 44
Step 1: Globally Define the Classification Methods 45
Step 2: Assign Traffic for Individual Queues 45
Step 3: Optionally Establish the Packet Limit for Each Queue 45
Step 4: Apply the Priority Queuing List to an Interface 46
Step 5: Verify Your Configuration 46
Configuring Custom Queuing (CQ) 46
Configuring PQ & CQ for Frame Relay 48
Step 1: Enable Frame Relay Traffic Shaping 49
Step 2: Select Interesting Traffic 49
Step 3: Create a Priority List and Custom Queue List 49
Step 4: Create a Map Class to Call the Priority List and/or Custom Queue List 49
Step 5: Apply the Map Class to a Frame Relay Interface 50
Configuring Weighted Fair Queuing (WFQ) 50
Configuring Class-Based Weighted Fair Queuing (CBWFQ) 53
Step 1: Define One or More Class Maps 54
Step 2: Specify Traffic Using Match Statements 54
Step 3: Create a Policy 54
Step 4: Add Class Maps to the Policy 54
Step 5: Apply Guaranteed Bandwidth and Maximum Packet Limits for Each Class 55
Step 6: Specify How Unclassified Traffic Is Handled 56
Step 7: Apply the Policy to an Interface 56
Step 8: Verify Policy Configuration 56
Configuring Low-Latency Queuing (LLQ) 57
Step 1: Define One or More Class Maps to Specify Traffic 58
Step 2: Create a Policy 58
Step 3: Add Class Maps to the Policy and Specify One (or More) Class(es) with Priority Bandwidth 58
Step 4: Apply Queuing Policy to an Interface 59
Step 5: Verify Policy Configuration 59
Configuring Low-Latency Queuing (LLQ) with Class-Based Weighted Random Early Detection (CBWRED) 60
Step 1: Define One or More Class Maps to Specify Traffic 61
Step 2: Create a Policy 61
Step 3: Add Class Maps to the Policy and Specify One (or More) Class(es) with Priority Bandwidth 61
Step 4: Apply Policy to an Interface 63
Step 5: Verify Policy Configuration 63
Traffic Policing 64
Single Token Bucket/Single Rate 64
Two Token Bucket/Two Rate 66
Traffic Shaping 68
Per-Interface Traffic Shaping 68
Class-Based Traffic Shaping 69
Implementing QoS Preclassify 70
Chapter 5 AutoQoS 73
Forms of AutoQoS 73
Locations Where AutoQoS Can Be Implemented 74
Serial Interface Restrictions 74
Frame Relay DLCI and ATM Restrictions 74
Router Design Considerations 75
Router Prerequisites 75
Deploying AutoQoS on Routers 76
Step 1: Auto Discovery 76
Step 2: Generation and Deployment of AutoQoS Enterprise 77
Deploying AutoQoS on IOS-Based Catalyst Switches7 7
Command 1: Enabling AutoQoS on Access Ports to Which Either a Workstation or an IP Phone Is Connected 78
Command 2: Enabling AutoQoS on Ports That Are Connected to Other Trusted Devices Such as Routers and Switches 78
Verifying Cisco AutoQoS on the Router 79
Verifying Cisco AutoQoS on the Switch 79
Flowchart for Verifying and Modifying AutoQoS-Generated Configurations 80
Chapter 6 Wireless Scalability 81
Wireless LAN QoS Configuration Using the GUI 81
Configuring Encryption and Authentication on Lightweight Access Points 87
Configuring Open Authentication 89
Configuring Static WEP Authentication 90
Configuring WPA with PSK 91
Configuring Web Authentication 92
Configuring 802.1x Authentication94
Cisco Wireless Control System (WCS) 96
WCS Login 97
WCS Summary Pages 97
Changing the Root Password 99
Adding a Cisco Wireless LAN Controller 99
Configuring Access Points 102
WCS Maps–Adding a Campus Map 102
WCS Maps–Adding a New Building 105
Rogue Access Point Detection 107
Appendix Create Your Own Journal Here 109
TOC, 1587201852, 2/21/08
Other Things You Might Like



By Amir Ranjbar
Book $39.96