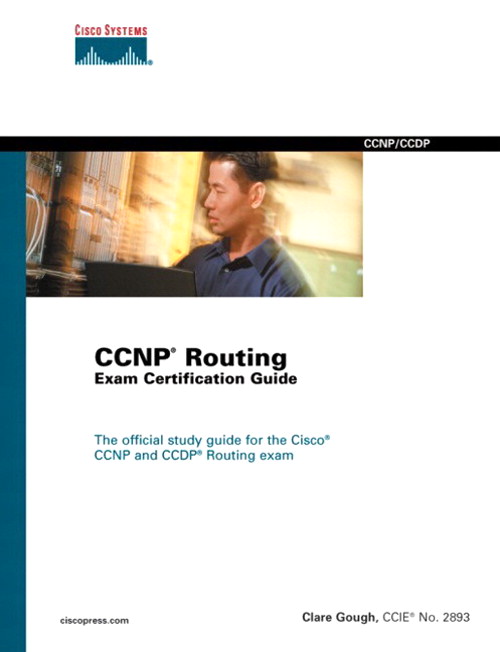 Register your product to gain access to bonus material or receive a coupon.
CCNP Routing Exam Certification Guide
Book
Sorry, this book is no longer in print.
Click on "Downloads" for a free supplemental chapter to the CCNP Routing Exam Certification Guide.
The official study guide for Routing exam #640-603
Features
The only Cisco Systems-endorsed study guide for the Cisco Support Exam #640-603—No other books are either reviewed or approved for use in CCNP study by Cisco Systems, the creators of the course and exam.

Prepares students for the certification exam by teaching them from the only reliable source.
Reviews of all concepts covered on the exam.

Prepares students and ensures that they do not need to go to a secondary source for further study prior to sitting for the exam.
Extensive use of quizzes, practice questions and scenarios.

Provides a large resource of progressional testing to insure material comprehension.
Test Bank—Over 200 questions. Enables users to practice and review concepts in a simulated test environment.

Allows for identification of areas for further study and builds confidence in material comprehension.
Copyright 2001
Dimensions: 7.375 X 9.125
Pages: 848
Edition: 1st
Book
ISBN-10: 1-58720-001-5
ISBN-13: 978-1-58720-001-4
The official study guide for the Cisco(r) CCNP and CCDP(r) Routing exam
Coverage of the CCNP and CCDP Routing exam topics enables you to identify and fill your knowledge gaps before the exam date. You'll learn about:
Key routing information including classful and classless routing protocols, distance vector and link-state protocol operation, and the fields of the routing table
Extending IP addresses using VLSMs and route summarization and configuring IP helper address to manage broadcasts
Configuring OSPF in a single area and interconnecting multiple OSPF areas
Configuring EIGRP, how EIGRP supports the use of VLSM and route summarization, and how EIGRP operates in an NBMA environment
Configuring and implementing BGP in a scalable network, including how BGP policy-based routing works within an autonomous system, configuring route reflectors, BGP synchronization, BGP scalability, and prefix lists
Optimizing routing update operation by controlling routing update traffic, configuring route redistribution, and configuring policy-based routing
CCNP Routing Exam Certification Guide is a comprehensive study tool for the CCNP/CCDP(r) Routing exam. This exam evaluates your ability to build scalable, routed Cisco internetworks. This book covers all the major topics on the Routing exam, enabling you to master the concepts and technologies upon which you will be tested, including extending IP addresses, routing principles, scalable routing protocols, managing traffic and access, and optimizing scalable internetworks.
Each chapter of CCNP Routing Exam Certification Guide focuses your study and tests your knowledge of the subjects through specially designed assessment and study features. "Do I Know This Already?" quizzes assess your knowledge and help you decide how much time you need to spend on each section within a chapter. The well-organized Foundation Topics sections detail all the exam topics you need to master. Each chapter includes a Foundation Summary section that highlights essential concepts for quick reference and study. Challenging chapter-ending review questions and exercises test your knowledge of the subject matter, reinforce key concepts, and provide you with the opportunity to apply what you've learned in the chapter. In addition, a final chapter of scenarios pulls together concepts from all the chapters to ensure you can apply your knowledge in a real-world environment. Finally, the companion CD-ROM's robust testing engine enables you to take practice exams that mimic the real testing environment, focus on particular topic areas, randomize answers for reusability, track your progress, and refer to electronic text for review.
CCNP Routing Exam Certification Guide is part of a recommended study program from Cisco Systems(r) that can include simulation and hands-on training from authorized Cisco(r) Learning Partners, hands-on experience, and self-study and exam preparation guides from Cisco Press. In order to find out more about instructor-led, e-learning, and hands-on instruction offered by authorized Cisco Learning Partners, please visit www.cisco.com/go/training.
Companion CD-ROM
This companion CD-ROM contains a test bank with over 200 practice questions.
Related Article
Downloadable Sample Chapter
Download - 131 KB -- Chapter 1: Cisco Certifications, the Routing Exam, and This Book's Features
Table of Contents


1. PLEASE PROVIDE.


2. Managing Scalable Network Growth.


3. IP Addressing.


4. IP Routing Principles.


5. Using OSPF in a Single Area.


6. Using OSPF Across Multiple Areas.


7. Using EIGRP in Enterprise Networks.


8. Connecting to Other Autonomous Systems—The Basics of BGP-4.


9. Implementing and Tuning BGP for Use in Large Networks.


10. Controlling Routing Updates Across the Network.


11. Scenarios for Final Preparation.


Appendix A: Answers to Quiz Questions.


Appendix B: Sample Configurations.


Appendix C: Glossary.

Index
Download - 167 KB -- Index
Other Things You Might Like