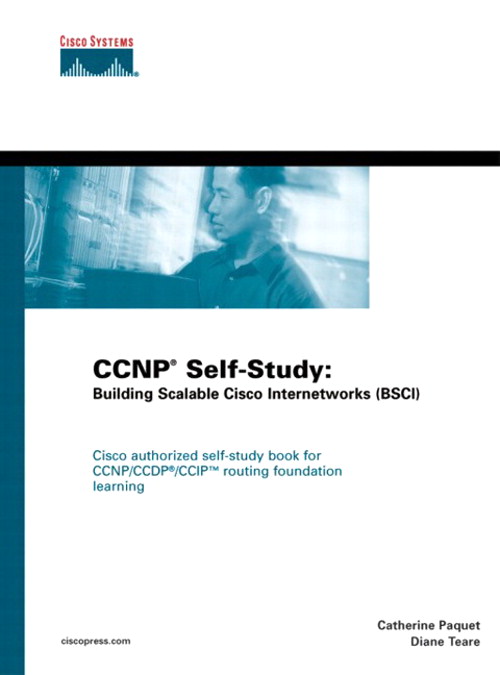 Register your product to gain access to bonus material or receive a coupon.
CCNP Self-Study: Building Scalable Cisco Internetworks (BSCI)
Book
Sorry, this book is no longer in print.
Authorized self-study book for BSCI exam #640-901
Copyright 2003
Dimensions: 7-3/8" x 9-1/8"
Pages: 944
Edition: 1st
Book
ISBN-10: 1-58705-084-6
ISBN-13: 978-1-58705-084-8
Cisco authorized self-study book for CCNP/CCDP(r)/CCIP(tm) routing foundation Learning
Prepare for the CCNP BSCI exam #640-901 with this Cisco authorized self-study guide
Understand the principles of classful and classless routing and the difference between link-state and distance vector protocol behavior
Select and configure the appropriate services for simplifying IP address management at branch offices by proper address allocation and summarization
Implement the appropriate technologies for a scalable, routed network that uses link-state protocols and redistribution
Configure edge routers to properly interconnect to a BGP network through either a single or multi-homed interconnection
Control and optimize routing update information by implementing filters, metrics, and policy-based routing and changing administrative distance
Examine case studies that show you how to build a scalable internetwork including multiple routing protocols
CCNP Self-Study: Building Scalable Cisco Internetworks (BSCI) is a Cisco authorized self-paced learning tool. It teaches you how to design, configure, maintain, and scale routed networks that are growing in size and complexity. This book focuses on using Cisco routers connected in LANs and WANs typically found at medium-sized to large network sites. Whether you are preparing for CCNP, CCDP(r), or CCIP(tm) certification or simply want to gain a better understanding of the products, services, and policies that help you control traffic over LANs and WANs and connect your network to Internet service providers, you will benefit from the comprehensive foundation information presented in this book.
<>In
CCNP Self-Study: Building Scalable Cisco Internetworks (BSCI)
, you will study a broad range of technical details on topics related to routing, including routing principles, IP addressing issues such as variable-length subnet masks (VLSMs), route summarization, and protocol redistribution. The routing protocols Open Shortest Path First (OSPF), Intermediate System-to-Intermediate System (IS-IS), Enhanced Interior Gateway Routing Protocol (EIGRP), and Border Gateway Protocol (BGP) are investigated in detail. Configuration examples and sample verification output demonstrate troubleshooting techniques, and a case study is used throughout the book to review key concepts and to discuss critical issues surrounding network operation. Chapter-ending configuration exercises and review questions illustrate and help solidify the concepts presented in the book. This in-depth information on Cisco BSCI exam topics will start you down the path for attaining your CCNP, CCDP, or CCIP certification.
This book is part of a recommended learning path from Cisco Systems that can include simulation and hands-on training from authorized Cisco Learning Partners and self-study products from Cisco Press. To find out more about instructor-led training, e-learning, and hands-on instruction offered by authorized Cisco Learning Partners worldwide, please visit www.cisco.com/go/authorizedtraining.
Errata
Errata - 20 KB -- Errata
Other Things You Might Like