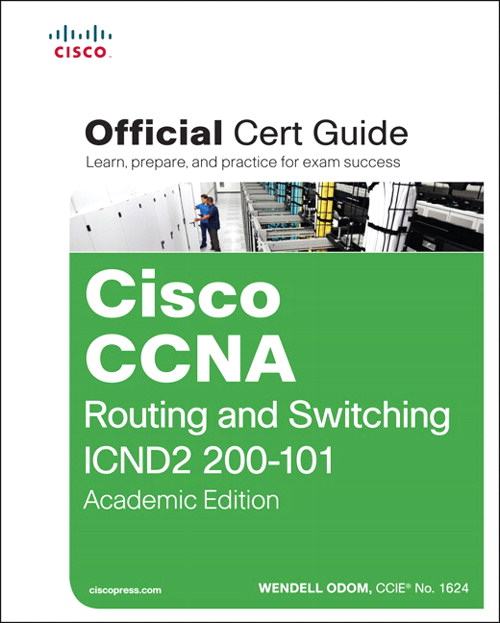 Share
|



Register your product to gain access to bonus material or receive a coupon.
Cisco CCNA Routing and Switching ICND2 200-101 Official Cert Guide, Academic Edition
Book
Sorry, this book is no longer in print.
Features
This book comes complete with full instructor supplements to assist instructors with building effective lesson plans. An instructor guide, PPT slide decks, and test bank are all offered to instructors adopting this book for their classroom. A MyITCertificationLab online assessment and instruction platform is also offered at a special bundle price.
A Study Plan Template is included on the DVD to help students organize their study time.
The book comes complete with the CCNA ICND2 Network Simulator Lite software, providing students with the opportunity to practice their hands-on command line interface skills with Cisco routers and switches. The 13 labs included for free with this product cover a range of EIGRP configuration and troubleshooting exercises.
The Pearson IT Certification Practice Test software that comes with the book includes 4 full ICND2 exams and 4 full CCNA exams, providing tons of opportunities to assess and practice. Including the book review questions and part review questions, the exam bank includes more than 500 unique practice questions.
Copyright 2013
Dimensions: 8" x 10"
Pages: 704
Edition: 1st
Book
ISBN-10: 1-58714-488-3
ISBN-13: 978-1-58714-488-2
CCNA ICND2 200-101 Official Cert Guide, Academic Edition, is a comprehensive textbook and study package for an intermediate-level networking course. This book has been completely revised to align to Cisco's new CCNA 200-101 ICND2 exam. Material is presented in a concise manner, focusing on increasing student's retention and recall of exam topics. The book is printed in four color, allowing students to benefit from carefully crafted figures that utilize color to convey concepts. Students will organize their study through the use of the consistent features in these chapters, including:
Foundation Topics — These sections make up the majority of the page count, explaining concepts, configurations, with emphasis on the theory and concepts, and with linking the theory to the meaning of the configuration commands.
Key Topics — Inside the Foundation Topics sections, every figure, table, or list that should absolutely be understood and remembered for the exam is noted with the words "Key Topic" in the margin. This tool allows the reader to quickly review the most important details in each chapter.
Chapter-ending Summaries — These bulleted lists provide a quick and concise review of the key topics covered in each chapter.
Chapter-ending Review Questions — Each chapter provides a set of multiple choice questions that help student's test their knowledge of the chapter concepts, including answers and full explanations.
Chapter-ending Exercises — Each chapter concludes with a series of exercises designed to help students increase their retention of the chapter content including key term reviews, key topic tables, command review exercises, and memory table exercises.
Part Reviews — This new edition includes a new part review feature that helps students consolidate their knowledge of concepts presented across multiple chapters. A new mind mapping exercise helps students build strong mental maps of concepts. A new exam bank of part review questions helps students test themselves with scenario-based questions that span multiple topics.
In addition to these powerful chapter learning, review, and practice features, this book also contains several other features that make it a truly effective and comprehensive study package, including:
A Getting Started chapter at the beginning of the book offer terrific advice for how to use the book features and build an effective study plan.
The DVD contains over 60 minutes of video mentoring from the author on challenging topics such as OSPF, EIGRP, EIGRP Metrics, PPP, and CHAP.
The book comes complete with the CCNA ICND2 Network Simulator Lite software, providing students with the opportunity to practice their hands-on command line interface skills with Cisco routers and switches. The 13 labs included for free with this product cover a range of EIGRP configuration and troubleshooting exercises.
The Pearson IT Certification Practice Test software that comes with the book includes 4 full ICND2 exams and 4 full CCNA exams, providing tons of opportunities to assess and practice. Including the book review questions and part review questions, the exam bank includes more than 500 unique practice questions.
A Final Preparation Chapter helps students review for final exams and prepare to take the official Cisco CCNA exams, if they want to achieve that certificatio
Author's Site
Please visit the author's site here
Cisco Press is the official publisher for the New CCNA Certification.߿The New Edition of this Best-Selling Official Cert Guide Premium Edition includes Updated Content, New Exercises, 500 Practice Questions, and 60 Minutes of Video Training -- PLUS the߃CNAߎetwork Simulator Lite Edition. ߼/b>
ß¼/b>
The߼i>Cisco CCNA Routing and Switching ICND2 200-101 Official Cert Guide,߁cademic Edition, Premium Edition and Practice Testߩs aߩs a digital-only certification preparation product combining an eBook with enhanced Pearson IT Certification Practice Test. The Premium Edition eBook and Practice Test contains the following items:
CCNA Routing and Switching ICND2 200-101 Official Cert Guideß¼/i>eBook
Four full ICND2 practice exams combined with four full CCNA practice exams, part review questions, and book questions (over 500 unique exam-realistic questions) utilizing the Pearson IT Certification Practice Test (PCPT) software
Direct links from each question to detailed tutorials to help you understand the concepts behind the questions
Performance Tracking and feedback on a module-by-module basis, laying out a complete assessment of your knowledge to help you focus your study where it is needed most
PDF, EPUB, and MOBI (Kindle eBook) formats, which are accessible via your PC, tablet, eBook reader, and Smartphone
About theß¼i>CCNA Routing and Switching ICND2 200-101 Official Cert Guideß¼/i>eBook
The߼i>Cisco CCNA Routing and Switching ICND2 200-101 Official Cert Guide, Academic Editionߥnables you to succeed on the exam the first time. Best-selling author and expert instructor Wendell Odom shares preparation hints and test-taking tips, helping you identify areas of weakness and improve both your conceptual knowledge and hands-on skills.߼/p>

This complete study package includes
A test-preparation routine proven to help you pass the exams

Do I Know This Already? quizzes, which enable you to decide how much time you need to spend on each section

Chapter-ending and part-ending exercises, which help you drill on key concepts you must know thoroughly

Troubleshooting sections, which help you master the complex scenarios you will face on the exam

The powerful Pearson IT Certification Practice Test software, complete with hundreds of well-reviewed, exam-realistic questions, customization options, and detailed performance reports

A free copy of the߃CNA ICND2 200-101 Network Simulator Lite software, complete with meaningful lab exercises that help you hone your hands-on skills with the command-line interface for routers and switches

More than 60 minutes of video mentoring from the author

A final preparation chapter, which guides you through tools and resources to
Online Sample Chapter
Cisco CCNA Cert Guide: Troubleshooting IPv4 Routing Part II
Sample Pages
Download the sample pages (includes Chapter 5 and Index)
Table of Contents
Introduction xxvi
Getting Started 3
Part I: LAN Switching 9
Chapter 1 Spanning Tree Protocol Concepts 10
Foundation Topics 11
LAN Switching Review 11
LAN Switch Forwarding Logic 11
Switch Verification 12
Viewing the MAC Address Table 12
Determining the VLAN of a Frame 13
Verifying Trunks 15
Spanning Tree Protocol (IEEE 802.1D) 15
The Need for Spanning Tree 16
What IEEE 802.1D Spanning Tree Does 18
How Spanning Tree Works 19
The STP Bridge ID and Hello BPDU 20
Electing the Root Switch 21
Choosing Each Switch's Root Port 23
Choosing the Designated Port on Each LAN Segment 24
Influencing and Changing the STP Topology 25
Making Configuration Changes to Influence the STP Topology 25
Reacting to State Changes That Affect the STP Topology 26
How Switches React to Changes with STP 26
Changing Interface States with STP 28
Optional STP Features 29
EtherChannel 29
PortFast 30
BPDU Guard 30
Rapid STP (IEEE 802.1w) 31
Review Activities 32
Chapter 2 Spanning Tree Protocol Implementation 36
Foundation Topics 37
STP Configuration and Verification 37
Setting the STP Mode 37
Connecting STP Concepts to STP Configuration Options 38
Per-VLAN Configuration Settings 38
The Bridge ID and System ID Extension 39
Per-VLAN Port Costs 40
STP Configuration Option Summary 40
Verifying STP Operation 40
Configuring STP Port Costs 43
Configuring Priority to Influence the Root Election 45
Configuring PortFast and BPDU Guard 46
Configuring EtherChannel 47
Configuring a Manual EtherChannel 48
Configuring Dynamic EtherChannels 50
STP Troubleshooting 50
Determining the Root Switch 51
Determining the Root Port on Nonroot Switches 52
STP Tiebreakers When Choosing the Root Port 53
Suggestions for Attacking Root Port Problems on the Exam 54
Determining the Designated Port on Each LAN Segment 54
Suggestions for Attacking Designated Port Problems on the Exam 55
STP Convergence 56
Troubleshooting EtherChannel 56
Incorrect Options on the channel-group Command 57
Configuration Checks Before Adding Interfaces to EtherChannels 58
Review Activities 60
Chapter 3 Troubleshooting LAN Switching 64
Foundation Topics 65
Generalized Troubleshooting Methodologies 65
Analyzing and Predicting Normal Network Operation 65
Data Plane Analysis 66
Control Plane Analysis 67
Predicting Normal Operations: Summary of the Process 68
Problem Isolation 68
Root Cause Analysis 69
Real World Versus the Exams 70
Troubleshooting the LAN Switching Data Plane 70
An Overview of the Normal LAN Switch Forwarding Process 71
Step 1: Confirm the Network Diagrams Using CDP 72
Step 2: Isolate Interface Problems 73
Interface Status Codes and Reasons for Nonworking States 74
The notconnect State and Cabling Pinouts 75
Determining Switch Interface Speed and Duplex 76
Issues Related to Speed and Duplex 77
Step 3: Isolate Filtering and Port Security Problems 79
Step 4: Isolate VLAN and Trunking Problems 82
Ensuring That the Right Access Interfaces Are in the Right VLANs 83
Access VLANs Not Being Defined or Not Being Active 83
Identify Trunks and VLANs Forwarded on Those Trunks 84
Troubleshooting Examples and Exercises 86
Troubleshooting Example 1: Find Existing LAN Data Plane Problems 86
Step 1: Verify the Accuracy of the Diagram Using CDP 87
Step 2: Check for Interface Problems 88
Step 3: Check for Port Security Problems 90
Step 4: Check for VLAN and VLAN Trunk Problems 91
Troubleshooting Example 2: Predicting LAN Data Plane Behavior 94
PC1 ARP Request (Broadcast) 95
R1 ARP Reply (Unicast) 98
Review Activities 102
Part I Review 104
Part II: IP Version 4 Routing 109
Chapter 4 Troubleshooting IPv4 Routing Part I 110
Foundation Topics 111
Predicting Normal IPv4 Routing Behavior 111
Host IPv4 Routing Logic 111
Routing Logic Used by IPv4 Routers 112
IP Routing Logic on a Single Router 112
IP Routing from Host to Host 113
Building New Data Link Headers Using ARP Information 114
Problem Isolation Using the ping Command 115
Ping Command Basics 115
Strategies and Results When Testing with the ping Command 116
Testing Longer Routes from Near the Source of the Problem 117
Using Extended Ping to Test the Reverse Route 119
Testing LAN Neighbors with Standard Ping 121
Testing LAN Neighbors with Extended Ping 122
Testing WAN Neighbors with Standard Ping 122
Using Ping with Names and with IP Addresses 123
Problem Isolation Using the traceroute Command 124
traceroute Basics 124
How the traceroute Command Works 125
Standard and Extended traceroute 126
Using traceroute to Isolate the Problem to Two Routers 127
Review Activities 130
Chapter 5 Troubleshooting IPv4 Routing Part II 132
Foundation Topics 133
Problems Between the Host and the Default Router 133
Root Causes Based on a Host's IPv4 Settings 133
Ensure IPv4 Settings Correctly Match 133
Mismatched Masks Impact Route to Reach Subnet 134
Typical Root Causes of DNS Problems 136
Wrong Default Router IP Address Setting 137
Root Causes Based on the Default Router's Configuration 137
Mismatched VLAN Trunking Configuration with Router on a Stick 138
DHCP Relay Issues 140
Router LAN Interface and LAN Issues 141
Problems with Routing Packets Between Routers 143
IP Forwarding by Matching the Most Specific Route 143
Using show ip route and Subnet Math to Find the Best Route 144
Using show ip route address to Find the Best Route 145
show ip route Reference 145
Routing Problems Caused by Incorrect Addressing Plans 146
Recognizing When VLSM Is Used or Not 147
Overlaps When Not Using VLSM 147
Overlaps When Using VLSM 148
Configuring Overlapping VLSM Subnets 149
Router WAN Interface Status 150
Filtering Packets with Access Lists 151
Review Activities 153
Chapter 6 Creating Redundant First-Hop Routers 156
Foundation Topics 157
FHRP Concepts 157
The Need for Redundancy in Networks 157
The Need for a First Hop Redundancy Protocol 159
The Three Solutions for First-Hop Redundancy 160
HSRP Concepts 160
HSRP Failover 161
HSRP Load Balancing 162
GLBP Concepts 163
FHRP Configuration and Verification 164
Configuring and Verifying HSRP 164
Configuring and Verifying GLBP 167
Review Activities 170
Chapter 7 Virtual Private Networks 176
Foundation Topics 177
VPN Fundamentals 177
IPsec VPNs 179
SSL VPNs 181
GRE Tunnels 181
GRE Tunnel Concepts 182
Routing over GRE Tunnels 182
GRE Tunnels over the Unsecured Network 183
Configuring GRE Tunnels 185
Verifying a GRE Tunnel 187
Review Activities 190
Part II Review 194
Part III: IP Version 4 Routing Protocols 199
Chapter 8 Implementing OSPF for IPv4 200
Foundation Topics 201
OSPF Protocols and Operation 201
OSPF Overview 201
Becoming Neighbors and Exchanging the LSDB 202
Agreeing to Become Neighbors 202
Fully Exchanging LSAs with Neighbors 203
Maintaining Neighbors and the LSDB 204
Using Designated Routers on Ethernet Links 205
Scaling OSPF Using Areas 206
OSPF Areas 207
How Areas Reduce SPF Calculation Time 208
OSPF Area Design Advantages 209
Link-State Advertisements 209
Router LSAs Build Most of the Intra-Area Topology 210
Network LSAs Complete the Intra-Area Topology 211
LSAs in a Multi-Area Design 212
Calculating the Best Routes with SPF 214
Administrative Distance 215
OSPF Configuration and Verification 216
OSPFv2 Configuration Overview 216
Multi-Area OSPFv2 Configuration Example 217
Single-Area Configurations 218
Multi-Area Configuration 219
Verifying the Multi-Area Configuration 220
Verifying the Correct Areas on Each Interface on an ABR 221
Verifying Which Router Is DR and BDR 221
Verifying the Number and Type of LSAs 222
Verifying OSPF Routes 223
OSPF Metrics (Cost) 223
Setting the Cost Based on Interface Bandwidth 224
The Need for a Higher Reference Bandwidth 225
OSPF Load Balancing 225
Review Activities 226
Chapter 9 Understanding EIGRP Concepts 230
Foundation Topics 231
EIGRP and Distance Vector Routing Protocols 231
Introduction to EIGRP 231
Basic Distance Vector Routing Protocol Features 233
The Concept of a Distance and a Vector 233
Full Update Messages and Split Horizon 234
Route Poisoning 236
EIGRP as an Advanced DV Protocol 237
EIGRP Sends Partial Update Messages, As Needed 237
EIGRP Maintains Neighbor Status Using Hello 237
Summary of Interior Routing Protocol Features 238
EIGRP Concepts and Operation 239
EIGRP Neighbors 239
Exchanging EIGRP Topology Information 240
Calculating the Best Routes for the Routing Table 241
The EIGRP Metric Calculation 241
An Example of Calculated EIGRP Metrics 242
Caveats with Bandwidth on Serial Links 243
EIGRP Convergence 244
Feasible Distance and Reported Distance 244
EIGRP Successors and Feasible Successors 245
The Query and Reply Process 246
Review Activities 248
Chapter 10 Implementing EIGRP for IPv4 252
Foundation Topics 253
Core EIGRP Configuration and Verification 253
EIGRP Configuration 253
Configuring EIGRP Using a Wildcard Mask 255
Verifying EIGRP Core Features 255
Finding the Interfaces on Which EIGRP Is Enabled 256
Displaying EIGRP Neighbor Status 258
Displaying the IPv4 Routing Table 259
EIGRP Metrics, Successors, and Feasible Successors 260
Viewing the EIGRP Topology Table 261
Finding Successor Routes 262
Finding Feasible Successor Routes 263
Convergence Using the Feasible Successor Route 265
Examining the Metric Components 266
Other EIGRP Configuration Settings 267
Load Balancing Across Multiple EIGRP Routes 267
Tuning the EIGRP Metric Calculation 269
Autosummarization and Discontiguous Classful Networks 270
Automatic Summarization at the Boundary of a Classful Network 270
Discontiguous Classful Networks 271
Review Activities 273
Chapter 11 Troubleshooting IPv4 Routing Protocols 278
Foundation Topics 279
Perspectives on Troubleshooting Routing Protocol Problems 279
Interfaces Enabled with a Routing Protocol 280
EIGRP Interface Troubleshooting 281
Examining Working EIGRP Interfaces 282
Examining the Problems with EIGRP Interfaces 284
OSPF Interface Troubleshooting 286
Neighbor Relationships 289
EIGRP Neighbor Verification Checks 290
EIGRP Neighbor Troubleshooting Example 291
OSPF Neighbor Troubleshooting 293
Finding Area Mismatches 294
Finding Duplicate OSPF Router IDs 295
Finding OSPF Hello and Dead Timer Mismatches 296
Other OSPF Issues 297
Mismatched OSPF Network Types 297
Mismatched MTU Settings 299
Review Activities 300
Part III Review 304
Part IV: Wide-Area Networks 309
Chapter 12 Implementing Point-to-Point WANs 310
Foundation Topics 311
Leased Line WANs with HDLC 311
Layer 1 Leased Lines 311
The Physical Components of a Leased Line 312
Leased Lines and the T-Carrier System 314
The Role of the CSU/DSU 315
Building a WAN Link in a Lab 315
Layer 2 Leased Lines with HDLC 316
Configuring HDLC 317
Leased-Line WANs with PPP 320
PPP Concepts 320
PPP Framing 321
PPP Control Protocols 321
PPP Authentication 322
Configuring PPP 323
CHAP Configuration and Verification 324
Troubleshooting Serial Links 325
Troubleshooting Layer 1 Problems 325
Troubleshooting Layer 2 Problems 326
Keepalive Failure 327
PAP and CHAP Authentication Failure 328
Troubleshooting Layer 3 Problems 329
Review Activities 331
Chapter 13 Understanding Frame Relay Concepts 336
Foundation Topics 337
Frame Relay Overview 337
Virtual Circuits 339
LMI and Encapsulation Types 340
Frame Relay Encapsulation and Framing 341
Frame Relay Addressing 342
Frame Relay Local Addressing 342
Frame Forwarding with One DLCI Field 343
Network Layer Addressing with Frame Relay 344
Frame Relay Layer 3 Addressing: One Subnet Containing All Frame Relay DTEs 345
Frame Relay Layer 3 Addressing: One Subnet Per VC 345
Frame Relay Layer 3 Addressing: Hybrid Approach 347
Review Activities 349
Chapter 14 Implementing Frame Relay 352
Foundation Topics 353
Frame Relay Configuration and Verification 353
Planning a Frame Relay Configuration 353
Configuring Using Physical Interfaces and One IP Subnet 354
Configuring the Encapsulation and LMI 356
Frame Relay Address Mapping 357
Inverse ARP 360
Static Frame Relay Mapping 360
Configuring Point-to-Point Subinterfaces 361
Verifying Point-to-Point Frame Relay 364
Configuring with Multipoint Subinterfaces 366
OSPF Issues on Frame Relay Multipoint and Physical Interfaces 368
Frame Relay Troubleshooting 369
A Suggested Frame Relay Troubleshooting Process 369
Layer 1 Issues on the Access Link (Step 1) 370
Layer 2 Issues on the Access Link (Step 2) 371
PVC Problems and Status (Step 3) 372
Find the Connected Subnet and Outgoing Interface (Steps 3a and 3b) 373
Find the PVCs Assigned to That Interface (Step 3c) 374
Determine Which PVC Is Used to Reach a Particular Neighbor (Step 3d) 375
PVC Status 375
Subinterface Status 377
Frame Relay Mapping Issues (Step 4) 377
End-to-End Encapsulation (Step 5) 378
Mismatched Subnet Numbers (Step 6) 379
Review Activities 380
Chapter 15 Identifying Other Types of WANs 386
Foundation Topics 387
Private WANs to Connect Enterprises 387
Leased Lines 387
Frame Relay 388
Ethernet WANs 389
MPLS 390
VSAT 391
Public WANs and Internet Access 392
Internet Access (WAN) Links 392
Dial Access with Modems and ISDN 393
Digital Subscriber Line 395
Cable Internet 396
Mobile Phone Access with 3G/4G 397
PPP over Ethernet 398
PPP over Ethernet Concepts 398
PPP over Ethernet Configuration 399
Review Activities 401
Part IV Review 404
Part V: IP Version 6 409
Chapter 16 Troubleshooting IPv6 Routing 410
Foundation Topics 411
Normal IPv6 Operation 411
Unicast IPv6 Addresses and IPv6 Subnetting 411
Assigning Addresses to Hosts 413
Stateful DHCPv6 413
Stateless Address Autoconfiguration 414
Router Address and Static Route Configuration 415
Configuring IPv6 Routing and Addresses on Routers 415
IPv6 Static Routes on Routers 416
Verifying IPv6 Connectivity 417
Verifying Connectivity from IPv6 Hosts 417
Verifying IPv6 from Routers 419
Troubleshooting IPv6 421
Pings from the Host Work Only in Some Cases 421
Pings Fail from a Host to Its Default Router 423
Problems Using Any Function That Requires DNS 424
Host Is Missing IPv6 Settings: Stateful DHCP Issues 424
Host Is Missing IPv6 Settings: SLAAC Issues 425
Traceroute Shows Some Hops, But Fails 427
Routing Looks Good, But Traceroute Still Fails 428
Review Activities 430
Chapter 17 Implementing OSPF for IPv6 434
Foundation Topics 435
OSPFv3 Configuration 435
OSPFv3 ICND1 Configuration Review 435
Example Multi-Area OSPFv3 Configuration 435
Single Area Configuration on the Three Internal Routers 436
Adding Multi-Area Configuration on the Area Border Router 438
Other OSPFv3 Configuration Settings 439
Setting OSPFv3 Interface Cost to Influence Route Selection 439
OSPF Load Balancing 440
Injecting Default Routes 440
OSPF Concepts, Verification, and Troubleshooting 441
OSPFv3 Interfaces 443
Verifying OSPFv3 Interfaces 443
Troubleshooting OSPFv3 Interfaces 443
OSPFv3 Neighbors 445
Verifying OSPFv3 Neighbors 445
Troubleshooting OSPFv3 Neighbors 446
OSPFv3 LSDB and LSAs 448
Verifying OSPFv3 LSAs 448
Troubleshooting OSPFv3 LSAs 450
OSPFv3 Metrics and IPv6 Routes 451
Verifying OSPFv3 Interface Cost and Metrics 451
Troubleshooting IPv6 Routes Added by OSPFv3 453
Review Activities 455
Chapter 18 Implementing EIGRP for IPv6 460
Foundation Topics 461
EIGRPv6 Configuration 461
EIGRPv6 Configuration Basics 461
EIGRPv6 Configuration Example 462
Other EIGRPv6 Configuration Settings 464
Setting Bandwidth and Delay to Influence EIGRPv6 Route Selection 464
EIGRP Load Balancing 465
EIGRP Timers 466
EIGRPv6 Concepts, Verification, and Troubleshooting 466
EIGRPv6 Interfaces 467
EIGRPv6 Neighbors 469
EIGRPv6 Topology Database 470
EIGRPv6 IPv6 Routes 472
Review Activities 474
Part V Review 480
Part VI: Network Management 485
Chapter 19 M anaging Network Devices 486
Foundation Topics 487
Simple Network Management Protocol 487
Describing SNMP 487
The Management Information Base 488
Configuring SNMP Version 2c 490
SNMP Version 3 491
System Message Logging (Syslog) 492
An Overview of System Message Logging 492
System Message Format 493
System Message Severity Levels 494
Configuring and Verifying Syslog 494
Using a Syslog Server 495
NetFlow 495
An Overview of NetFlow 496
Network Flows 497
Configuring NetFlow 497
Verifying and Using NetFlow 498
The NetFlow Collector 500
Review Activities 501
Chapter 20 Managing IOS Files 504
Foundation Topics 505
Managing Cisco IOS Files 505
Upgrading a Cisco IOS Software Image into Flash Memory 505
The Cisco IOS Software Boot Sequence 507
The Three Router Operating Systems 508
The Configuration Register 509
How a Router Chooses Which OS to Load 509
Recovering If the IOS Does Not Load 511
Verifying the IOS Image Using the show version Command 512
Password Recovery 513
The General Ideas Behind Cisco Password Recovery/Reset 514
A Specific Password Reset Example 515
Managing Configuration Files 517
Configuration File Basics 517
Copying and Erasing Configuration Files 519
Initial Configuration (Setup Mode) 521
Review Activities 522
Chapter 21 M anaging IOS Licensing 526
Foundation Topics 527
IOS Packaging 527
IOS Images per Model, Series, and per Software Version/Release 527
Original Packaging: One IOS Image per Feature Set Combination 528
New IOS Packaging: One Universal Image with All Feature Sets 528
IOS Software Activation with Universal Images 529
Managing Software Activation with Cisco License Manager 530
Manually Activating Software Using Licenses 531
Example of Manually Activating a License 533
Showing the Current License Status 533
Adding a Permanent Technology Package License 535
Right-to-Use Licenses 536
Review Activities 539
Part VI Review 542
Part VII: Final Review 545
Chapter 22 Final Review 546
Advice About the Exam Event 546
Learn the Question Types Using the Cisco Certification Exam Tutorial 546
Think About Your Time Budget Versus Numbers of Questions 547
A Suggested Time-Check Method 548
Miscellaneous Pre-Exam Suggestions 548
Exam-Day Advice 548
Exam Review 549
Practice Subnetting and Other Math-Related Skills 549
Take Practice Exams 551
Practicing Taking the ICND2 Exam 551
Practicing Taking the CCNA Exam 552
Advice on How to Answer Exam Questions 553
Find Knowledge Gaps Through Question Review 554
Practice Hands-On CLI Skills 556
Review Mind Maps from Part Review 557
Do Labs 557
Other Study Tasks 558
Final Thoughts 558
Part VIII: Appendixes 561
Appendix A Numeric Reference Tables 563
Appendix B ICND2 Exam Updates 571
Glossary 572
DVD-Only Appendixes:
Appendix C Answers to the Review Questions
Appendix D Memory Tables
Appendix E Memory Tables Answer Key
Appendix F Mind Map Solutions
Appendix G Study Planner
9781587144882 TOC 5/29/2013
Other Things You Might Like