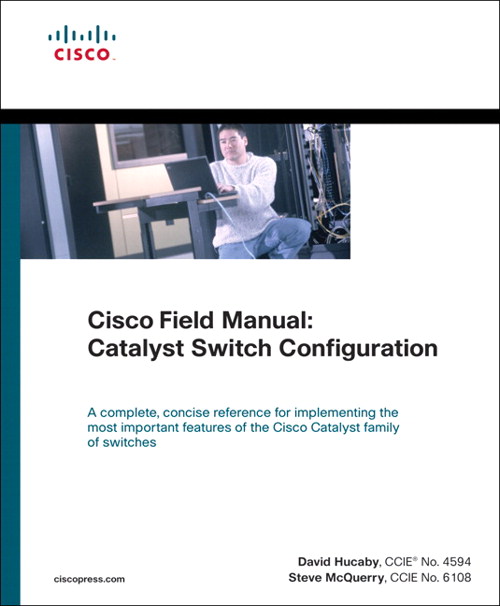 Register your product to gain access to bonus material or receive a coupon.
Cisco Field Manual: Catalyst Switch Configuration
Book
Sorry, this book is no longer in print.
Copyright 2003
Edition: 1st
Book
ISBN-10: 1-58705-043-9
ISBN-13: 978-1-58705-043-5
A complete, concise reference for implementing the most important features of the Cisco Catalyst family of switches
Review detailed and comparative configuration steps for features of the COS and Cisco IOS Software operating systems
Understand basic system and operating system management
Configure Ethernet, EtherChannel, Token Ring, and ATM LANE interfaces
Deploy VLANs, private VLANs, trunking, VTP, and dynamic port membership
Understand STP operation, configuration, and tuning
Configure and use Cisco Catalyst hardware for Layer 3 switching and redundancy
Discover how Cisco Catalyst switches handle multicast traffic and interact with multicast routers
Implement broadcast suppression, protocol filtering, user authentication, port security, and VLAN access lists
Set up switches for logging, SNMP and RMON management, and port analysis
Configure voice gateway modules, inline power, and QoS features needed to transport voice traffic
Cisco Catalyst switches, a common ingredient in many campus, metropolitan, enterprise, and service provider networks, are complex devices that require many configuration steps for proper operation. Not only are the required commands difficult to remember, but locating reference material on them also requires extensive research that is both time- consuming and difficult to complete in the field. Cisco Field Manual: Catalyst Switch Configuration is a quick and portable reference guide to the most commonly used features that can be configured on Cisco Catalyst switches.
Derived from the authors' notes about how to configure a variety of Cisco Catalyst features during the course of their preparation for the CCIE(r) exam, Cisco Field Manual: Catalyst Switch Configuration is an indispensable tool that helps you perform the most popular deployment tasks. From the first page, the authors zero in on quick facts, configuration steps, and explanations of configuration options in each Cisco Catalyst feature. The different variations of the Cisco Catalyst operating systems (COS and Cisco IOS(r) Software) are shown together for side-by-side comparison, making it easy to move from one Cisco Catalyst platform to another.
The book presents concise implementation advice for families of Cisco Catalyst features, including configuration fundamentals, Layer 2 interface configuration, Layer 3 interface configuration, VLANs and trunking, Spanning Tree Protocol (STP), Layer 3 switching, multicast, server load balancing, access control, switch management, quality of service (QoS), and voice. Additional appendixes provide you with critical details on well-known ports and addresses, specialized switch modules, VLAN extension, and a cabling guide. The quick reference format allows you to easily locate just the information you need without searching through thousands of pages of documentation, saving you time and helping you to get the devices up and running quickly and smoothly.
Whether you are looking for a handy, portable reference to more easily configure Cisco Catalyst switches in the field, or you are preparing for CCNA(r), CCNP(r), or CCIE certification, you will find Cisco Field Manual: Catalyst Switch Configuration to be an essential resource that will save you hours of research time.
Online Sample Chapter
Table of Contents
(NOTE: Each chapter concludes with Further Reading.)

1. CLI Usage.

Catalyst Operating System (COS). Cisco Internetwork Operating System (IOS) Software. ROM Monitor.
2. Switch Functionality.
Switched Campus Network Designs.
3. Supervisor Engine Configuration.
Prompts and Banners. IP Addressing & Services. Passwords and Password Recovery. Managing Modules. File Management and Boot Parameters. Redundant Supervisors. Cisco Discovery Protocol. Time and Calendar.
4. Layer 2 Interface Configuration.
Switching Table. Port Selection. Ethernet. EtherChannel. Token Ring ATM LANE.
5. Layer 3 Interface Configuration.
Layer 3 Switching. Layer 3 Ethernet Interfaces. Layer 3 EtherChannels. WAN Interfaces. Virtual Interfaces. Routing Tables.
6. VLANs and Trunking.
VLAN Configuration. VLAN Port Assignments. Trunking. VLAN Trunking Protocol. GVRP. Private VLANs.
7. Spanning Tree Protocol (STP).
STP Operation. STP Configuration. STP Convergence Tuning. Navigating a Spanning-Tree Topology.
8. Multilayer Switching.
Multilayer Switching. Cisco Express Forwarding. NetFlow Data Export. MSFC Redundancy with Single Router Mode. MSFC Redundancy with Configuration Synchronization. Router Redundancy with HSRP.
9. Multicast.
IGMP Snooping. CGMP. GMRP. RGMP.
10. Server Load Balancing (SLB).
SLB. SLB Firewall Load Balancing. SLB Probes.
11. Controlling Traffic and Switch Access.
Broadcast Suppression. Protocol Filtering. Port Security. VLAN Access Control Lists. Switch Authentication. Permit Lists. SSH Telnet Configuration. 802.1X Port Authentication.
12. Switch Management.
Logging. Simple Network Management Protocol. Switched Port Analyzer. Power Management. Environmental Monitoring. Packet Tracing.
13. Quality of Service.
QoS Theory. QoS Configuration. QoS Data Export. QoS Management.
14. Voice.
Voice Ports. Voice QoS. Voice Modules.
Appendix A. Cabling Quick Reference.
Appendix B. Well-known Protocol, Port, and other Numbers.
Appendix C. Additional Catalyst Modules.
Appendix D. Extending VLANs Within Layer 3 Switches.
Index
Download - 186 KB -- Index
Other Things You Might Like



eBook (Watermarked) $38.39