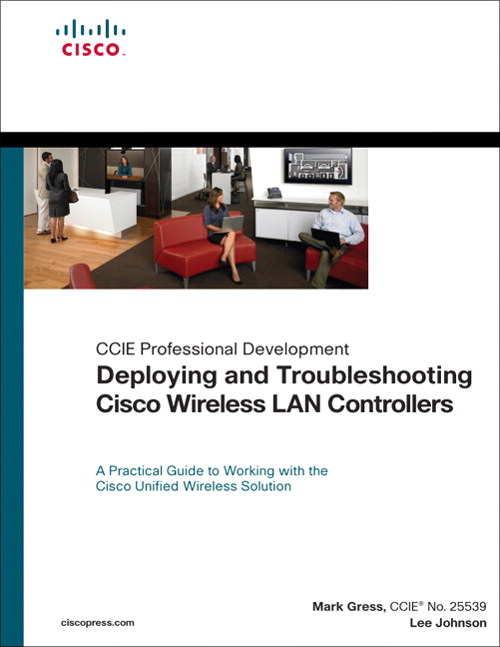 Register your product to gain access to bonus material or receive a coupon.
Deploying and Troubleshooting Cisco Wireless LAN Controllers
eBook (Watermarked)
Your Price: $44.80
List Price: $56.00
Includes EPUB and PDF

This eBook includes the following formats, accessible from your Account page after purchase:

EPUB The open industry format known for its reflowable content and usability on supported mobile devices.

PDF The popular standard, used most often with the free Adobe® Reader® software.

This eBook requires no passwords or activation to read. We customize your eBook by discreetly watermarking it with your name, making it uniquely yours.
Copyright 2010
Dimensions: 7-3/8" x 9-1/8"
Pages: 600
Edition: 1st
eBook (Watermarked)
ISBN-10: 0-13-343366-8
ISBN-13: 978-0-13-343366-1
This is the only complete, all-in-one guide to deploying, running, and troubleshooting wireless networks with Cisco® Wireless LAN Controllers (WLCs) and Lightweight Access Point Protocol (LWAPP)/Control and Provisioning of Wireless Access Points (CAPWAP). Authored by two of the most experienced Cisco wireless support professionals, the book presents start-to-finish coverage of implementing WLCs in existing wired and wireless network environments, troubleshooting design-related issues, and using LWAPP/CAPWAP solutions to achieve your specific business and technical goals.

One step at a time, you'll walk through designing, configuring, maintaining, and scaling wireless networks using Cisco Unified Wireless technologies. The authors show how to use LWAPP/CAPWAP to control multiple Wi-Fi wireless access points at once, streamlining network administration and monitoring and maximizing scalability. Drawing on their extensive problem-resolution experience, the authors also provide expert guidelines for troubleshooting, including an end-to-end problem-solving model available in no other book.

Although not specifically designed to help you pass the CCIE® Wireless written and lab exams, this book does provide you with real-world configuration and troubleshooting examples. Understanding the basic configuration practices, how the products are designed to function, the feature sets, and what to look for while troubleshooting these features will be invaluable to anyone wanting to pass the CCIE Wireless exams.
Efficiently install, configure, and troubleshoot Cisco Wireless LAN Controllers
Move autonomous wireless network solutions to LWAPP/CAPWAP
Integrate LWAPP/CAPWAP solutions into existing wired networks
Understand the next-generation WLC architecture
Use Hybrid REAP and Home AP solutions to centrally configure and control branch/remote access points without deploying controllers in every location
Use Mobility Groups to provide system-wide mobility easily and cost-effectively
Use Cisco WLC troubleshooting tools, and resolve client-related problems
Maximize quality in wireless voice applications
Build efficient wireless mesh networks
Use RRM to manage RF in real-time, optimizing efficiency and performance
Reference the comprehensive WLC and AP debugging guide
Part of the CCIE Professional Development Series, this is the first book to offer authoritative training for the new CCIE Wireless Exam. It will also serve as excellent preparation for Cisco's new CCNP® Wireless exam.
Table of Contents
Introduction xviii
Chapter 1 Troubleshooting Strategy and Implementation 1
Developing a Troubleshooting Strategy 1
Production Versus Nonproduction Outages 1
Step 1: Gathering Data About the Problem 2
Step 2: Identifying the Problem 2
Step 3: Isolating the Problem 3
Step 4: Analyzing the Data Collected About the Problem 7
Summary 9
Chapter 2 Wireless LAN Controllers and Access Points 11
Wireless LAN Controller Platforms 11
Current Production WLCs 12
Previous WLCMs 15
Functionality Differences Between WLCs 17
WLC Hardware and Software Requirements 19
Lightweight AP Models 20
Cisco Aironet APs 20
Airespace APs 25
AP 1000 Series Functionality Differences 26
AP 1000 Series Limitations 26
Lightweight Compared to Traditional Autonomous APs 28
Scalability 28
RRM 29
Self-Healing Mechanism 30
WLC Features 30
Central Management 32
Summary 35
Chapter 3 Introduction to LWAPP 37
Defining LWAPP 37
Quick Protocol Overview 38
LWAPP Advantages 41
Management 42
Scalability 42
Security 43
Mobility 43
LWAPP Mechanics 44
Discovery Process 45
Join Process 55
Image Process 56
Config State 56
Run State 57
Dissecting the Discovery Response 58
Manually Dissecting the Discovery Response 59
Summary 61
Chapter 4 The CAPWAP Protocol 63
Overview of CAPWAP 64
Differences from LWAPP 65
CAPWAP Session Establishment/AP Joining Process 67
Discovery Process 70
DTLS Session Establishment 71
Join/Config/Run 81
Troubleshooting CAPWAP Session Establishment/AP Discovery and Join 90
CAPWAP Communication: Control and Data Encryption 98
CAPWAP Communication: Sequence Numbers and Retransmissions 100
CAPWAP Fragmentation and Path MTU Discovery 101
CAPWAP-Control Packets Fragmentation 101
CAPWAP-Data Packets Fragmentation 101
CAPWAP—MTU DISCOVERY and TCP-MSS Adjustment 102
802.11 Bindings and Payloads 103
CAPWAP-Data Binding and Payloads 103
CAPWAP-Control Binding and Payloads 104
LWAPP and CAPWAP Vendor-Specific Payloads 105
Summary 105
Chapter 5 Network Design Considerations 107
Controller Placement 107
Access Layer Deployments 108
Distribution Layer Deployments 109
Service Block Deployments 109
WAN Considerations 110
AP Placement 110
Dense AP Deployment Considerations 112
802.11n 114
Location Design Considerations 116
Summary 119
Chapter 6 Understanding the Troubleshooting Tools 121
Troubleshooting on the WLC 121
Debugging 121
Advanced Debugging 126
mping and eping 131
Message Log 132
Trap Log 133
Statistics 135
Controller Statistics 135
AP Statistics 135
RADIUS Server Statistics 137
Port Statistics 137
Mobility Statistics 138
Packet Captures 139
WLC Config Analyzer 140
Software Bug Toolkit 141
Summary 142
Chapter 7 Deploying and Configuring the Wireless LAN Controller 143
Connecting the WLC to the Switch 144
Multiple AP-Manager Support 145
LAG 148
Layer 2 and Layer 3 LWAPP Transport Modes of Operation 151
LWAPP Layer 3 Transport Mode 153
Interfaces on the WLC 156
DHCP Proxy Vs. DHCP Bridging 159
DHCP Proxy Mode 160
DHCP Bridging Mode 163
Overview and Configuration 163
Configure the Switch for the WLC 169
Troubleshooting WLC Issues 171
Summary 176
Chapter 8 Access Point Registration 177
AP Discovery and Join Process 177
Troubleshooting Network Connectivity and AP Registration 181
Verifying VLAN Configuration 181
Verifying IP Addressing Information 182
Understanding the AP Discovery and AP Join Process 183
Troubleshooting the AP Discovery and AP Join Process 191
WLC Config Analyzer 197
AP Debugs 198
Debug Template 198
Summary 199
Chapter 9 Mobility 201
Client Roaming/Mobility Events 202
Intra-Controller Roaming 202
Inter-Controller Roaming 202
Inter-Subnet Roaming/Layer 3 Mobility Events 202
Auto-Anchor Mobility 206
AP Groups 207
Troubleshooting AP Groups 208
Mobility Groups 210
Mobility Messaging 212
Mobility Message Types 212
Mobility Role of the Controller to the Client 213
Mobility Handoff Types 214
Mobility Packet Format 221
Error Recovery 223
Mobility Messaging Enhancements in 5.0 224
Configuring Mobility Groups 224
Configuring Auto-Anchoring 226
Determining Controllers to Add to a Mobility Group 228
Secure Mobility 228
Troubleshooting Mobility 229
PMKID Caching 238
AP Mobility 241
Primary, Secondary, and Tertiary Controllers 241
AP Load Balancing 243
AP Failover 244
Troubleshooting AP Mobility 245
Summary 247
Chapter 10 Troubleshooting Client-Related Issues 249
General Client Information 249
Client Association Packet Flow 250
Client Utilities and Logging 255
AP Debugs and Show Commands 258
Wireless and Wired Sniffer Traces 261
Debug Client 262
Debug Client Variations 263
Client Connection 265
Controller Processes 265
PEM 266
APF 268
802.1x Authentication (Dot1x) 270
Debug Client Analysis 270
Troubleshooting Examples 285
Wrong Client Cipher Configuration 285
Wrong Preshared Key 287
Incorrect User Credentials with EAP 289
Summary 291
Chapter 11 Wireless Voice 293
Prerequisites for Voice Deployments 293
Phone Features 295
Supported Protocols, Specifications, and Certifications 295
Security 296
Coexistence 297
QoS 297
Latency, Jitter, and Loss 298
Correct Packet Marking 298
Upstream and Downstream QoS 302
Wi-Fi Multimedia 303
TSPEC 304
Configuration 305
Controller 305
Switch Ports 311
WLAN Profile on the Phone 312
Troubleshooting 792x Voice Quality Issues 313
Basic Troubleshooting/Connectivity 313
Choppy/Lost Audio 316
One-Way Voice 319
Network Busy 321
Poor Audio When Roaming 323
Multicast Applications Fail 324
Enabling Trace Logs on the 792x 329
Troubleshooting and Monitoring Tools 337
WCS 338
Packet Capture Software 340
Spectrum Analysis Tools 341
SpectraLink and Vocera Deployments 342
SpectraLink 342
Vocera Deployments 344
Summary 347
Chapter 12 Radio Resource Management 349
How RRM Works 349
RF Grouping 351
Dynamic Channel Assignment 357
TPC 358
Coverage Hole Detection 359
Enhancements to RRM 360
Configuring RRM 362
Dynamic Channel Assignment 363
Transmit Power Control (TPC) 365
Coverage 367
Profiles and Monitor Intervals 368
Overriding Global RRM 369
Troubleshooting RRM 371
SNMP Traps 371
show Commands 373
Debugs 378
Summary 389
Chapter 13 H-REAP 391
H-REAP Versus REAP 392
Split MAC Versus Local MAC Architecture 392
H-REAP Modes of Operation 394
Central Versus Local Switching 395
H-REAP States of Operation 397
H-REAP Wireless Security Support 398
Configuring H-REAP 398
Controller Discovery 398
Configuring the WLAN 402
Configuring the AP 404
Configuring the Local Switch 405
H-REAP Guidelines and Limitations 408
H-REAP Enhancements 410
Backup RADIUS Server 410
H-REAP Groups 411
Local Authentication 412
Troubleshooting H-REAP 412
show Commands 414
debug Commands 422
Summary 430
Chapter 14 Guest Networking 431
Web Authentication 431
Web Authentication Policies 432
Web Authentication Types 435
Web Authentication Process 436
Troubleshooting Basic Web Authentication 440
RADIUS and LDAP Authentication with Web Auth 447
Guest User Accounts 451
Custom Web Auth Splash Pages 452
Global Override 453
Browser Security Warning 454
Centralized Traffic Flow with Guest Access 458
Auto-Anchor/Guest Tunneling 458
Configuring Auto-Anchor 460
Troubleshooting Guest Tunneling 461
Wired Guest Access 467
Troubleshooting Wired Guest Access 470
Summary 471
Chapter 15 Mesh 473
Mesh Code Releases 474
Mesh Deployments 474
How Mesh Works 476
Mesh Bootup and Join Process 477
Configuring Mesh 480
Ethernet Bridging 483
Troubleshooting Mesh 488
AP Join Problems 488
RF Issues 491
show Commands 492
Remote Telnet and AP Debugs 495
Ethernet Bridging Troubleshooting 497
Summary 502
Appendix A Debugging Commands 503
WLC Debugs 503
Existing Debugs in Software Version 5.0 and Earlier 503
Debugs Introduced in Software Version 5.1 518
Debugs Introduced in Software Version 6.0 520
Debug Packet Logging 523
AP Debugs 526
Appendix B LWAPP and CAPWAP Payloads 535
LWAPP and CAPWAP Message Payloads 544
TOC, 9781587058141, 10/19/09
Other Things You Might Like


eBook (Watermarked) $38.39

Book $55.99