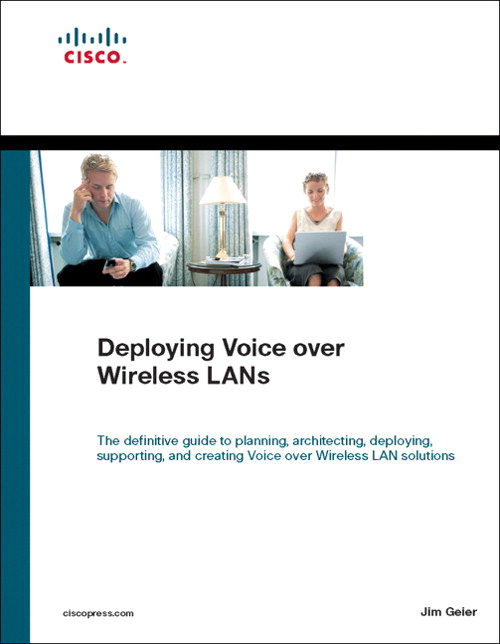 Register your product to gain access to bonus material or receive a coupon.
Deploying Voice over Wireless LANs
Book
Sorry, this book is no longer in print.
eBook (Watermarked)
Your Price: $38.39
List Price: $47.99

This PDF will be accessible from your Account page after purchase and requires the free Adobe® Reader® software to read it.

The eBook requires no passwords or activation to read. We customize your eBook by discreetly watermarking it with your name, making it uniquely yours.
Copyright 2007
Edition: 1st
Book
ISBN-10: 1-58705-231-8
ISBN-13: 978-1-58705-231-6
eBook (Watermarked)
ISBN-10: 1-58714-136-1
ISBN-13: 978-1-58714-136-2
Deploying Voice over Wireless LANs
The definitive guide to planning, architecting, deploying, supporting, and creating Voice over Wireless LAN solutions
Recent advances make it possible to deliver high-quality voice and video communications over a wireless LAN (WLAN), replacing costly wired telephone and video surveillance systems and dramatically reducing support costs. However, today's new voice over WLAN (VoWLAN) technologies require fundamentally different skills and techniques from those used in traditional voice and video systems. Now, there's a complete guide to every facet of VoWLAN deployment: planning, design, installation, security, maintenance, and troubleshooting.
Authored by wireless industry expert and leader Jim Geier, Deploying Voice over Wireless LANs draws on Geier's extensive experience with real-world VoWLAN deployments. Geier brings together state-of-the-art insights into VoWLAN technologies, standards, products, services, implementation strategies, and much more.
Geier begins by introducing key components of today's VoWLAN systems, including phones, client software, and voice encoders/decoders, as well as VoWLAN signaling essentials such as analog-to-digital (A/D) conversion and compression. Using examples drawn from actual enterprise settings, you'll learn exactly how VoWLAN products integrate with existing IP infrastructure.
Next, he introduces crucial emerging 802.11 standards for effective VoWLAN deployment, including 802.11e quality of service (QoS) standards, 802.11r to minimize packet loss between access points, and 802.11k network discovery. He carefully reviews the security implications of VoWLAN voice, systematically covering both risks and countermeasures. Finally, Geier walks through implementation from start to finish, thoroughly covering analysis, design, installation, configuration, testing, and support.
Whatever your role in planning, delivering, managing, or creating wireless voice and video solutions, Deploying Voice over Wireless LANs is your most comprehensive, authoritative resource.
Jim Geier founded Wireless-Nets, Ltd., and serves as its principal consultant. His 25 years of experience includes the analysis, design, software development, installation, and support of numerous wireless networking systems. He has been active within the Wi-Fi Alliance and the IEEE 802.11 Working Group and helped develop international standards for WLANs. His books include Wireless Networks First Step (Cisco Press), Wireless LANs (Sams), Wireless Networking Handbook (MTP), and Network Reengineering.
Understand VoWLAN components, applications, and benefits
See VoWLAN at work in actual enterprise environments
Master VoWLAN signaling, including voice signal characteristics, A/D conversion, and compression
Discover the latest 802.11 VoWLAN standards, including 802.11e, 802.11r, and 802.11k
Secure IP-based VoWLAN systems against intrusion and compromise
Analyze your organization's requirements and design an optimal VoWLAN solution
Plan for capacity, roaming, and integration with cellular systems
Install, configure, test, verify, and validate your VoWLAN system
Plan for operational support and implement appropriate administration tools and methods
Includes a complete VoWLAN glossary
Part I Fundamental Elements
Chapter 1 VoWLAN Applications and Benefits
Chapter 2 VoWLAN System Components
Chapter 3 VoWLAN Signaling Fundamentals

Part II Critical Technologies
Chapter 4 Wireless LAN Technologies
Chapter 5 VoWLAN Security Solutions

Part III Implementation Steps
Chapter 6 Analyzing VoWLAN Requirements
Chapter 7 Designing a VoWLAN Solution
Chapter 8 Installing, Configuring, and Testing a VoWLAN System
Chapter 9 Supporting a VoWLAN System
Appendix A Answers to Chapter Review Questions
Glossary
This book is part of the Networking Technology Series from Cisco Press®, which offers networking professionals valuable information for constructing efficient networks, understanding new technologies, and building successful careers.
Category: Cisco Press–Networking
Covers: Voice over Wireless LAN Solutions
Online Sample Chapter
VoWLAN Applications and Benefits
Downloadable Sample Chapter
Download - 129 KB -- Chapter 1: VoWLAN Applications and Benefits
Table of Contents
Part I Fundamental Elements
Chapter 1 VoWLAN Applications and Benefits
The Role of VoWLAN Solutions
History of VoWLANs
VoIP
Wireless LANs
Healthcare
Enterprises
Universities
Retail
Warehouses
Manufacturing
Small Offices and Homes
Security Systems
Determining ROI
Initial Analysis
Costs
Savings
Payback Period
Chapter Summary
Chapter Review Questions
Chapter 2 VoWLAN System Components
VoWLAN System Overview
Cisco 7920 Wireless IP Phone
Cisco IP Softphone
Cisco CallManager
Cisco CallManager Express
Linksys Wi-Fi Video Cameras
Wireless Network Infrastructures
Traditional Access Point Networks
Wireless Switched Networks
Mesh Networks
Chapter Summary
Chapter Review Questions
Chapter 3 VoWLAN Signaling Fundamentals
Voice Attributes
Video Attributes
VoIP Call Flow
H.323
Skinny Client Control Protocol (SCCP)
Session Initiation Protocol (SIP)
Radio Frequency (RF) Signals
Modulation
RF Signal Characteristics
Gain
Signal-to-Noise Ratio
Spread Spectrum
Orthogonal Frequency Division Multiplexing (OFDM)
FCC Rules
Wireless Impairments
Poor Signal Coverage
Latency
RF Interference
Limited Capacity
Multipath
Chapter Summary
Chapter Review Questions
Part II Critical Technologies
Chapter 4 Wireless LAN Technologies
Infrastructure Mode
Scanning
Data Transfer
Roaming
Ad Hoc Mode
Wireless Medium Access
DCF
PCF
802.11 Physical Layer Standards
802.11a
802.11b
802.11g
802.11n
Comparison of 802.11 Standards
Wireless Configuration Parameters
SSID
RF Channels
Transmit Power
Data Rates
Power-Save Mode
RTS/CTS
Fragmentation
RTS/CTS and Fragmentation Summary
Chapter Summary
Chapter Review Questions
Chapter 5 VoWLAN Security Solutions
Security Implications
Passive Monitoring
Unauthorized Access
Denial of Service
Encryption
WEP
TKIP
AES
WPA
802.11i
Virtual Private Networks
Authentication
Open System Authentication
Shared Key Authentication
IEEE 802.1X
Cisco LEAP
Tips for Enhancing Security
SSID Broadcasting
Systems Management
Access Point Installation
Rogue Access Points
Signal Propagation
Chapter Summary
Chapter Review Questions
Part III Implementation Steps
Chapter 6 Analyzing VoWLAN Requirements
Overall Requirements Analysis Steps
Identifying Potential Requirements
Applications
Users
Utilization
Coverage Areas
Roaming
Environment
Security
Client Devices
Existing Systems
Policies and Preferences
Budget
Schedules
Verifying and Validating Requirements
Documenting Requirements
Chapter Summary
Chapter Review Questions
Chapter 7 Designing a VoWLAN Solution
Overall Design Steps
Deployment Models
Single-Site Architecture
Multisite WAN with Centralized Call Processing
Multisite WAN with Distributed Call Processing
Roaming
Security
Network Infrastructure
Virtual LANs
Multicasting
Switch Recommendations
Quality of Service
Placement of Access Points
Wireless Capacity Analysis
RF Site Survey
Document Findings
Chapter Summary
Chapter Review Questions
Chapter 8 Installing, Configuring, and Testing a VoWLAN System
Installing Access Points
Getting Started
Mounting Practices
Antenna Alignment
Electrical Power Distribution
Configuring Access Points
Configuration Setting Access
Firmware
VLANs
SSID
Transmit Power
RF Channel
Data Rates
Filtering
Protection Mechanisms
Installing and Configuring Cisco CallManager Software
Cisco CallManager Software Installation
System Parameters
Subscriber Setup
Device Mobility Issues
Configuring Wireless IP Phones
Firmware
Network Settings
RF Settings
Phone Settings
Verifying System Operation
Association Tests
Authentication Tests
Registration Tests
Phone Call Tests
Load Tests
Follow-up Tests
Battery Life Issues
Chapter Summary
Chapter Review Questions
Chapter 9 Supporting a VoWLAN System
Configuration Management
RF Channel Changes
Transmit Power Changes
New Applications
Signal Coverage
Firmware Version
Security Improvement
Network Monitoring
Performance Monitoring
Coverage Monitoring
Configuration Monitoring
Security Policy Management
Security Assessment Steps
Review Existing Security Policies
Review the System Architecture
Review Operational Support Tools and Procedures
Interview Users
Verify Configurations of Wireless Devices
Investigate Physical Installations of Access Points
Identify Rogue Access Points
Perform Penetration Tests
Analyze Security Gaps
Recommend Improvements
Maintenance Functions
Inoperative Access Points
Poor Performance
Poor Signal Coverage
Broken Hardware
Keep Firmware Up to Date
Monitor Performance
Verify Coverage
Inspect Access Points
Engineering Functions
Advanced Problem Resolution
Coverage Expansion
Capacity Increases
Firmware Review
Technology Upgrade
Design Review
Help Desk Planning
Connection Problems
Poor Signal Coverage
Poor Performance
System Status
Additional Considerations
CiscoWorks Wireless LAN Solution Engine
Automatic Access Point Configuration
Assisted Site Surveys
Centralized Firmware Updates
Dynamic Grouping
VLAN Configuration
Multiple SSID Support
Customizable Thresholds
Fault Status
Intrusion Detection System
Security Policy Monitoring
Secure User Interface
Air/RF Scanning and Monitoring
Self-healing Functions
Reporting, Trending, Planning, and Troubleshooting
Chapter Summary
Chapter Review Questions
Appendix A Answers to Chapter Review Questions
Glossary
1587052318 TOC 2/12/2007
Index
Download - 88 KB -- Index
Other Things You Might Like


eBook (Watermarked) $38.39

Book $55.99