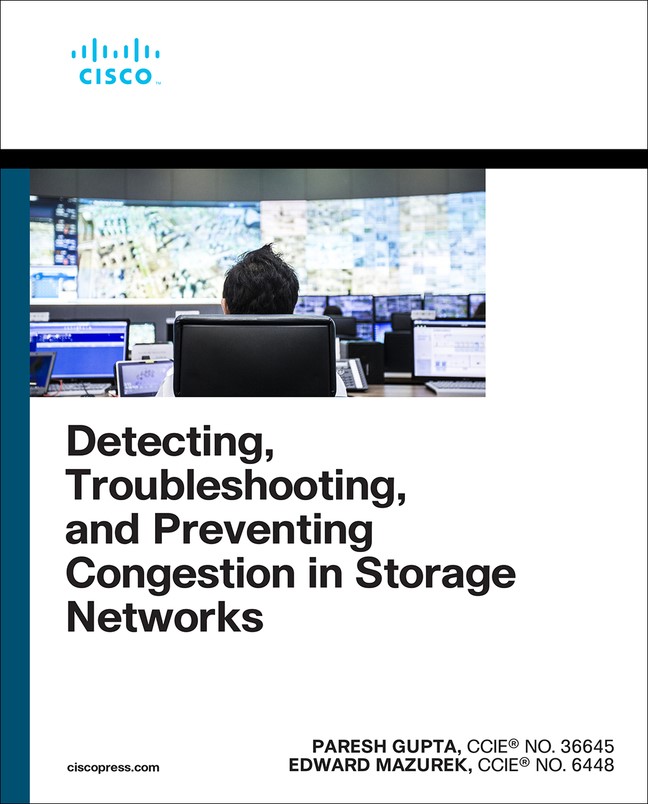 Register your product to gain access to bonus material or receive a coupon.
Detecting, Troubleshooting, and Preventing Congestion in Storage Networks
Book
This product currently is not for sale.
Copyright 2023
Dimensions: 7-3/8" x 9-1/8"
Edition: 1st
Book
ISBN-10: 0-13-788723-X
ISBN-13: 978-0-13-788723-1
As storage networks mature, evolve, and must deliver ever-larger amounts of data, storage network congestion is becoming a critical problem. In this guide, a team of Cisco experts show how to detect, troubleshoot, and prevent congestion in any storage network, no matter whose storage arrays it uses.
Writing for every IT professional involved in delivering storage services, this guide takes a balanced approach, addressing both mature and emerging technologies, from conventional Fibre Channel to the latest all-flash arrays and NVMe over Fabrics (NVMe-oF) solutions. The authors thoroughly explain congestion handling mechanisms of networking technologies such as Fibre Channel, lossless Ethernet, and TCP, offering a proven troubleshooting methodology they've developed working with customers of all kinds, and best practices for making future congestion less likely. Their practical case studies show how to monitor storage fabrics and gain insights for anticipating, detecting, and resolving congestion in any large-scale storage network.
This isn't just general conceptual education: it's a go-to reference packed with reliable solutions you can rely on whenever you're encountering storage network congestionor making plans to avoid it. It will help you improve user experience, increase ROI from external storage, increase uptime, simplify your hybrid cloud transition, and even reduce support and training costs.
Table of Contents
1. Storage Networks for All-Flash and NVMe Storage
2. Understanding Congestion in Fibre Channel Fabrics
3. Detecting Congestion in Fibre Channel Fabrics
4. Preventing Congestion in Fibre Channel Fabrics
5. Troubleshooting Congestion
6. I/O Performance Monitoring Using SAN Analytics
7. Congestion in Ethernet Storage Fabrics (FCoE and RoCE)
8. Congestion in TCP Storage Fabrics (iSCSI and NVMe/TCP)
9. Appendix: Congestion Management in Cisco UCS Servers
Other Things You Might Like

eBook (Watermarked) $38.39

Book $47.99

By Matthew Baker, Brandon Beck, Doron Chosnek, Jason McGee, Sean McKeown, Bradley TerEick, Mohit Vaswani
eBook (Watermarked) $31.99