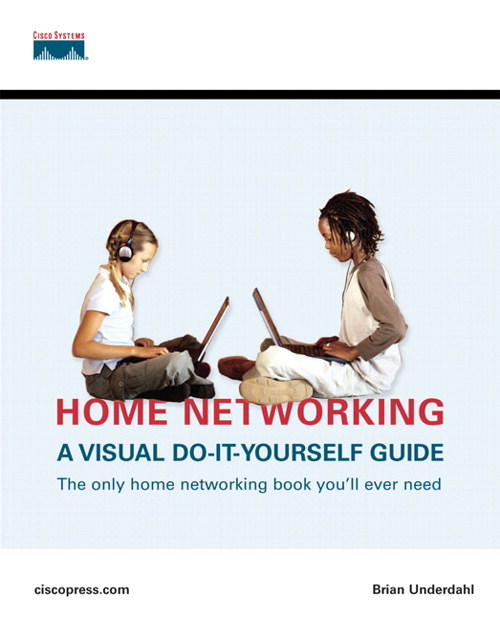 Share
|



Register your product to gain access to bonus material or receive a coupon.
Home Networking: A Visual Do-It-Yourself Guide
Premium Website
Sorry, this book is no longer in print.
Copyright 2005
Edition: 1st
Premium Website
ISBN-10: 1-58720-127-5
ISBN-13: 978-1-58720-127-1
The only home networking book you'll ever need
Setting up a home network doesn't need to be difficult. You can use this easy-to-understand reference to set up your home network, secure it, and turn it into an entertainment network. Don't be fooled by other guides-it can be this simple:
It's Easy-Set up your home network with this visual step-by-step guide.
Quit Wasting Time and Money-Buy the network gadgets and equipment you need.
Make It Secure-Use simple tips to make your network secure.
Wow the Neighbors-Turn your home network into an entertainment network.
What Went Wrong-Fix common problems you might encounter while setting up your network.
Online Sample Chapter
Downloadable Sample Chapter
Download - 2.05 MB -- Chapter 1: Why You Want Your Own Network
Table of Contents
I. STARTING YOUR NETWORK.
1. Why You Want Your Own Network.
Big and Scary Networks: The Simplest Introduction You'll Ever Read.
What Networks Really Are.
How Networks Really Work.
A Network Really Isn't Too Complicated for You.
Learning How to Share.
Sharing Your Files.
Sharing Printers.
Sharing an Internet Connection.
Sharing Multimedia.
Headline: Entertainment Network Wows Friends and Neighbors.
Home Entertainment Centers.
Wireless Game Consoles.
Internet Radio.
Wireless Webcams.
Working Remotely.
Summary.
2. Home Networking Basics.
The Two Flavors of Home Networks.
Wired Networks.
Wireless Networks.
Hardware Basics: Making Sense of All That Stuff.
Network Adapters.
Hubs.
Switches.
Routers.
Access Points.
Gateways.
Software Basics: Details Only a Geek Could Love.
Network Clients.
Protocols and Drivers.
Summary.
II. STARTING YOUR NETWORK.
3. Choosing the Best Network Type.
What Do You "Need"?
Index
Errata
On page 74, below Step 4, the text should read:
Some experts recommend grounding yourself to your PC at this point using an inexpensive wrist strap. You'll find these at the same store where you purchased the network adapter card.
Other Things You Might Like

Online Video $199.99

By Luc De Ghein
Online Video $159.99

eBook (Watermarked) $22.39