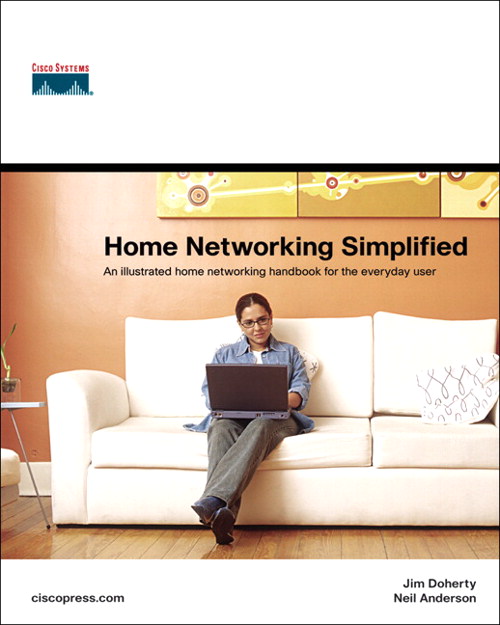 Share
|



Register your product to gain access to bonus material or receive a coupon.
Home Networking Simplified
Book
Sorry, this book is no longer in print.
Copyright 2006
Edition: 1st
Book
ISBN-10: 1-58720-136-4
ISBN-13: 978-1-58720-136-3
An illustrated home networking handbook for the everyday user
Building a network doesn't have to be all work and no play—it can actually be fun! Home Networking Simplified is an illustrated home-networking book for everyone from Grandma Mary to your tech-savvy teenage neighbor.
Home Networking Simplified gives you the most basic need-to-know info and then teaches you how to get the most out of your home network:
Learn the basics of home networking, from connecting to the Internet to connecting your computers
Create a basic home network
Grow and update your network with confidence
Secure your home network and protect yourself from hackers and viruses
Go wireless to put your computers where you want them—not just where cables reach
Learn about the latest technologies, emerging trends, and coolest toys
Whether you're a newbie, a geek, or someone in-between, Home Networking Simplified helps you harness the power of home networking.
Debugged by The Geek Squad
This book is part of the Networking Technology Series from Cisco Press®, the only authorized publisher for Cisco Systems®.
Links
Download related content from TechRepublic.com
Checklists for deploying a SOHO network
Checklist for selecting the best SOHO or remote network ISP
Support and Configuration Checklists for Small/Midsize Networks
Interview(s)
Computer Outlook Radio, August 11, 2005
Investor's Business Daily, July 8, 2005
Computing Unplugged, July 2005
Geek Speak Radio, July 4, 2005
The Wall Street Journal This Morning, July 4, 2005
Entrenched Radio, July 2, 2005
TheDeal.com, June 27, 2005
Into Tomorrow, June 26, 2005
Computer Talk with TAB, June 11, 2005
TechTalkRadio, June 1, 2005
Other Things You Might Like

Online Video $199.99

By Luc De Ghein
Online Video $159.99

eBook (Watermarked) $22.39