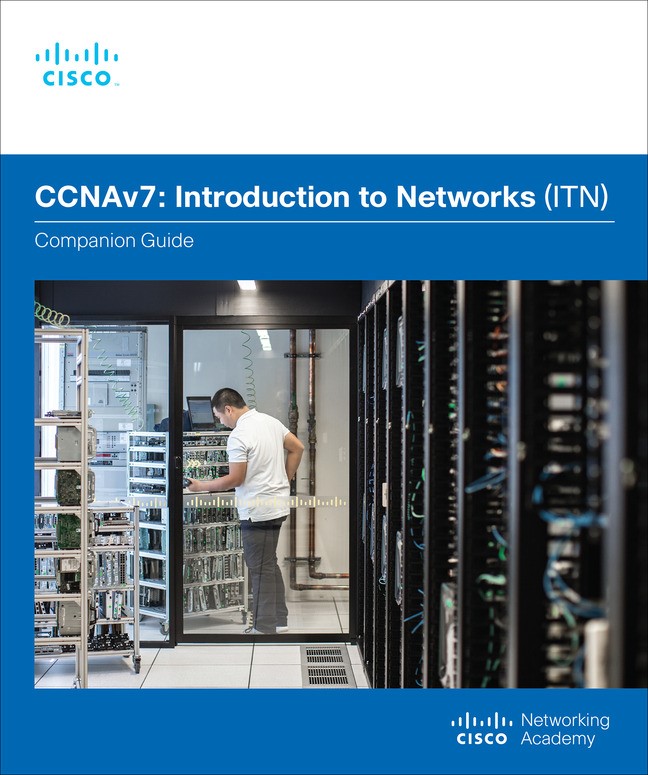 Share
|



Register your product to gain access to bonus material or receive a coupon.
Introduction to Networks Course Booklet (CCNAv7)
Book
Your Price: $36.00
List Price: $40.00
Usually ships in 24 hours.
Features
Easy to read, highlight, and review on the go, wherever the Internet is not available
Extracted directly from the online course, making this the perfect complement to taking the online course
An icon system directs the reader to the online course to take full advantage of the images, labs, Packet Tracer activities, and dynamic activities
Copyright 2020
Dimensions: 8-1/2" x 10-7/8"
Pages: 360
Edition: 1st
Book
ISBN-10: 0-13-663295-5
ISBN-13: 978-0-13-663295-5
Your Cisco Networking Academy® Course Booklet is designed as a study resource you can easily read, highlight, and review on the go, wherever the Internet is not available or practical:
The text is extracted directly, word-for-word, from the online course so you can highlight important points and take notes in the Your Chapter Notes section.
Headings with the exact page correlations provide a quick reference to the online course for your classroom discussions and exam preparation.
An icon system directs you to the online curriculum to take full advantage of the images embedded within the Networking Academy online course interface and reminds you to do the labs, interactive activities, packet tracer activities, watch videos, and take the chapter quizzes.
The Course Booklet is a basic, economical paper-based resource to help you succeed with the Cisco Networking Academy online course.
This book is offered exclusively for students enrolled in Cisco Networking Academy courses. It is not designed for independent study or professional certification preparation. Visit netacad.com to learn more about program options and requirements.
Related titles:
CCNA 200-301 Portable Command Guide
Book: 9780135937822
eBook: 9780135937709
Introduction to Networks Companion Guide CCNA v7
Book: 9780136633662
eBook: 9780136633556
Introduction to Networks Labs & Study Guide CCNA v7
Book: 9780136634454
Table of Contents
Introduction xxxi
Chapter 1 Networking Today 1
Introduction - 1.0 1
Why should I take this module? - 1.0.1 1
What will I learn to do in this module? - 1.0.2 1
Networks Affect our Lives - 1.1 2
Networks Connect Us - 1.1.1 2
Video - The Cisco Networking Academy Learning Experience - 1.1.2 2
No Boundaries - 1.1.3 2
Network Components - 1.2 2
Host Roles - 1.2.1 2
Peer-to-Peer - 1.2.2 3
End Devices - 1.2.3 3
Intermediary Devices - 1.2.4 4
Network Media - 1.2.5 4
Check Your Understanding - Network Components - 1.2.6 4
Network Representations and Topologies - 1.3 4
Network Representations - 1.3.1 4
Topology Diagrams - 1.3.2 5
Physical Topology Diagrams 5
Logical Topology Diagrams 5
Check Your Understanding - Network Representations and Topologies - 1.3.3 5
Common Types of Networks - 1.4 5
Networks of Many Sizes - 1.4.1 5
Small Home Networks 6
Small Office and Home Office Networks 6
Medium to Large Networks 6
World Wide Networks 6
LANs and WANs - 1.4.2 6
LANs 7
WANs 7
The Internet - 1.4.3 7
Intranets and Extranets - 1.4.4 8
Check Your Understanding - Common Types of Networks - 1.4.5 8
Internet Connections - 1.5 8
Internet Access Technologies - 1.5.1 8
Home and Small Office Internet Connections - 1.5.2 8
Businesses Internet Connections - 1.5.3 9
The Converging Network - 1.5.4 9
Traditional Separate Networks 9
Converged Networks 10
Video - Download and Install Packet Tracer - 1.5.5 10
Video - Getting Started in Cisco Packet Tracer - 1.5.6 11
Packet Tracer - Network Representation - 1.5.7 11
Reliable Networks - 1.6 11
Network Architecture - 1.6.1 11
Fault Tolerance - 1.6.2 12
Scalability - 1.6.3 12
Quality of Service - 1.6.4 12
Network Security - 1.6.5 13
Check Your Understanding - Reliable Networks - 1.6.6 13
Network Trends - 1.7 13
Recent Trends - 1.7.1 13
Bring Your Own Device (BYOD) - 1.7.2 14
Online Collaboration - 1.7.3 14
Video Communications - 1.7.4 14
Video - Cisco Webex for Huddles - 1.7.5 14
Cloud Computing - 1.7.6 14
Cloud Types 15
Technology Trends in the Home - 1.7.7 15
Powerline Networking - 1.7.8 16
Wireless Broadband - 1.7.9 16
Wireless Internet Service Provider 16
Wireless Broadband Service 17
Check Your Understanding - Network Trends - 1.7.10 17
Network Security - 1.8 17
Security Threats - 1.8.1 17
Security Solutions - 1.8.2 18
Check Your Understanding - Network Security - 1.8.3 19
The IT Professional - 1.9 19
CCNA - 1.9.1 19
Networking Jobs - 1.9.2 19
Lab - Research IT and Networking Job Opportunities - 1.9.3 19
Module Practice and Quiz - 1.10 20
What did I learn in this module? - 1.10.1 20
Networks Affect our Lives 20
Network Components 20
Network Representations and Topologies 20
Common Types of Networks 20
Internet Connections 21
Reliable Networks 21
Network Trends 21
Network Security 21
The IT Professional 22
Chapter Quiz - Networking Today 23
Your Chapter Notes 23
Chapter 2 Basic Switch and End Device Configuration 25
Introduction - 2.0 25
Why should I take this module? - 2.0.1 25
What will I learn to do in this module? - 2.0.2 25
Cisco IOS Access - 2.1 25
Operating Systems - 2.1.1 25
GUI - 2.1.2 26
Purpose of an OS - 2.1.3 26
Access Methods - 2.1.4 27
Terminal Emulation Programs - 2.1.5 27
PuTTY 28
Tera Term 28
SecureCRT 28
Check Your Understanding - Cisco IOS Access - 2.1.6 28
IOS Navigation - 2.2 28
Primary Command Modes - 2.2.1 28
Configuration Mode and Subconfiguration Modes - 2.2.2 28
Video - IOS CLI Primary Command Modes - 2.2.3 29
Navigate Between IOS Modes - 2.2.4 29
Video - Navigate Between IOS Modes - 2.2.5 30
A Note About Syntax Checker Activities - 2.2.6 30
Syntax Checker - Navigate Between IOS Modes - 2.2.7 30
Check Your Understanding - IOS Navigation - 2.2.8 30
The Command Structure - 2.3 30
Basic IOS Command Structure - 2.3.1 30
IOS Command Syntax Check - 2.3.2 31
IOS Help Features - 2.3.3 31
Video - Context Sensitive Help and Command Syntax Check - 2.3.4 32
Hot Keys and Shortcuts - 2.3.5 32
Video - Hot Keys and Shortcuts - 2.3.6 33
Packet Tracer - Navigate the IOS - 2.3.7 33
Lab - Navigate the IOS by Using Tera Term for Console Connectivity - 2.3.8 33
Basic Device Configuration - 2.4 34
Device Names - 2.4.1 34
Password Guidelines - 2.4.2 35
Configure Passwords - 2.4.3 35
Encrypt Passwords - 2.4.4 36
Banner Messages - 2.4.5 37
Video - Secure Administrative Access to a Switch - 2.4.6 37
Syntax Checker - Basic Device Configuration - 2.4.7 37
Check Your Understanding - Basic Device Configuration - 2.4.8 38
Save Configurations - 2.5 38
Configuration Files - 2.5.1 38
Alter the Running Configuration - 2.5.2 39
Video - Alter the Running Configuration - 2.5.3 39
Capture Configuration to a Text File - 2.5.4 39
Packet Tracer - Configure Initial Switch Settings - 2.5.5 40
Ports and Addresses - 2.6 40
IP Addresses - 2.6.1 40
Interfaces and Ports - 2.6.2 41
Check Your Understanding - Ports and Addresses - 2.6.3 42
Configure IP Addressing - 2.7 42
Manual IP Address Configuration for End Devices - 2.7.1 42
Automatic IP Address Configuration for End Devices - 2.7.2 42
Syntax Checker - Verify Windows PC IP Configuration - 2.7.3 43
Switch Virtual Interface Configuration - 2.7.4 43
Syntax Checker - Configure a Switch Virtual Interface - 2.7.5 43
Packet Tracer - Implement Basic Connectivity - 2.7.6 43
Verify Connectivity - 2.8 43
Video Activity - Test the Interface Assignment - 2.8.1 43
Follow Along in Packet Tracer 44
Video Activity - Test End-to-End Connectivity - 2.8.2 44
Follow Along in Packet Tracer 44
Module Practice and Quiz - 2.9 44
Packet Tracer - Basic Switch and End Device Configuration - 2.9.1 44
Lab - Basic Switch and End Device Configuration - 2.9.2 44
What did I learn in this module? - 2.9.3 44
Chapter Quiz - Basic Switch and End Device Configuration 46
Your Chapter Notes 46
Chapter 3 Protocols and Models 47
Introduction - 3.0 47
Why should I take this module? - 3.0.1 47
What will I learn to do in this module? - 3.0.2 47
Class Activity - Design a Communications System - 3.0.3 47
The Rules - 3.1 48
Video - Devices in a Bubble - 3.1.1 48
Communications Fundamentals - 3.1.2 48
Communication Protocols - 3.1.3 48
Analogy 49
Network 49
Rule Establishment - 3.1.4 49
Network Protocol Requirements - 3.1.5 50
Message Encoding - 3.1.6 50
Analogy 50
Network 50
Message Formatting and Encapsulation - 3.1.7 50
Analogy 51
Network 51
Message Size - 3.1.8 51
Analogy 51
Network 51
Message Timing - 3.1.9 52
Message Delivery Options - 3.1.10 52
Analogy 52
Network 52
A Note About the Node Icon - 3.1.11 53
Check Your Understanding - The Rules - 3.1.12 53
Protocols - 3.2 53
Network Protocol Overview - 3.2.1 53
Network Protocol Functions - 3.2.2 53
Protocol Interaction - 3.2.3 54
Check Your Understanding - Protocols - 3.2.4 54
Protocol Suites - 3.3 54
Network Protocol Suites - 3.3.1 54
Evolution of Protocol Suites - 3.3.2 55
TCP/IP Protocol Example - 3.3.3 55
TCP/IP Protocol Suite - 3.3.4 55
Application Layer 55
Transport layer 56
Internet Layer 57
Network Access Layer 57
TCP/IP Communication Process - 3.3.5 58
Check Your Understanding - Protocol Suites - 3.3.6 58
Standards Organizations - 3.4 58
Open Standards - 3.4.1 58
Internet Standards - 3.4.2 59
Electronic and Communications Standards - 3.4.3 59
Lab - Research Networking Standards - 3.4.4 59
Check Your Understanding - Standards Organizations 60
Reference Models - 3.5 60
The Benefits of Using a Layered Model - 3.5.1 60
The OSI Reference Model - 3.5.2 60
The TCP/IP Protocol Model - 3.5.3 61
OSI and TCP/IP Model Comparison - 3.5.4 61
Packet Tracer - Investigate the TCP/IP and OSI Models in Action - 3.5.5 62
Data Encapsulation - 3.6 62
Segmenting Messages - 3.6.1 62
Sequencing - 3.6.2 63
Protocol Data Units - 3.6.3 63
Encapsulation Example - 3.6.4 63
De-encapsulation Example - 3.6.5 64
Check Your Understanding - Data Encapsulation - 3.6.6 64
Data Access - 3.7 64
Addresses - 3.7.1 64
Layer 3 Logical Address - 3.7.2 64
Devices on the Same Network - 3.7.3 65
Role of the Data Link Layer Addresses: Same IP Network - 3.7.4 65
Devices on a Remote Network - 3.7.5 66
Role of the Network Layer Addresses - 3.7.6 66
Role of the Data Link Layer Addresses: Different IP Networks - 3.7.7 66
Data Link Addresses - 3.7.8 67
Host to Router 67
Router to Router 67
Router to Server 67
Lab - Install Wireshark - 3.7.9 67
Lab - Use Wireshark to View Network Traffic - 3.7.10 67
Check Your Understanding - Data Access 3.7.11 68
Module Practice and Quiz - 3.8 68
What did I learn in this module? - 3.8.1 68
The Rules 68
Protocols 68
Protocol Suites 68
Standards Organizations 69
Reference Models 69
Data Encapsulation 69
Data Access 70
Chapter Quiz - Protocols and Models 71
Your Chapter Notes 71
Chapter 4 Physical Layer 73
Introduction - 4.0 73
Why should I take this module? - 4.0.1 73
What will I learn to do in this module? - 4.0.2 73
Purpose of the Physical Layer - 4.1 73
The Physical Connection - 4.1.1 73
Network Interface Cards 74
The Physical Layer - 4.1.2 74
Check Your Understanding - Purpose of the Physical Layer - 4.1.3 74
Physical Layer Characteristics - 4.2 74
Physical Layer Standards - 4.2.1 74
Physical Components - 4.2.2 75
Physical Components 75
Encoding - 4.2.3 76
Signaling - 4.2.4 76
Copper Cable 76
Fiber Optic Cable 76
Wireless Media 76
Bandwidth - 4.2.5 76
Bandwidth Terminology - 4.2.6 77
Latency 77
Throughput 77
Goodput 78
Check Your Understanding - Physical Layer Characteristics - 4.2.7 78
Copper Cabling - 4.3 78
Characteristics of Copper Cabling - 4.3.1 78
Types of Copper Cabling - 4.3.2 79
Unshielded twisted-pair (UTP) - 4.3.3 79
Shielded twisted-pair (STP) - 4.3.4 79
Coaxial cable - 4.3.5 79
Check Your Understanding - Copper Cabling - 4.3.6 80
UTP Cabling - 4.4 80
Properties of UTP Cabling - 4.4.1 80
UTP Cabling Standards and Connectors - 4.4.2 81
Straight-through and Crossover UTP Cables - 4.4.3 82
Cable Types and Standards 82
Activity - Cable Pinouts - 4.4.4 83
Fiber-Optic Cabling - 4.5 83
Properties of Fiber-Optic Cabling - 4.5.1 83
Types of Fiber Media - 4.5.2 83
Single-Mode Fiber 83
Multimode Fiber 83
Fiber-Optic Cabling Usage - 4.5.3 84
Fiber-Optic Connectors - 4.5.4 84
Straight-Tip (ST) Connectors 84
Subscriber Connector (SC) Connectors 84
Lucent Connector (LC) Simplex Connectors 84
Duplex Multimode LC Connectors 85
Fiber Patch Cords - 4.5.5 85
SC-SC Multimode Patch Cord 85
LC-LC Single-mode Patch Cord 85
ST-LC Multimode Patch Cord 85
SC-ST Single-mode Patch Cord 85
Fiber versus Copper - 4.5.6 85
UTP and Fiber-Optic Cabling Comparison 85
Check Your Understanding - Fiber-Optic Cabling - 4.5.7 86
Wireless Media - 4.6 86
Properties of Wireless Media - 4.6.1 86
Types of Wireless Media - 4.6.2 87
Wireless LAN - 4.6.3 87
Check Your Understanding - Wireless Media - 4.6.4 88
Packet Tracer - Connect a Wired and Wireless LAN - 4.6.5 88
Lab - View Wired and Wireless NIC Information - 4.6.6 88
Module Practice and Quiz - 4.7 88
Packet Tracer - Connect the Physical Layer - 4.7.1 88
What did I learn in this module? - 4.7.2 88
Purpose of the Physical Layer 88
Physical Layer Characteristics 89
Copper Cabling 89
UTP Cabling 89
Fiber-Optic Cabling 89
Wireless Media 90
Chapter Quiz - Physical Layer 91
Your Chapter Notes 91
Chapter 5 Number Systems 93
Introduction - 5.0 93
Why should I take this module? - 5.0.1 93
What will I learn to do in this module? - 5.0.2 93
Binary Number System - 5.1 93
Binary and IPv4 Addresses - 5.1.1 93
Video - Converting Between Binary and Decimal Numbering Systems - 5.1.2 94
Binary Positional Notation - 5.1.3 94
Check Your Understanding - Binary Number System - 5.1.4 95
Convert Binary to Decimal - 5.1.5 95
Activity - Binary to Decimal Conversions - 5.1.6 96
Decimal to Binary Conversion - 5.1.7 97
128 97
64 97
32 97
16 97
8 97
4 98
2 98
1 98
Decimal to Binary Conversion Example - 5.1.8 98
Step 1 98
Step 2 99
Step 3 99
Step 4 99
Step 5 99
Step 6 99
Step 7 99
Step 8 99
Step 9 99
Step 10 99
Step 11 99
Activity - Decimal to Binary Conversions - 5.1.9 100
Activity - Binary Game - 5.1.10 100
IPv4 Addresses - 5.1.11 100
Dotted Decimal Address 100
Octets 100
32-bit Address 100
Hexadecimal Number System - 5.2 100
Hexadecimal and IPv6 Addresses - 5.2.1 100
Video - Converting Between Hexadecimal and
Decimal Numbering Systems - 5.2.2 101
Decimal to Hexadecimal Conversions - 5.2.3 101
Hexadecimal to Decimal Conversion - 5.2.4 101
Check Your Understanding - Hexadecimal Number System - 5.2.5 102
Module Practice and Quiz 102
What did I learn in this module? - 5.3.1 102
Binary Number System 102
Hexadecimal Number System 102
Chapter Quiz - Number Systems 103
Your Chapter Notes 103
Chapter 6 Data Link Layer 105
Introduction - 6.0 105
Why should I take this module? - 6.0.1 105
What will I learn to do in this module? - 6.0.2 105
Purpose of the Data Link Layer - 6.1 105
The Data Link Layer - 6.1.1 105
IEEE 802 LAN/MAN Data Link Sublayers - 6.1.2 106
Providing Access to Media - 6.1.3 107
Data Link Layer Standards - 6.1.4 107
Check Your Understanding - Purpose of the Data Link Layer - 6.1.5 108
Topologies - 6.2 108
Physical and Logical Topologies - 6.2.1 108
WAN Topologies - 6.2.2 108
Point-to-Point 108
Hub and Spoke 108
Mesh 109
Point-to-Point WAN Topology - 6.2.3 109
LAN Topologies - 6.2.4 109
Legacy LAN Topologies 109
Half and Full Duplex Communication - 6.2.5 110
Half-duplex communication 110
Full-duplex communication 110
Access Control Methods - 6.2.6 110
Contention-based access 110
Controlled access 111
Contention-Based Access - CSMA/CD - 6.2.7 111
PC1 Sends a Frame 111
The Hub Receives the Frame 112
The Hub Sends the Frame 112
Contention-Based Access - CSMA/CA - 6.2.8 112
Check Your Understanding - Topologies - 6.2.9 112
Data Link Frame - 6.3 112
The Frame - 6.3.1 112
Frame Fields - 6.3.2 113
Layer 2 Addresses - 6.3.3 114
Host-to-Router 114
Router-to-Router 114
Router-to-Host 114
LAN and WAN Frames - 6.3.4 115
Check Your Understanding - Data Link Frame - 6.3.5 116
Module Practice and Quiz - 6.4 116
What did I learn in this module? - 6.4.1 116
Purpose of the Data Link Layer 116
Topologies 116
Data Link Frame 116
Chapter Quiz - Data Link Layer 118
Your Chapter Notes 118
Chapter 7 Ethernet Switching 119
Introduction - 7.0 119
Why should I take this module? - 7.0.1 119
What will I learn to do in this module? - 7.0.2 119
Ethernet Frames - 7.1 119
Ethernet Encapsulation - 7.1.1 119
Data Link Sublayers - 7.1.2 120
MAC Sublayer - 7.1.3 120
Data Encapsulation 120
Accessing the Media 121
Ethernet Frame Fields - 7.1.4 121
Ethernet Frame Fields Detail 121
Check Your Understanding - Ethernet Switching - 7.1.5 122
Lab - Use Wireshark to Examine Ethernet Frames - 7.1.6 122
Ethernet MAC Address - 7.2 122
MAC Address and Hexadecimal - 7.2.1 122
Ethernet MAC Address - 7.2.2 123
Frame Processing - 7.2.3 123
Unicast MAC Address - 7.2.4 124
Broadcast MAC Address - 7.2.5 124
Multicast MAC Address - 7.2.6 125
Lab - View Network Device MAC Addresses - 7.2.7 126
The MAC Address Table - 7.3 126
Switch Fundamentals - 7.3.1 126
Switch Learning and Forwarding - 7.3.2 126
Learn 127
Forward 127
Filtering Frames - 7.3.3 127
PC-D to Switch 127
Switch to PC-A 128
PC-A to Switch to PC-D 128
Video - MAC Address Tables on Connected Switches - 7.3.4 128
Video - Sending the Frame to the Default Gateway - 7.3.5 128
Activity - Switch It! - 7.3.6 128
Lab - View the Switch MAC Address Table - 7.3.7 128
Switch Speeds and Forwarding Methods - 7.4 129
Frame Forwarding Methods on Cisco Switches - 7.4.1 129
Cut-Through Switching - 7.4.2 129
Memory Buffering on Switches - 7.4.3 130
Memory Buffering Methods 130
Duplex and Speed Settings - 7.4.4 131
Auto-MDIX - 7.4.5 131
Check Your Understanding - Switch Speeds and Forwarding Methods - 7.4.6 132
Module Practice and Quiz - 7.5 132
What did I learn in this module? - 7.5.1 132
Ethernet Frame 132
Ethernet MAC Address 132
The MAC Address Table 132
Switch Speeds and Forwarding Methods 133
Chapter Quiz - Ethernet Switching 134
Your Chapter Notes 134
Chapter 8 Network Layer 135
Introduction - 8.0 135
Why should I take this module? - 8.0.1 135
What will I learn to do in this module? - 8.0.2 135
Network Layer Characteristics - 8.1 135
The Network Layer - 8.1.1 135
IP Encapsulation - 8.1.2 136
Characteristics of IP - 8.1.3 137
Connectionless - 8.1.4 137
Best Effort - 8.1.5 137
Media Independent - 8.1.6 137
Check Your Understanding - IP Characteristics - 8.1.7 138
IPv4 Packet - 8.2 138
IPv4 Packet Header - 8.2.1 138
IPv4 Packet Header Fields - 8.2.2 138
Video - Sample IPv4 Headers in Wireshark - 8.2.3 139
Check Your Understanding - IPv4 Packet - 8.2.4 139
IPv6 Packet - 8.3 139
Limitations of IPv4 - 8.3.1 139
IPv6 Overview - 8.3.2 139
IPv4 Packet Header Fields in the IPv6 Packet Header - 8.3.3 140
IPv6 Packet Header - 8.3.4 140
Video - Sample IPv6 Headers in Wireshark - 8.3.5 140
Check Your Understanding - IPv6 Packet - 8.3.6 141
How a Host Routes - 8.4 141
Host Forwarding Decision - 8.4.1 141
Default Gateway - 8.4.2 142
A Host Routes to the Default Gateway - 8.4.3 142
Host Routing Tables - 8.4.4 142
IPv4 Routing Table for PC1 142
Check Your Understanding - How a Host Routes - 8.4.5 143
Introduction to Routing - 8.5 143
Router Packet Forwarding Decision - 8.5.1 143
R1 Routing Table 144
IP Router Routing Table - 8.5.2 144
Static Routing - 8.5.3 144
Dynamic Routing - 8.5.4 145
Video- IPv4 Router Routing Tables - 8.5.5 146
Introduction to an IPv4 Routing Table - 8.5.6 146
Check Your Understanding - Introduction to Routing - 8.5.7 147
Module Practice and Quiz - 8.6 147
What did I learn in this module? - 8.6.1 147
Network Layer Characteristics 147
IPv4 Packet 148
IPv6 Packet 148
How a Host Routes 148
Introduction to Routing 148
Chapter Quiz - Network Layer 150
Your Chapter Notes 150
Chapter 9 Address Resolution 151
Introduction - 9.0 151
Why should I take this module? - 9.0.1 151
What will I learn to do in this module? - 9.0.2 151
MAC and IP - 9.1 151
Destination on Same Network - 9.1.1 151
Destination on Remote Network - 9.1.2 152
Packet Tracer - Identify MAC and IP Addresses - 9.1.3 153
Check Your Understanding - MAC and IP - 9.1.4 153
ARP - 9.2 153
ARP Overview - 9.2.1 153
ARP Functions - 9.2.2 153
Video - ARP Request - 9.2.3 154
Video - ARP Operation - ARP Reply - 9.2.4 155
Video - ARP Role in Remote Communications - 9.2.5 155
Removing Entries from an ARP Table - 9.2.6 156
ARP Tables on Networking Devices - 9.2.7 156
ARP Issues - ARP Broadcasts and ARP Spoofing - 9.2.8 157
Packet Tracer - Examine the ARP Table - 9.2.9 157
Check Your Understanding - ARP - 9.2.10 157
IPv6 Neighbor Discovery - 9.3 157
Video - IPv6 Neighbor Discovery - 9.3.1 157
IPv6 Neighbor Discovery Messages - 9.3.2 157
IPv6 Neighbor Discovery - Address Resolution - 9.3.3 158
Packet Tracer - IPv6 Neighbor Discovery - 9.3.4 158
Check Your Understanding - Neighbor Discovery - 9.3.5 159
Module Practice and Quiz - 9.4 159
What did I learn in this module? - 9.4.1 159
MAC and IP 159
ARP 159
Neighbor Discovery 159
Chapter Quiz - Address Resolution 160
Your Chapter Notes 160
Chapter 10 Basic Router Configuration 161
Introduction - 10.0 161
Why should I take this module? - 10.0.1 161
What will I learn in this module? - 10.0.2 161
Configure Initial Router Settings - 10.1 161
Basic Router Configuration Steps - 10.1.1 161
Basic Router Configuration Example - 10.1.2 162
Syntax Checker - Configure Initial Router Settings - 10.1.3 164
Packet Tracer - Configure Initial Router Settings - 10.1.4 164
Configure Interfaces - 10.2 164
Configure Router Interfaces - 10.2.1 164
Configure Router Interfaces Example - 10.2.2 165
Verify Interface Configuration - 10.2.3 166
Configuration Verification Commands - 10.2.4 167
show ip interface brief 167
show ipv6 interface brief 167
show ip route 168
show ipv6 route 168
show interfaces 169
show ip interface 170
show ipv6 interface 171
Syntax Checker - Configure Interfaces - 10.2.5 172
Configure the Default Gateway - 10.3 172
Default Gateway on a Host - 10.3.1 172
Default Gateway on a Switch - 10.3.2 172
Syntax Checker - Configure the Default Gateway - 10.3.3 173
Packet Tracer - Connect a Router to a LAN - 10.3.4 173
Packet Tracer - Troubleshoot Default Gateway Issues - 10.3.5 173
Module Practice and Quiz - 10.4 174
Video - Network Device Differences: Part 1 - 10.4.1 174
Video - Network Device Differences: Part 2 - 10.4.2 174
Packet Tracer - Basic Device Configuration - 10.4.3 174
Lab - Build a Switch and Router Network - 10.4.4 174
What did I learn in this module? - 10.4.5 174
Configure Initial Router Settings 174
Configure Interfaces 175
Configure the Default Gateway 175
Chapter Quiz - Basic Router Configuration 176
Your Chapter Notes 176
Chapter 11 IPv4 Addressing 177
Introduction - 11.0 177
Why should I take this module? - 11.0.1 177
What will I learn to do in this module? - 11.0.2 177
IPv4 Address Structure - 11.1 178
Network and Host Portions - 11.1.1 178
The Subnet Mask - 11.1.2 178
The Prefix Length - 11.1.3 178
Comparing the Subnet Mask and Prefix Length 179
Determining the Network: Logical AND - 11.1.4 179
Video - Network, Host and Broadcast Addresses - 11.1.5 180
Network, Host, and Broadcast Addresses - 11.1.6 180
Network address 180
Network, Host, and Broadcast Addresses 181
Activity - ANDing to Determine the Network Address - 11.1.7 182
Check Your Understanding - IPv4 Address Structure - 11.1.8 182
IPv4 Unicast, Broadcast, and Multicast - 11.2 182
Unicast - 11.2.1 182
Broadcast - 11.2.2 182
IP Directed Broadcasts 183
Multicast - 11.2.3 183
Activity - Unicast, Broadcast, or Multicast - 11.2.4 183
Types of IPv4 Addresses - 11.3 184
Public and Private IPv4 Addresses - 11.3.1 184
The Private Address Blocks 184
Routing to the Internet - 11.3.2 184
Activity - Pass or Block IPv4 Addresses - 11.3.3 185
Special Use IPv4 Addresses - 11.3.4 185
Loopback addresses 185
Pinging the Loopback Interface 185
Link-Local addresses 186
Legacy Classful Addressing - 11.3.5 186
Assignment of IP Addresses - 11.3.6 187
Activity - Public or Private IPv4 Address - 11.3.7 187
Check Your Understanding - Types of IPv4 Addresses - 11.3.8 187
Network Segmentation - 11.4 187
Broadcast Domains and Segmentation - 11.4.1 187
Problems with Large Broadcast Domains - 11.4.2 188
Reasons for Segmenting Networks - 11.4.3 188
Location 189
Group or Function 189
Device Type 189
Check Your Understanding - Network Segmentation - 11.4.4 189
Subnet an IPv4 Network - 11.5 189
Subnet on an Octet Boundary - 11.5.1 189
Subnet Masks on Octet Boundaries 190
Subnetting Network 10.0.0.0/8 using a /16 190
Subnetting Network 10.0.0.0/8 using a /24 Prefix 191
Subnet within an Octet Boundary - 11.5.2 191
Subnet a /24 Network 191
Video - The Subnet Mask - 11.5.3 192
Video - Subnet with the Magic Number - 11.5.4 192
Packet Tracer - Subnet an IPv4 Network - 11.5.5 192
Subnet a Slash 16 and a Slash 8 Prefix - 11.6 192
Create Subnets with a Slash 16 prefix - 11.6.1 192
Subnet a /16 Network 193
Create 100 Subnets with a Slash 16 prefix - 11.6.2 193
Create 1000 Subnets with a Slash 8 prefix - 11.6.3 194
Video - Subnet Across Multiple Octets - 11.6.4 194
Activity - Calculate the Subnet Mask - 11.6.5 195
Lab - Calculate IPv4 Subnets - 11.6.6 195
Subnet to Meet Requirements - 11.7 195
Subnet Private versus Public IPv4 Address Space - 11.7.1 195
Subnetting Network 10.0.0.0/8 using a /16 195
Subnetting Network 10.0.0.0/8 using a /24 196
Minimize Unused Host IPv4 Addresses and Maximize Subnets - 11.7.2 197
Subnetting a /24 Network 197
Example: Efficient IPv4 Subnetting - 11.7.3 198
Activity - Determine the Number of Bits to Borrow - 11.7.4 198
Packet Tracer - Subnetting Scenario - 11.7.5 198
VLSM - 11.8 199
Video - VLSM Basics - 11.8.1 199
Video - VLSM Example - 11.8.2 199
IPv4 Address Conservation - 11.8.3 199
VLSM - 11.8.4 200
VLSM Topology Address Assignment - 11.8.5 201
Activity - VLSM Practice - 11.8.6 201
Structured Design - 11.9 201
IPv4 Network Address Planning - 11.9.1 201
Device Address Assignment - 11.9.2 202
Packet Tracer - VLSM Design and Implementation Practice - 11.9.3 203
Module Practice and Quiz - 11.10 203
Packet Tracer - Design and Implement a VLSM Addressing Scheme - 11.10.1 203
Lab - Design and Implement a VLSM Addressing Scheme - 11.10.2 203
What did I learn in this module? - 11.10.3 203
IPv4 Addressing Structure 203
IPv4 Unicast, Broadcast, and Multicast 204
Types of IPv4 Addresses 204
Network Segmentation 204
Subnet an IPv4 Network 204
Subnet a /16 and a /8 Prefix 205
Subnet to Meet Requirements 205
Variable Length Subnet Masking 205
Structured Design 205
Chapter Quiz - IPv4 Addressing 206
Your Chapter Notes 206
Chapter 12 IPv6 Addressing 207
Introduction - 12.0 207
Why should I take this module? - 12.0.1 207
What will I learn in this module? - 12.0.2 207
IPv4 Issues - 12.1 207
Need for IPv6 - 12.1.1 207
Internet of Things 208
IPv4 and IPv6 Coexistence - 12.1.2 208
Dual Stack 208
Tunneling 208
Translation 209
Check Your Understanding - IPv4 Issues - 12.1.3 209
IPv6 Address Representation - 12.2 209
IPv6 Addressing Formats - 12.2.1 209
Preferred Format 209
Rule 1 - Omit Leading Zeros - 12.2.2 210
Omitting Leading 0s 210
Rule 2 - Double Colon - 12.2.3 211
Omitting Leading 0s and All 0 Segments 211
Activity - IPv6 Address Representation - 12.2.4 212
IPv6 Address Types - 12.3 212
Unicast, Multicast, Anycast - 12.3.1 212
IPv6 Prefix Length - 12.3.2 213
Types of IPv6 Unicast Addresses - 12.3.3 213
A Note About the Unique Local Address - 12.3.4 213
IPv6 GUA - 12.3.5 214
IPv6 GUA Structure - 12.3.6 214
Global Routing Prefix 214
Subnet ID 215
Interface ID 215
IPv6 LLA - 12.3.7 215
Check Your Understanding - IPv6 Address Types - 12.3.8 216
GUA and LLA Static Configuration - 12.4 216
Static GUA Configuration on a Router - 12.4.1 216
IPv6 GUA Configuration on Router R1 217
Static GUA Configuration on a Windows Host - 12.4.2 217
Static Configuration of a Link-Local Unicast Address - 12.4.3 217
Syntax Checker - GUA and LLA Static Configuration - 12.4.4 218
Dynamic Addressing for IPv6 GUAs - 12.5 218
RS and RA Messages - 12.5.1 218
Method 1: SLAAC - 12.5.2 219
Method 2: SLAAC and Stateless DHCPv6 - 12.5.3 220
Method 3: Stateful DHCPv6 - 12.5.4 220
EUI-64 Process vs. Randomly Generated - 12.5.5 220
EUI-64 Process - 12.5.6 220
EUI-64 Generated Interface ID 221
Randomly Generated Interface IDs - 12.5.7 221
Random 64-bit Generated Interface ID 222
Check Your Understanding - Dynamic Addressing for IPv6 GUAs - 12.5.8 222
Dynamic Addressing for IPv6 LLAs - 12.6 222
Dynamic LLAs - 12.6.1 222
Dynamic LLAs on Windows - 12.6.2 222
EUI-64 Generated Interface ID 222
Random 64-bit Generated Interface ID 223
Dynamic LLAs on Cisco Routers - 12.6.3 223
IPv6 LLA Using EUI-64 on Router R1 223
Verify IPv6 Address Configuration - 12.6.4 224
show ipv6 interface brief 224
show ipv6 route 225
ping 226
Syntax Checker - Verify IPv6 Address Configuration - 12.6.5 226
Packet Tracer - Configure IPv6 Addressing - 12.6.6 226
IPv6 Multicast Addresses - 12.7 226
Assigned IPv6 Multicast Addresses - 12.7.1 226
Well-Known IPv6 Multicast Addresses - 12.7.2 227
Solicited-Node IPv6 Multicast Addresses - 12.7.3 227
Lab - Identify IPv6 Addresses - 12.7.4 227
Subnet an IPv6 Network - 12.8 227
Subnet Using the Subnet ID - 12.8.1 227
IPv6 Subnetting Example - 12.8.2 228
IPv6 Subnet Allocation - 12.8.3 228
Router Configured with IPv6 Subnets - 12.8.4 228
IPv6 Address Configuration on Router R1 228
Check Your Understanding - Subnet an IPv6 Network - 12.8.5 229
Module Practice and Quiz - 12.9 229
Packet Tracer - Implement a Subnetted IPv6 Addressing Scheme - 12.9.1 229
Lab - Configure IPv6 Addresses on Network Devices - 12.9.2 229
What did I learn in this module? - 12.9.3 229
IPv4 Issues 229
IPv6 Address Representation 229
IPv6 Address Types 230
GUA and LLA Static Configuration 230
Dynamic Addressing for IPv6 GUAs 230
Dynamic Addressing for IPv6 LLAs 231
IPv6 Multicast Addresses 231
Subnet an IPv6 Network 231
Chapter Quiz - IPv6 Addressing 232
Your Chapter Notes 232
Chapter 13 ICMP 233
Introduction - 13.0 233
Why should I take this module? - 13.0.1 233
What will I learn in this module? - 13.0.2 233
ICMP Messages - 13.1 233
ICMPv4 and ICMPv6 Messages - 13.1.1 233
Host Reachability - 13.1.2 234
Destination or Service Unreachable - 13.1.3 234
Time Exceeded - 13.1.4 234
ICMPv6 Messages - 13.1.5 235
RA Message 235
RS Message 235
NS Message 235
NA Message 236
Check Your Understanding - ICMP Messages - 13.1.6 236
Ping and Traceroute Tests - 13.2 236
Ping - Test Connectivity - 13.2.1 236
Ping the Loopback - 13.2.2 237
Ping the Default Gateway - 13.2.3 237
Ping a Remote Host - 13.2.4 237
Traceroute - Test the Path - 13.2.5 238
Round Trip Time (RTT) 238
IPv4 TTL and IPv6 Hop Limit 238
Packet Tracer - Verify IPv4 and IPv6 Addressing - 13.2.6 238
Packet Tracer - Use Ping and Traceroute to Test Network
Connectivity - 13.2.7 238
Module Practice and Quiz - 13.3 239
Packet Tracer - Use ICMP to Test and Correct Network
Connectivity - 13.3.1 239
Lab - Use Ping and Traceroute to Test Network Connectivity - 13.3.2 239
What did I learn in this module? - 13.3.3 239
ICMP Messages 239
Ping and Traceroute Testing 240
Chapter Quiz - ICMP 241
Your Chapter Notes 241
Chapter 14 Transport Layer 243
Introduction - 14.0 243
Why should I take this module? - 14.0.1 243
What will I learn to do in this module? - 14.0.2 243
Transportation of Data - 14.1 244
Role of the Transport Layer - 14.1.1 244
Transport Layer Responsibilities - 14.1.2 244
Tracking Individual Conversations 244
Segmenting Data and Reassembling Segments 244
Add Header Information 244
Identifying the Applications 245
Conversation Multiplexing 245
Transport Layer Protocols - 14.1.3 245
Transmission Control Protocol (TCP) - 14.1.4 245
User Datagram Protocol (UDP) - 14.1.5 246
The Right Transport Layer Protocol for the Right Application - 14.1.6 247
Check Your Understanding - Transportation of Data - 14.1.7 248
TCP Overview - 14.2 248
TCP Features - 14.2.1 248
TCP Header - 14.2.2 248
TCP Header Fields - 14.2.3 249
Applications that use TCP - 14.2.4 249
Check Your Understanding - TCP Overview - 14.2.5 249
UDP Overview - 14.3 249
UDP Features - 14.3.1 249
UDP Header - 14.3.2 250
UDP Header Fields - 14.3.3 250
Applications that use UDP - 14.3.4 250
Check Your Understanding - UDP Overview - 14.3.5 251
Port Numbers - 14.4 251
Multiple Separate Communications - 14.4.1 251
Socket Pairs - 14.4.2 251
Port Number Groups - 14.4.3 252
Well-Known Port Numbers 253
The netstat Command - 14.4.4 253
Check Your Understanding - Port Numbers - 14.4.5 254
TCP Communication Process - 14.5 254
TCP Server Processes - 14.5.1 254
Clients Sending TCP Requests 254
Request Destination Ports 254
Request Source Ports 254
Response Destination Ports 254
Response Source Ports 255
TCP Connection Establishment - 14.5.2 255
Step 1. SYN 255
Step 2. ACK and SYN 255
Step 3. ACK 255
Session Termination - 14.5.3 255
Step 1. FIN 255
Step 2. ACK 255
Step 3. FIN 255
Step 4. ACK 256
TCP Three-way Handshake Analysis - 14.5.4 256
Video - TCP 3-Way Handshake - 14.5.5 256
Check Your Understanding - TCP Communication Process - 14.5.6 257
Reliability and Flow Control - 14.6 257
TCP Reliability - Guaranteed and Ordered Delivery - 14.6.1 257
Video - TCP Reliability - Sequence Numbers and Acknowledgments - 14.6.2 257
TCP Reliability - Data Loss and Retransmission - 14.6.3 257
Video - TCP Reliability - Data Loss and Retransmission - 14.6.4 258
TCP Flow Control - Window Size and Acknowledgments - 14.6.5 258
TCP Flow Control - Maximum Segment Size (MSS) - 14.6.6 259
TCP Flow Control - Congestion Avoidance - 14.6.7 259
Check Your Understanding - Reliability and Flow Control - 14.6.8 260
UDP Communication - 14.7 260
UDP Low Overhead versus Reliability - 14.7.1 260
UDP Datagram Reassembly - 14.7.2 260
UDP Server Processes and Requests - 14.7.3 260
UDP Client Processes - 14.7.4 261
Clients Sending UDP Requests 261
UDP Request Destination Ports 261
UDP Request Source Ports 261
UDP Response Destination 261
UDP Response Source Ports 261
Check Your Understanding - UDP Communication - 14.7.5 261
Module Practice and Quiz - 14.8 261
Packet Tracer - TCP and UDP Communications - 14.8.1 261
What did I learn in this module? - 14.8.2 262
Transportation of Data 262
TCP Overview 262
UPD Overview 262
Port Numbers 262
TCP Communications Process 262
Reliability and Flow Control 263
UPD Communication 263
Chapter Quiz - Transport Layer 264
Your Chapter Notes 264
Chapter 15 Application Layer 265
Introduction - 15.0 265
Why should I take this module? - 15.0.1 265
What will I learn to do in this module? - 15.0.2 265
Application, Presentation, and Session - 15.1 265
Application Layer - 15.1.1 265
Presentation and Session Layer - 15.1.2 266
Presentation Layer 266
Session Layer 266
TCP/IP Application Layer Protocols - 15.1.3 266
Name System 266
Host Config 267
Email 267
File Transfer 267
Web 268
Check Your Understanding - Application, Session, Presentation - 15.1.4 268
Peer-to-Peer - 15.2 268
Client-Server Model - 15.2.1 268
Peer-to-Peer Networks - 15.2.2 269
Peer-to-Peer Applications - 15.2.3 269
Common P2P Applications - 15.2.4 269
Check Your Understanding - Peer-to-Peer - 15.2.5 270
Web and Email Protocols - 15.3 270
Hypertext Transfer Protocol and Hypertext Markup Language - 15.3.1 270
Step 1 270
Step 2 270
Step 3 271
Step 4 271
HTTP and HTTPS - 15.3.2 271
Email Protocols - 15.3.3 271
SMTP, POP, and IMAP - 15.3.4 272
SMTP 272
POP 272
IMAP 272
Check Your Understanding - Web and Email Protocols - 15.3.5 273
IP Addressing Services - 15.4 273
Domain Name Service - 15.4.1 273
Step 1 273
Step 2 273
Step 3 273
Step 4 273
Step 5 273
DNS Message Format - 15.4.2 274
DNS Hierarchy - 15.4.3 274
The nslookup Command - 15.4.4 275
Syntax Checker - The nslookup Command - 15.4.5 275
Dynamic Host Configuration Protocol - 15.4.6 275
DHCP Operation - 15.4.7 276
Lab - Observe DNS Resolution - 15.4.8 277
Check Your Understanding - IP Addressing Services - 15.4.9 277
File Sharing Services - 15.5 277
File Transfer Protocol - 15.5.1 277
Server Message Block - 15.5.2 277
Check Your Understanding - File Sharing Services - 15.5.3 278
Module Practice and Quiz - 15.6 278
What did I learn in this module? - 15.6.1 278
Application, Presentation, and Session 278
Peer-to-Peer 278
Web and Email Protocols 279
IP Addressing Services 279
File Sharing Services 279
Chapter Quiz - Application Layer 280
Your Chapter Notes 280
Chapter 16 Network Security Fundamentals 281
Introduction - 16.0 281
Why should I take this module? - 16.0.1 281
What will I learn to do in this module? - 16.0.2 281
Security Threats and Vulnerabilities - 16.1 281
Types of Threats - 16.1.1 281
Information Theft 282
Data Loss and Manipulation 282
Identity Theft 282
Disruption of Service 282
Types of Vulnerabilities - 16.1.2 282
Technological Vulnerabilities 283
Configuration Vulnerabilities 283
Policy Vulnerabilities 283
Physical Security - 16.1.3 283
Check Your Understanding - Security Threats and Vulnerabilities - 16.1.4 283
Network Attacks - 16.2 283
Types of Malware - 16.2.1 283
Viruses 283
Worms 284
Trojan Horses 284
Reconnaissance Attacks - 16.2.2 284
Internet Queries 285
Ping Sweeps 285
Port Scans 285
Access Attacks - 16.2.3 285
Password Attacks 285
Trust Exploitation 285
Port Redirection 285
Man-in-the-Middle 286
Denial of Service Attacks - 16.2.4 286
DoS Attack 286
DDoS Attack 286
Check Your Understanding - Network Attacks - 16.2.5 286
Lab - Research Network Security Threats - 16.2.6 286
Network Attack Mitigations - 16.3 286
The Defense-in-Depth Approach - 16.3.1 286
Keep Backups - 16.3.2 287
Upgrade, Update, and Patch - 16.3.3 287
Authentication, Authorization, and Accounting - 16.3.4 288
Firewalls - 16.3.5 288
Types of Firewalls - 16.3.6 288
Endpoint Security - 16.3.7 289
Check Your Understanding - Network Attack Mitigation - 16.3.8 289
Device Security - 16.4 289
Cisco AutoSecure - 16.4.1 289
Passwords - 16.4.2 290
Weak Passwords 290
Strong Passwords 290
Additional Password Security - 16.4.3 291
Enable SSH - 16.4.4 292
Disable Unused Services - 16.4.5 293
Packet Tracer - Configure Secure Passwords and SSH - 16.4.6 294
Lab - Configure Network Devices with SSH - 16.4.7 294
Module Practice and Quiz - 16.5 294
Packet Tracer - Secure Network Devices - 16.5.1 294
Lab - Secure Network Devices - 16.5.2 294
What did I learn in this module? - 16.5.3 294
Security Threats and Vulnerabilities 294
Network Attacks 294
Network Attack Mitigation 295
Device Security 295
Chapter Quiz - Network Security Fundamentals 296
Your Chapter Notes 296
Chapter 17 Build a Small Network 297
Introduction - 17.0 297
Why should I take this module? - 17.0.1 297
What will I learn to do in this module? - 17.0.2 297
Devices in a Small Network - 17.1 297
Small Network Topologies - 17.1.1 297
Device Selection for a Small Network - 17.1.2 298
Cost 298
Speed and Types of Ports/Interfaces 298
Expandability 298
Operating System Features and Services 299
IP Addressing for a Small Network - 17.1.3 299
Redundancy in a Small Network - 17.1.4 300
Traffic Management - 17.1.5 300
Check Your Understanding - Devices in a Small Network - 17.1.6 300
Small Network Applications and Protocols - 17.2 300
Common Applications - 17.2.1 300
Network Applications 301
Application Layer Services 301
Common Protocols - 17.2.2 301
Web Server 302
Email Server 302
FTP Server 302
DHCP Server 302
DNS Server 302
Voice and Video Applications - 17.2.3 303
Infrastructure 303
VoIP 303
IP Telephony 303
Real-Time Applications 303
Check Your Understanding - Small Network Applications and
Protocols - 17.2.4 303
Scale to Larger Networks - 17.3 303
Small Network Growth - 17.3.1 303
Protocol Analysis - 17.3.2 304
Employee Network Utilization - 17.3.3 304
Check Your Understanding - Scale to Larger Networks - 17.3.4 305
Verify Connectivity - 17.4 305
Verify Connectivity with Ping - 17.4.1 305
IOS Ping Indicators 306
Extended Ping - 17.4.2 307
Verify Connectivity with Traceroute - 17.4.3 308
Extended Traceroute - 17.4.4 309
Network Baseline - 17.4.5 310
Lab - Test Network Latency with Ping and Traceroute - 17.4.6 312
Host and IOS Commands - 17.5 312
IP Configuration on a Windows Host - 17.5.1 312
IP Configuration on a Linux Host - 17.5.2 314
IP Configuration on a macOS Host - 17.5.3 315
The arp Command - 17.5.4 316
Common show Commands Revisited - 17.5.5 317
show running-config 317
show interfaces 318
show ip interface 319
show arp 320
show ip route 321
show protocols 321
show version 322
The show cdp neighbors Command - 17.5.6 323
The show ip interface brief Command - 17.5.7 324
Verify Switch Interfaces 324
Video - The show version Command - 17.5.8 325
Packet Tracer - Interpret show Command Output - 17.5.9 325
Troubleshooting Methodologies - 17.6 325
Basic Troubleshooting Approaches - 17.6.1 325
Resolve or Escalate? - 17.6.2 326
The debug Command - 17.6.3 326
The terminal monitor Command - 17.6.4 328
Check Your Understanding - Troubleshooting Methodologies - 17.6.5 329
Troubleshooting Scenarios - 17.7 329
Duplex Operation and Mismatch Issues - 17.7.1 329
IP Addressing Issues on IOS Devices - 17.7.2 330
IP Addressing Issues on End Devices - 17.7.3 330
Default Gateway Issues - 17.7.4 331
Troubleshooting DNS Issues - 17.7.5 332
Lab - Troubleshoot Connectivity Issues - 17.7.6 334
Packet Tracer - Troubleshoot Connectivity Issues - 17.7.7 334
Module Practice and Quiz - 17.8 335
Lab - Design and Build a Small Business Network - 17.8.1 335
Packet Tracer - Skills Integration Challenge - 17.8.2 335
Packet Tracer - Troubleshooting Challenge - 17.8.3 335
What did I learn in this module? - 17.8.4 335
Devices in a Small Network 335
Small Network Applications and Protocols 335
Scale to Larger Networks 336
Verify Connectivity 336
Host and IOS Commands 336
Troubleshooting Methodologies 337
Troubleshooting Scenarios 337
Chapter Quiz - Build a Small Network 338
Your Chapter Notes 338


9780136632955 TOC 6/15/2020


Other Things You Might Like

Book $72.00

eBook (Watermarked) $57.60

Book $54.00