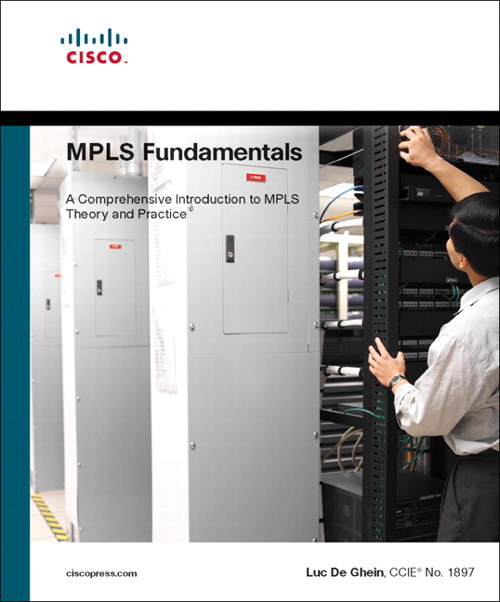 Register your product to gain access to bonus material or receive a coupon.
MPLS Fundamentals
eBook (Watermarked)
Your Price: $48.00
List Price: $60.00
Includes EPUB and PDF

This eBook includes the following formats, accessible from your Account page after purchase:

EPUB The open industry format known for its reflowable content and usability on supported mobile devices.

PDF The popular standard, used most often with the free Adobe® Reader® software.

This eBook requires no passwords or activation to read. We customize your eBook by discreetly watermarking it with your name, making it uniquely yours.
Copyright 2007
Dimensions: 7-3/8" x 9-1/8"
Pages: 672
Edition: 1st
eBook (Watermarked)
ISBN-10: 0-13-343327-7
ISBN-13: 978-0-13-343327-2
A comprehensive introduction to all facets of MPLS theory and practice
Helps networking professionals choose the suitable MPLS application and design for their network
Provides MPLS theory and relates to basic IOS configuration examples
The Fundamentals Series from Cisco Press launches the basis to readers for understanding the purpose, application, and management of technologies
MPLS has emerged as the new networking layer for service providers throughout the world. For many service providers and enterprises MPLS is a way of delivering new applications on their IP networks, while consolidating data and voice networks. MPLS has grown to be the new default network layer for service providers and is finding its way into enterprise networks as well. This book focuses on the building blocks of MPLS (architecture, forwarding packets, LDP, MPLS and QoS, CEF, etc.). This book also reviews the different MPLS applications (MPLS VPN, MPLS Traffic Engineering, Carrying IPv6 over MPLS, AToM, VPLS, MPLS OAM
etc.).
You will get a comprehensive overview of all the aspects of MPLS, including the building blocks, its applications, troubleshooting and a perspective on the future of MPLS.
Table of Contents
Introduction
Part I: Fundamentals of MPLS
Chapter 1 The Evolution of MPLS
Definition of MPLS
Pre-MPLS Protocols
Benefits of MPLS
Bogus Benefit
The Use of One Unified Network Infrastructure
Better IP over ATM Integration
BGP-Free Core
Peer-to-Peer VPN Model Versus Overlay VPN Model0
Overlay VPN Model0
Peer-to-Peer VPN Model
Optimal Traffic Flow
Traffic Engineering
History of MPLS in Cisco IOS
Tag Switching to MPLS
MPLS Applications
Summary
Chapter Review Questions
Chapter 2 MPLS Architecture
Introducing MPLS Labels
Label Stacking
Encoding of MPLS
MPLS and the OSI Reference Model
Label Switch Router
Label Switched Path
Forwarding Equivalence Class
Label Distribution
Piggyback the Labels on an Existing IP Routing Protocol
Running a Separate Protocol for Label Distribution
Label Distribution with LDP
Label Forwarding Instance Base
MPLS Payload
MPLS Label Spaces
Different MPLS Modes
Label Distribution Modes
Label Retention Modes
LSP Control Modes
Summary
Chapter Review Questions
Chapter 3 Forwarding Labeled Packets
Forwarding of Labeled Packets
Label Operation
IP Lookup Versus Label Lookup
Load Balancing Labeled Packets
Unknown Label
Reserved Labels
Implicit NULL Label
Explicit NULL Label
Router Alert Label
OAM Alert Label
Unreserved Labels
TTL Behavior of Labeled Packets
TTL Behavior in the Case of IP-to-Label or Label-to-IP
TTL Behavior in the Case of Label-to-Label
TTL Expiration
MPLS MTU
MPLS MTU Command
Giant and Baby Giant Frames
Giant Frames on Switches
MPLS Maximum Receive Unit
Fragmentation of MPLS Packets
Path MTU Discovery
Summary
Chapter Review Questions
Chapter 4 Label Distribution Protocol
LDP Overview
LDP Operation
The Discovery of LSRs That Are Running LDP
LDP Session Establishment and Maintenance
Number of LDP Sessions
Advertising of Label Mappings
Label Withdrawing
Housekeeping by Means of Notification
Targeted LDP Session
LDP Authentication
Controlling the Advertisement of Labels via LDP
MPLS LDP Inbound Label Binding Filtering
LDP Autoconfiguration
MPLS LDP-IGP Synchronization
How MPLS LDP-IGP Synchronization Works
MPLS LDP-IGP Synchronization Configuration
MPLS LDP Session Protection
Summary
Chapter Review Questions
Chapter 5 MPLS and ATM Architecture
Brief Introduction to ATM
Label Encoding
Label Advertisement
Downstream-on-Demand Label Advertisement
LDP Control Mode for ATM
LDP for LC-ATM
Label Space
Loop Detection by LDP
Loop Detection by Hop Count TLV
TTL Manipulation
Loop Detection by Path Vector TLV
LDP Address Messages
Blocking Label Requests
Aggregate Labels
VC-Merge
Non MPLS-Aware ATM Switches
Label Switch Controller
Multi-Virtual Circuit Tagged Bit Rate
MPLS CoS
Frame Mode ATM
Reducing the Number of LVCs
Summary
Chapter Review Questions
Chapter 6 Cisco Express Forwarding
Overview of Cisco IOS Switching Methods
Process Switching
Fast Switching
CEF Switching
Why Is CEF Needed in MPLS Networks?
What Are the Components of CEF?
The Adjacency Table
The CEF Table
Operation of CEF
Distributed CEF (DCEF)
CEF Switching Packets in Hardware
Load Balancing in CEF
Unequal Cost Load Balancing
Labeling IP Packets by CEF
Load Balancing Labeled Packets
Troubleshooting CEF
Summary
Chapter Review Questions
Part II: Advanced MPLS Topics
Chapter 7 MPLS VPN
Introduction to MPLS VPN
Definition of a VPN
VPN Models
MPLS VPN Model
Architectural Overview of MPLS VPN
Virtual Routing Forwarding
RD
RTs
VPNv4 Route Propagation in the MPLS VPN Network
Packet Forwarding in an MPLS VPN Network
BGP
BGP Multiprotocol Extensions and Capabilities
BGP Extended Community: RT
VPNv4 Routes
BGP Carrying the Label
RRs
RR Group
BGP Route Selection
BGP Multipath
Using Multiple RDs
Packet Forwarding
PE-CE Routing Protocols
Connected Routes
Static Routing
RIP Version 2
OSPF
OSPF VRF Configuration
OSPF Metric Propagation
BGP Extended Communities for OSPF
OSPF Network Design
Sham Link
Down Bit and Domain Tag
EIGRP
Configuration
Pre-Bestpath POI
EIGRP PE-CE with Backdoor Links
IS-IS
eBGP
Autonomous System Override
allowas-in
Hub-and-Spoke
SOO
VRF Access
Internet Access
Internet in a VPN
Internet Access Through the Global Routing Table
Internet Access Through the Global Routing Table with Static Routes
Internet Access Through a Central VRF Site
Multi-VRF CE
OSPF VRF-Lite Command
CE Management
Summary
Chapter Review Questions
Chapter 8 MPLS Traffic Engineering
The Need for MPLS TE
Overview of the Operation of MPLS TE
Distribution of TE Information
Requirements for the IGP
OSPF Extensions for TE
IS-IS Extensions for TE
Flooding by the IGP
Routing and Cost of a TE LSP
Link TE Attributes
Maximum Reservable Bandwidth
Attribute Flags
TE Metric
Shared Risk Link Groups
Maximum Reservable Sub-Pool Bandwidth
MPLS TE Tunnel (Trunk) Attributes
TE Tunnel Path Calculation
Path Setup Option
IP Explicit Address Exclusion
Setup and Holding Priority
Reoptimization
Periodic Reoptimization
Event-Driven Reoptimization
Manual Reoptimization
Dual TE Metrics
PCALC
RSVP
RSVP and Labels
Record Route Object
Other Information Carried by RSVP
Putting It All Together
Shared Explicit Style
RSVP Messages
PathTear
ResvTear
PathErr
ResvErr
Link Manager
FRR
FRR–Link Protection
FRR–Node Protection
SRLG Used by Backup Tunnels
Multiple Backup Tunnels
Forwarding Traffic onto MPLS TE Tunnels
Static Routing
Policy-Based Routing
Autoroute Announce
Forwarding Adjacency
Direct Mapping of AToM Traffic onto TE Tunnels
Class-Based Tunnel Selection
Cost Calculation of IGP Routes over TE Tunnels
Default Cost Calculation
Adjusting the Cost Calculation
Load Balancing
MPLS TE and MPLS VPN
TE Tunnels Between PE Routers
TE Tunnel with P Router as Tail End Router
VRF-to-TE Tunnel Routing
Summary
Chapter Review Questions
Chapter 9 IPv6 over MPLS
Introduction to IPv6
The Driving Forces for IPv6
Overview of the IPv6 Protocol
The IPv6 Header
The IPv6 Addressing
Other IPv6 Novelties
Overview of IPv6 Unicast Routing in Cisco IOS
IPv6 RIP (RIPng)
OSPF for IPv6 or OSPFv3
IS-IS for IPv6
EIGRP for IPv6
Multiprotocol BGP Extensions for IPv6
CEFv6
Carrying IPv6 over an MPLS Backbone
MPLS VPN Network Using IPv6 over IPv4 Tunnels on the CE Routers
Carrying IPv6 over an MPLS Backbone (6PE)
Operation of 6PE
Configuration of 6PE
Verifying 6PE Operation
Carrying IPv6 in VPNs Across an MPLS Backbone (6VPE)
Operation of 6VPE
Configuration of 6VPE
Verifying 6VPE Operation
IPv6 Internet Access Through 6VPE
Supported Features for 6VPE
Remarks for Both 6PE and 6VPE
Route Reflectors
Turning Off TTL Propagation on the PE Routers
Load Balancing Labeled IPv6 Packets
PHP
BGP Functionality
Summary
Chapter Review Questions
Chapter 10 Any Transport over MPLS
Understanding the Need for AToM
Transporting Layer 2 Frames
AToM Architecture
Data Plane of AToM
Signaling the Pseudowire
C-Bit
PW Type
Group ID
PW ID
Interface Parameters
Signaling the Status of the Pseudowire
The Control Word
Control Word Functions
Pad Small Packets
Carry Control Bits of the Layer 2 Header of the Transported Protocol
Preserve the Sequence of the Transported Frames
Facilitate the Correct Load Balancing of AToM Packets in the MPLS Backbone Network
Facilitate Fragmentation and Reassembly
MPLS MTU in the MPLS Backbone
The Basic AToM Configuration
Transported Layer 2 Protocols
HDLC
PPP
Frame Relay
DLCI-to-DLCI
Port-to-Port Mode (Port Trunking)
ATM
ATM AAL5
ATM Cell Relay
Single Cell Relay Mode
Packed Cell Relay Mode
Ethernet
Ethernet Frame Format
EoMPLS Forwarding
VLAN ID Rewrite
EoMPLS Scenario Examples
Dot1q Tunneling (QinQ) over AToM
AToM Tunnel Selection
AToM and QoS
Summary
Chapter Review Questions
Chapter 11 Virtual Private LAN Service
The Need for VPLS
VPLS Architecture
VPLS Data Plane
VPLS Signaling
The Basic VPLS Configuration
Verifying the VPLS Operation
VPLS and Tunneling Layer 2 Protocols
Tunneling Cisco Discovery Protocol
Tunneling Spanning Tree Protocol
Trunk Port Between the CE and PE
Hierarchical VPLS
H-VPLS with Dot1q Tunneling (QinQ) in the Access Layer
H-VPLS with MPLS in the Access Layer
Quality of Service
Limiting MAC Addresses
Routing Peering
Summary
Chapter Review Questions
Chapter 12 MPLS and Quality of Service
DiffServ with IP Packets
DiffServ with MPLS Packets
Default MPLS QoS Behavior in Cisco IOS
DiffServ Tunneling Models
Pipe Model
Short Pipe Model
Uniform Model
Advantages of the DiffServ Tunneling Models
How to Implement the Three DiffServ Tunneling Models
Recoloring the Packet
MQC Commands for MPLS QoS
Moving MPLS QoS from the PE to the CE Router
Implementing the DiffServ Tunneling Models in Cisco IOS
The Table-Map Feature
The Use of MPLS QoS for Ethernet over MPLS
Summary
Chapter Review Questions
Chapter 13 Troubleshooting MPLS Networks
Label Stack Depth
Verifying Label Switched Path
Tracerouting in MPLS Networks
Tracerouting in an IP Network
Label-Aware ICMP
TTL Behavior in MPLS Networks
Tracerouting in MPLS Networks
Problems with Tracerouting in MPLS Networks
mpls ip ttl-expiration pop Command
no mpls ip propagate-ttl
MPLS MTU
Ping
Debug MPLS Packets
Debugging Load Balancing of Labeled Packets
Verifying MPLS on the Interface
Verifying Number of Bytes Label Switched
MPLS-Aware Netflow
Summary
Chapter Review Questions
Chapter 14 MPLS Operation and Maintenance
Requirements of MPLS OAM
Detection and Diagnosis of Control and Data Plane Defects
Detection of a Defect in a Label Switched Path (LSP)
OAM Packets Flowing on the Same Path as MPLS Data Traffic
Path Characterization
Measurement of SLAs
OAM Interworking
MIBs
Accounting
Router Alert Option and Router Alert Label
Router Alert Label
OAM Alert Label
MPLS LSP Ping
LSP Ping Protocol Details
Target FEC Stack
Downstream Mapping
Interface and Label Stack TLV
Errored TLVs TLV
Reply TOS Byte
LSP Ping Operation
LSP Verification
MPLS Ping in Cisco IOS
MPLS LSP Traceroute
MPLS Traceroute in Cisco IOS
Router Alert Label
Load Balancing
VCCV
IP Service Level Agreement
VRF-Aware IP SLA
Netflow Accounting
SNMP/MIBs
Context-Based Access for SNMP over MPLS VPN
MPLS VPN MIBs
Syslog
OAM Message Mapping
Summary
Chapter Review Questions
Chapter 15 The Future of MPLS
New MPLS Applications
Work at IETF
MPLS Control Word
FCS Retention
AToM Fragmentation and Reassembly
Circuit Emulation
GMPLS
OAM Protocols
MPLS Labeled Multicast
The Proliferation of MPLS
Summary
Part III: Appendixes
Appendix A Answers to Chapter Review Questions
Appendix B Static MPLS Labels (online)
Index
Other Things You Might Like



eBook (Watermarked) $38.39