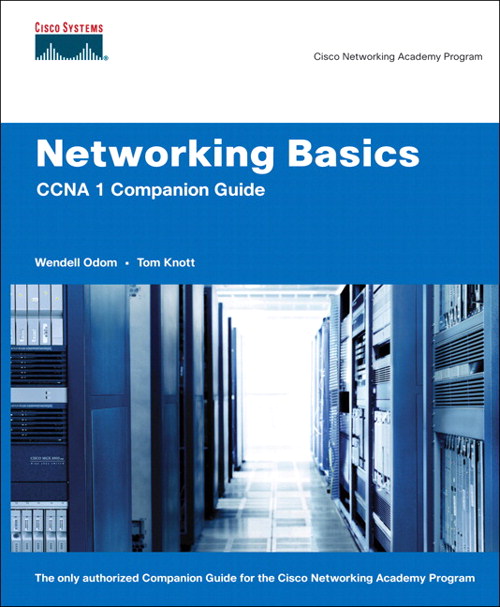 Share
|



Register your product to gain access to bonus material or receive a coupon.
Networking Basics CCNA 1 Companion Guide (Cisco Networking Academy)
Book
Sorry, this book is no longer in print.
Register your book and receive free supplemental content. Log in and enter the book's ISBN, then a link to the content will be listed on your Account page, under Registered Products.
Copyright 2006
Edition: 1st
Book
ISBN-10: 1-58713-164-1
ISBN-13: 978-1-58713-164-6
The only authorized Companion Guide for the Cisco Networking Academy Program
New and improved features help you study and succeed in this course:
Chapter objectives—Review core concepts by answering the questions at the beginning of each chapter.
Key terms—Refer to the updated lists of networking vocabulary introduced in each chapter and turn to the highlighted terms in context.
Glossary—Consult the all-new glossary with more than 700 terms.
Check Your Understanding questions and answer key—Evaluate your readiness with the updated end-of-chapter questions that match the style of questions you see in the online course assessments. The answer appendix explains each answer.
Challenge questions and activities—Challenge yourself with review questions and activities designed to be similar to the complex questions you might see on the CCNA exam. The answer appendix explains each answer.
Extra practice problems—Reinforce processes and math formulas used to analyze basic networking features by completing the extra practice problems in Appendix C.
Networking Basics CCNA 1 Companion Guide is the official supplemental textbook for v3.1.1 of the CCNA® 1 course in the Cisco® Networking Academy® Program. The authors have completely rewritten the Companion Guide to provide a fresh, complementary perspective on the online course content. The book covers all the topics in the course yet provides additional examples and alternative approaches to individual topics—all to aid the learning process and lock in your understanding of basic networking concepts and technologies.
Companion CD-ROM
This CD-ROM includes:
Additional Topics of Interest–Beneficial to becoming a well-rounded networker.
Interactive Media Activities–More than 20 activities from the online course that visually demonstrate key topics.
Packet Tracer v3.2–A Flash-based simulation and visualization learning tool.
Student Resources on the Web
Cisco Press provides additional content that you can access by registering your individual book at ciscopress.com. Membership and registration are free and give you access to the extra practice problems answer key, Packet Tracer configuration files, and additional content from Cisco Press books.
Downloadable Sample Chapter
Download - 3 MB -- Chapter 1: Introduction to Networking
Table of Contents
Chapter 1 Introduction to Networking
Objectives
Key Terms
Connecting to Networks and the Internet
What's a Network?
Network Components
Enterprise Networks and Home Internet Access
TCP/IP Protocol Suite and TCP/IP Software
Network Math
Bits and Bytes
Decimal Numbering System: Base 10
Binary Numbering System: Base 2
Converting From 8-Bit Binary Numbers to Decimal Numbers
Converting from Decimal Numbers to 8-Bit Binary Numbers
Generic Decimal-to-8-Bit-Binary Conversion Process
Converting IP Addresses Between Decimal and Binary
Using a Conversion Chart
Hexadecimal Numbering System: Base 16
Boolean or Binary Logic
Summary
Check Your Understanding
Challenge Questions and Activities
Chapter 2 Networking Fundamentals
Objectives
Key Terms
Networking Basics and Terminology
A Brief History of the Networking Universe
The Need for Networking Protocols and Standards
Ethernet LANs and LAN Devices
Wide-Area Networks
MANs and SANs
Virtual Private Networks
Network Topologies
Bandwidth
LAN and WAN Bandwidth
Throughput Versus Bandwidth
Calculating Data Transfer Time
Analog Bandwidth
Planning for Bandwidth
The OSI and TCP/IP Networking Models
OSI Model
TCP/IP Networking Model
Summary
Check Your Understanding
Chapter 3 Networking Media
Objectives
Additional Topics of Interest
Key Terms
Index
Other Things You Might Like



eBook (Watermarked) $38.39