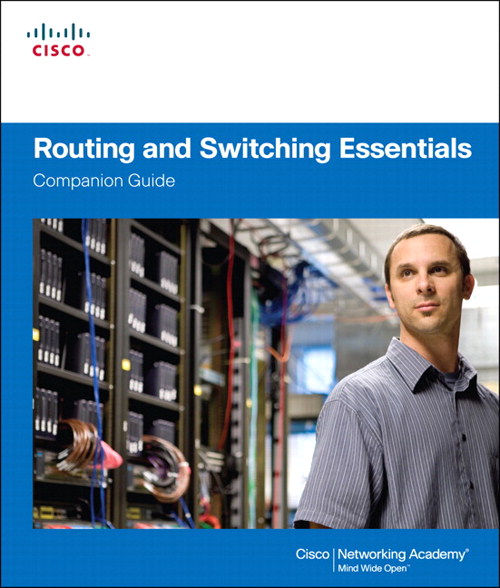 Register your product to gain access to bonus material or receive a coupon.
Routing and Switching Essentials Companion Guide
eBook (Watermarked)
Your Price: $48.00
List Price: $53.33
Includes EPUB and PDF

This eBook includes the following formats, accessible from your Account page after purchase:

EPUB The open industry format known for its reflowable content and usability on supported mobile devices.

PDF The popular standard, used most often with the free Adobe® Reader® software.

This eBook requires no passwords or activation to read. We customize your eBook by discreetly watermarking it with your name, making it uniquely yours.
Copyright 2014
Dimensions: 8" x 9-1/8"
Edition: 1st
eBook (Watermarked)
ISBN-10: 0-13-347622-7
ISBN-13: 978-0-13-347622-4
Routing and Switching Essentials Companion Guide is the official supplemental textbook for the Routing and Switching Essentials course in the Cisco® Networking Academy® CCNA® Routing and Switching curriculum.
This course describes the architecture, components, and operations of routers and switches in a small network. You learn how to configure a router and a switch for basic functionality. By the end of this course, you will be able to configure and troubleshoot routers and switches and resolve common issues with RIPv1, RIPv2, single-area and multi-area OSPF, virtual LANs, and inter-VLAN routing in both IPv4 and IPv6 networks.
The Companion Guide is designed as a portable desk reference to use anytime, anywhere to reinforce the material from the course and organize your time.
The book's features help you focus on important concepts to succeed in this course:
Chapter objectives–Review core concepts by answering the focus questions listed at the beginning of each chapter.
Key terms–Refer to the lists of networking vocabulary introduced and highlighted in context in each chapter.
Glossary–Consult the comprehensive Glossary with more than 200 terms.
Summary of Activities and Labs–Maximize your study time with this complete list of all associated practice exercises at the end of each chapter.
Check Your Understanding–Evaluate your readiness with the end-of-chapter questions that match the style of questions you see in the online course quizzes. The answer key explains each answer.
Related Title:
Routing and Switching Essentials Lab Manual
How To–Look for this icon to study the steps you need to learn to perform certain tasks.
Interactive Activities–Reinforce your understanding of topics by doing all the exercises from the online course identified throughout the book with this icon.
Videos–Watch the videos embedded within the online course.
Packet Tracer Activities–Explore and visualize networking concepts using Packet Tracer exercises interspersed throughout the chapters.
Hands-on Labs–Work through all the course labs and additional Class Activities that are included in the course and published in the separate Lab Manual.
Table of Contents
Introduction xxviii
Chapter 1 Introduction to Switched Networks 1
Objectives 1
Key Terms 1
Introduction (1.0.1.1) 2
LAN Design (1.1) 2
Converged Networks (1.1.1) 3
Growing Complexity of Networks (1.1.1.1) 3
Elements of a Converged Network (1.1.1.2) 4
Borderless Switched Networks (1.1.1.3) 5
Hierarchy in the Borderless Switched Network (1.1.1.4) 6
Core Distribution Access (1.1.1.5) 7
Switched Networks (1.1.2) 10
Role of Switched Networks (1.1.2.1) 10
Form Factors (1.1.2.2) 11
The Switched Environment (1.2) 14
Frame Forwarding (1.2.1) 14
Switching as a General Concept in Networking and Telecommunications (1.2.1.1) 14
Dynamically Populating a Switch MAC Address Table (1.2.1.2) 15
Switch Forwarding Methods (1.2.1.3) 19
Store-and-Forward Switching (1.2.1.4) 20
Cut-Through Switching (1.2.1.5) 21
Switching Domains (1.2.2) 22
Collision Domains (1.2.2.1) 22
Broadcast Domains (1.2.2.2) 23
Alleviating Network Congestion (1.2.2.3) 25
Summary (1.3) 26
Practice 27
Class Activities 28
Packet Tracer Activities 28
Check Your Understanding Questions 28
Chapter 2 Basic Switching Concepts and Configuration 33
Objectives 33
Key Terms 33
Introduction (2.0.1.1) 35
Basic Switch Configuration (2.1) 36
Switch Boot Sequence (2.1.1.1) 36
Recovering from a System Crash (2.1.1.2) 37
Switch LED Indicators (2.1.1.3) 38
Preparing for Basic Switch Management (2.1.1.4) 40
Configuring Basic Switch Management Access with IPv4 (2.1.1.5) 41
Configure Switch Ports (2.1.2) 44
Duplex Communication (2.1.2.1) 44
Configure Switch Ports at the Physical Layer (2.1.2.2) 45
Duplex and Speed 45
Auto-MDIX (2.1.2.3) 46
Verifying Switch Port Configuration (2.1.2.4) 48
Network Access Layer Issues (2.1.2.5) 50
Troubleshooting Network Access Layer Issues (2.1.2.6) 53
Switch Security: Management and Implementation (2.2) 54
Secure Remote Access (2.2.1) 54
SSH Operation (2.2.1.1) 55
Configuring SSH (2.2.1.2) 56
Verifying SSH (2.2.1.3) 57
Security Concerns in LANs (2.2.2) 59
Common Security Attacks: MAC Address Flooding (2.2.2.1) 59
Common Security Attacks: DHCP Spoofing (2.2.2.2) 63
Common Security Attacks: Leveraging CDP (2.2.2.3) 64
Security Best Practices (2.2.3) 66
Best Practices (2.2.3.1) 66
Network Security Tools and Testing (2.2.3.2) 66
Network Security Audits (2.2.3.3) 67
Switch Port Security (2.2.4) 68
Secure Unused Ports (2.2.4.1) 68
DHCP Snooping (2.2.4.2) 69
Port Security: Operation (2.2.4.3) 71
Port Security: Violation Modes (2.2.4.4) 73
Port Security: Configuring (2.2.4.5) 74
Port Security: Verifying (2.2.4.6) 75
Ports in Error Disabled State (2.2.4.7) 77
Network Time Protocol (NTP) (2.2.4.8) 78
Summary (2.3) 81
Practice 83
Class Activities 83
Labs 83
Packet Tracer Activities 84
Check Your Understanding Questions 84
Chapter 3 VLANs 89
Objectives 89
Key Terms 89
Introduction (3.0.1.1) 90
VLAN Segmentation (3.1) 91
VLAN Definitions (3.1.1.1) 91
Benefits of VLANs (3.1.1.2) 92
Types of VLANs (3.1.1.3) 93
Data VLAN 93
Default VLAN 93
Native VLAN 94
Management VLAN 95
Voice VLANs (3.1.1.4) 96
VLANs in a Multiswitched Environment (3.1.2) 97
VLAN Trunks (3.1.2.1) 97
Controlling Broadcast Domains with VLANs (3.1.2.2) 98
Network Without VLANs 98
Network with VLANs 99
Tagging Ethernet Frames for VLAN Identification (3.1.2.3) 101
Native VLANs and 802.1Q Tagging (3.1.2.4) 102
Tagged Frames on the Native VLAN 102
Untagged Frames on the Native VLAN 102
Voice VLAN Tagging (3.1.2.5) 103
Sample Configuration 104
VLAN Implementations (3.2) 105
VLAN Ranges on Catalyst Switches (3.2.1.1) 105
Creating a VLAN (3.2.1.2) 106
Assigning Ports to VLANs (3.2.1.3) 108
Changing VLAN Port Membership (3.2.1.4) 109
Deleting VLANs (3.2.1.5) 111
Verifying VLAN Information (3.2.1.6) 112
VLAN Trunks (3.2.2) 114
Configuring IEEE 802.1Q Trunk Links (3.2.2.1) 114
Resetting the Trunk to Default State (3.2.2.2) 116
Verifying Trunk Configuration (3.2.2.3) 118
Dynamic Trunking Protocol (3.2.3) 120
Introduction to DTP (3.2.3.1) 120
Negotiated Interface Modes (3.2.3.2) 121
Troubleshoot VLANs and Trunks (3.2.4) 123
IP Addressing Issues with VLAN (3.2.4.1) 123
Missing VLANs (3.2.4.2) 125
Introduction to Troubleshooting Trunks (3.2.4.3) 127
Common Problems with Trunks (3.2.4.4) 128
Trunk Mode Mismatches (3.2.4.5) 129
Incorrect VLAN List (3.2.4.6) 131
VLAN Security and Design (3.3) 134
Switch Spoofing Attack (3.3.1.1) 134
Double-Tagging Attack (3.3.1.2) 135
PVLAN Edge (3.3.1.3) 136
Design Best Practices for VLANs (3.3.2) 138
VLAN Design Guidelines (3.3.2.1) 138
Summary (3.4) 140
Practice 142
Class Activities 142
Labs 142
Packet Tracer Activities 143
Check Your Understanding Questions 143
Chapter 4 Routing Concepts 149
Objectives 149
Key Terms 149
Introduction (4.0.1.1) 151
Functions of a Router (4.1.1) 152
Characteristics of a Network (4.1.1.1) 152
Why Routing? (4.1.1.2) 153
Routers Are Computers (4.1.1.3) 154
Routers Interconnect Networks (4.1.1.4) 156
Routers Choose Best Paths (4.1.1.5) 158
Packet-Forwarding Mechanisms (4.1.1.6) 158
Connect Devices (4.1.2) 162
Connect to a Network (4.1.2.1) 162
Default Gateways (4.1.2.2) 164
Document Network Addressing (4.1.2.3) 165
Enable IP on a Host (4.1.2.4) 166
Device LEDs (4.1.2.5) 167
Console Access (4.1.2.6) 169
Enable IP on a Switch (4.1.2.7) 171
Basic Settings on a Router (4.1.3) 172
Configure Basic Router Settings (4.1.3.1) 172
Configure an IPv4 Router Interface (4.1.3.2) 175
Configure an IPv6 Router Interface (4.1.3.3) 177
Configure an IPv4 Loopback Interface (4.1.3.4) 181
Verify Connectivity of Directly Connected Networks (4.1.4) 183
Verify Interface Settings (4.1.4.1) 183
Verify IPv6 Interface Settings (4.1.4.2) 186
Filter Show Command Output (4.1.4.3) 189
Command History Feature (4.1.4.4) 191
Switching Packets Between Networks (4.2.1) 193
Router Switching Function (4.2.1.1) 193
Send a Packet (4.2.1.2) 194
Forward to the Next Hop (4.2.1.3) 195
Packet Routing (4.2.1.4) 196
Reach the Destination (4.2.1.5) 197
Path Determination (4.2.2) 198
Routing Decisions (4.2.2.1) 198
Best Path (4.2.2.2) 199
Load Balancing (4.2.2.3) 200
Administrative Distance (4.2.2.4) 200
Analyze the Routing Table (4.3.1) 202
The Routing Table (4.3.1.1) 202
Routing Table Sources (4.3.1.2) 203
Remote Network Routing Entries (4.3.1.3) 204
Directly Connected Routes (4.3.2) 205
Directly Connected Interfaces (4.3.2.1) 205
Directly Connected Routing Table Entries (4.3.2.2) 206
Directly Connected Examples (4.3.2.3) 207
Directly Connected IPv6 Example (4.3.2.4) 210
Statically Learned Routes (4.3.3) 214
Static Routes (4.3.3.1) 214
Static Route Examples (4.3.3.2) 214
Static IPv6 Route Examples (4.3.3.3) 216
Dynamic Routing Protocols (4.3.4) 219
Dynamic Routing (4.3.4.1) 219
IPv4 Routing Protocols (4.3.4.2) 220
IPv4 Dynamic Routing Examples (4.3.4.3) 221
IPv6 Routing Protocols (4.3.4.4) 222
IPv6 Dynamic Routing Examples (4.3.4.5) 223
Summary (4.4) 224
Practice 225
Class Activities 225
Labs 226
Packet Tracer Activities 226
Check Your Understanding Questions 226
Chapter 5 Inter-VLAN Routing 231
Objectives 231
Key Terms 231
Introduction (5.0.1.1) 232
Inter-VLAN Routing Configuration (5.1) 232
What Is Inter-VLAN Routing? (5.1.1.1) 233
Legacy Inter-VLAN Routing (5.1.1.2) 233
Router-on-a-Stick Inter-VLAN Routing (5.1.1.3) 235
Multilayer Switch Inter-VLAN Routing (5.1.1.4) 237
Configure Legacy Inter-VLAN Routing (5.1.2) 239
Configure Legacy Inter-VLAN Routing: Preparation (5.1.2.1) 239
Configure Legacy Inter-VLAN Routing: Switch Configuration (5.1.2.2) 240
Configure Legacy Inter-VLAN Routing: Router Interface Configuration (5.1.2.3) 241
Configure Router-on-a-Stick Inter-VLAN Routing (5.1.3) 244
Configure Router-on-a-Stick: Preparation (5.1.3.1) 244
Configure Router-on-a-Stick: Switch Configuration (5.1.3.2) 245
Configure Router-on-a-Stick: Router Subinterface Configuration (5.1.3.3) 246
Configure Router-on-a-Stick: Verifying Subinterfaces (5.1.3.4) 248
Configure Router-on-a-Stick: Verifying Routing (5.1.3.5) 250
Ping Test 251
Tracert Test 251
Troubleshoot Inter-VLAN Routing (5.2) 252
Inter-VLAN Configuration Issues (5.2.1) 252
Switch Port Issues (5.2.1.1) 252
Verify Switch Configuration (5.2.1.2) 254
Interface Issues (5.2.1.3) 255
Verify Router Configuration (5.2.1.4) 256
IP Addressing Issues (5.2.2) 258
Errors with IP Addresses and Subnet Masks (5.2.2.1) 258
Verifying IP Address and Subnet Mask Configuration Issues (5.2.2.2) 260
Layer 3 Switching (5.3) 261
Introduction to Layer 3 Switching (5.3.1.1) 261
Inter-VLAN Routing with Switch Virtual Interfaces (5.3.1.2, 5.3.1.3) 263
Inter-VLAN Routing with Routed Ports (5.3.1.4) 265
Routed Ports and Access Ports on a Switch 265
Configuring Static Routes on a Catalyst 2960 (5.3.1.5) 266
Troubleshoot Layer 3 Switching (5.3.2) 274
Layer 3 Switch Configuration Issues (5.3.2.1) 274
Example: Troubleshooting Layer 3 Switching (5.3.2.2) 275
Summary (5.4) 278
Practice 279
Class Activities 279
Labs 279
Packet Tracer Activities 279
Check Your Understanding Questions 280
Chapter 6 Static Routing 283
Objectives 283
Key Terms 283
Introduction (6.0.1.1) 285
Static Routing (6.1.1) 286
Reach Remote Networks (6.1.1.1) 286
Why Use Static Routing? (6.1.1.2) 286
When to Use Static Routes (6.1.1.3) 288
Types of Static Routes 289
Static Route Applications (6.1.2.1) 289
Standard Static Route (6.1.2.2) 289
Default Static Route (6.1.2.3) 290
Summary Static Route (6.1.2.4) 290
Floating Static Route (6.1.2.5) 291
Configure IPv4 Static Routes (6.2.1) 292
ip route Command (6.2.1.1) 292
Next-Hop Options (6.2.1.2) 293
Configure a Next-Hop Static Route (6.2.1.3) 297
Configure a Directly Connected Static Route (6.2.1.4) 299
Configure a Fully Specified Static Route (6.2.1.5) 301
Verify a Static Route (6.2.1.6) 304
Configure IPv4 Default Routes (6.2.2) 306
Default Static Route (6.2.2.1) 306
Configure a Default Static Route (6.2.2.2) 307
Verify a Default Static Route (6.2.2.3) 308
Configure IPv6 Static Routes (6.2.3) 310
The ipv6 route Command (6.2.3.1) 310
Next-Hop Options (6.2.3.2) 311
Configure a Next-Hop Static IPv6 Route (6.2.3.3) 315
Configure a Directly Connected Static IPv6 Route (6.2.3.4) 317
Configure a Fully Specified Static IPv6 Route (6.2.3.5) 319
Verify IPv6 Static Routes (6.2.3.6) 320
Configure IPv6 Default Routes (6.2.4) 322
Default Static IPv6 Route (6.2.4.1) 322
Configure a Default Static IPv6 Route (6.2.4.2) 323
Verify a Default Static Route (6.2.4.3) 323
Review of CIDR and VLSM (6.3) 325
Classful Network Addressing (6.3.1.1) 326
Classful Subnet Masks (6.3.1.2) 327
Classful Routing Protocol Example (6.3.1.3) 328
Classful Addressing Waste (6.3.1.4) 329
CIDR (6.3.2) 331
Classless Inter-Domain Routing (6.3.2.1) 331
CIDR and Route Summarization (6.3.2.2) 332
Static Routing CIDR Example (6.3.2.3) 333
Classless Routing Protocol Example (6.3.2.4) 335
VLSM (6.3.3) 335
Fixed-Length Subnet Masking (6.3.3.1) 336
Variable-Length Subnet Masking (6.3.3.2) 337
VLSM in Action (6.3.3.3) 338
Subnetting Subnets (6.3.3.4) 339
VLSM Example (6.3.3.5) 341
Configure IPv4 Summary Routes (6.4.1) 346
Route Summarization (6.4.1.1) 346
Calculate a Summary Route (6.4.1.2) 346
Summary Static Route Example (6.4.1.3) 348
Configure IPv6 Summary Routes (6.4.2) 352
Summarize IPv6 Network Addresses (6.4.2.1) 352
Calculate IPv6 Summary Addresses (6.4.2.2) 354
Configure an IPv6 Summary Address (6.4.2.3) 356
Configure Floating Static Routes (6.4.3) 358
Floating Static Routes (6.4.3.1) 358
Configure a Floating Static Route (6.4.3.2) 359
Test the Floating Static Route (6.4.3.3) 360
Troubleshoot Static and Default Route Issues (6.5) 363
Static Routes and Packet Forwarding (6.5.1.1) 364
Troubleshoot a Missing Route (6.5.2.1) 364
Solve a Connectivity Problem (6.5.2.2) 368
Summary (6.6) 373
Practice 374
Class Activities 375
Labs 375
Packet Tracer Activities 375
Check Your Understanding Questions 376
Chapter 7 Routing Dynamically 379
Objectives 379
Key Terms 379
Introduction (7.0.1.1) 381
Dynamic Routing Protocol Operation (7.1.1) 382
The Evolution of Dynamic Routing Protocols (7.1.1.1) 382
Purpose of Dynamic Routing Protocols (7.1.1.2) 383
The Role of Dynamic Routing Protocols (7.1.1.3) 384
Dynamic Versus Static Routing (7.1.2) 385
Using Static Routing (7.1.2.1) 386
Static Routing Scorecard (7.1.2.2) 386
Using Dynamic Routing Protocols (7.1.2.3) 387
Dynamic Routing Scorecard (7.1.2.4) 388
Routing Protocol Operating Fundamentals (7.1.3) 389
Dynamic Routing Protocol Operation (7.1.3.1) 389
Cold Start (7.1.3.2) 390
Network Discovery (7.1.3.3) 391
Exchanging the Routing Information (7.1.3.4) 392
Achieving Convergence (7.1.3.5) 394
Types of Routing Protocols (7.1.4) 396
Classifying Routing Protocols (7.1.4.1) 396
IGP and EGP Routing Protocols (7.1.4.2) 399
Distance Vector Routing Protocols (7.1.4.3) 401
Link-State Routing Protocols (7.1.4.4) 402
Classful Routing Protocols (7.1.4.5) 402
Classless Routing Protocols (7.1.4.6) 406
Routing Protocol Characteristics (7.1.4.7) 409
Routing Protocol Metrics (7.1.4.8) 410
Distance Vector Routing Protocol Operation (7.2.1) 411
Distance Vector Technologies (7.2.1.1) 411
Distance Vector Algorithm (7.2.1.2) 412
Types of Distance Vector Routing Protocols (7.2.2) 413
Routing Information Protocol (7.2.2.1) 413
Enhanced Interior-Gateway Routing Protocol (7.2.2.2) 415
RIP and RIPng Routing (7.3) 416
Router RIP Configuration Mode (7.3.1.1) 416
Advertising Networks (7.3.1.2) 418
Examining Default RIP Settings (7.3.1.3) 419
Enabling RIPv2 (7.3.1.4) 421
Disabling Auto Summarization (7.3.1.5) 423
Configuring Passive Interfaces (7.3.1.6) 425
Propagating a Default Route (7.3.1.7) 427
Configuring the RIPng Protocol (7.3.2) 429
Advertising IPv6 Networks (7.3.2.1) 429
Examining the RIPng Configuration (7.3.2.2) 430
Link-State Dynamic Routing (7.4) 433
Shortest Path First Protocols (7.4.1.1) 433
Dijkstra's Algorithm (7.4.1.2) 434
SPF Example (7.4.1.3) 435
Link-State Updates (7.4.2) 438
Link-State Routing Process (7.4.2.1) 438
Link and Link-State (7.4.2.2) 438
Say Hello (7.4.2.3) 442
Building the Link-State Packet (7.4.2.4) 442
Flooding the LSP (7.4.2.5) 443
Building the Link-State Database (7.4.2.6) 443
Building the SPF Tree (7.4.2.7) 445
Adding OSPF Routes to the Routing Table (7.4.2.8) 446
Why Use Link-State Routing Protocols (7.4.3) 447
Why Use Link-State Protocols? (7.4.3.1) 447
Disadvantages of Link-State Protocols (7.4.3.2) 448
Protocols That Use Link-State (7.4.3.3) 449
Parts of an IPv4 Route Entry (7.5.1) 449
Routing Table Entries (7.5.1.1) 449
Directly Connected Entries (7.5.1.2) 451
Remote Network Entries (7.5.1.3) 453
Dynamically Learned IPv4 Routes (7.5.2) 454
Routing Table Terms (7.5.2.1) 454
Ultimate Route (7.5.2.2) 455
Level 1 Route (7.5.2.3) 455
Level 1 Parent Route (7.5.2.4) 456
Level 2 Child Route (7.5.2.5) 458
The IPv4 Route Lookup Process (7.5.3) 460
Route Lookup Process (7.5.3.1) 460
Best Route = Longest Match (7.5.3.2) 462
Analyze an IPv6 Routing Table (7.5.4) 463
IPv6 Routing Table Entries (7.5.4.1) 463
Directly Connected Entries (7.5.4.2) 464
Remote IPv6 Network Entries (7.5.4.3) 466
Summary (7.6) 469
Practice 470
Class Activities 470
Labs 471
Packet Tracer Activities 471
Check Your Understanding Questions 471
Chapter 8 Single-Area OSPF 475
Objectives 475
Key Terms 475
Introduction (8.0.1.1) 477
Characteristics of OSPF (8.1) 477
Evolution of OSPF (8.1.1.1) 477
Features of OSPF (8.1.1.2) 479
Components of OSPF (8.1.1.3) 479
Data Structures 479
Routing Protocol Messages 480
Algorithm 481
Link-State Operation (8.1.1.4) 481
Single-Area and Multiarea OSPF (8.1.1.5) 484
OSPF Messages (8.1.2) 487
Encapsulating OSPF Messages (8.1.2.1) 487
Types of OSPF Packets (8.1.2.2) 489
Hello Packet (8.1.2.3) 489
Hello Packet Intervals (8.1.2.4) 491
Link-State Updates (8.1.2.5) 492
OSPF Operation (8.1.3) 493
OSPF Operational States (8.1.3.1) 493
Establish Neighbor Adjacencies (8.1.3.2) 494
OSPF DR and BDR (8.1.3.3) 496
Synchronizing OSPF Databases (8.1.3.4) 497
Configuring Single-Area OSPFv2 (8.2.1) 500
OSPF Network Topology (8.2.1.1) 500
Router OSPF Configuration Mode (8.2.1.2) 501
Router IDs (8.2.1.3) 502
Configuring an OSPF Router ID (8.2.1.4) 503
Modifying a Router ID (8.2.1.5) 505
Using a Loopback Interface as the Router ID (8.2.1.6) 507
Configure Single-Area OSPFv2 (8.2.2) 507
Enabling OSPF on Interfaces (8.2.2.1) 507
Wildcard Mask (8.2.2.2) 508
The network Command (8.2.2.3) 509
Passive Interface (8.2.2.4) 510
Configuring Passive Interfaces (8.2.2.5) 511
OSPF Cost (8.2.3) 512
OSPF Metric = Cost (8.2.3.1) 513
OSPF Accumulates Costs (8.2.3.2) 514
Adjusting the Reference Bandwidth (8.2.3.3) 515
Adjusting the Reference Bandwidth 515
Default Interface Bandwidths (8.2.3.4) 519
Adjusting the Interface Bandwidths (8.2.3.5) 521
Manually Setting the OSPF Cost (8.2.3.6) 522
Verify OSPF (8.2.4) 523
Verify OSPF Neighbors (8.2.4.1) 523
Verify OSPF Protocol Settings (8.2.4.2) 525
Verify OSPF Process Information (8.2.4.3) 526
Verify OSPF Interface Settings (8.2.4.4) 526
OSPFv2 vs. OSPFv3 (8.3.1) 527
OSPFv3 (8.3.1.1) 528
Similarities Between OSPFv2 to OSPFv3 (8.3.1.2) 529
Differences Between OSPFv2 and OSPFv3 (8.3.1.3) 529
Link-Local Addresses (8.3.1.4) 530
Configuring OSPFv3 (8.3.2) 531
OSPFv3 Network Topology (8.3.2.1) 531
Link-Local Addresses (8.3.2.2) 533
Assigning Link-Local Addresses (8.3.2.3) 534
Configuring the OSPFv3 Router ID (8.3.2.4) 535
Modifying an OSPFv3 Router ID (8.3.2.5) 538
Enabling OSPFv3 on Interfaces (8.3.2.6) 539
Verify OSPFv3 (8.3.3) 540
Verify OSPFv3 Neighbors (8.3.3.1) 540
Verify OSPFv3 Protocol Settings (8.3.3.2) 541
Verify OSPFv3 Interfaces (8.3.3.3) 542
Verify the IPv6 Routing Table (8.3.3.4) 543
Summary (8.4) 544
Practice 545
Class Activities 545
Labs 545
Packet Tracer Activities 546
Check Your Understanding Questions 546
Chapter 9 Access Control Lists 549
Objectives 549
Key Terms 549
Introduction (9.0.1.1) 550
IP ACL Operation (9.1) 551
What Is an ACL? (9.1.1.1) 551
A TCP Conversation (9.1.1.2) 552
TCP Communication 552
Packet Filtering (9.1.1.3, 9.1.1.4) 555
ACL Operation (9.1.1.5) 557
Standard Versus Extended IPv4 ACLS (9.1.2) 558
Types of Cisco IPv4 ACLs (9.1.2.1) 558
Standard ACLs 558
Extended ACLs 559
Numbering and Naming ACLs (9.1.2.2) 559
Wildcard Masks in ACLs (9.1.3) 560
Introducing ACL Wildcard Masking (9.1.3.1) 560
Wildcard Masking 560
Using a Wildcard Mask 562
Wildcard Mask Examples (9.1.3.2) 562
Wildcard Masks to Match IPv4 Subnets 562
Wildcard Masks to Match Ranges 563
Calculating the Wildcard Mask (9.1.3.3) 564
Wildcard Mask Keywords (9.1.3.4) 565
Wildcard Bit Mask Keywords 566
Examples Wildcard Mask Keywords (9.1.3.5) 567
The any and host Keywords 567
Guidelines for ACL Creation (9.1.4) 568
General Guidelines for Creating ACLs (9.1.4.1) 568
ACL Best Practices (9.1.4.2) 569
Guidelines for ACL Placement (9.1.5) 570
Where to Place ACLs (9.1.5.1) 570
Standard ACL Placement (9.1.5.2) 571
Extended ACL Placement (9.1.5.3) 573
Standard IPv4 ACLs (9.2) 574
Entering Criteria Statements (9.2.1.1) 574
Configuring a Standard ACL – Standard ACL Logic (9.2.1.2) 575
Configuring a Standard ACL – Configuring Standard ACLs (9.2.1.3) 576
Internal Logic (9.2.1.4) 578
Applying Standard ACLs to Interfaces – Standard ACL
Configuration Procedures (9.2.1.5, 9.2.1.6) 579
Creating Named Standard ACLs (9.2.1.7) 582
Commenting ACLs (9.2.1.8) 584
Modify IPv4 ACLs (9.2.2) 586
Editing Standard Numbered ACLs (9.2.2.1, 9.2.2.2) 586
Method 1: Using a Text Editor 586
Method 2: Using the Sequence Number 587
Editing Standard Named ACLs (9.2.2.3) 589
Verifying ACLs (9.2.2.4) 590
ACL Statistics (9.2.2.5) 591
Standard ACL Sequence Numbers (9.2.2.6) 592
Securing VTY Ports with a Standard IPv4 ACL (9.2.3) 595
Configuring a Standard ACL to Secure a VTY Port (9.2.3.1) 595
Verifying a Standard ACL Used to Secure a VTY Port (9.2.3.2) 596
Structure of an Extended IPv4 ACL (9.3.1) 598
Extended ACLs – Testing Packets with Extended ACLs (9.3.1.1) 598
Extended ACLs – Testing for Ports and Services (9.3.1.2) 599
Configure Extended IPv4 ACLs (9.3.2) 601
Configuring Extended ACLs (9.3.2.1) 601
Applying Extended ACLs to Interfaces (9.3.2.2) 603
Filtering Traffic with Extended ACLs (9.3.2.3) 605
Creating Named Extended ACLs (9.3.2.4) 606
Verifying Extended ACLs (9.3.2.5) 607
Editing Extended ACLs (9.3.2.6) 608
Troubleshoot ACLs (9.4) 611
Inbound and Outbound ACL Logic (9.4.1.1) 611
ACL Logic Operations (9.4.1.2) 613
Standard ACL Decision Process (9.4.1.3) 614
Extended ACL Decision Process (9.4.1.4) 615
Common ACL Errors (9.4.2) 616
Troubleshooting Common ACL Errors - Example 1 (9.4.2.1) 616
Troubleshooting Common ACL Errors - Example 2 (9.4.2.2) 617
Troubleshooting Common ACL Errors - Example 3 (9.4.2.3) 618
Troubleshooting Common ACL Errors - Example 4 (9.4.2.4) 619
Troubleshooting Common ACL Errors - Example 5 (9.4.2.5) 619
IPv6 ACLs (9.5) 621
Type of IPv6 ACLs (9.5.1.1) 621
Comparing IPv4 and IPv6 ACLs (9.5.1.2) 621
Configuring IPv6 Topology (9.5.2.1) 623
Configuring IPv6 ACLs (9.5.2.2) 625
Applying an IPv6 ACL to an Interface (9.5.2.3) 627
IPv6 ACL Examples (9.5.2.4) 628
Deny FTP 629
Restricted Access 629
Verifying IPv6 ACLs (9.5.2.5) 630
Summary (9.6) 633
Practice 635
Class Activities 635
Labs 635
Packet Tracer Activities 635
Check Your Understanding Questions 636
Chapter 10 DHCP 639
Objectives 639
Key Terms 639
Introduction (10.0.1.1) 640
Dynamic Host Configuration Protocol v4 (10.1) 641
Introducing DHCPv4 (10.1.1.1) 641
DHCPv4 Operation (10.1.1.2) 642
Lease Origination 642
Lease Renewal 644
DHCPv4 Message Format (10.1.1.3) 645
DHCPv4 Discover and Offer Messages (10.1.1.4) 646
Configuring a Basic DHCPv4 Server (10.1.2) 648
Configuring a Basic DHCPv4 Server (10.1.2.1) 648
DHCPv4 Example 651
Disabling DHCPv4 651
Verifying DHCPv4 (10.1.2.2) 651
DHCPv4 Relay (10.1.2.3) 655
What Is DHCP Relay? 655
Configure DHCPv4 Client (10.1.3) 659
Configuring a Router as DHCPv4 Client (10.1.3.1) 659
Configuring a SOHO Router as a DHCPv4 Client (10.1.3.2) 660
Troubleshoot DHCPv4 (10.1.4) 661
Troubleshooting Tasks (10.1.4.1) 661
Troubleshooting Task 1: Resolve IPv4 Address Conflicts 662
Troubleshooting Task 2: Verify Physical Connectivity 662
Troubleshooting Task 3: Test Connectivity Using a Static IP Address 662
Troubleshooting Task 4: Verify Switch Port Configuration 662
Troubleshooting Task 5: Test DHCPv4 Operation on the Same Subnet or VLAN 663
Verify Router DHCPv4 Configuration (10.1.4.2) 663
Debugging DHCPv4 (10.1.4.3) 664
Dynamic Host Configuration Protocol v6 (10.2) 665
Stateless Address Autoconfiguration (SLAAC) (10.2.1.1) 665
SLAAC Operation (10.2.1.2) 666
SLAAC and DHCPv6 (10.2.1.3) 668
SLAAC Option (10.2.1.4) 669
SLAAC Option (Router Advertisement Only) 669
Stateless DHCPv6 Option (10.2.1.5) 670
Stateless DHCPv6 Option (Router Advertisement and DHCPv6) 670
Stateful DHCPv6 Option (10.2.1.6) 671
Stateful DHCPv6 (DHCPv6 Only) 671
DHCPv6 Operations (10.2.1.7) 671
DHCPv6 Communications 672
Stateless DHCPv6 (10.2.2) 673
Configuring a Router as a Stateless DHCPv6 Server (10.2.2.1) 673
DHCPv6 Stateless Server Example 674
Configuring a Router as a Stateless DHCPv6 Client (10.2.2.2) 675
Verifying Stateless DHCPv6 (10.2.2.3) 675
Verifying the Stateless DHCPv6 Server 675
Verifying the Stateless DHCPv6 Client 676
Stateful DHCPv6 Server (10.2.3) 678
Configuring a Router as a Stateful DHCPv6 Server (10.2.3.1) 678
DHCPv6 Stateful Server Example 679
Configuring a Router as a Stateful DHCPv6 Client (10.2.3.2) 679
Verifying Stateful DHCPv6 (10.2.3.3) 680
Verifying the Stateful DHCPv6 Client 681
Configuring a Router as a DHCPv6 Relay Agent (10.2.3.4) 682
Configuring the DHCPv6 Relay Agent 683
Troubleshoot DHCPv6 (10.2.4) 683
Troubleshooting Tasks (10.2.4.1) 683
Troubleshooting Task 1. Resolve Conflicts 684
Troubleshooting Task 2. Verify Allocation Method 684
Troubleshooting Task 3. Test with a Static IPv6 Address 684
Troubleshooting Task 4. Verify Switch Port Configuration 684
Troubleshooting Task 5. Test DHCPv6 Operation on the Same Subnet or VLAN 684
Verify Router DHCPv6 Configuration (10.2.4.2) 685
Stateful DHCPv6 685
Stateless DHCPv6 685
Debugging DHCPv6 (10.2.4.3) 686
Summary (10.3) 688
Practice 690
Class Activities 690
Packet Tracer Activities 690
Check Your Understanding Questions 691
Chapter 11 Network Address Translation for IPv4 695
Objectives 695
Key Terms 695
Introduction (11.0.1.1) 696
NAT Operation (11.1) 697
IPv4 Private Address Space (11.1.1.1) 697
What Is NAT? (11.1.1.2) 698
NAT Terminology (11.1.1.3, 11.1.1.4) 699
How NAT Works (11.1.1.5) 702
Types of NAT (11.1.2) 703
Static NAT (11.1.2.1) 703
Dynamic NAT (11.1.2.2) 704
Port Address Translation (PAT) (11.1.2.3) 705
Next Available Port (11.1.2.4) 706
Comparing NAT and PAT (11.1.2.5) 707
Packets Without a Layer 4 Segment 708
Benefits of NAT (11.1.3) 709
Benefits of NAT (11.1.3.1) 709
Disadvantages of NAT (11.1.3.2) 710
Configuring NAT (11.2) 710
Configuring Static NAT (11.2.1.1) 711
Analyzing Static NAT (11.2.1.2) 713
Verifying Static NAT (11.2.1.3) 714
Configuring Dynamic NAT (11.2.2) 716
Dynamic NAT Operation (11.2.2.1) 716
Configuring Dynamic NAT (11.2.2.2) 717
Analyzing Dynamic NAT (11.2.2.3) 719
Verifying Dynamic NAT (11.2.2.4) 721
Configuring Port Address Translation (PAT) (11.2.3) 724
Configuring PAT: Address Pool (11.2.3.1) 724
Configuring PAT for a Pool of Public IP Addresses 724
Configuring PAT: Single Address (11.2.3.2) 726
Analyzing PAT (11.2.3.3) 727
PC to Server Process 728
Server to PC Process 729
Verifying PAT (11.2.3.4) 730
Port Forwarding (11.2.4) 731
SOHO Example (11.2.4.2) 733
Configuring Port Forwarding with IOS (11.2.4.3) 734
Configuring NAT and IPv6 (11.2.5) 736
NAT for IPv6? (11.2.5.1) 737
IPv6 Unique Local Addresses (11.2.5.2) 738
NAT for IPv6 (11.2.5.3) 739
Troubleshooting NAT (11.3) 740
Troubleshooting NAT: show Commands (11.3.1.1) 740
Troubleshooting NAT: debug Command (11.3.1.2) 742
Case Study (11.3.1.3) 744
Case Study 1 744
Summary (11.4) 747
Practice 748
Class Activities 748
Labs 748
Packet Tracer Activities 749
Check Your Understanding Questions 749
Appendix A Answers to the "Check Your Understanding" Questions 755
Glossary 771
TOC, 9781587133183, 1/21/2014
Other Things You Might Like


Cisco Certified Support Technician CCST Networking 100-150 Official Cert Guide Premium Edition and Practice Test

By Russ White
Premium Edition eBook $47.99