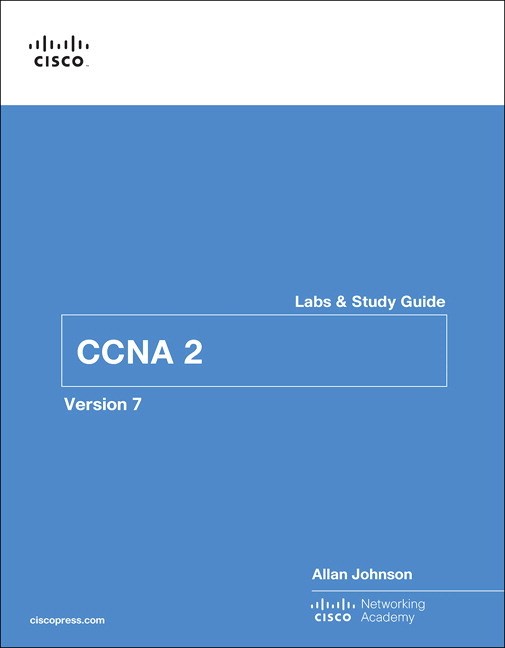 Register your product to gain access to bonus material or receive a coupon.
Switching, Routing, and Wireless Essentials Labs and Study Guide (CCNAv7)
Book
Your Price: $54.00
List Price: $60.00
Usually ships in 24 hours.
Features
Easy to read, highlight, and review on the go, wherever the Internet is not available
Extracted directly from the online Cisco Networking Academy course
Fully updated for the CCNA2 v7 curriculum
Copyright 2021
Dimensions: 8-1/2" x 10-7/8"
Pages: 416
Edition: 1st
Book
ISBN-10: 0-13-663438-9
ISBN-13: 978-0-13-663438-6
The only authorized Labs & Study Guide for the Cisco Networking Academy Switching, Routing, and Wireless Essentials course in the CCNA curriculum
Each chapter of this book is divided into a Study Guide section followed by a Lab section.
The Study Guide section offers exercises that help you learn the concepts, configurations, and troubleshooting skills crucial to your success as a CCNA exam candidate. Each chapter is slightly different and includes some or all the following types of exercises:
• Vocabulary Matching Exercises
• Concept Questions Exercises
• Skill-Building Activities and Scenarios
• Configuration Scenarios
• Packet Tracer Exercises
• Troubleshooting Scenarios
The Labs & Activities include all the online course Labs and Packet Tracer activity instructions. If applicable, this section begins with a Command Reference that you will complete to highlight all the commands introduced in the chapter.
This book is offered exclusively for students enrolled in Cisco Networking Academy courses. It is not designed for independent study or professional certification preparation. Visit netacad.com to learn more about program options and requirements.Related titles: CCNA 200-301 Portable Command Guide Book: 9780135937822 eBook: 9780135937709 Switching, Routing, and Wireless Essentials Companion Guide CCNAv7 Book: 9780136729358 eBook: 9780136729488 Switching, Routing, and Wireless Essentials Course Booklet CCNAv7 Book: 9780136634720
Table of Contents
Introduction xxvii
Chapter 1 Basic Device Configuration 1
Study Guide 2
Configure a Switch with Initial Settings 2
Configure Switch Ports 6
Network Access Layer Issues 8
Secure Remote Access 9
Basic Router Configuration 12
Verify Directly Connected Networks 15
Labs and Activities 21
Command Reference 21
1.1.7 Lab—Basic Switch Configuration 22
1.3.6 Packet Tracer—Configure SSH 36
1.4.7 Packet Tracer—Configure Router Interfaces 38
1.5.10 Packet Tracer—Verify Directly Connected Networks 39
1.6.1 Packet Tracer—Implement a Small Network 42
1.6.2 Lab—Configure Basic Router Settings 45
Chapter 2 Switching Concepts 53
Study Guide 54
Frame Forwarding 54
Switching Domains 57
Labs and Activities 59
Chapter 3 VLANs 61
Study Guide 62
Overview of VLANs 62
VLANs in a Multi-Switched Environment 64
VLAN Configuration 69
Packet Tracer 3-1: VLAN Creation and Port Assignment 70
VLAN Trunks 72
Dynamic Trunking Protocol 74
Labs and Activities 78
Command Reference 78
3.1.4 Packet Tracer—Who Hears the Broadcast? 79
3.2.8 Packet Tracer—Investigate a VLAN Implementation 81
3.3.12 Packet Tracer—VLAN Configuration 84
3.4.5 Packet Tracer—Configure Trunks 87
3.4.6 Lab—Configure VLANs and Trunking 89
3.5.5 Packet Tracer—Configure DTP 98
3.6.1 Packet Tracer—Implement VLANs and Trunking 103
3.6.2 Lab—Implement VLANs and Trunking 105
Chapter 4 Inter-VLAN Routing 109
Study Guide 110
Inter-VLAN Routing Operation 110
Router-on-a-Stick Inter-VLAN Routing 112
Inter-VLAN Routing Using Layer 3 Switches 114
Troubleshoot Inter-VLAN Routing 116
Labs and Activities 122
Command Reference 122
4.2.7 Packet Tracer—Configure Router-on-a-Stick Inter-VLAN Routing 122
4.2.8 Lab—Configure Router-on-a-Stick Inter-VLAN Routing 125
4.3.8 Packet Tracer—Configure Layer 3 Switching and Inter-VLAN Routing 131
4.4.8 Packet Tracer—Troubleshoot Inter-VLAN Routing 136
4.4.9 Lab—Troubleshoot Inter-VLAN Routing 138
4.5.1 Packet Tracer—Inter-VLAN Routing Challenge 141
4.5.2 Lab—Implement Inter-VLAN Routing 142
Chapter 5 STP Concepts 147
Study Guide 148
Purpose of STP 148
STP Operation 149
Evolution of STP 155
Labs and Activities 158
Command Reference 158
5.1.9 Packet Tracer—Investigate STP Loop Prevention 158
Chapter 6 EtherChannel 161
Study Guide 162
EtherChannel Operation 162
Configure EtherChannel 165
Verify and Troubleshoot EtherChannel 166
Labs and Activities 171
Command Reference 171
6.2.4 Packet Tracer—Configure EtherChannel 171
6.3.4 Packet Tracer—Troubleshoot EtherChannel 177
6.4.1 Packet Tracer—Implement EtherChannel 179
6.4.2 Lab—Implement EtherChannel 181
Chapter 7 DHCPv4 185
Study Guide 186
DHCPv4 Concepts 186
Configure a Cisco IOS DHCPv4 Server 187
Configure a DHCPv4 Client 190
Labs and Activities 191
Command Reference 191
7.2.10 Packet Tracer—Configure DHCPv4 191
7.4.1 Packet Tracer—Implement DHCPv4 194
7.4.2 Lab—Implement DHCPv4 196
Chapter 8 SLAAC and DHCPv6 203
Study Guide 204
IPv6 GUA Assignment 204
SLAAC 205
DHCPv6 207
Configure DHCPv6 Server 209
Labs and Activities 213
Command Reference 213
8.5.1 Lab—Configure DHCPv6 213
Chapter 9 FHRP Concepts 221
Study Guide 222
First Hop Redundancy Protocols 222
HSRP 224
Labs and Activities 227
Command Reference 227
9.3.3 Packet Tracer—HSRP Configuration Guide 227
Chapter 10 LAN Security Concepts 233
Study Guide 234
Endpoint Security 234
Access Control 235
Layer 2 Security Threats 237
MAC Address Table Attack 239
LAN Attacks 240
Labs and Activities 243
Chapter 11 Switch Security Configuration 245
Study Guide 246
Implement Port Security 246
Mitigate VLAN Attacks 249
Mitigate DHCP Attacks 249
Mitigate ARP Attacks 251
Mitigate STP Attacks 251
Labs and Activities 253
Command Reference 253
11.1.10 Packet Tracer—Implement Port Security 254
11.6.1 Packet Tracer—Switch Security Configuration 256
11.6.2 Lab—Switch Security Configuration 258
Chapter 12 WLAN Concepts 267
Study Guide 268
Introduction to Wireless 268
WLAN Components 269
WLAN Operation 271
CAPWAP Operation 273
Channel Management 275
WLAN Threats 277
Secure WLANs 278
Labs and Activities 281
Chapter 13 WLAN Configuration 283
Study Guide 284
Remote Site WLAN Configuration 284
Configure a Basic WLAN on the WLC 286
Configure a WPA2 Enterprise WLAN on the WLC 291
Troubleshoot WLAN Issues 299
Labs and Activities 302
13.1.10 Packet Tracer—Configure a Wireless Network 302
13.1.11 Lab—Configure a Wireless Network 307
13.2.7 Packet Tracer—Configure a Basic WLAN on the WLC 312
13.3.12 Packet Tracer—Configure a WPA2 Enterprise WLAN on the WLC 316
13.4.5 Packet Tracer—Troubleshoot WLAN Issues 322
13.5.1 Packet Tracer—WLAN Configuration 324
Chapter 14 Routing Concepts 329
Study Guide 330
Path Determination 330
Packet Forwarding 332
Basic Router Configuration Review 336
IP Routing Table 341
Static and Dynamic Routing 343
Labs and Activities 346
Command Reference 346
14.3.5 Packet Tracer—Basic Router Configuration Review 347
Chapter 15 IP Static Routing 353
Study Guide 354
Static Routes 354
Configure IP Static Route Types 356
Labs and Activities 361
Command Reference 361
15.6.1 Packet Tracer—Configure IPv4 and IPv6 Static and Default Routes 362
15.6.2 Lab—Configure IPv4 and IPv6 Static and Default Routes 365
Chapter 16 Troubleshoot Static and Default Routes 371
Study Guide 372
Packet Processing with Static Routes 372
Troubleshoot IPv4 Static and Default Route Configuration 373
Labs and Activities 374
16.3.1 Packet Tracer—Troubleshoot Static and Default Routes 374
16.3.2 Lab—Troubleshoot IPv4 and IPv6 Static and Default Routers 376
TOC, 9780136634386, 7/14/2020
Other Things You Might Like

Book $81.00

eBook (Watermarked) $64.80