CCIE Professional Development Series
Part of the Certification Self-Study Product Family
Advanced-level in-depth books covering technologies central to CCIE certification

Expert-level textbooks on a variety of networking topics for experienced networking professionals
Created in conjunction with CCIE® program managers and written by experts in the field, including a CCIE or a Ph.D. on every title
Teach networking concepts critical to CCIE written and laboratory exams
Part of a recommended learning path endorsed by Cisco and the only official titles available for CCIE preparation
Valuable for experienced networkers seeking in-depth networking solutions, regardless of CCIE certification intentions
What are CCIE Professional Development titles?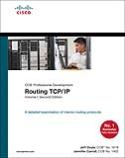 CCIE Professional Development books are the ultimate resource for networking professionals, covering technologies and standards central to all experienced networking professionals. In addition to providing comprehensive treatment of key networking concepts, these books also provide practical insight into solutions for effective network design, deployment, and management. This combination of expert perspective and real-world implementation advice makes these books essential for readers preparing to take a CCIE exam or who simply desire a greater understanding of technology and how to best apply it.
In addition to typical book features like sidebars and notes, CCIE Professional Development titles also present these key features:
Case studies that highlight real-world design, implementation, and management issues
Configuration examples that highlight actual network input and output
Review questions that test readers' understanding of concepts
Exercises that present configuration or troubleshooting problems
Who should read CCIE Professional Development books?
CCIE Professional Development books target an advanced-level audience. It is assumed that readers have a good understanding of networking concepts combined with practical network design and support experience. Introductory-level topics are minimized so that discussions can focus on complex, expert-level issues that help readers gain mastery of CCIE exam topics and critical performance and troubleshooting issues.
Who writes CCIE Professional Development books?
Every CCIE Professional Development title is written by an author who holds a CCIE certification or a Ph.D. In addition, authors are well-respected internetworking professionals and instructors who are experts in their fields. The CCIE team at Cisco Systems also plays a role in assuring that topical coverage is accurate and representative of the depth, breadth, and detail that is required for success in the CCIE certification process.
What role do CCIE Professional Development titles play in CCIE certification preparation?
CCIE candidates reach for CCIE Professional Development titles to learn the concepts and technologies they must master for CCIE exam success. After building this knowledge, candidates seek CCIE Exam Certification Guides to prepare and review for the CCIE written qualification exam and, next, to Practical Studies titles to prepare for the CCIE laboratory exam.
---