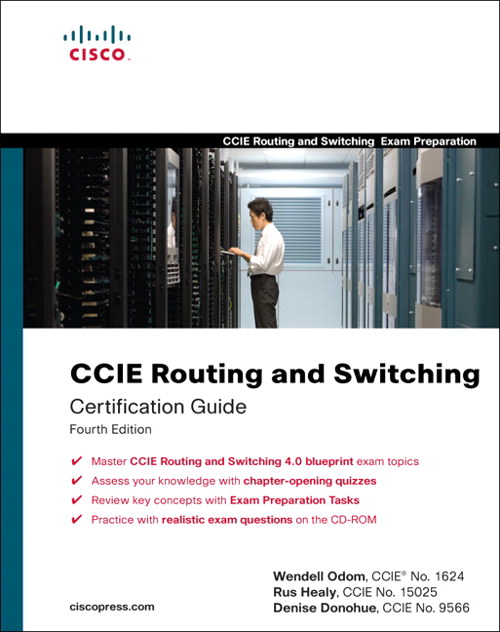 Share
|




Register your product to gain access to bonus material or receive a coupon.
CCIE Routing and Switching Certification Guide, 4th Edition
eBook (Watermarked)
Sorry, this book is no longer in print.

This PDF will be accessible from your Account page after purchase and requires the free Adobe® Reader® software to read it.

The eBook requires no passwords or activation to read. We customize your eBook by discreetly watermarking it with your name, making it uniquely yours.
Copyright 2010
Edition: 4th
eBook (Watermarked)
ISBN-10: 1-58705-981-9
ISBN-13: 978-1-58705-981-0
This is the eBook version of the printed book.Note that this eBook does not contain the practice test software that accompanies the print book.
Trust the best selling Official Cert Guide series from Cisco Press to help you learn, prepare, and practice for exam success. They are built with the objective of providing assessment, review, and practice to help ensure you are fully prepared for your certification exam.
Master CCIE Routing and Switching 4.0 blueprint exam topics
Assess your knowledge with chapter-opening quizzes
Review key concepts with Exam Preparation Tasks
CCIE Routing and Switching Certification Guide, Fourth Edition, is a best-of-breed Cisco® exam study guide that focuses specifically on the objectives for the CCIE® Routing and Switching written exam. Well-respected networking professionals Wendell Odom, Rus Healy, and Denise Donohue share preparation hints and test-taking tips, helping you identify areas of weakness and improve both your conceptual knowledge and hands-on skills. Material is presented in a concise manner, focusing on increasing your understanding and retention of exam topics.
CCIE Routing and Switching Certification Guide, Fourth Edition, presents you with an organized test preparation routine through the use of proven series elements and techniques. "Do I Know This Already?" quizzes open each chapter and allow you to decide how much time you need to spend on each section. Exam topic lists make referencing easy. Chapter-ending Exam Preparation Tasks sections help drill you on key concepts you must know thoroughly.
Well regarded for its level of detail, assessment features, and challenging review questions and exercises, this official study guide helps you master the concepts and techniques that will enable you to succeed on the exam the first time.
CCIE Routing and Switching Certification Guide, Fourth Edition, is part of a recommended learning path from Cisco that includes simulation and hands-on training from authorized Cisco Learning Partners and self-study products from Cisco Press. To find out more about instructor-led training, e-learning, and hands-on instruction offered by authorized Cisco Learning Partners worldwide, please visit www.cisco.com/go/authorizedtraining.
The official study guide helps you master all the topics on the CCIE Routing and Switching written exam, including:
Bridging and LAN switching
IP addressing, IP services, TCP, UDP, and application protocol details
Layer 3 forwarding concepts
EIGRP, OSPF, and BGP routing protocols
Quality of service
Frame Relay
MPLS
IP multicast
IPv6
Router and switch security
Troubleshooting
This volume is part of the Certification Guide Series from Cisco Press®. Books in this series provide officially developed exam preparation materials that offer assessment, review, and practice to help Cisco Career Certification candidates identify weaknesses, concentrate their study efforts, and enhance their confidence as exam day nears.
Table of Contents
Foreword xxxi
Introduction xxxii
Part I LAN Switching
Chapter 1 Ethernet Basics 3
"Do I Know This Already?" Quiz 3
Foundation Topics
Ethernet Layer 1: Wiring, Speed, and Duplex 7
RJ-45 Pinouts and Category 5 Wiring 7
Auto-negotiation, Speed, and Duplex 8
CSMA/CD 9
Collision Domains and Switch Buffering 9
Basic Switch Port Configuration 11
Ethernet Layer 2: Framing and Addressing 13
Types of Ethernet Addresses 15
Ethernet Address Formats 16
Protocol Types and the 802.3 Length Field 17
Switching and Bridging Logic 18
SPAN and RSPAN 20
Core Concepts of SPAN and RSPAN 22
Restrictions and Conditions 22
Basic SPAN Configuration 24
Complex SPAN Configuration 24
RSPAN Configuration 25
Foundation Summary
Memory Builders 29
Fill In Key Tables from Memory 29
Definitions 29
Further Reading 29
Chapter 2 Virtual LANs and VLAN Trunking 31
"Do I Know This Already?" Quiz 31
Foundation Topics
Virtual LANs 35
VLAN Configuration 35
Using VLAN Database Mode to Create VLANs 36
Using Configuration Mode to Put Interfaces into VLANs 38
Using Configuration Mode to Create VLANs 39
Private VLANs 40
VLAN Trunking Protocol 42
VTP Process and Revision Numbers 43
VTP Configuration 44
Normal-Range and Extended-Range VLANs 46
Storing VLAN Configuration 47
VLAN Trunking: ISL and 802.1Q 48
ISL and 802.1Q Concepts 48
ISL and 802.1Q Configuration 49
Allowed, Active, and Pruned VLANs 52
Trunk Configuration Compatibility 52
Configuring Trunking on Routers 53
802.1Q-in-Q Tunneling 55
Configuring PPPoE 56
Foundation Summary
Memory Builders 60
Fill In Key Tables from Memory 61
Definitions 61
Further Reading 61
Chapter 3 Spanning Tree Protocol 63
"Do I Know This Already?" Quiz 63
Foundation Topics
802.1d Spanning Tree Protocol 67
Choosing Which Ports Forward: Choosing Root
Ports and Designated Ports 67
Electing a Root Switch 67
Determining the Root Port 69
Determining the Designated Port 70
Converging to a New STP Topology 71
Topology Change Notification and Updating the CAM 72
Transitioning from Blocking to Forwarding 73
Per-VLAN Spanning Tree and STP over Trunks 74
STP Configuration and Analysis 76
Optimizing Spanning Tree 79
PortFast, UplinkFast, and BackboneFast 79
PortFast 80
UplinkFast 80
BackboneFast 81
PortFast, UplinkFast, and BackboneFast Configuration 81
PortChannels 82
Load Balancing Across PortChannels 82
PortChannel Discovery and Configuration 83
Rapid Spanning Tree Protocol 84
Rapid Per-VLAN Spanning Tree Plus (RPVST+) 86
Multiple Spanning Trees: IEEE 802.1s 87
Protecting STP 88
Root Guard and BPDU Guard: Protecting Access Ports 89
UDLD and Loop Guard: Protecting Trunks 89
Troubleshooting Complex Layer 2 Issues 91
Layer 2 Troubleshooting Process 91
Layer 2 Protocol Troubleshooting and Commands 92
Troubleshooting Using Basic Interface Statistics 92
Troubleshooting Spanning Tree Protocol 95
Troubleshooting Trunking 95
Troubleshooting VTP 96
Troubleshooting EtherChannels 98
Approaches to Resolving Layer 2 Issues 100
Foundation Summary
Memory Builders 103
Fill in Key Tables from Memory 103
Definitions 103
Further Reading 103
Part II IP
Chapter 4 P Addressing 105
"Do I Know This Already?" Quiz 105
Foundation Topics
IP Addressing and Subnetting 108
IP Addressing and Subnetting Review 108
Subnetting a Classful Network Number 109
Comments on Classless Addressing 111
Subnetting Math 111
Dissecting the Component Parts of an IP Address 111
Finding Subnet Numbers and Valid Range of IP Addresses–Binary 112
Decimal Shortcuts to Find the Subnet Number and Valid Range of IP
Addresses 113
Determining All Subnets of a Network–Binary 116
Determining All Subnets of a Network–Decimal 118
VLSM Subnet Allocation 119
Route Summarization Concepts 121
Finding Inclusive Summary Routes–Binary 122
Finding Inclusive Summary Routes–Decimal 123
Finding Exclusive Summary Routes–Binary 124
CIDR, Private Addresses, and NAT 125
Classless Interdomain Routing 125
Private Addressing 127
Network Address Translation 127
Static NAT 128
Dynamic NAT Without PAT 130
Overloading NAT with Port Address Translation 131
Dynamic NAT and PAT Configuration 132
Foundation Summary
Memory Builders 138
Fill in Key Tables from Memory 138
Definitions 139
Further Reading 139
Chapter 5 IP Services 141
"Do I Know This Already?" Quiz 141
Foundation Topics
ARP, Proxy ARP, Reverse ARP, BOOTP, and DHCP 146
ARP and Proxy ARP 146
RARP, BOOTP, and DHCP 147
DHCP 148
HSRP, VRRP, and GLBP 150
Network Time Protocol 154
SNMP 155
SNMP Protocol Messages 157
SNMP MIBs 158
SNMP Security 159
Syslog 159
Web Cache Communication Protocol 160
Implementing the Cisco IOS IP Service Level Agreement (IP SLA) Feature 163
Implementing NetFlow 165
Implementing Router IP Traffic Export 166
Implementing Cisco IOS Embedded Event Manager 167
Implementing Remote Monitoring 169
Implementing and Using FTP on a Router 170
Implementing a TFTP Server on a Router 171
Implementing Secure Copy Protocol 171
Implementing HTTP and HTTPS Access 172
Implementing Telnet Access 172
Implementing SSH Access 173
Foundation Summary
Memory Builders 179
Fill In Key Tables from Memory 179
Definitions 179
Further Reading 179
Part III IP Routing
Chapter 6 Forwarding (Routing) 181
"Do I Know This Already?" Quiz 181
Foundation Topics
IP Forwarding 186
Process Switching, Fast Switching, and Cisco Express Forwarding 187
Building Adjacency Information: ARP and Inverse ARP 188
Frame Relay Inverse ARP 189
Static Configuration of Frame Relay Mapping Information 192
Disabling InARP 193
Classless and Classful Routing 194
Multilayer Switching 195
MLS Logic 195
Using Routed Ports and PortChannels with MLS 196
MLS Configuration 197
Policy Routing 201
Optimized Edge Routing and Performance Routing 206
Device Roles in PfR 208
MC High Availability and Failure Considerations 209
PfR Configuration 209
GRE Tunnels 211
Foundation Summary
Memory Builders 215
Fill In Key Tables from Memory 215
Definitions 215
Further Reading 215
Chapter 7 EIGRP 217
"Do I Know This Already?" Quiz 217
Foundation Topics
EIGRP Basics and Steady-State Operation 221
Hellos, Neighbors, and Adjacencies 221
EIGRP Updates 224
The EIGRP Topology Table 226
EIGRP Convergence 228
Input Events and Local Computation 229
Going Active on a Route 231
Stuck-in-Active 233
Limiting Query Scope 234
EIGRP Configuration 234
EIGRP Configuration Example 234
EIGRP Load Balancing 237
EIGRP Authentication 238
EIGRP Automatic Summarization 239
EIGRP Split Horizon 240
EIGRP Route Filtering 240
EIGRP Offset Lists 242
Clearing the IP Routing Table 243
Foundation Summary
Memory Builders 246
Fill In Key Tables from Memory 246
Definitions 246
Further Reading 247
Chapter 8 OSPF 249
"Do I Know This Already?" Quiz 249
Foundation Topics
OSPF Database Exchange 254
OSPF Router IDs 254
Becoming Neighbors, Exchanging Databases, and Becoming Adjacent 255
Becoming Neighbors: The Hello Process 257
Flooding LSA Headers to Neighbors 258
Database Descriptor Exchange: Master/Slave Relationship 259
Requesting, Getting, and Acknowledging LSAs 259
Designated Routers on LANs 260
Designated Router Optimization on LANs 260
DR Election on LANs 262
Designated Routers on WANs and OSPF Network Types 263
Caveats Regarding OSPF Network Types over NBMA Networks 264
Example of OSPF Network Types and NBMA 265
SPF Calculation 268
Steady-State Operation 269
OSPF Design and LSAs 269
OSPF Design Terms 270
OSPF Path Selection Process 271
LSA Types and Network Types 271
LSA Types 1 and 2 272
LSA Type 3 and Inter-Area Costs 275
Removing Routes Advertised by Type 3 LSAs 278
LSA Types 4 and 5, and External Route Types 1 and 2 278
OSPF Design in Light of LSA Types 280
Stubby Areas 281
Graceful Restart 284
OSPF Path Choices That Do Not Use Cost 285
Choosing the Best Type of Path 285
Best-Path Side Effects of ABR Loop Prevention 286
OSPF Configuration 288
OSPF Costs and Clearing the OSPF Process 290
Alternatives to the OSPF Network Command 292
OSPF Filtering 293
Filtering Routes Using the distribute-list Command 293
OSPF ABR LSA Type 3 Filtering 295
Filtering Type 3 LSAs with the area range Command 296
Virtual Link Configuration 296
Configuring OSPF Authentication 298
OSPF Stub Router Configuration 301
Foundation Summary
Memory Builders 306
Fill In Key Tables from Memory 307
Definitions 307
Further Reading 307
Chapter 9 IGP Route Redistribution, Route Summarization, Default Routing, and
Troubleshooting 309
"Do I Know This Already?" Quiz 309
Foundation Topics
Route Maps, Prefix Lists, and Administrative Distance 314
Configuring Route Maps with the route-map Command 314
Route Map match Commands for Route Redistribution 316
Route Map set Commands for Route Redistribution 317
IP Prefix Lists 318
Administrative Distance 320
Route Redistribution 321
Mechanics of the redistribute Command 321
Redistribution Using Default Settings 322
Setting Metrics, Metric Types, and Tags 325
Redistributing a Subset of Routes Using a Route Map 326
Mutual Redistribution at Multiple Routers 330
Preventing Suboptimal Routes by Setting the Administrative Distance 332
Preventing Suboptimal Routes by Using Route Tags 335
Using Metrics and Metric Types to Influence Redistributed Routes 337
Route Summarization 339
EIGRP Route Summarization 341
OSPF Route Summarization 341
Default Routes 342
Using Static Routes to 0.0.0.0, with redistribute static 344
Using the default-information originate Command 345
Using the ip default-network Command 346
Using Route Summarization to Create Default Routes 347
Troubleshooting Complex Layer 3 Issues 349
Layer 3 Troubleshooting Process 349
Layer 3 Protocol Troubleshooting and Commands 351
IP Routing Processes 352
Approaches to Resolving Layer 3 Issues 359
Foundation Summary
Memory Builders 363
Fill In Key Tables from Memory 363
Definitions 363
Further Reading 363
Chapter 10 Fundamentals of BGP Operations 365
"Do I Know This Already?" Quiz 365
Foundation Topics
Building BGP Neighbor Relationships 371
Internal BGP Neighbors 372
External BGP Neighbors 375
Checks Before Becoming BGP Neighbors 376
BGP Messages and Neighbor States 378
BGP Message Types 378
Purposefully Resetting BGP Peer Connections 379
Building the BGP Table 380
Injecting Routes/Prefixes into the BGP Table 380
BGP network Command 380
Redistributing from an IGP, Static, or Connected Route 383
Impact of Auto-Summary on Redistributed Routes and the network
Command 385
Manual Summaries and the AS_PATH Path Attribute 388
Adding Default Routes to BGP 391
ORIGIN Path Attribute 392
Advertising BGP Routes to Neighbors 393
BGP Update Message 393
Determining the Contents of Updates 394
Example: Impact of the Decision Process and NEXT_HOP on BGP Updates 396
Summary of Rules for Routes Advertised in BGP Updates 402
Building the IP Routing Table 402
Adding eBGP Routes to the IP Routing Table 402
Backdoor Routes 403
Adding iBGP Routes to the IP Routing Table 404
Using Sync and Redistributing Routes 406
Disabling Sync and Using BGP on All Routers in an AS 408
Confederations 409
Configuring Confederations 411
Route Reflectors 414
Foundation Summary
Memory Builders 424
Fill In Key Tables from Memory 424
Definitions 424
Further Reading 425
Chapter 11 BGP Routing Policies 427
"Do I Know This Already?" Quiz 427
Foundation Topics
Route Filtering and Route Summarization 433
Filtering BGP Updates Based on NLRI 434
Route Map Rules for NLRI Filtering 437
Soft Reconfiguration 438
Comparing BGP Prefix Lists, Distribute Lists, and Route Maps 438
Filtering Subnets of a Summary Using the aggregate-address Command 439
Filtering BGP Updates by Matching the AS_PATH PA 440
The BGP AS_PATH and AS_PATH Segment Types 441
Using Regular Expressions to Match AS_PATH 443
Example: Matching AS_PATHs Using AS_PATH Filters 446
Matching AS_SET and AS_CONFED_SEQ 449
BGP Path Attributes and the BGP Decision Process 452
Generic Terms and Characteristics of BGP PAs 452
The BGP Decision Process 454
Clarifications of the BGP Decision Process 455
Three Final Tiebreaker Steps in the BGP Decision Process 455
Adding Multiple BGP Routes to the IP Routing Table 456
Mnemonics for Memorizing the Decision Process 456
Configuring BGP Policies 458
Background: BGP PAs and Features Used by Routing Policies 458
Step 0: NEXT_HOP Reachable 460
Step 1: Administrative Weight 460
Step 2: Highest Local Preference (LOCAL_PREF) 463
Step 3: Choose Between Locally Injected Routes Based on ORIGIN PA 466
Step 4: Shortest AS_PATH 467
Removing Private ASNs 467
AS_PATH Prepending and Route Aggregation 468
Step 5: Best ORIGIN PA 471
Step 6: Smallest Multi-Exit Discriminator 471
Configuring MED: Single Adjacent AS 473
Configuring MED: Multiple Adjacent Autonomous Systems 474
The Scope of MED 474
Step 7: Prefer Neighbor Type eBGP over iBGP 475
Step 8: Smallest IGP Metric to the NEXT_HOP 475
The maximum-paths Command and BGP Decision Process Tiebreakers 475
Step 9: Lowest BGP Router ID of Advertising Router (with One Exception) 476
Step 10: Lowest Neighbor ID 476
The BGP maximum-paths Command 476
BGP Communities 478
Matching COMMUNITY with Community Lists 482
Removing COMMUNITY Values 483
Filtering NLRI Using Special COMMUNITY Values 484
Foundation Summary 486
Memory Builders 490
Fill In Key Tables from Memory 490
Definitions 490
Further Reading 490
Part IV QoS
Chapter 12 Classification and Marking 493
"Do I Know This Already?" Quiz 493
Foundation Topics
Fields That Can Be Marked for QoS Purposes 497
IP Precedence and DSCP Compared 497
DSCP Settings and Terminology 498
Class Selector PHB and DSCP Values 499
Assured Forwarding PHB and DSCP Values 499
Expedited Forwarding PHB and DSCP Values 500
Non-IP Header Marking Fields 501
Ethernet LAN Class of Service 501
WAN Marking Fields 501
Locations for Marking and Matching 502
Cisco Modular QoS CLI 503
Mechanics of MQC 504
Classification Using Class Maps 505
Using Multiple match Commands 506
Classification Using NBAR 507
Classification and Marking Tools 508
Class-Based Marking (CB Marking) Configuration 508
CB Marking Example 509
CB Marking of CoS and DSCP 513
Network-Based Application Recognition 515
CB Marking Design Choices 516
Marking Using Policers 517
QoS Pre-Classification 518
Policy Routing for Marking 519
AutoQoS 519
AutoQoS for VoIP 520
AutoQos VoIP on Switches 520
AutoQoS VoIP on Routers 521
Verifying AutoQoS VoIP 522
AutoQoS for the Enterprise 522
Discovering Traffic for AutoQoS Enterprise 522
Generating the AutoQoS Configuration 523
Verifying AutoQos for the Enterprise 523
Foundation Summary 524
Memory Builders 526
Fill In Key Tables from Memory 526
Definitions 526
Further Reading 527
Chapter 13 Congestion Management and Avoidance 529
"Do I Know This Already?" Quiz 529
Cisco Router Queuing Concepts 533
Software Queues and Hardware Queues 533
Queuing on Interfaces Versus Subinterfaces and Virtual Circuits 534
Comparing Queuing Tools 534
Queuing Tools: CBWFQ and LLQ 535
CBWFQ Basic Features and Configuration 536
Defining and Limiting CBWFQ Bandwidth 538
Low-Latency Queuing 541
Defining and Limiting LLQ Bandwidth 543
LLQ with More Than One Priority Queue 545
Miscellaneous CBWFQ/LLQ Topics 545
Queuing Summary 546
Weighted Random Early Detection 546
How WRED Weights Packets 548
WRED Configuration 549
Modified Deficit Round-Robin 550
LAN Switch Congestion Management and Avoidance 552
Cisco Switch Ingress Queueing 553
Creating a Priority Queue 553
Cisco 3560 Congestion Avoidance 555
Cisco 3560 Switch Egress Queuing 556
Resource Reservation Protocol (RSVP) 559
RSVP Process Overview 560
Configuring RSVP 562
Using RSVP for Voice Calls 563
Foundation Summary 565
Memory Builders 565
Fill In Key Tables from Memory 565
Definitions 565
Further Reading 565
Chapter 14 Shaping, Policing, and Link Fragmentation 567
"Do I Know This Already?" Quiz 567
Foundation Topics 572
Traffic-Shaping Concepts 572
Shaping Terminology 572
Shaping with an Excess Burst 574
Underlying Mechanics of Shaping 574
Traffic-Shaping Adaptation on Frame Relay Networks 576
Generic Traffic Shaping 576
Class-Based Shaping 578
Tuning Shaping for Voice Using LLQ and a Small Tc 580
Configuring Shaping by Bandwidth Percent 583
CB Shaping to a Peak Rate 584
Adaptive Shaping 584
Frame Relay Traffic Shaping 584
FRTS Configuration Using the traffic-rate Command 586
Setting FRTS Parameters Explicitly 587
FRTS Configuration Using LLQ 588
FRTS Adaptive Shaping 590
FRTS with MQC 590
Policing Concepts and Configuration 590
CB Policing Concepts 591
Single-Rate, Two-Color Policing (One Bucket) 591
Single-Rate, Three-Color Policer (Two Buckets) 592
Two-Rate, Three-Color Policer (Two Buckets) 593
Class-Based Policing Configuration 595
Single-Rate, Three-Color Policing of All Traffic 595
Policing a Subset of the Traffic 596
CB Policing Defaults for Bc and Be 597
Configuring Dual-Rate Policing 597
Multi-Action Policing 597
Policing by Percentage 598
Committed Access Rate 599
QoS Troubleshooting and Commands 601
Troubleshooting Slow Application Response 602
Troubleshooting Voice and Video Problems 603
Other QoS Troubleshooting Tips 604
Approaches to Resolving QoS Issues 605
Foundation Summary 606
Memory Builders 608
Fill In Key Tables from Memory 608
Definitions 608
Further Reading 609
Part V Wide-Area Networks
Chapter 15 Wide-Area Networks 611
"Do I Know This Already?" Quiz 611
Foundation Topics 614
Point-to-Point Protocol 614
PPP Link Control Protocol 615
Basic LCP/PPP Configuration 615
Multilink PPP 617
MLP Link Fragmentation and Interleaving 619
PPP Compression 620
PPP Layer 2 Payload Compression 621
Header Compression 621
Frame Relay Concepts 622
Frame Relay Data Link Connection Identifiers 623
Local Management Interface 624
Frame Relay Headers and Encapsulation 625
Frame Relay Congestion: DE, BECN, and FECN 626
Adaptive Shaping, FECN, and BECN 627
Discard Eligibility Bit 628
Frame Relay Configuration 628
Frame Relay Configuration Basics 629
Frame Relay Payload Compression 632
Frame Relay Fragmentation 634
Frame Relay LFI Using Multilink PPP (MLP) 636
Foundation Summary 638
Memory Builders 641
Fill In Key Tables from Memory 641
Definitions 641
Part VI IP Multicast
Chapter 16 Introduction to IP Multicasting 643
"Do I Know This Already?" Quiz 643
Foundation Topics 646
Why Do You Need Multicasting? 646
Problems with Unicast and Broadcast Methods 647
How Multicasting Provides a Scalable and Manageable Solution 649
Multicast IP Addresses 652
Multicast Address Range and Structure 652
Well-Known Multicast Addresses 652
Multicast Addresses for Permanent Groups 653
Multicast Addresses for Source-Specific Multicast Applications and Protocols 654
Multicast Addresses for GLOP Addressing 654
Multicast Addresses for Private Multicast Domains 655
Multicast Addresses for Transient Groups 655
Summary of Multicast Address Ranges 655
Mapping IP Multicast Addresses to MAC Addresses 656
Managing Distribution of Multicast Traffic with IGMP 657
Joining a Group 658
Internet Group Management Protocol 659
IGMP Version 2 660
IGMPv2 Host Membership Query Functions 662
IGMPv2 Host Membership Report Functions 663
IGMPv2 Leave Group and Group-Specific Query Messages 666
IGMPv2 Querier 669
IGMPv2 Timers 669
IGMP Version 3 670
LAN Multicast Optimizations 672
Cisco Group Management Protocol 672
IGMP Snooping 678
Router-Port Group Management Protocol 683
Foundation Summary 686
Memory Builders 686
Fill In Key Tables from Memory 687
Definitions 687
Further Reading 687
References in This Chapter 687
Chapter 17 IP Multicast Routing 689
"Do I Know This Already?" Quiz 689
Foundation Topics 693
Multicast Routing Basics 693
Overview of Multicast Routing Protocols 694
Multicast Forwarding Using Dense Mode 694
Reverse Path Forwarding Check 695
Multicast Forwarding Using Sparse Mode 697
Multicast Scoping 699
TTL Scoping 699
Administrative Scoping 700
Dense-Mode Routing Protocols 700
Operation of Protocol Independent Multicast Dense Mode 701
Forming PIM Adjacencies Using PIM Hello Messages 701
Source-Based Distribution Trees 702
Prune Message 703
PIM-DM: Reacting to a Failed Link 705
Rules for Pruning 707
Steady-State Operation and the State Refresh Message 709
Graft Message 711
LAN-Specific Issues with PIM-DM and PIM-SM 712
Prune Override 712
Assert Message 713
Designated Router 715
Summary of PIM-DM Messages 715
Distance Vector Multicast Routing Protocol 716
Multicast Open Shortest Path First 716
Sparse-Mode Routing Protocols 717
Operation of Protocol Independent Multicast Sparse Mode 717
Similarities Between PIM-DM and PIM-SM 717
Sources Sending Packets to the Rendezvous Point 718
Joining the Shared Tree 720
Completion of the Source Registration Process 722
Shared Distribution Tree 724
Steady-State Operation by Continuing to Send Joins 725
Examining the RP's Multicast Routing Table 726
Shortest-Path Tree Switchover 727
Pruning from the Shared Tree 729
Dynamically Finding RPs and Using Redundant RPs 730
Dynamically Finding the RP Using Auto-RP 731
Dynamically Finding the RP Using BSR 735
Anycast RP with MSDP 737
Interdomain Multicast Routing with MSDP 739
Summary: Finding the RP 741
Bidirectional PIM 742
Comparison of PIM-DM and PIM-SM 743
Source-Specific Multicast 744
Foundation Summary 746
Memory Builders 750
Fill In Key Tables from Memory 750
Definitions 751
Further Reading 751
Part VII Security
Chapter 18 Security 753
"Do I Know This Already?" Quiz 753
Foundation Topics 757
Router and Switch Device Security 757
Simple Password Protection for the CLI 757
Better Protection of Enable and Username Passwords 758
Using Secure Shell Protocol 759
User Mode and Privileged Mode AAA Authentication 760
Using a Default Set of Authentication Methods 761
Using Multiple Authentication Methods 763
Groups of AAA Servers 764
Overriding the Defaults for Login Security 764
PPP Security 765
Layer 2 Security 766
Switch Security Best Practices for Unused and User Ports 767
Port Security 767
Dynamic ARP Inspection 771
DHCP Snooping 774
IP Source Guard 777
802.1X Authentication Using EAP 777
Storm Control 780
General Layer 2 Security Recommendations 782
Layer 3 Security 783
IP Access Control List Review 784
ACL Rule Summary 785
Wildcard Masks 787
General Layer 3 Security Considerations 788
Smurf Attacks, Directed Broadcasts, and RPF Checks 788
Inappropriate IP Addresses 790
TCP SYN Flood, the Established Bit, and TCP Intercept 790
Classic Cisco IOS Firewall 793
TCP Versus UDP with CBAC 793
Cisco IOS Firewall Protocol Support 794
Cisco IOS Firewall Caveats 794
Cisco IOS Firewall Configuration Steps 795
Cisco IOS Zone-Based Firewall 796
Cisco IOS Intrusion Prevention System 801
Control-Plane Policing 804
Preparing for CoPP Implementation 805
Implementing CoPP 806
Dynamic Multipoint VPN 809
Foundation Summary 811
Memory Builders 814
Fill In Key Tables from Memory 815
Definitions 815
Further Reading 815
Part VIII MPLS
Chapter 19 Multiprotocol Label Switching 817
"Do I Know This Already?" Quiz 817
Foundation Topics 821
MPLS Unicast IP Forwarding 821
MPLS IP Forwarding: Data Plane 822
CEF Review 822
Overview of MPLS Unicast IP Forwarding 823
MPLS Forwarding Using the FIB and LFIB 825
The MPLS Header and Label 826
The MPLS TTL Field and MPLS TTL Propagation 827
MPLS IP Forwarding: Control Plane 829
MPLS LDP Basics 829
The MPLS Label Information Base Feeding the FIB and LFIB 832
Examples of FIB and LFIB Entries 836
Label Distribution Protocol Reference 838
MPLS VPNs 839
The Problem: Duplicate Customer Address Ranges 840
The Solution: MPLS VPNs 841
MPLS VPN Control Plane 844
Virtual Routing and Forwarding Tables 844
MP-BGP and Route Distinguishers 846
Route Targets 848
Overlapping VPNs 850
MPLS VPN Configuration 851
Configuring the VRF and Associated Interfaces 853
Configuring the IGP Between PE and CE 855
Configuring Redistribution Between PE-CE IGP and MP-BGP 858
Configuring MP-BGP Between PEs 861
MPLS VPN Data Plane 863
Building the (Inner) VPN Label 865
Creating LFIB Entries to Forward Packets to the Egress PE 866
Creating VRF FIB Entries for the Ingress PE 868
Penultimate Hop Popping 869
Other MPLS Applications 870
VRF Lite 872
VRF Lite, Without MPLS 872
VRF Lite with MPLS 875
Foundation Summary 877
Memory Builders 877
Fill In Key Tables from Memory 877
Definitions 877
Further Reading 877
Part IX IP Version 6
Chapter 20 IP Version 6 879
"Do I Know This Already?" Quiz 879
Foundation Topics 883
IPv6 Addressing and Address Types 884
IPv6 Address Notation 884
Address Abbreviation Rules 885
IPv6 Address Types 885
Unicast 886
Multicast 889
Anycast 891
The Unspecified Address 892
IPv6 Address Autoconfiguration 892
EUI-64 Address Format 892
Basic IPv6 Functionality Protocols 894
Neighbor Discovery 894
Neighbor Advertisements 896
Neighbor Solicitation 896
Router Advertisement and Router Solicitation 897
Duplicate Address Detection 898
Neighbor Unreachability Detection 899
ICMPv6 899
Unicast Reverse Path Forwarding 900
DNS 901
CDP 901
DHCP 902
Access Lists 903
Traffic Filtering with Access Lists 904
IPv6 Static Routes 904
IPv6 Unicast Routing Protocols 906
OSPFv3 907
Differences Between OSPFv2 and OSPFv3 907
Virtual Links, Address Summarization, and Other OSPFv3 Features 908
OSPFv3 LSA Types 908
OSPFv3 in NBMA Networks 909
Configuring OSPFv3 over Frame Relay 910
Enabling and Configuring OSPFv3 910
Authentication and Encryption 918
EIGRP for IPv6 918
Differences Between EIGRP for IPv4 and for IPv6 918
Unchanged Features 919
Route Filtering 920
Configuring EIGRP for IPv6 920
Route Redistribution and Filtering 927
IPv6 Route Redistribution 927
Redistribution Example 928
Quality of Service 931
QoS Implementation Strategy 932
Classification, Marking, and Queuing 932
Congestion Avoidance 933
Traffic Shaping and Policing 933
Tunneling Techniques 933
Tunneling Overview 933
Manually Configured Tunnels 935
Automatic IPv4-Compatible Tunnels 936
IPv6 over IPv4 GRE Tunnels 936
Automatic 6to4 Tunnels 937
ISATAP Tunnels 939
NAT-PT 939
IPv6 Multicast 940
Multicast Listener Discovery 940
Explicit Tracking 941
PIM 941
PIM DR Election 941
Source-Specific Multicast 941
PIM BSR 942
Additional PIM Concepts and Options 942
IPv6 Multicast Static Routes 942
Configuring Multicast Routing for IPv6 943
Foundation Summary 944
Memory Builders 946
Fill In Key Tables from Memory 946
Definitions 946
Further Reading 947
Part X Appendixes
Appendix A Answers to the "Do I Know This Already?" Quizzes 949
Appendix B Decimal to Binary Conversion Table 979
Appendix C CCIE Exam Updates 983
Index 986
CD-Only
Appendix D IP Addressing Practice
Appendix E RIP Version 2
Appendix F IGMP
Appendix G Key Tables for CCIE Study
Appendix H Solutions for Key Tables for CCIE Study
Glossary
Unlimited one-month access with your purchase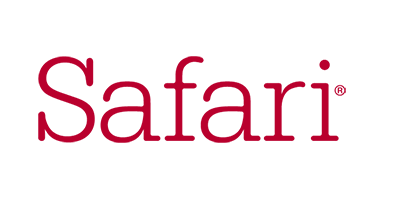 Other Things You Might Like

By Wendell Odom
Book $47.99

By Wendell Odom
Book $35.99

By Wendell Odom
Premium Edition eBook $35.99