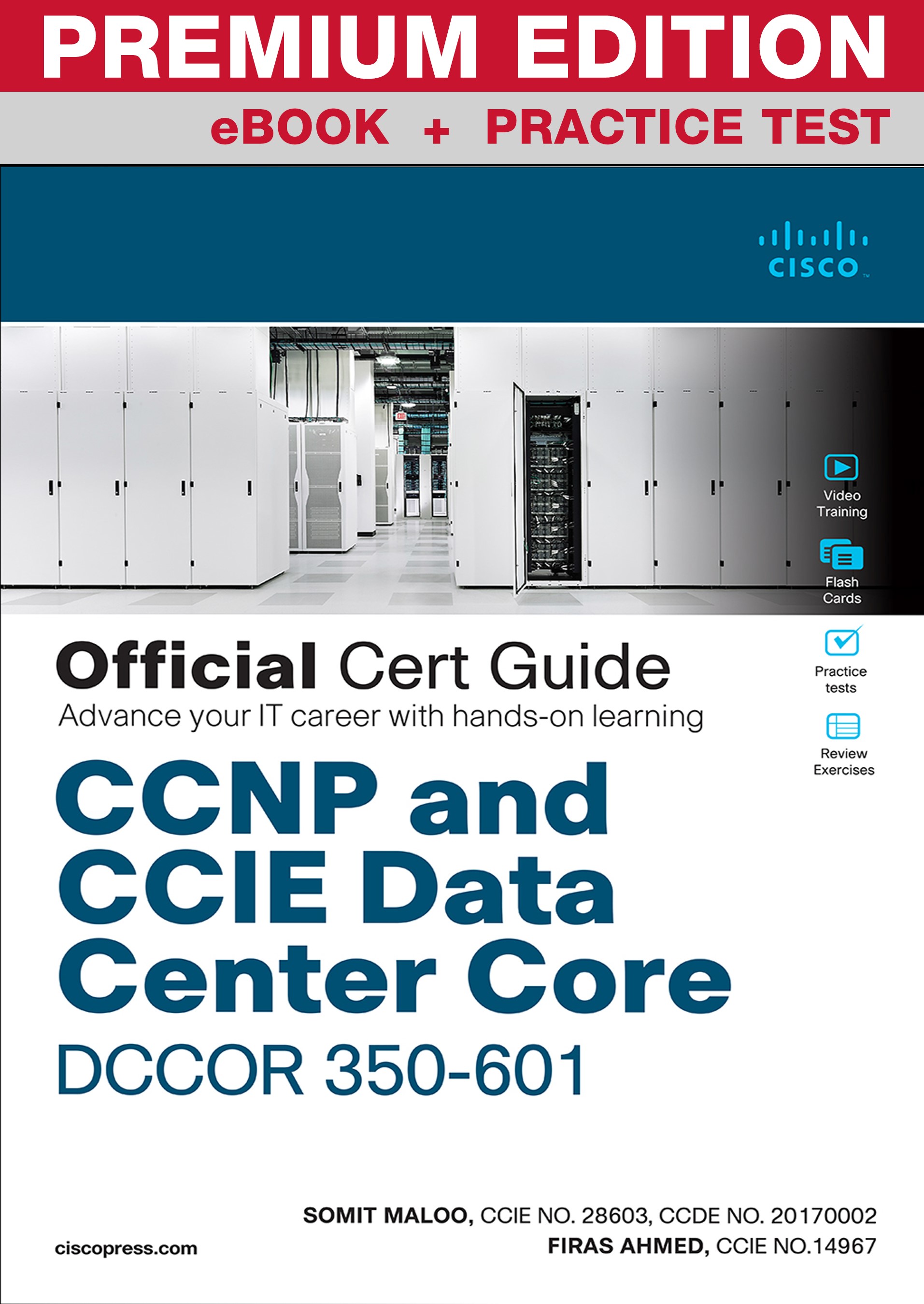 Register your product to gain access to bonus material or receive a coupon.
CCNP and CCIE Data Center Core DCCOR 350-601 Official Cert Guide Premium Edition and Practice Test
Premium Edition eBook
Your Price: $55.99
List Price: $69.99
Copyright 2020
Pages: 850
Edition: 1st
Premium Edition eBook
ISBN-10: 0-13-658850-6
ISBN-13: 978-0-13-658850-4
The exciting new CCNP and CCIE Data Center Core DCCOR 350-601 Official Cert Guide, Premium Edition eBook and Practice Test is a digital-only certification preparation product combining an eBook with enhanced Pearson IT Certification Practice Test features. The Premium Edition eBook and Practice Test contains the following items:
The CCNP and CCIE Data Center Core DCCOR 350-601 Official Cert Guide Premium Edition Practice Test, including four full practice exams and enhanced practice test features available for use both online and download.
PDF and EPUB formats of the CCNP and CCIE Data Center Core DCCOR 350-601 Official Cert Guide from Pearson IT Certification, which are accessible via your PC, tablet, and smartphone
More than two hours of personal video mentoring
About the Premium Edition Practice Test
This Premium Edition contains an enhanced version of the Pearson IT Certification Practice Test (PCPT) software with four full practice exams. In addition, it contains all the chapter-opening assessment questions from the book. This integrated learning package
Enables you to focus on individual topic areas or take complete, timed exams
Includes direct links from each question to detailed tutorials to help you understand the concepts behind the questions
Provides unique sets of exam-realistic practice questions
Tracks your performance and provides feedback on a module-by-module basis, laying out a complete assessment of your knowledge to help you focus your study where it is needed most
Includes PDF, EPUB, and MOBI formats, which are accessible via your PC, tablet, and smartphone
Pearson IT Certification Practice Test minimum system requirements:
Windows XP (SP3), Windows Vista (SP2), or Windows 7; Microsoft .NET Framework 4.0 Client; Pentium class 1GHz processor (or equivalent); 512 MB RAM; 650 MB disc space plus 50 MB for each downloaded practice exam
About the Premium Edition eBook
Learn, prepare, and practice for CCNP/CCIE Data Center Core DCCOR 350-601 exam success with this Cert Guide from Cisco Press, a leader in IT certification learning.
Master CCNP and CCIE Data Center Core DCCOR 350-601 exam topics
Assess your knowledge with chapter-ending quizzes
Review key concepts with exam preparation tasks
Practice with realistic exam questions
Learn from more than two hours of video mentoring
CCNP and CCIE Data Center Core DCCOR 350-601 Official Cert Guide is the only self-study resource approved by Cisco. Expert authors Somit Maloo and Firas Ahmed share preparation hints and test-taking tips, helping you identify areas of weakness and improve both your conceptual knowledge and hands-on skills. Material is presented in a concise manner, focusing on increasing your understanding and retention of exam topics.
CCNP and CCIE Data Center Core DCCOR 350-601 Official Cert Guide presents you with an organized test-preparation routine through the use of proven series elements and techniques. Exam topic lists make referencing easy. Chapter-ending Exam Preparation Tasks help you drill on key concepts you must know thoroughly. Review questions help you assess your knowledge, and a final preparation chapter guides you through tools and resources to help you craft your final study plan.
The Premium Edition eBook contains access to more than two hours of personal video mentoring from the Pearson IT Certification Complete Video Course. Go to the back pages of your eBook for instructions on how to access the personal video mentoring content.
Well regarded for its level of detail, assessment features, and challenging review questions and exercises, this study guide helps you master the concepts and techniques that will enable you to succeed on the exam the first time.
This official study guide helps you master all the topics on the CCNP/CCIE Data Center Core DCCOR 350-601 exam, including
Network
Compute
Storage Network
Automation
Security
Sample Pages
Download the sample pages (includes Chapter 3)
Table of Contents
Introduction xxx
Part I Networking
Chapter 1 Implementing Routing in the Data Center 2
"Do I Know This Already?" Quiz 2
Foundation Topics 5
OSPF 5
OSPF Link-State Advertisements 6
OSPF Areas 9
Designated Routers and Backup Designated Routers 11
OSPF Authentication 11
OSPF Configurations and Verifications 12
Border Gateway Protocol 23
BGP Peering 24
BGP Path Selection 25
Step 1: Comparing Pairs of Paths 25
Step 2: Determining the Order of Comparisons 27
Step 3: Determining the Best-Path Change Suppression 27
Multiprotocol BGP 28
BGP Configurations and Verifications 28
Bidirectional Forwarding Detection 36
Rapid Detection of Failures 37
BFD Configurations and Verifications 37
Multicast 41
Internet Group Management Protocol 41
Switch IGMP Snooping 44
Multicast Listener Discovery 44
Multicast Distribution Trees 45
Protocol Independent Multicast 48
PIM Rendezvous Points 52
PIM Designated Routers/Forwarders 53
Multicast Forwarding 53
Multicast Configurations and Verifications 54
Hot Standby Router Protocol 68
Virtual Router Redundancy Protocol 72
VRRP Operation 72
VRRP Groups 74
VRRP Router Priority and Preemption 74
VRRP Authentication 75
VRRP Tracking 75
IPv6 First Hop Redundancy 76
HSRP/VRRP Configurations and Verifications 77
Exam Preparation Tasks 86
Chapter 2 Implementing Data Center Switching Protocols 90
"Do I Know This Already?" Quiz 90
Foundation Topics 93
Spanning Tree Protocols 93
STP Topology 93
STP Port Types 94
STP Extensions 94
STP Bridge Assurance 95
BPDU Guard 96
BPDU Filter 96
Loop Guard 96
Root Guard 97
Unidirectional Link Detection 97
Rapid PVST+ 98
Rapid PVST+ Ports 100
Spanning Tree Configurations and Verifications 102
Port Channels 117
Port Channel Load Balance 120
Virtual Port Channel 121
vPC Traffic Flows 124
vPC Dual-Control Plane 125
vPC Primary and Secondary Roles 126
vPC Configuration Consistency 127
vPC Duplicate Frames Prevention Mechanism 128
vPC HSRP Gateway Considerations 130
vPC ARP Synchronization 130
vPC Peer Gateway 130
Port Channel Configurations and Verifications 131
Exam Preparation Tasks 145
Chapter 3 Implementing Data Center Overlay Protocols 148
"Do I Know This Already?" Quiz 148
Foundation Topics 150
Overlay Transport Virtualization (OTV) 150
OTV Terminology 150
OTV Control Plane Function 151
Multicast-Enabled Transport Infrastructure 151
Unicast-Only Transport Infrastructure (Adjacency-Server Mode) 152
OTV Data Plane Function 154
Unicast Traffic over OTV 154
Multicast Traffic over OTV 156
Broadcast Traffic over OTV 156
Failure Isolation 157
STP Isolation 157
Unknown Unicast Handling 157
ARP Optimization 158
Broadcast Policy Control 159
Multihoming OTV 159
FHRP Isolation 162
OTV Configurations and Verifications 163
Virtual Extensible LAN (VXLAN) Overview 173
VXLAN Encapsulation and Packet Format 173
VXLAN Tunnel Endpoint 174
Virtual Network Identifier 175
VXLAN Control Plane 176
VXLAN Flood and Learn Multicast-Based Control Plane 176
VXLAN MPBGP EVPN Control Plane 178
VXLAN Gateways 178
VXLAN High Availability 179
VXLAN Tenant Routed Multicast 180
VXLAN Configurations and Verifications 182
Exam Preparation Tasks 191
Chapter 4 Describe Cisco Application Centric Infrastructure 194
"Do I Know This Already?" Quiz 194
Foundation Topics 196
Cisco Application Centric Infrastructure (ACI) Overview 196
Cisco Application Policy Infrastructure Controller 198
Cisco Nexus 9000 Series Spine and Leaf Switches for Cisco ACI 201
Cisco ACI Initial Setup, Fabric Discovery, Access Policy, and VMM Domains 204
Cisco ACI Initial Setup 204
Cisco ACI Fabric Discovery 209
Startup with Cisco ACI Fabric Discovery and Configuration 210
Fabric Upgrade 212
ACI Policy Model 212
Tenants 214
Virtual Routing and Forwarding Objects 214
Bridge Domains and Subnets 214
Endpoint Groups 215
Application Profiles 215
Microsegmentation 215
Attachable Entity Profile 216
Cisco ACI Fabric Policies 216
Cisco ACI Virtual Machine Manager Domains 222
Cisco ACI integration with Microsoft SCVMM 223
Cisco ACI Integration with VMware vCenter 224
Integrating VMware Overlays with the Cisco ACI 225
Cisco ACI Virtual Edge 225
Cisco ACI Fabric: Tenants and Packet Flow 225
Cisco ACI Tenants 227
Virtual Routing and Forwarding 228
Bridge Domain and Subnets 229
Application Profile 230
Endpoint Group 231
Microsegmentations 231
ACI Contract 231
Taboo Contracts 233
vzAny Rule 233
Filters and Subjects 236
Management Tenant 237
In-Band Management Access 237
Out-of-Band Management Access 238
ACI VXLAN 239
ACI Intersubnet Tenant Traffic 241
Policy Identification and Enforcement 242
ACI Fabric Traffic Storm Control 243
ACI Fabric Traffic Load Balance 243
ACI Fabric Loop Detection 244
ACI Design Best Practices 245
ACI LAB Configurations Example 245
Building ACI Fabric 248
Creating Tenant 251
Creating Contract and Filter 254
Deploying a Three-Tier Application 257
Integrating with vCenter 259
Exam Preparation Tasks 262
Chapter 5 Cisco Cloud Services and Deployment Models 264
"Do I Know This Already?" Quiz 264
Foundation Topics 266
What Is Cloud Computing? 266
Cloud Service Models 269
Software as a Service 269
Platform as a Service 270
Infrastructure as a Service 270
Cloud Deployment Models 272
Private Cloud 272
Public Cloud 272
Hybrid Cloud 273
Community Cloud 274
Exam Preparation Tasks 274
Chapter 6 Data Center Network Management and Monitoring 276
"Do I Know This Already?" Quiz 276
Foundation Topics 278
Cisco Nexus NX-OS Software Installation, Updates, and Their Impacts 278
PowerOn Auto Provisioning (POAP) 283
Data Center Infrastructure Software Lifecycle Management 287
Nexus Software Maintenance Upgrade 287
Programmable Logical Devices Upgrade 289
Graceful Insertion and Removal 291
Nexus Nondisruptive In-Service Software Upgrade 295
Nexus Disruptive and Nondisruptive Upgrade/Downgrade Procedure 299
Nexus Configuration Management 303
NX-OS Configuration Save and Backup 303
Nexus Config Rollback and Checkpoint 303
Network Infrastructure Monitoring 306
NX-OS System Message Logging 306
Network Time Management 307
Network Time Protocol 307
Precision Time Protocol 313
NX-OS Simple Network Management Protocol 317
Nexus Smart Call Home 324
Nexus NetFlow 325
Switched Port Analyzer 330
Streaming Telemetry 337
Network Assurance Concept 341
Exam Preparation Tasks 344
Part II Storage
Chapter 7 Implement Fibre Channel 346
"Do I Know This Already?" Quiz 346
Foundation Topics 349
Fibre Channel Basics 349
Fibre Channel Topologies 350
Fibre Channel Port Types 353
E Port 353
F Port 354
NP Ports 354
TE Port 354
TF Port 354
TNP Port 354
Fx Port 354
Auto Mode 354
Fibre Channel Addressing 355
Flow Control 356
Switched Fabric Initialization 358
Principal Switch Selection 358
Domain ID Distribution 360
FCID Allocation 362
Fabric Reconfiguration 362
Device Registration: FLOGI, PLOGI, PRLI 362
FLOGI and FCNS Databases 363
CFS 364
CFS Features 365
CFS Fabric Lock 366
CFSoIP and CFSoFC 367
CFS Merge 368
CFS Regions 369
VSAN 370
VSAN Features 370
VSAN Attributes 372
VSAN Advantages 373
Dynamic Port VSAN Membership (DPVM) 373
VSAN Trunking 374
SAN Port Channels 381
Types of SAN Port Channels 381
Port Channel Load Balancing 383
Port Channel Modes 384
Zoning 389
Zoning Features 389
Zone Enforcement 391
Full and Active Zone Set 392
Autozone 395
Zone Merge 395
Smart Zoning 396
Enhanced Zoning 397
Device Alias 403
Device Alias Features 403
Device Alias Modes 404
Device Alias Distribution 405
Zone Aliases (FC Aliases) Versus Device Aliases 406
NPIV and NPV 409
Exam Preparation Tasks 416
Chapter 8 Implement FCoE Unified Fabric 418
"Do I Know This Already?" Quiz 418
Foundation Topics 420
FCoE Overview 420
Ethernet Enhancements 422
Priority-Based Flow Control (PFC) 422
Enhanced Transmission Selection (ETS) 423
Data Center Bridging Exchange (DCBX) 424
FCoE Frame Format 426
Virtual Fibre Channel (VFC) 428
FCoE Elements and Port Types 429
FCoE Addressing and Forwarding 431
FCoE Initialization Protocol (FIP) 432
Benefits of FCoE 435
FCoE Topology Options 435
FCoE Single-Hop Topology 435
FCoE Direct-Attached Topology 436
FCoE FEX Topology 437
FCoE Remote-Attached Topology 438
FCoE Multi-Hop Topology 438
FCoE Implementations 439
FCoE Configuration on Cisco Nexus 7000 Series Switches 440
Miscellaneous FCoE Configuration 441
FCoE Configuration on Cisco Nexus 5000 Series Switches 442
FCoE over FEX 444
FCoE NPV 445
FCoE Verification 448
Exam Preparation Tasks 457
Chapter 9 Describe NFS and NAS Concepts 460
"Do I Know This Already?" Quiz 460
Foundation Topics 461
Describe NFS Concepts 461
Describe NAS Concepts 463
NAS Benefits 465
Cisco NSS3000 Series Network Storage System 465
Exam Preparation Tasks 467
Chapter 10 Describe Software Management and Infrastructure Monitoring 470
"Do I Know This Already?" Quiz 470
Foundation Topics 472
Cisco MDS NX-OS Setup Utility 472
Cisco MDS NX-OS Software Upgrade and Downgrade 480
Nondisruptive Upgrade on a Cisco MDS Fabric Switch 482
Disruptive Upgrade on a Cisco MDS Fabric Switch 487
Nondisruptive Downgrade on a Cisco MDS Fabric Switch 490
Disruptive Downgrade on a Cisco MDS Fabric Switch 495
EPLD Upgrade on Cisco MDS 9000 Series Switches 498
Infrastructure Monitoring 503
System Messages 503
Call Home 504
Embedded Event Manager 505
RMON 505
SPAN 505
SPAN Configuration Example 508
Remote SPAN 509
Exam Preparation Tasks 511
Part III Compute
Chapter 11 Cisco Unified Computing Systems Overview 514
"Do I Know This Already?" Quiz 514
Foundation Topics 516
Cisco UCS Architecture 516
Cisco UCS Components and Connectivity 518
Cisco UCS 5108 Blade Server Chassis 520
UCS Blade Servers 520
Cisco UCS Rack Servers 521
Cisco UCS Storage Servers 521
Cisco UCS Mini 523
Cisco UCS Fabric Infrastructure 524
Cisco UCS 6454 Fabric Interconnect 524
Cisco UCS 6300 Series Fabric Interconnects 526
Fabric Interconnect and Fabric Extender Connectivity 527
Cisco UCS Virtualization Infrastructure 533
Cisco UCS Initial Setup and Management 536
Fabric Interconnect Connectivity and Configurations 544
Uplink Connectivity 546
Downlink Connectivity 546
Fabric Interconnect Port Modes 547
Fabric Failover for Ethernet: High-Availability vNIC 549
Ethernet Switching Mode 550
UCS Device Discovery 556
Chassis /FEX Discovery 556
Rack Server Discovery Policy 557
Initial Server Setup for Standalone UCS C-Series 557
Network Management 563
UCS Virtual LAN 563
Named VLANs 566
Private VLANs 570
UCS Identity Pools 571
Universally Unique Identifier Suffix Pools 572
MAC Pools 573
IP Pools 574
Server Pools 576
Service Profiles 577
UCS Server Policies 580
UCS Service Profile Templates 583
Quality of Service 589
QoS System Classes 589
QoS System Classes Configurations 590
Configuring Quality of Service Policies 591
UCS Storage 592
UCS SAN Connectivity 592
UCS SAN Configuration 596
Virtual Storage-Area Networks 597
Named VSANs Configurations 597
Zones and Zone Sets 599
World Wide Name Pool 603
SAN Connectivity Policies 605
Exam Preparation Tasks 606
Chapter 12 Cisco Unified Computing Infrastructure Monitoring 610
"Do I Know This Already?" Quiz 610
Foundation Topics 612
Cisco UCS System Monitoring 612
Data Management Engine 612
Application Gateway 613
Northbound Interfaces 614
Cisco UCS Monitoring Events and Logs 614
Cisco UCS Monitoring Policies 616
Cisco UCS Simple Network Management Protocol 618
Cisco UCS Call Home and Smart Call Home 619
Cisco UCS Manager Database Health and Hardware Monitoring 620
Cisco UCS NetFlow Monitoring 620
Traffic Monitoring 622
Traffic Monitoring Across Ethernet 623
Traffic Monitoring Across Fibre Channel 624
Cisco Intersight 629
Intersight Management as a Service 630
Intersight as a Telemetry Data Collection 632
Cisco Intersight Supported Software 632
Cisco Intersight Licensing 632
Exam Preparation Tasks 637
Chapter 13 Cisco Unified Compute Software and Configuration Management 640
"Do I Know This Already?" Quiz 640
Foundation Topics 642
Cisco UCS Configuration Management 642
Creating and Running a Backup Operation 643
Backup Policies 648
Backup Policy Configuration 648
Import Backups 650
Enable the Import Operation 651
System Restore 652
Restoring the Configuration for a Fabric Interconnect 653
UCS Firmware and Software Updates 654
Firmware Version Terminology 661
Firmware Upgrades Through Auto Install 662
Direct Upgrade After Auto Install Procedure 666
Install Infrastructure Firmware Procedure 670
Upgrading the Server Firmware with Auto Install 673
Standalone Cisco UCS C-Series Server Firmware Upgrade Using the Host Upgrade Utility (HUU) 675
Downloading and Preparing the ISO for an Upgrade 676
Exam Preparation Tasks 682
Chapter 14 Cisco HyperFlex Overview 684
"Do I Know This Already?" Quiz 684
Foundation Topics 686
Cisco HyperFlex Solution and Benefits 686
HyperFlex Benefits 689
Intelligent End-to-End Automation 690
Unified Management for All Workloads 691
Independent Resource Scaling 692
Superior Virtual Machine Density with Lower and Consistent Latency 693
HyperFlex as an Edge, Hybrid, and All-Flash Nodes 694
HyperFlex as an Edge Device 694
HyperFlex Hyperconverged Multicloud Platform (Hybrid or All-Flash) 696
HyperFlex All NVMe 697
Cisco HyperFlex Data Platform 698
HX Storage Cluster Physical Components 699
HX Data Platform High Availability 700
HX Data Platform Cluster Tolerated Failures 701
HX Data Platform Ready Clones 701
HX Data Platform Native Snapshots 701
HX Cluster Interfaces 702
HX Self-Encrypting Drives 702
Configuring a Local Encryption Key 703
Managing HX Disks in the Cluster 703
Managing HX Datastores 706
Expand Cisco HX System Clusters 707
Enabling HX Logical Availability Zones 708
Exam Preparation Tasks 710
Part IV Automation
Chapter 15 Automation and Scripting Tools 712
"Do I Know This Already?" Quiz 712
Foundation Topics 715
EEM Overview 715
Policies 715
Event Statements 716
Action Statements 716
Configuring EEM 717
Verifying the EEM Configuration 718
Scheduler 718
Configuring Scheduler 719
Verifying Scheduler Configuration 721
Bash Shell for Cisco NX-OS 722
Managing Feature RPMs 724
Managing Patch RPMs 724
Guest Shell for Cisco NX-OS 725
Accessing the Guest Shell 725
Resources Used for the Guest Shell 726
Capabilities in the Guest Shell 726
Managing the Guest Shell 728
XML 730
Example 731
XML Syntax 732
JSON 733
Rest API 734
Authentication 735
Response 736
NX-API 737
NX-API Request and Response Elements 739
NX-API Developer Sandbox 741
Exam Preparation Tasks 742
Chapter 16 Evaluate Automation and Orchestration Technologies 744
"Do I Know This Already?" Quiz 745
Foundation Topics 747
Ansible 747
Ansible Components 748
Important Ansible Concepts 749
Ansible CLI Tools 750
Cisco NX-OS and Ansible Example 750
Puppet 751
Puppet Workflow 752
Puppet and NX-OS Environment Integration 753
Puppet Master Installation 754
Puppet Agent Installation 754
Resource Types 756
Sample Manifest: OSPF 756
Puppet and Cisco UCS Manager Integration 757
Python 758
Python Package for Cisco 758
Using the CLI Command APIs 760
Python in Interactive Mode 761
Python in Noninteractive Mode 762
UCS Manager Python SDK 764
Convert to UCS Python 766
PowerOn Auto Provisioning (POAP) 767
Limitations of POAP 767
Network Requirements for POAP 767
POAP Configuration Script 768
POAP Process 768
Power-Up Phase 770
USB Discovery Phase 770
DHCP Discovery Phase 770
Script Execution Phase 772
Post-Installation Reload Phase 772
Configuring a Switch Using POAP 772
Cisco DCNM 772
Feature Details and Benefits 774
Cisco DCNM Web User Interface 779
Cisco UCS Director 782
Automation and Orchestration with Cisco UCS Director 783
Features and Benefits 784
Cisco UCS Director System Setup 785
PowerShell 787
Installing the Cisco UCS Director PowerShell Agent 787
Executing PowerShell Agent Commands 788
Exam Preparation Tasks 789
Part V Security
Chapter 17 Network Security 792
"Do I Know This Already?" Quiz 792
Foundation Topics 794
Authentication, Authorization, and Accounting 794
AAA Service Configuration Options 796
Authentication and Authorization User Login Process 797
AAA NX-OS Configurations 798
Role-Based Access Control 801
NX-OS User Roles and Rules 803
NX-OS RBAC Configurations 805
Nexus First-Hop Security 809
Nexus Dynamic ARP Inspection 810
NX-OS DAI Configurations 813
NX-OS DHCP Snooping 821
DHCP Snooping Trusted and Untrusted Sources 821
DHCP Snooping Packet Validation 822
DHCP Snooping Option 82 Data Insertion 823
NX-OS DHCP Snooping Configuration 823
Port Security 826
Nexus Port Secure MAC Address Maximum and Dynamic
Address Aging 827
Port Security Violations and Actions 828
Nexus Port Types and Port Security 829
NX-OS Port Security Configuration 829
Nexus Control Plane Policing 831
Control Plane Packet 833
Classification for CoPP 834
Rate-Controlling Mechanisms 834
Modular QoS Command-Line Interface 836
NX-OS CoPP Configuration 838
Cisco ACI Contracts 845
Cisco ACI Contract Configuration Parameters 847
Create, Modify, or Remove Regular Contracts 848
Apply or Remove VRF Contracts 850
Inter-Tenant Contracts 851
Inter-Private Network Contracts Communication 852
Single Contract Bidirectional Reverse Filter 853
Single Contract Unidirectional with Multiple Filters 853
Multiple Contracts Unidirectional Single Filter 854
ACI Microsegmentation 854
Example: ACI Microsegmentation with VMs from a Single Application EPG 856
Example: ACI Microsegmentation with VMs in Different Application EPGs 857
ACI Microsegmentation Configurations 858
Exam Preparation Tasks 862
Chapter 18 Compute Security 864
"Do I Know This Already?" Quiz 864
Foundation Topics 865
Securing UCS Management Using Authentication, Authorization, and
Accounting 865
User RADIUS and TACACS+ Attributes 866
Two-Factor Authentication 869
UCS Web Session Refresh and Session Timeout Period 869
UCS LDAP Providers and Groups 869
LDAP Group Mapping 875
RADIUS and TACACS+ Authentication Configurations 878
UCS Remote Users Role Policy 882
Multiple Authentication Services Configuration 884
Keychains Authentication 884
NX-OS Keychain Configurations 885
Key Selection 888
Exam Preparation Tasks 889
Chapter 19 Storage Security 892
"Do I Know This Already?" Quiz 892
Foundation Topics 894
Authentication, Authorization, and Accounting 894
Authentication 895
Authorization 895
Accounting 896
Server Groups 896
AAA Service Configuration Options 896
AAA Server Monitoring 896
Remote AAA Services 897
RADIUS 898
TACACS+ 900
LDAP 903
Local AAA Services 907
AAA Authentication and Authorization Process 908
AAA Server Distribution 909
Merging RADIUS and TACACS+ Configurations 910
User Accounts and RBAC 910
User Roles 911
Rules 911
User Role Policies 913
RBAC Sample Configuration 914
Port Security 915
Port Security Configuration 917
Method 1: Manual Database Configuration 917
Method 2: Auto-Learning Without CFS Distribution 918
Method 3: Auto-Learning with CFS Distribution 919
Verification of Port Security 920
Fabric Binding 922
Fabric Binding Configuration 922
Port Security Versus Fabric Binding 924
Exam Preparation Tasks 925
Chapter 20 Final Preparation 928
Getting Ready 928
Tools for Final Preparation 929
Pearson Test Prep Practice Test Software and Questions on the Website 929
Accessing the Pearson Test Prep Software Online 929
Accessing the Pearson Test Prep Software Offline 929
Customizing Your Exams 930
Updating Your Exams 931
Premium Edition 931
Chapter-Ending Review Tools 932
Learn the Question Types Using the Cisco Certification Exam Tutorial 932
Suggested Plan for Final Review/Study 936
Summary 936
Appendix A Answers to the "Do I Know This Already?" Quizzes 938
Appendix B CCNP and CCIE Data Center Core DCCOR 350-601 Official Cert Guide Exam Updates 952
Glossary 954
Online Elements
Glossary
Appendix C Memory Tables
Appendix D Memory Tables Answer Key
Appendix E Study Planner
9780136449621 TOC 1/30/2019
Errata
We've made every effort to ensure the accuracy of this book and its companion content. Any errors that have been confirmed since this book was published can be downloaded below.
Download the errata (12 MB .doc)
Other Things You Might Like

eBook (Watermarked) $38.39

Book $47.99

By Matthew Baker, Brandon Beck, Doron Chosnek, Jason McGee, Sean McKeown, Bradley TerEick, Mohit Vaswani
eBook (Watermarked) $31.99