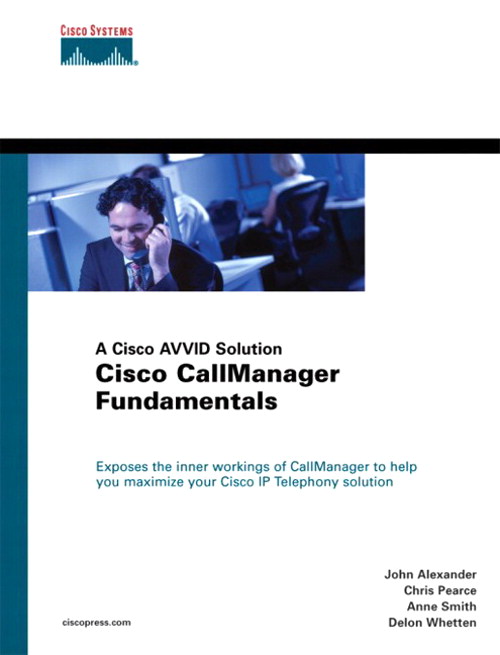 Share
|



Register your product to gain access to bonus material or receive a coupon.
Cisco CallManager Fundamentals: A Cisco AVVID Solution
Book
Sorry, this book is no longer in print.
Copyright 2002
Edition: 1st
Book
ISBN-10: 1-58705-008-0
ISBN-13: 978-1-58705-008-4
Exposes the inner workings of CallManager to help you maximize your Cisco IP Telephony solution
Learn how to deploy and manage a CallManager solution
Understand how CallManager processes information through detailed architectural examples and descriptions
Understand the components that make up CallManager call routing through the use of basic to advanced examples that solve enterprise call routing problems
Learn detailed information about North American and international dial plans, trunk and station devices, media resources, managing and monitoring CallManager, and call detail records
Cisco CallManager Fundamentals provides examples and reference information about CallManager, the call processing component of the Cisco AVVID (Architecture for Voice, Video, and Integrated Data) IP Telephony solution. Cisco CallManager Fundamentals uses examples and architectural descriptions to explain how CallManager processes calls. This book details the inner workings of CallManager so that those responsible for designing and maintaining a Voice over IP (VoIP) solution from Cisco Systems can understand the role each component plays and how they interrelate. You'll learn detailed information about hardware and software components, call routing, media processing, system management and monitoring, and call detail records. The authors, all members of the CallManager group at Cisco Systems, also provide a list of features and Cisco solutions that integrate with CallManager. This book is the perfect resource to supplement your understanding of CallManager.
Online Sample Chapter
Cisco CallManager Architecture
Downloadable Sample Chapter
Download - 2.09 MB -- Chapter 1: Cisco CallManager Architecture
Table of Contents


1. Cisco CallManager Architecture.

Circuit-Switched Systems. Cisco AVVID IP Telephony Networks. Enterprise Deployment of Cisco CallManager Clusters.
2. Call Routing.
The Three Responsibilities of Call Routing. The Seven Fundamentals of Call Routing. Route Patterns and Route Filters. Dialing Transformations. Translation Patterns. Route Lists and Route Groups. Calling Search Spaces and Partitions. Case Studies. Miscellaneous Solutions. The North American Numbering Plan. Troubleshooting.
3. Station Devices.
Definition of Station Devices. Overview of Station Devices Supported by Cisco CallManager. Skinny Station Devices. Computer Telephony Interface (CTI) Devices. H.323 Endpoint Devices. Implementation of TFTP for Station Devices.
4 Trunk Devices.
Overview of Trunk Devices. H.323 Gatekeeper and Gateway. H.323 Features. MGCP Gateways. Cluster-to-Cluster Communication. Initialization, Recovery, and Device Registration. ISDN Timers. H.323 Implementation Details. Troubleshooting.
5. Media Processing.
Media Processing Overview. Architecture and Functionality of the Media Control Layer.
6. Manageability and Monitoring Tools.
Manageability Tools. Monitoring Tools.
7. Call Detail Records.
Overview of CDR Data. Creation and Usage of CDR Data. Storage and Maintenance of CDR Data. Understanding Field Data in CDRs. Understanding Field Data in CMRs. Identifying CDR Data Generated for Each Call Type. Accessing CDR Data in the Central CDR Database. Hints on Processing CDR Data. Troubleshooting CDR Data Generation and Storage.
Appendix A. Feature List.
Cisco CallManager Feature List.
Appendix B. Cisco Integrated Solutions.
Administrative Reporting Tool (ART). Bulk Administration Tool (BAT). Tool for Auto-Registered Phone Support (TAPS). Cisco CallManager Serviceability. Admin. Serviceability Tool (AST). Cisco DPA Voice Mail Gateways. Cisco Customer Response. Cisco IP Contact Center (IPCC). Cisco IP Integrated Contact Distribution (IP ICD). Cisco IP Phone Productivity Services Software Development Kit (Cisco XML SDK). Cisco IP Videoconferencing (Cisco IP/VC). Cisco Personal Assistant. Cisco Unity. CiscoWorks2000. Cisco Applications Software Development Kit (SDK). Cisco IP Auto Attendant (Cisco IP AA). Cisco Interactive Voice Response (IVR). Cisco IP Phone User Options Web Page. Cisco IP SoftPhone. Cisco Messaging Interface (CMI). Cisco WebAttendant. Lightweight Directory Access Protocol (LDAP) Support.
Appendix C. Glossary.
Index
Download - 468 KB -- Index
Other Things You Might Like

Book $55.99

eBook (Watermarked) $44.79