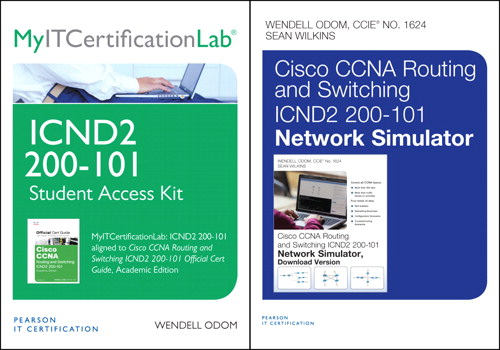 Share
|



Register your product to gain access to bonus material or receive a coupon.
Cisco CCNA R&S ICND2 200-101 OCG, AE and Network Simulator and MyITCertificationlab Bundle
ValuePack
Sorry, this book is no longer in print.
Copyright 2013
Edition: 1st
ValuePack
ISBN-10: 1-58714-410-7
ISBN-13: 978-1-58714-410-3
&>Cisco CCNA Routing and Switching ICND2 200-101 Official Cert Guide, Academic Edition as well as other visual learning tools. After reviewing the learning materials, you take another test to be sure you understand those objective concepts and that you are ready for the actual exam.
When you have completed all the objectives, you can take two full-length practice exams, providing you a measurement on your exam readiness and helping you fully prepare for the real Cisco ICND2 exam experience.
In addition to the practice tests and personalized study plans, this product includes a complete ebook of the Cisco CCNA Routing and Switching ICND2 200-101 Official Cert Guide, Academic Edition.
The MyITCertificationLab: ICND2 200-101an Academic package designed for instructor-led classroom environments.
CCNA ICND2 200-101 Official Cert Guide, Academic Edition, is a comprehensive textbook and study package for an intermediate-level networking course. This book has been completely revised to align to Cisco's new CCNA 200-101 ICND2 exam. Material is presented in a concise manner, focusing on increasing student's retention and recall of exam topics. The book is printed in four color, allowing students to benefit from carefully crafted figures that utilize color to convey concepts. Students will organize their study through the use of the consistent features in these chapters, including:
Foundation Topics — These sections make up the majority of the page count, explaining concepts, configurations, with emphasis on the theory and concepts, and with linking the theory to the meaning of the configuration commands.
Key Topics — Inside the Foundation Topics sections, every figure, table, or list that should absolutely be understood and remembered for the exam is noted with the words "Key Topic" in the margin. This tool allows the reader to quickly review the most important details in each chapter.
Chapter-ending Summaries — These bulleted lists provide a quick and concise review of the key topics covered in each chapter.
Chapter-ending Review Questions — Each chapter provides a set of multiple choice questions that help student's test their knowledge of the chapter concepts, including answers and full explanations.
Chapter-ending Exercises — Each chapter concludes with a series of exercises designed to help students increase their retention of the chapter content including key term reviews, key topic tables, command review exercises, and memory table exercises.
Part Reviews — This new edition includes a new part review feature that helps students consolidate their knowledge of concepts presented across multiple chapters. A new mind mapping exercise helps students build strong mental maps of concepts. A new exam bank of part review questions helps students test themselves with scenario-based questions that span multiple topics.
In addition to these powerful chapter learning, review, and practice features, this book also contains several other features that make it a truly effective and comprehensive study package, including:
A Getting Started chapter at the beginning of the book offer terrific advice for how to use the book features and build an effective study plan.
The DVD contains over 60 minutes of video mentoring from the author on challenging topics such as OSPF, EIGRP, EIGRP Metrics, PPP, and CHAP.
The book comes complete with the CCNA ICND2 Network Simulator Lite software, providing students with the opportunity to practice their hands-on command line interface skills with Cisco routers and switches. The 13 labs included for free with this product cover a range of EIGRP configuration and troubleshooting exercises.
The Pearson IT Certification Practice Test software that comes with the book includes 4 full ICND2 exams and 4 full CCNA exams, providing tons of opportunities to assess and practice. Including the book review questions and part review questions, the exam bank includes more than 500 unique practice questions.
A Final Preparation Chapter helps students review for final exams and prepare to take the official Cisco CCNA exams, if they want to achieve that certification.
A Study Plan Template is included on the DVD to help students organize their study time.
The 1 hour 14 minute presentation found at the following link was given by Wendell Odom to cover "Teaching the New CCENT ICND1 100-101 & CCNA ICND2 200-101 Exam Material." http://bit.ly/OdomCCENTCCNA
Cisco CCNA Routing and Switching ICND2 200-101 Network Simulator helps you develop and improve hands-on configuration and troubleshooting skills without the investment in expensive lab hardware. This state-of-the-art, interactive simulation software enables you to practice your networking skills with almost 150 structured labs designed to help you learn by doing, the most effective method of learning. Topics covered include router and switch navigation and administration, SNMP, syslog, IOS licensing, VLANs, STP, Etherchannel, EIGRP, OSPFv2, OSPFv3, IPv6 routing, HSRP, serial and serial link configuration, Frame Relay, VLSM route selection, password recovery, Netflow, GLBP, path analysis, routing analysis, IPv4 and IPv6 addressing, NAT, and network troubleshooting.
Experience realistic network device responses as you perform each lab, which include detailed instructions, topology diagrams, critical-thinking questions, hints, and answers. Working through the labs, you will quickly become proficient with all the common Cisco IOS version 15 router and switch commands on the CCNA Routing and Switching ICND2 exam. Choose from almost 150 labs organized by lab type or by topic. Track your progress with the lab status indicator, and use the new search feature to search for commands and keywords. Review lab objectives and step-by-step instructions within each lab, opening hints and tips sections that help you when you get stuck. Record your observations on device performance in interactive tables. Enter answers to critical thinking questions and get instant feedback to verify your work. Access performance reports in this easy-to-navigate grade history screen, which store all your attempts on each lab. View device configuration details, lab question performance, time to complete each lab, and CLI activity for each device in every lab. Export lab results to PDF files for easy sharing.
Unlike other simulators on the market, the lab scenarios included in the Cisco CCNA Routing and Switching ICND2 200-101 Network Simulator are far more complex, challenging you to learn how to perform real-world network configuration and troubleshooting tasks.
Minimum System Requirements:
• Microsoft Windows XP (SP3), Windows Vista (32-bit/64-bit) with SP1, Windows 7
(32-bit/64-bit) or Windows 8 (32-bit/64-bit, Desktop UI only)
• Mac OS X 10.6, 10.7, or 10.8
• Intel Pentium III 1GHz or faster processor
• 512MB RAM (1GB recommended)
• 500MB hard disk space
• 32-bit color depth at 1024x768 resolution
• Adobe Acrobat Reader version 8.1 and above
• Connection to the Internet during installation for access code validation
Other applications installed during installation:
• Adobe AIR 3.8
• Captive JRE 6
This product is a single-user license desktop software application.
Other Things You Might Like

By Zig Zsiga
Premium Edition eBook $63.99