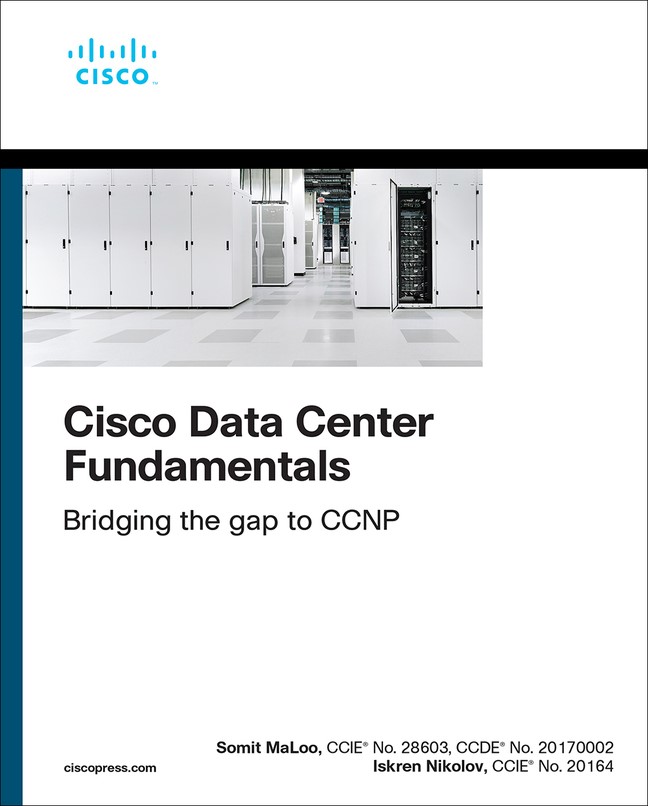 Share
|



Register your product to gain access to bonus material or receive a coupon.
Cisco Data Center Fundamentals
eBook (Watermarked)
Your Price: $47.99

This PDF will be accessible from your Account page after purchase and requires the free Adobe® Reader® software to read it.

The eBook requires no passwords or activation to read. We customize your eBook by discreetly watermarking it with your name, making it uniquely yours.
Copyright 2023
Pages: 736
Edition: 1st
eBook (Watermarked)
ISBN-10: 0-13-763831-0
ISBN-13: 978-0-13-763831-4
Get ready to configure and operate modern data centers—and move up to high-value CCNP Data Center (DC) certification
Cisco Data Center Fundamentals is the complete guide for network engineers and other professionals who need a solid understanding of modern data center technologies. Especially useful for those preparing for the Cisco DCCOR exam and Cisco Certified Network Professional (CCNP) Data Center certification, it fully addresses the essentials of networking, storage, compute, and automation in today's data center environments.
Authored by two long-time experts in operating Cisco data centers and developing official Learning@Cisco training for them, this guide explains each concept step by step, balancing depth and breadth, and maximizing clarity throughout. The authors go far beyond introducing relevant products, protocols, and features. They illuminate underlying technologies, identify key interdependencies, walk through configuring working solutions, and truly help prepare you to set up and operate a modern data center.
Gain a holistic, unified understanding of the data center and its core components
Walk through installation and deployment of key data center technologies
Explore potential applications to see what's possible in your environment
Learn how Cisco switches and software implement data center networking and virtualization
Discover and apply data center network design and security best practices
Review Cisco data center storage technologies and concepts, including Fibre Channel, VSANs, storage virtualization, and FCoE
Explore the building blocks of the Cisco UCS data center compute solution, and how UCS uses hardware abstraction and server virtualization
Use automation and APIs to improve data center productivity and agility
Create and customize scripts for rapid troubleshooting
Understand cloud computing for the data center: services, deployment models, and the Cisco Intersight hybrid cloud operations platform
Table of Contents
Introduction xxiv
Part I Networking
Chapter 1 Data Center Architectures 1
Data Center Basics 1
Cisco Unified Data Center Platform 4
Data Center Network Infrastructure 6
Data Center Storage Infrastructure 10
Data Center Computing Infrastructure 12
Summary 19
References 20
Chapter 2 Describing the Cisco Nexus Family and Cisco NX-OS Software 21
Cisco Nexus Data Center Product Overview 21
Cisco FEX Overview 35
Cisco NX-OS Software Architecture 44
Exploring Cisco NX-OS CLI 48
Summary 61
References 62
Chapter 3 Describing Layer 3 First-Hop Redundancy 65
Default Gateway Redundancy 65
Hot Standby Router Protocol 68
Virtual Router Redundancy Protocol 78
Gateway Load Balancing Protocol 82
Summary 86
References 86
Chapter 4 Port Channels and vPCs 87
Ethernet Port Channels 88
Virtual Port Channels 93
Summary 124
References 125
Chapter 5 Switch Virtualization 127
Cisco Nexus Switch Functional Planes 127
Cisco Nexus Switch Process Separation and Restartability 132
Virtual Routing and Forwarding (VRF) 134
Cisco Nexus 7000 VDCs 144
Summary 177
References 177
Chapter 6 Nexus Switch Routing 179
Routing Fundamentals 179
RIPv2 on NX-OS 190
EIGRP on NX-OS 198
OSPFv2 on NX-OS 210
Multicast Fundamentals 227
Multicast Configuration on NX-OS 240
Summary 254
References 255
Chapter 7 Network Virtualization 257
Overlay Network Protocols 257
Network Interface Virtualization Using FEX 286
VMware vSphere Virtual Switches 287
Summary 291
References 292
Contents xv
Chapter 8 Describing Cisco ACI 295
Cisco ACI Overview 295
Cisco ACI Building Blocks 299
Cisco ACI Deployment Models 303
Cisco ACI Hardware 307
ACI Startup Discovery 313
Cisco ACI Policy Model 314
Packet Forwarding within the ACI Fabric 327
Summary 328
References 330
Chapter 9 Operating Cisco ACI 333
Cisco ACI External Connectivity Options 333
Cisco ACI and VMM Integration 339
Cisco ACI and L4L7 Integration 342
Cisco ACI Management and Automation 343
Cisco ACI Anywhere 352
Cisco Nexus Dashboard 356
Summary 358
References 359
Part II Storage
Chapter 10 Data Center Storage Concepts 361
Storage Connectivity Options in the Data Center 361
Fibre Channel Storage Networking 376
Internet Small Computer System Interface (iSCSI) 383
NVM Express and NVM Express over Fabrics 385
Cisco MDS Product Overview 389
Summary 401
Reference 402
Chapter 11 Fibre Channel Protocol Fundamentals 403
Fibre Channel Layered Model 403
Building the Switched Fabric 412
Fibre Channel Flow Control 419
Fabric Shortest Path First 421
Summary 423
Reference 424
Chapter 12 Describing VSANs and Fibre Channel Zoning 425
VSAN Overview 425
VSAN Configuration 430
Fibre Channel Zoning 439
Zoning Configuration 441
Zoning Management 448
Summary 451
Reference 453
Chapter 13 Storage Virtualization 455
Cisco Fibre Channel NPIV Feature 456
Cisco Fibre Channel NPV Mode 460
Summary 469
Reference 470
Chapter 14 Describing Data Center Ethernet Enhancements 471
IEEE Data Center Bridging 472
Priority Flow Control 472
Enhanced Transmission Selection 475
DCBX Protocol 476
Summary 478
References 478
Chapter 15 Describing FCoE 479
Cisco Unified Fabric 479
FCoE Architecture 482
FCoE Initialization Protocol 488
FCoE Configuration 490
Summary 495
References 496
Part III Compute
Chapter 16 Describing Cisco UCS Components 497
Cisco UCS Components 497
Cisco UCS Fabric Interconnect Product Overview 503
Cisco UCS Blade Chassis 506
Cisco IOM Product Overview 509
Cisco UCS B-Series Servers 510
Cisco UCS C-Series Servers and the Cisco IMC Supervisor 514
Cisco UCS S-Series Storage Server 521
Cisco HyperFlex Data Platform 524
Cisco UCS X-Series Modular System 527
Summary 529
References 530
Chapter 17 Describing Cisco UCS Abstraction 531
Cisco UCS Manager Overview 532
Exploring the Cisco UCS Server Environment 543
Identity and Resource Pools for Hardware Abstraction 548
Service Profiles and Service Profile Templates 552
Cisco UCS Polices for Use in Service Profiles 555
Cisco UCS Service Profile Configuration 556
Cisco UCS Central Overview 564
Summary 566
References 568
Chapter 18 Server Virtualization 569
Virtual Machine 569
Hypervisor 574
Virtual Switch 575
VMware vSphere 576
VMware ESXi Installation 582
VMware vCenter Installation 592
Summary 611
References 612
Part IV Automation
Chapter 19 Using APIs 613
Common Programmability Protocols and Methods 613
Configuring Cisco NX-OS with APIs 624
Exploring the Cisco UCS Manager XML API Management Information Tree 626
Summary 629
Reference 629
Chapter 20 Automating the Data Center 631
Automation Basics 631
Automation and Orchestration Technologies 634
Choosing the Automation Toolset 642
Summary 643
Reference 644
Part V Cloud
Chapter 21 Cloud Computing 645
Cloud Computing Overview 645
Cloud Computing Services 653
Cloud Deployment Models 660
Cisco Intersight 666
Summary 669
References 671
9780137638246, TOC, 8/29/2022
Other Things You Might Like

By Matthew Baker, Brandon Beck, Doron Chosnek, Jason McGee, Sean McKeown, Bradley TerEick, Mohit Vaswani
eBook (Watermarked) $31.99


eBook (Watermarked) $38.39