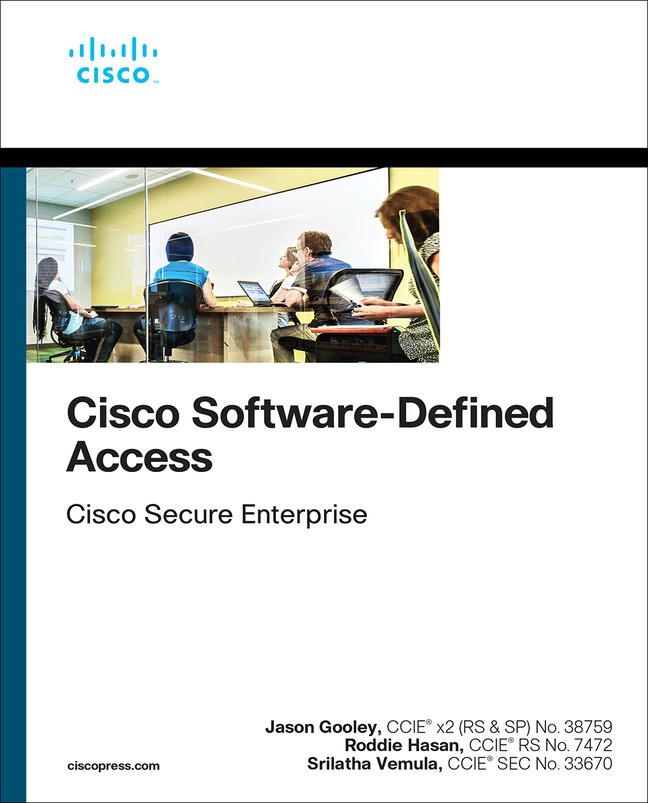 Share
|




Register your product to gain access to bonus material or receive a coupon.
Cisco Software-Defined Access
eBook (Watermarked)
Your Price: $38.39
List Price: $47.99
Includes EPUB, MOBI, and PDF

This eBook includes the following formats, accessible from your Account page after purchase:

EPUB The open industry format known for its reflowable content and usability on supported mobile devices.

MOBI The eBook format compatible with the Amazon Kindle and Amazon Kindle applications.

PDF The popular standard, used most often with the free Adobe® Reader® software.

This eBook requires no passwords or activation to read. We customize your eBook by discreetly watermarking it with your name, making it uniquely yours.
Copyright 2021
Pages: 352
Edition: 1st
eBook (Watermarked)
ISBN-10: 0-13-644830-5
ISBN-13: 978-0-13-644830-3
The definitive Cisco SD-Access resource, from the architects who train Ciscos own engineers and partners

This comprehensive book guides you through all aspects of planning, implementing, and operating Cisco Software-Defined Access (SD-Access). Through practical use cases, youll learn how to use intent-based networking, Cisco ISE, and Cisco DNA Center to improve any campus networks security and simplify its management.

Drawing on their unsurpassed experience architecting solutions and training technical professionals inside and outside Cisco, the authors explain when and where to leverage Cisco SD-Access instead of a traditional legacy design. They illuminate the fundamental building blocks of a modern campus fabric architecture, show how to design a software-defined campus that delivers the most value in your environment, and introduce best practices for administration, support, and troubleshooting.

Case studies show how to use Cisco SD-Access to address secure segmentation, plug and play, software image management (SWIM), host mobility, and more. The authors also present full chapters on advanced Cisco SD-Access and Cisco DNA Center topics, plus detailed coverage of Cisco DNA monitoring and analytics.
Learn how Cisco SD-Access addresses key drivers for network change, including automation and security
Explore how Cisco DNA Center improves network planning, deployment, evolution, and agility
Master Cisco SD-Access essentials: design, components, best practices, and fabric construction
Integrate Cisco DNA Center and Cisco ISE, and smoothly onboard diverse endpoints
Efficiently operate Cisco SD-Access and troubleshoot common fabric problems, step by step
Master advanced topics, including multicast flows, Layer 2 flooding, and the integration of IoT devices
Extend campus network policies to WANs and data center networks
Choose the right deployment options for Cisco DNA Center in your environment
Master Cisco DNA Assurance analytics and tests for optimizing the health of clients, network devices, and applications
Sample Pages
Download the sample pages (includes Chapter 1)
Table of Contents
Introduction xvii
Chapter 1 Todays Networks and the Drivers for Change 1
Networks of Today 1
Common Business and IT Trends 4
Common Desired Benefits 5
High-Level Design Considerations 6
Cisco Digital Network Architecture 10
Past Solutions to Todays Problems 12
Spanning-Tree and Layer 2Based Networks 13
Introduction to Multidomain 16
Cloud Trends and Adoption 18
Summary 20
Chapter 2 Introduction to Cisco Software-Defined Access 21
Challenges with Todays Networks 22
Software-Defined Networking 22
Cisco Software-Defined Access 23
Cisco Campus Fabric Architecture 24
Campus Fabric Fundamentals 25
Cisco SD-Access Roles 27
Network Access Control 30
Why Network Access Control? 31
Introduction to Cisco Identity Services Engine 32
Overview of Cisco Identity Services Engine 32
Cisco ISE Features 34
Secure Access 34
Device Administration 37
Guest Access 38
Profiling 40
Bring Your Own Device 45
Compliance 46
Integrations with pxGrid 48
Cisco ISE Design Considerations 50
Cisco ISE Architecture 50
Cisco ISE Deployment Options 51
Standalone Deployment 51
Distributed Deployment 51
Dedicated Distributed Deployment 52
Segmentation with Cisco TrustSec 54
Cisco TrustSec Functions 54
Classification 55
Propagation 55
Enforcement 57
Summary 58
Chapter 3 Introduction to Cisco DNA Center 59
Network Planning and Deployment Trends 59
History of Automation Tools 60
Cisco DNA Center Overview 62
Design and Visualization of the Network 64
Site Design and Layout 64
Network Settings 69
Wireless Deployments 70
Network Discovery and Inventory 72
Discovery Tool 72
Inventory 74
Device Configuration and Provisioning 77
Summary 79
Chapter 4 Cisco Software-Defined Access Fundamentals 81
Network Topologies 81
Cisco Software-Defined Access Underlay 82
Manual Underlay 83
Automated Underlay: LAN Automation 84
Wireless LAN Controllers and Access Points in Cisco Software-Defined Access 89
Shared Services 90
Transit Networks 91
IP-Based Transit 91
SD-Access Transit 92
Fabric Creation 92
Fabric Location 93
Fabric VNs 94
Fabric Device Roles 94
Control Plane 95
Fabric Borders 96
Border Automation 98
Border and Control Plane Collocation 99
Fabric Edge Nodes 100
Intermediate Nodes 103
External Connectivity 104
Fusion Router 104
Host Onboarding 105
Authentication Templates 105
VN to IP Pool Mapping 106
SSID to IP Pool Mapping 108
Switchport Override 109
Summary 110
References in This Chapter 110
Chapter 5 Cisco Identity Services Engine with Cisco DNA Center 111
Policy Management in Cisco DNA Center with Cisco ISE 112
Integration of Cisco DNA Center and ISE 113
Certificates in Cisco DNA Center 113
Certificates on Cisco Identity Services Engine 115
Cisco ISE and Cisco DNA Center Integration Process 116
Group-Based Access Control 122
Segmentation with Third-Party RADIUS Server 126
Secure Host Onboarding in Enterprise Networks 128
Endpoint Host Modes in 802.1X 128
Single-Host Mode 128
Multi-Host Mode 128
Multi-Domain Mode 129
Multi-Auth Mode 129
802.1X Phased Deployment 130
Why a Phased Approach? 131
Phase I: Monitor Mode (Visibility Mode) 132
Phase II: Low-Impact Mode 133
Phase II: Closed Mode 134
Host Onboarding with Cisco DNA Center 136
No Authentication Template 137
Open Authentication Template 138
Closed Authentication 140
Easy Connect 141
Security in Cisco Software-Defined Access Network 144
Macro-Segmentation in Cisco SD-Access 144
Micro-Segmentation in Cisco SD-Access 145
Policy Set Overview in Cisco ISE 146
Segmentation Policy Construction in Cisco SD-Access 148
Corporate Network Access Use Case 149
Guest Access Use Case 159
Segmentation Outside the Fabric 164
Summary 164
References in This Chapter 165
Chapter 6 Cisco Software-Defined Access Operation and Troubleshooting 167
Cisco SD-Access Under the Covers 167
Fabric Encapsulation 167
LISP 168
VXLAN 171
MTU Considerations 172
Host Operation and Packet Flow in Cisco SD-Access 172
DHCP in Cisco SD-Access 172
Wired Host Onboarding and Registration 175
Wired Host Operation 176
Intra-Subnet Traffic in the Fabric 176
Inter-Subnet Traffic in the Fabric 179
Traffic to Destinations Outside of the Fabric 180
Wireless Host Operation 180
Initial Onboarding and Registration 180
Cisco SD-Access Troubleshooting 181
Fabric Edge 182
Fabric Control Plane 186
Authentication/Policy Troubleshooting 188
Authentication 188
Policy 190
Scalable Group Tags 191
Summary 193
References in This Chapter 193
Chapter 7 Advanced Cisco Software-Defined Access Topics 195
Cisco Software-Defined Access Extension to IoT 196
Types of Extended Nodes 198
Extended Nodes 198
Policy Extended Nodes 198
Configuration of Extended Nodes 200
Onboarding the Extended Node 203
Packet Walk of Extended Cisco SD-Access Use Cases 205
Use Case: Hosts in Fabric Communicating with Hosts Connected Outside the Fabric 205
Use Case: Traffic from a Client Connected to a Policy Extended Node 206
Use Case: Traffic to a Client Connected to a Policy Extended Node 207
Use Case: Traffic Flow Within a Policy Extended Node 207
Multicast in Cisco SD-Access 208
Multicast Overview 209
IP Multicast Delivery Modes 210
Multicast Flows in Cisco SD-Access 210
Scenario 1: Multicast in PIM ASM with Head-End Replication (Fabric RP) 211
Scenario 2: Multicast in PIM SSM with Head-End Replication 213
Scenario 3: Cisco SD-Access Fabric Native Multicast 214
Cisco SD-Access Multicast Configuration in Cisco DNA Center 216
Layer 2 Flooding in Cisco SD-Access 218
Layer 2 Flooding Operation 219
Layer 2 Border in Cisco SD-Access 221
Layer 2 Intersite 224
Layer 2 Intersite Design and Traffic Flow 224
Fabric in a Box in Cisco SD-Access 227
Cisco SD-Access for Distributed Campus Deployments 228
Types of Transit 229
IP Transit 229
Fabric Multisite or Multidomain with IP Transit 230
Cisco SD-Access Transit 232
Cisco SD-WAN Transit 237
Policy Deployment Models in Cisco SD-Access Distributed Deployment 238
Cisco SD-Access Design Considerations 240
Latency Considerations 240
Cisco SD-Access Design Approach 241
Very Small Site 241
Small Site 242
Medium Site 243
Large Site 243
Single-Site Design Versus Multisite Design 244
Cisco SD-Access Component Considerations 245
Underlay Network 246
Underlay Network Design Considerations 246
Overlay Network 247
Overlay Fabric Design Considerations 247
Fabric Control Plane Node Design Considerations 248
Fabric Border Node Design Considerations 248
Infrastructure Services Design Considerations 249
Fabric Wireless Integration Design Considerations 249
Wireless Over-the-Top Centralized Wireless Option Design Considerations 250
Mixed SD-Access Wireless and Centralized Wireless Option Design Considerations 250
Wireless Guest Deployment Considerations 250
Security Policy Design Considerations 251
Cisco SD-Access Policy Extension to Cisco ACI 252
Summary 254
References in This Chapter 254
Chapter 8 Advanced Cisco DNA Center 255
Cisco DNA Center Architecture and Connectivity 256
Hardware and Scale 256
Network Connectivity 256
High Availability and Clustering with Cisco DNA Center 258
Software Image Management 259
Image Repository 261
Golden Image 262
Upgrading Devices 263
Cisco DNA Center Templates 266
Template Creation 267
Template Assignment and Network Profiles 269
Deploying Templates 270
Plug and Play 272
Onboarding Templates 273
PnP Agent 275
Claiming a Device 276
Cisco DNA Center Tools 280
Topology 280
Command Runner 281
Security Advisories 283
Summary 284
References in This Chapter 284
Chapter 9 Cisco DNA Assurance 285
Assurance Benefits 285
Challenges of Traditional Implementations 285
Cisco DNA Analytics 286
Cisco DNA Assurance Architecture 287
Cisco DNA Assurance Data Collection Points 289
Streaming Telemetry 290
Network Time Travel 292
Health Dashboards 292
Overall Health Dashboard 293
Network Health Dashboard 294
Cisco SD-Access Fabric Network Health 296
Client Health Dashboard 297
Application Health Dashboard 299
Cisco DNA Assurance Tools 300
Intelligent Capture 300
Anomaly Capture 301
Path Trace 303
Sensor Tests 303
Cisco AI Network Analytics 304
Summary 306
References in This Chapter 306
Glossary 307


9780136448389 TOC 6/24/2020



Unlimited one-month access with your purchase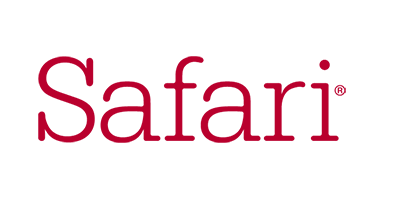 Other Things You Might Like

CCNP Security Identity Management SISE 300-715 Official Cert Guide Premium Edition and Practice Test

Premium Edition eBook $55.99