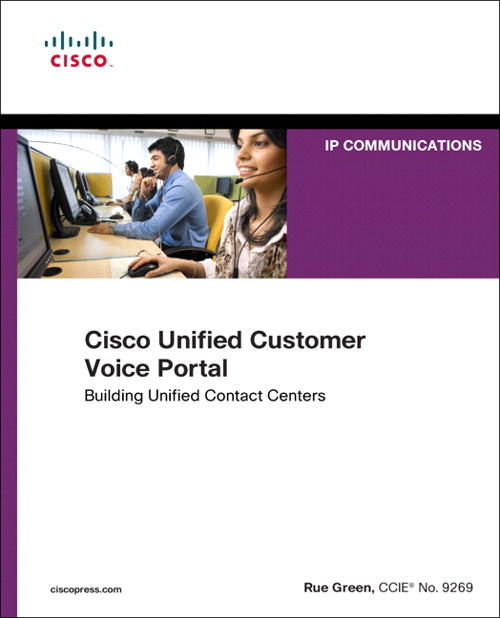 Register your product to gain access to bonus material or receive a coupon.
Cisco Unified Customer Voice Portal: Building Unified Contact Centers
eBook (Watermarked)
Your Price: $53.99
Includes EPUB and PDF

This eBook includes the following formats, accessible from your Account page after purchase:

EPUB The open industry format known for its reflowable content and usability on supported mobile devices.

PDF The popular standard, used most often with the free Adobe® Reader® software.

This eBook requires no passwords or activation to read. We customize your eBook by discreetly watermarking it with your name, making it uniquely yours.
Copyright 2012
Dimensions: 7-3/8" x 9-1/8"
Pages: 504
Edition: 1st
eBook (Watermarked)
ISBN-10: 0-13-266033-4
ISBN-13: 978-0-13-266033-4
Cisco Unified Customer Voice Portal
Building Unified Contact Centers
Rue Green, CCIE® No. 9269
The definitive guide to deploying Cisco Unified Customer Voice Portal IVRs in any contact center environment
Thousands of companies are replacing legacy ACD/TDM-based contact centers with pure IP-based unified contact center solutions. One of these solutions is quickly earning market leadership: Cisco Unified Customer Voice Portal (CVP). Now, one of the leading Cisco CVP experts brings together everything network and telephony professionals need to successfully implement production Interactive Voice Response (IVR) solutions with CVP: architectural guidelines, deployment best practices, detailed insights for design and sizing, and more.
CCIE Rue Green guides you through designing unified contact centers with CVP, and deploying proven infrastructures to support your designs. The author first explains CVP's architecture, outlining its key advantages and opportunities for integration and illuminating the design challenges it presents. Next, he guides you through addressing each of these challenges, covering all CVP components and tools and offering detailed insights available in no other book.
Using this book's detailed working configurations and examples, you can minimize configuration errors, reduce downtime, strengthen monitoring, and drive maximum value from any CVP-based unified call center solution.
Rue Green, CCIE No. 9269 (Routing & Switching and Voice), CISSP, MCSE, MCITP is a Technical Leader for the Customer Collaboration Service Line within Cisco Advanced Services, where he focuses on unified contact center architectures and deployment methodologies. He currently acts in a delivery architect role for Unified CVP, Unified ICM, and Cisco Unified Communications Manager for Unified Contact Center Solutions. He has spent the last 21 years working within different roles related to the architecture, design, and implementation of large voice and data networks, including several years working with complex contact center solutions.
· Discover CVP's powerful capabilities and advantages
· Understand how CVP's components fit together into a unified architecture
· Utilize CVP native components: Call Server, VXML Server, Reporting Server, Operations Console Server, and Cisco Unified Call Studio
· Integrate non-native components such as IOS devices, Unified ICM, UCM, content load balancers, and third-party servers
· Choose the right deployment model for your organization
· Implement detailed call flows for Standalone, Call Director, Comprehensive, and VRU-only deployment models
· Design Unified CVP for high availability
· Efficiently deliver media via streaming, caching, and other techniques
· Address crucial sizing, QoS, network latency, and security considerations
· Successfully upgrade from older versions or H.323 platforms
· Isolate and troubleshoot faults in native and non-native CVP components
· Design virtualized Unified CVP deployments using UCS
This IP communications book is part of the Cisco Press® Networking Technology Series. IP communications titles from Cisco Press help networking professionals understand voice and IP telephony technologies, plan and design converged networks, and implement network solutions for increased productivity.
Table of Contents
Introduction xvii
Chapter 1 Introduction to Unified Customer Voice Portal 1
The History of Unified CVP 1
What Is Unified Customer Voice Portal? 2
What Is VoiceXML? 5
Advantages of Deploying Unified CVP 7
Summary 7
Reference 8
Recommended Reading and Resources 8
Chapter 2 Unified CVP Architecture Overview 9
What Are the Unified CVP Functional Deployment Models? 9
Unified CVP Solution Overview 10
Unified CVP Architecture 12
Call Server 15
SIP Service 15
ICM Service 16
IVR Service 16
Unified CVP VoiceXML Server 17
H.323 Service 17
Unified Call Studio (Formerly Unified CVP VoiceXML Studio) 18
Unified CVP Reporting Server 18
Unified CVP Operations Console Server (Operations Console) 20
Unified CVP Non-Native Solution Components 21
Cisco Ingress Voice Gateway 22
Cisco VoiceXML Gateway 23
Cisco Egress Gateway 24
Video Endpoints 25
SIP Proxy 25
Gatekeeper 27
Unified Contact Center Enterprise (Unified CCE) 28
Cisco Unified Communications Manager (CUCM) 29
Third-Party DNS, Media and ASR/TTS Servers 31
DNS Server 32
Media Server 32
ASR/TTS Server 33
Load Balancers: CSS and ACE 34
Unified CVP Licensing 35
Types of CVP Licenses 35
Unified CVP Server-SW 36
Unified CVP Ports 36
Unified CVP Redundant Ports 37
Unified CVP Call Directors 37
Unified CVP Reporting Servers 37
Cisco Unified Call Studio 38
Licensing Native Unified CVP Components 38
Unified CVP Call Server 38
Unified CVP VoiceXML Server 39
Cisco Unified Call Studio 39
Unified CVP Reporting Server 40
Determining What You Need 40
Sizing Unified CVP Server Licenses 40
Sizing Unified CVP Port Licenses 41
Sizing Unified CVP Redundant Port Licenses 41
Sizing Unified CVP Call Director Licenses 42
Unified CVP Licensing Use Cases 43
Use Case 1: CVP Co-Resident Call Server+VoiceXML Servers and Unified CCE Agents 43
Use Case 2: CVP Standalone 44
Summary 44
References 44
Recommended Readings and Resources 45
Chapter 3 Functional Deployment Models and Call Flows 47
Functional Deployment Models 47
Standalone Model 47
Component and Protocol-Level Call Flow 48
Call Flow Ladder Diagram 53
Transfers and Subsequent Call Control 54
The Call Director Model 55
SIP-Based Protocol-Level and Component Call Flow 57
VoIP Transfers Using SIP 58
SIP Call Flow Ladder Diagram 60
H.323 Protocol-Level and Component Call Flow 61
VoIP Transfers Using H323 63
Transfers and Subsequent Call Control 65
Comprehensive Model 66
SIP-Based Protocol-Level and Component Call Flow 68
VoIP Transfers using SIP 72
SIP Call Flow Ladder Diagram 76
H323 Protocol-Level and Component Call Flow 79
VoIP Transfers Using H.323 82
H.323 Call Flow Ladder Diagram 85
Transfers and Subsequent Call Control 88
The VRU-Only Model 89
Component Call Flow 91
VoIP Transfers 94
Call Flow Ladder Diagram 94
Network VRU Types 95
Overview of Unified ICM Network VRUs 95
Unified CVP as a Type 10 VRU 96
Unified CVP as Type 5 VRU 98
Unified CVP as Type 3 or 7 VRU (Correlation ID Mechanism) 99
Unified CVP as Type 8 or 2 VRU (Translation Route ID Mechanism) 100
Network VRU Types and Unified CVP Call Flow Models 100
Model #1: Standalone Self-Service 102
Model #2: Call Director 102
Model #3a: Comprehensive Using Micro-Apps 102
Model #3b: Comprehensive Using Unified CVP VXML Server 103
Model #4: VRU Only 103
Model #4a: VRU-Only with NIC Controlled Routing 103
Model #4b: VRU-Only with NIC Controlled Prerouting 104
Summary 105
References 105
Recommended Reading and Resources 106
Chapter 4 Designing Unified CVP for High Availability 107
Unified CVP Geographic Models 107
Single Site 108
Multisite with Centralized Call Processing 111
Multisite with Distributed Call Processing 115
Clustering over the WAN 118
Edge Queuing Techniques and Survivability 121
Set Transfer Label (H.323) 121
Send to Originator or StO (SIP) 125
Technology Prefix Stripping (H.323 Only) 128
Significant Digits (SIP) 134
Locations-Based Call Admission Control (LBCAC) 139
Locations-Based Call Admission Control Call Flow 143
Call Survivability 149
Use Case 1: Specific After Hours/ Holiday Priority Versus Open Hours 153
Use Case 2: Specific Open Hours/ Holiday Priority Versus After Hours 154
Use Case 3: One DNIS for All Failures, No Time of Day Routing 154
Use Case 4: Use DNIS to Organize Call Survivability Functionality 155
Use Case 5: Single Survivability Application for Multiple Incoming DNIS Values 156
SIP High-Availability Architectures 159
Layer 2 Switch Considerations 160
Originating Ingress and VoiceXML Gateways 161
Caveats 164
SIP Proxy Servers 165
Cisco Unified Presence Server (CUPS) 165
Cisco Unified SIP Proxy (CUSP) 168
Caveats 169
Unified CVP Call Server's SIP Considerations 170
Caveats 173
Use Case: High Availability Routing with Unified CVP and SIP 173
H.323 High-Availability Architectures 181
Originating Ingress and VoiceXML Gateways 181
Additional Cisco IOS Gateway and VoiceXML Configurations 184
Caveats 186
H.323 Gatekeepers 186
Unified CVP Call Server's H.323 Considerations 187
Caveats 187
Content Services High-Availability Architectures 188
Application Control Engine 188
Stateful Failover 190
Fault-Tolerant (FT) VLAN 191
Caveats 191
ACE Load Balancing 192
Cisco Content Services Switch (CSS) 194
Virtual Interface Redundancy 195
Fate Sharing 196
CSS Load Balancing 197
Caveats 198
Media Server 199
Caveats 201
Unified CVP VoiceXML Server 201
Caveats 202
Summary 202
References 203
Recommended Reading and Resources 204
Chapter 5 Working with Media Files 207
IOS-Based IVR and HTTP Client Architectures 207
IVR and HTTP Client 208
To Stream or Not to Stream 209
Caching 212
HTTP Client Cache 212
HTTP Client Cache Control 213
IVR Cache 217
IVR Cache Control 218
Caching in Streaming and Nonstreaming Mode 218
Cache Aging Process 220
HTTP Client Cache Background Ager 223
Setting the Entire HTTP Client Cache to Stale 223
Streaming and Caching Call Flows 226
HTTP Connection 230
Persistent Connections 231
Secure HTTPS Connections 233
HTTP Server Response Codes 233
HTTP Client Internal Error Codes 235
HTTP Client Cookies 235
HTTP Client Statistics 236
Frequently Asked Questions 240
Summary 244
Recommended Reading and Resources 244
Chapter 6 Sizing, Networking, and Security Considerations 245
Unified CVP Sizing 245
Erlang Traffic Models 247
Sizing the Unified Call Server 251
Sizing the Unified CVP VXML Server 252
Sizing the Unified CVP Reporting Server 254
Sizing Unified CVP Co-Residency 258
Sizing SIP Proxy Servers (CUPS and CUSP) 260
Sizing Ingress and VoiceXML Gateways 262
Sizing Load Balancers 266
Sizing Bandwidth Requirements 267
VoiceXML Documents 268
Media File Retrieval 268
Call Signaling and Voice Bearer Traffic 269
ASR and TTS 270
QoS 271
Network Latency 273
Understanding the Source of Delays 276
SIP Signaling 276
Unified CVP Call Server ping 276
Unified CVP Call Server Root Document 276
Unified CVP VoiceXML Server Root Document Fetch (Cisco Unified Call Studio Only) 277
Cisco Unified Call Studio-based VoiceXML Fetch (Cisco Unified Call Studio Only) 277
Mitigation by Injecting Audio 277
Understanding Changes to Survivability.tcl 278
Understanding Changes to Bootstrap.vxml 279
Understanding Changes to SubmitNext.template 279
Understanding Changes to Other Unified CVP VoiceXML Templates 279
Understanding Changes to Cisco Unified Call Studio Application Root Documents 281
Implementing the Changes 281
Modifying survivability.tcl 282
Understanding VoiceXML Template Modifications 282
Modifying bootstrap.vxml 283
Modifying SubmitBack.template 284
Modifying GetSpeech-External.template 285
Modifying the Cisco Unified Call Studio Application's Root Document 286
Troubleshooting and Tuning the Changes 286
Sample Network Capture 287
IOS Logging 289
Security Considerations 291
Summary 296
References 297
Recommended Readings and Resources 297
Chapter 7 Upgrading 299
Why Upgrade? 299
What Are End of Sale and End of Life? 300
Unified CVP 8.x Feature and Scalability Enhancements 301
Challenges with Unified Contact Center Product Version
Compatibility 304
Unified CVP Upgrade Strategies 306
Common Ground Upgrades 307
Technology Refresh Upgrades 308
Hardware and Software Considerations 309
Unified CVP Native Component Upgrade Strategies 311
Use Case 1: Upgrading CVP Units Without Multiphase 312
Use Case 2: Upgrading CVP Units Using Multiphase Approach 313
Unified CVP Upgrade Methodology 314
H.323 Protocol Migrations to SIP 315
H.323 to SIP Feature Parity 316
GKTMP Replacement with SIP 320
Protocol Migration Approaches 325
Flash Cutover 325
Phased Migration 331
Summary 334
Recommended Reading and Resources 335
Chapter 8 Troubleshooting 337
Troubleshooting Strategies 337
Device Status and Detailed Troubleshooting 352
Ingress and VXML Gateways 352
T1 Status (Ingress Only) 352
PRI Status (Ingress Only) 354
PRI Debugs (Ingress Only) 355
PRI Busyout (Ingress Only) 357
Dial-Peers (Ingress and VXML Gateways) 358
SIP Related (Ingress and VXML Gateways) 365
H.323 Related (Ingress and VXML Gateways) 371
VXML Applications (Ingress Survivability and VXML Gateways) 374
Media Files (VXML Gateways Only) 382
Gatekeepers 388
Status 388
Endpoints and Prefixes 391
Clustering 394
SIP Proxy Servers 399
Cisco Unified Presence Server (CUPS) 400
Cisco Unified SIP Proxy (CUSP) 405
Unified CVP Call Server 410
Diagnostic Servlet 415
Unified System Command Line Interface (CLI) 422
Unified CVP VXML Server 428
Unified CVP Reporting Server 430
Unified ICM 430
Peripheral Gateway (PG) and Peripheral Interface Manager (PIM) Status 431
Router Log Viewer 434
Script Editor (Real-time Monitor Mode) 435
Load Balancers 436
Cisco Content Service Switch (CSS) 436
Cisco Application Content Engine (ACE) 439
Matching a Symptom with a Resolution: A Final Thought 439
Summary 439
Recommended Reading and Resources 440
Chapter 9 Virtualization 443
New Data Center Challenges 443
Overview of the Cisco Unified Computing System 444
UCS Hardware Requirements 446
UCS B200 M1 446
UCS C210 Standalone 447
UCS Hardware Caveats 447
Unified CVP Component Capacities and VM Configuration
Requirements 448
Performance Requirements 451
Use Cases 452
Use Case: Rogger Example 1 453
Use Case: Rogger Example 2 454
Use Case: Rogger Example 3 454
Use Case: Router/Logger 458
Summary 461
References 461
Recommended Reading and Resources 461
Other Things You Might Like

Book $55.99

eBook (Watermarked) $44.79