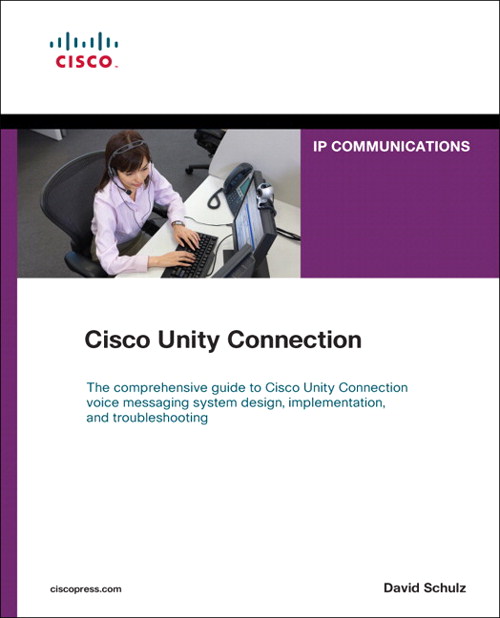 Register your product to gain access to bonus material or receive a coupon.
Cisco Unity Connection
Book
Sorry, this book is no longer in print.
Copyright 2011
Dimensions: 7-3/8" x 9-1/8"
Pages: 624
Edition: 1st
Book
ISBN-10: 1-58714-281-3
ISBN-13: 978-1-58714-281-9
Cisco Unity Connection
The comprehensive guide to Cisco Unity Connection voice messaging system design, implementation, and troubleshooting
David Schulz
Cisco Unity Connection presents all the concepts and techniques you need to successfully plan, design, implement, and maintain Cisco Unity Connection voice messaging systems. For every stage of the system lifecycle, enterprise voice expert David Schulz offers clear explanations, practical examples, realistic case studies, and best-practice solutions.
The author begins by introducing Cisco Unity Connection's core features, capabilities, and components. Next, he provides thorough, step-by-step coverage of configuration, including users, contacts, call routing, dial plans, class of service, and templates. You will find extensive discussions of user features and access, administration and maintenance, redundancy and backup, and much more. Throughout, the author addresses many enhancements introduced in the new Cisco Unity Connection v8.5 software.
This book concludes with a complete guide to troubleshooting, including case studies that identify common deployment challenges and help you build real-world problem-solving skills.
David Schulz has more than 27 years of experience with networking, security, and voice technologies. Before joining Skyline Advanced Technology Services, he was involved in network engineering, consulting, project management, and engineering oversight for a Midwest reseller. He has taught networking technologies to both customers and engineers, created multiple process and procedure methodologies and documents, and held network contracting responsibilities at a large global enterprise. He holds CCSI, CCNP Voice, CCSP, and CCDP certifications.
· Plan voice messaging designs, including active-active cluster pair and single-server configurations
· Identify required equipment and codecs, and accurately size servers
· Efficiently install and upgrade Cisco Unity Connection software
· Perform non-Cisco integrations with PBX IP Media Gateway (PIMG) and T1 IP Media Gateway (TIMG)
· Administer users and contacts with Cisco Unity Connection Administration, Bulk Administration Tool, AXL, and LDAP
· Provide access via phones, the web, and mobile applications
· Configure call, directory, and interview handlers
· Implement dial plan components, including partitions and search scopes
· Configure Cisco Unity Connection networking, including SMTP
· Configure, implement, and use Voice Profile for Internet Mail (VPIM)
· Create reports and perform real-time monitoring
· Master tools for maintenance, backup, and disaster recovery
· Implement advanced features, from SpeechView to SMS notification
This IP communications book is part of the Cisco Press® Networking Technology Series. IP communications titles from Cisco Press help networking professionals understand voice and IP telephony
technologies, plan and design converged networks, and implement network
solutions for increased productivity.
Online Sample Chapter
Designing Voicemail Systems with Cisco Unity Connection
Sample Pages
Download the sample pages (includes Chapter 2 and Index)
Table of Contents
Foreword xx
Introduction xxi
Chapter 1 Cisco Unity Connection Overview 1
Introduction to Cisco Unity Connection 2
Cisco Messaging Solutions 4
Cisco Unity Express 5
Cisco Unity 5
Cisco Unity Connection 5
Cisco Unified Messaging Gateway 6
Planning for Voice Messaging 6
Current Network Status and Design 7
Current Users and Requirement 8
Scalability 9
Redundancy 10
Feature Requirements 10
Summary 11
Case Study 12
Chapter 2 Designing Voicemail Systems with Cisco Unity Connection 13
Determining Server Sizing 14
Understanding Codecs and Voicemail Storage 15
G.711 Codec 16
G.729 Codec 16
G.722 Codec 16
G.726 Codec 17
iLBC 17
PCM Linear Codec 17
Transcoding in Cisco Unity Connection 17
Users, Codecs, and Message Storage Considerations 20
IMAP Clients and Voice Ports 21
Determining Voicemail Port Requirements 22
High-Availability and Redundancy 24
Server Sizing and Platform Overlays 25
Virtualization 26
User Location, Geography, and Digital Networking 27
Case Study: Voicemail Design 27
Introduction to Integration 28
Introduction to Voicemail Networking 28
Intrasite Networking 29
Introduction to Intersite Networking 32
Intrasite Versus Intersite Networking 34
Case Study: Voicemail Network Design 35
Other Voicemail Networking Options 36
Case Study: VPIM Voicemail Design 36
Intersite Links and VPIM Networking 37
Case Study: Multisite Voicemail Design 38
Summary 40
Chapter 3 Installing and Upgrading Cisco Unity Connection 43
Cisco Unity Connection Installation Procedures 44
Installing Cisco Unity Connection Software 45
Pre-Installation Tasks 45
Cisco Unity Connection Software Installation 47
Installation Processes 47
Basic Installation 48
System Installer and Platform Checks 48
Product Deployment Selection 50
Platform Installation Wizard 52
Basic Installation Dialogue 54
Cisco Unity Connection Server Verification 71
Cisco Unity Connection Login Verification 73
Installation Log Files 76
Active-Active Cluster Pair Configuration 76
Publisher Installation 77
Subscriber Installation 77
Subscriber Server Installation 78
Subscriber Software Installation 81
First Node Configuration 81
Subscriber Node Installation Dialogue 81
First Node Access Configuration 83
Active-Active Cluster Pair Verification 83
Unattended Installation Using the Answer File 86
Performing Software Updates 88
Upgrade During Install 89
Upgrade Using Cisco Unified OS Administration 91
Upgrades from Unity and Unity Connection 1.2 92
Virtual Installation Overview 92
Open Virtual Machine Format (OVA) Extension 93
Understanding Licensing in Cisco Unity Connection 94
Top-Level Software License 95
Server License 96
User License 96
HA License 96
Speech Connect 96
License Ordering Procedures 96
Case Study 98
Summary 99
Chapter 4 Integrating Cisco Unity Connection 101
Attributes of an Integration 103
Integration with Cisco Unified CM Overview 104
Integration with CME Overview 106
Integration with PIMG and TIMG Overview 106
Bandwidth Considerations Using PIMG and TIMG 109
Understanding Multiple Integrations 109
Messaging Deployment Models 110
Single-Site Messaging 110
Centralized Messaging 111
Distributed Deployment Model 112
Case Study: Messaging Deployment Design 113
Cisco Unity Connection Integration 114
Understanding Phone Systems, Port Groups, and Ports 114
Integrating with Cisco Unified CM 116
Cisco Unified CM Voicemail Configuration 116
Cisco Unity Connection Integration Configurations 128
Voicemail Integration Verification 135
Voicemail Port Verification 135
Voicemail Pilot and Profile Verification 136
Integration Troubleshooting 136
SIP Integrations with Cisco Unified CM 140
SIP Trunk Configuration in Cisco Unified CM 140
Cisco Unity Connection SIP Integration 144
Integrating with Cisco Unified CM Express 145
Cisco Unified CME Integration Configuration 145
Integrating with Cisco PIMG/TIMG 151
Call Flow and Routing Rules 152
Understanding Direct and Forwarded Routing Rules 152
Case Study: Cisco Unity Connection Integration with Legacy Systems 154
Summary 155
Chapter 5 Cisco Unity Connection Users and Contacts 157
Introduction to Users and Contacts 158
Understanding Users and Contacts 159
Users Without Mailboxes 159
User With Mailboxes 159
Contacts 160
Default Users 160
Configuring Users 161
Authentication Rules 162
Schedules and Holidays 165
Class of Service 169
Templates 172
Configuring Users 176
Configuring Users Without Mailboxes 177
Configuring Users With Mailboxes 179
Roles 181
Bulk Administration Tool 183
LDAP Synchronization and Authentication 190
Case Study: Four-Digit to Six-Digit Phone Number Conversion 199
Administrative XML Integration with Cisco Unified CM 202
Case Study: Importing Users 205
Summary 208
Chapter 6 Providing Users Access to Voice Messaging 211
Voice-Message Features and Applications Overview 212
Phone Access to Voice Messaging 213
Transfer Rules 214
Message Waiting Indicators 216
Alternate Extensions 219
Phone Menu Options 220
Message Settings Options 223
Web Application Access to Voice Messaging 226
Personal Communications Assistant 226
Using Really Simple Syndication (RSS) Feeds for Voice Messaging 233
Phone View and Visual Voicemail 238
Mobility and Unified Communications 250
Case Study: Mobility 252
Summary 252
Chapter 7 Understanding User Features and Applications 255
Understanding User Features 256
Message Storage Settings and Administration 256
System Configuration Directory 258
Mailbox Store 258
Mailbox Stores Membership 263
Voice-Message Directory 267
Creating Users in a Mailbox Stores 268
Message Aging Policy 268
Aging Alert Text 273
Message Recording Expiration 275
Mailbox Quotas 276
Case Study: Message Aging and Archiving 279
Greetings and Caller Input 280
Greetings 280
Caller Input 287
Case Study: Alternate Greetings 290
Post-Greeting Recordings 290
Message Notification 292
Alternative Extension Features and Restriction Tables 296
Distribution Lists: System and Private 300
System Distribution Lists 300
Case Study: Configuring System Distribution List Access Lists 306
Private Distribution Lists 308
External Service Accounts 311
Unified Messaging Service 313
Using ViewMail for Outlook with Single Inbox 314
Configuring Single Inbox 314
User Configuration for Single Inbox 315
SMTP Proxy Addresses 316
Summary 317
Chapter 8 Understanding Call Handlers and System Features 319
Call Handler Components 320
Understanding System Call Handlers 321
Default System Call Handlers 321
Configuring Call Handlers 322
Transfer Rules 325
Greetings 325
Caller Input 328
Post Greeting Recordings 329
Message Settings 330
Call Handler Owners 331
Configuring New Call Handlers 332
Call Handler Templates 333
Understanding Directory Handlers 334
Understanding Interview Handlers 335
Configuring Interview Handlers 337
Building an Audiotext Application 339
Audiotext Application Design 339
Cisco Unity Connection Dial Plan Components 341
Partitions 341
Search Spaces 342
Case Study: Configuring The Dial Plan 344
Configuring Partitions 345
Configuring Search Spaces 346
Assigning Partitions to Search Spaces 346
Applying Partitions and Search Spaces 348
Changing the Default Search Space and Partition 350
Removing Search Spaces and Partitions 350
Case Study: Troubleshooting Dial Plan Issues 354
Case Study: Configuring The Greeting Administrator 356
Summary 358
Chapter 9 Understanding Cisco Unity Connection Networking 359
Simple Mail Transfer Protocol 360
Cisco Unity Connection Networking 361
Locations, Sites, and Intrasite Links 362
Intersite Links and Cisco Voicemail Organization 363
Preparations for Networking Cisco Unity Connection Servers 365
Review the Current Network Design and Software 365
Ensure Connectivity Between Locations 365
Configure Display Names and SMTP Domains 365
Case Study: Configuring Display Names 367
Changing the SMTP Domain 367
Case Study: Configuring SMTP Domains 369
Cluster Management 371
Review the Naming Conventions of System Objects 373
Case Study: Managing Distribution Lists 375
Configuring Intrasite Links 377
Automatic Versus Manual 377
Networking Verification 385
Case Study: Performing Post-Networking Tasks (Dial Plan) 392
Voice Network Map 393
SMTP Smart Host Function and Configuration 397
Configuring Intersite Links 399
Interlocation Options and Features 401
Cross-Server Sign-In 403
Cross-Server Transfer 405
Cross-Server Live Reply 405
Cross-Server Feature Configuration 406
Case Study: Configuring Cross-Server Features 408
Configuring Users for Live Reply 410
Transfer Using Phone System Trunks 411
Other Post-Networking Considerations 414
Summary 415
Chapter 10 Implementing Voice Profile for Internet Mail (VPIM) 417
Voice Profile for Internet Mail 418
Preparing for Configuring VPIM Networking 419
License Considerations 419
Determine the Number Scheme for Dial IDs 419
Determine the Dial Plan 419
VPIM Contact Creation 420
Blind Addressing 420
Distribution List Considerations 420
Domain Name Considerations 421
SMTP Smart Host and DNS Considerations 421
Networking and Connectivity Considerations 421
Configuring VPIM in Cisco Unity Connection 421
Case Study: Controlling Directory Synchronization 422
Configuring the SMTP Domain Name 422
Verify VPIM Licenses 425
Configuring VPIM Locations 425
Creating VPIM Contacts 429
Automatic Directory Updates 431
Automatic Directory Update Options 433
Case Study: Directory Updates and Blind Addressing 433
Blind Addressing Using Cisco Unity Connection Inbox 434
Automatically Create Contacts 435
Automatically Delete Contacts 437
VPIM Features 440
Case Study: VPIM Features 440
Summary 444
Chapter 11 Using Cisco Unity Connection Tools and Reports 445
Cisco Unity Connection Tools 446
Using the Real-Time Monitoring Tool 447
Accessing RTMT 447
System Summary 449
Server-CPU and Memory 451
Server-Process 451
Server-Disk Usage 451
Critical Services 453
Cisco Unified Serviceability 456
Cisco Unity Connection Services—RTMT—Critical Services 457
Cisco Unity Connection Serviceability 459
Case Study 460
Performance 460
Tools 468
Cisco Object Backup and Restore Application Suite (COBRAS) 472
Cisco Unity Connection Migrate Utilities 477
Cisco Unity Connection Task Management Tool 478
Understanding Reports 479
Summary 484
Chapter 12 Maintaining Cisco Unity Connection 487
Disaster Recovery System 488
Certificate Management Overview 489
Performing a Backup 490
Backup Device Configuration 492
Backup Components 494
Case Study: Backing Up Mailbox Stores 496
Manual Backup 497
Backup Scheduler 499
Performing a Restore 501
Using the Restore Wizard 501
Warm Standby Server 503
Cluster Management 506
Overview of Survivable Remote Site Voicemail 508
Cisco Voice Technology Group Subscription Tool 509
Cisco Unity Connection Tools Online 509
Configuring Simple Network Management Protocol 509
Summary 512
Chapter 13 Advanced Features in Cisco Unity Connection 513
Fax Integration 514
Preparation for Fax Integration 515
Faxable Document Types and Fax Reports 515
Configuring Cisco Unity Connection Fax Integration 516
Cisco Unity Connection User Account Fax Configuration 518
Fax Integration Testing and Verification 520
Gateway Configuration for Voice and Fax Integration 520
SpeechView 522
SpeechView Configuration 522
SpeechView Licensing 523
Smart Host Configuration for SpeechView 524
Access List Configuration the Email Server for SpeechView 525
Preparation for SpeechView Configuration 525
SpeechView Configuration in Cisco Unity Connection Administration 525
User Configuration for SpeechView 527
Configuring Notification 529
Configuring SMTP and SMS Notification 529
Summary 533
Chapter 14 Troubleshooting Cisco Unity Connection: Case Studies 535
Basic Troubleshooting Techniques 536
Stay the Course 537
Assess the Situation 537
Develop the Plan and Strategy 538
Use Good Troubleshooting Procedures 538
Provide Reporting, Resolution, Documentation, and Lessons Learned 539
Troubleshooting MWI Issues 539
Scenario 539
Resolution 540
Troubleshooting Call Transfer Rules 542
Scenario 542
Resolution 543
Troubleshooting Partitions and Search Scopes 545
Scenario 545
Resolution 545
Troubleshooting Dial Plan Issues in Digital Networks 547
Scenario 547
Resolution 547
Troubleshooting Access to Features 549
Scenario 549
Resolution 549
Troubleshooting Audiotext Applications 550
Scenario 550
Resolution 550
Troubleshooting Digital Networking Issues 552
Scenario 552
Resolution 552
Troubleshooting VPIM Networking Issues 555
Scenario 555
Resolution 555
Summary 556
Index 557
Other Things You Might Like

Book $55.99

eBook (Watermarked) $44.79