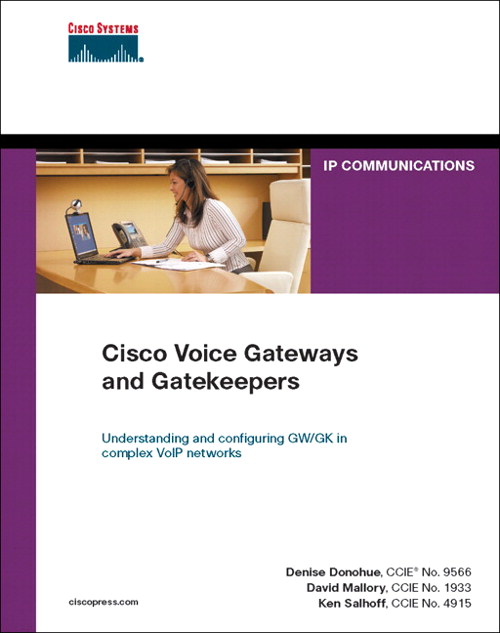 Register your product to gain access to bonus material or receive a coupon.
Cisco Voice Gateways and Gatekeepers
Book
Sorry, this book is no longer in print.
eBook (Watermarked)
Your Price: $46.39
List Price: $57.99
Includes EPUB and PDF

This eBook includes the following formats, accessible from your Account page after purchase:

EPUB The open industry format known for its reflowable content and usability on supported mobile devices.

PDF The popular standard, used most often with the free Adobe® Reader® software.

This eBook requires no passwords or activation to read. We customize your eBook by discreetly watermarking it with your name, making it uniquely yours.
Copyright 2007
Edition: 1st
Book
ISBN-10: 1-58705-258-X
ISBN-13: 978-1-58705-258-3
Cisco Voice Gateways and Gatekeepers provides detailed solutions to real-world problems encountered when implementing a VoIP network. Each chapter presents an overview of a technology followed by a detailed scenario and associated solutions. Emphasis is placed on the accepted best practices and common issues encountered. It will initially serve readers as a reference for complex gateway and gatekeeper deployments and will also be a valuable study aid for the Cisco Certifified Voice Professional (CCVP) certification track. Cisco Voice Gateways and Gatekeepers is divided into five sections. Part one provides an introduction to the roles of both gateways and gatekeepers and includes advice on when to use each. Part two focuses on deploying gateways; working with MGCP, H.323, and SIP; connecting to the PSTN, PBXs, and the IP WAN; configuring basic and advanced dial peers; and implementing SRST. Part Three focuses on deploying and configuring gatekeepers. Part four discusses use of gateways and gatekeepers in a service provider environment. Part five addresses use of the Cisco Tool Command Language (TCL).
This book is also recommended self-study training for the CCVP GWGK exam.
Online Sample Chapter
Downloadable Sample Chapter
Download - 1.04 MB -- Chapter 4: Session Initiation Protocol
Table of Contents
Foreword
Introduction
Part I Voice Gateways and Gatekeepers
Chapter 1 Gateways and Gatekeepers
The Role of Voice Gateways
Types of Voice Gateways
The Role of Voice Gatekeepers
The Role of IP-to-IP Gateways
Introduction to Voice Protocols
Media Gateway Control Protocol
H.323
Session Initiation Protocol
Skinny Client Control Protocol
Real-Time Transport Protocol
Call Control Agents
Cisco CallManager
Cisco CallManager Express
SIP Proxy Server
Cisco Enterprise Gateway
PBX with Toll Bypass
Deployment Scenarios
Single Site Deployment
Multisite with Centralized Call Control
Multisite Deployment with Distributed Call Control
Case Study: Introduction
Chapter Review Questions
Part II Gateways
Chapter 2 Media Gateway Control Protocol
Introduction to MGCP
Pros
Cons
MGCP Operation
MGCP Messages
Registering with CallManager
Call Flow with MGCP
Call Flow Between Analog Phones
ISDN Connections with Backhaul
MGCP Fallback
Dial Plan Considerations
Implementing MGCP Gateways
Basic MGCP Gateway Configuration
Configuring MGCP Fallback
Assigning an MGCP Source IP Address
Configuring MGCP PRI and BRI Backhaul
Enabling Multicast Music on Hold
Configuring Cisco CallManager
Configuring CallManager Redundancy
Configuring DTMF Relay
Securing MGCP Gateways
Troubleshooting Tools
Case Study: Configuring an MGCP Gateway
Review Questions
Chapter 3 H.323
H.323 Specifications
H.323 Network Components
H.323 Gateways
H.323 Gatekeepers
H.323 Terminals
Multipoint Control Units
H.323 Proxy Servers
Call Flow
H.323 Fast Start
H.323 Protocol Pros and Cons
Pros
Cons
When to Use H.323
Dial Plan Considerations
Implementing H.323 Gateways
Voice Class Configuration
Voice Service VoIP Configuration
Toll Bypass
Defining H.323 Gateways on CallManager
Redundancy
DTMF Relay
Securing H.323 Gateways
Troubleshooting Tools
Case Study: Configuring an H.323 Gateway
Review Questions
Chapter 4 Session Initiation Protocol
Description of SIP
SIP Functional Components
SIP Messages
SIP Call Flow
Call Flow Between Two SIP Gateways
Call Flow Using a Proxy Server
Call Flow Using Multiple Servers
Call Flow Using Cisco CallManager 5.x
SIP Pros and Cons
Pros
Cons
When to Use SIP
Dial Plan Considerations
Implementing SIP Gateways
SIP Dial Peer Configuration
SIP UA Configuration
SIP Voice Service Configuration
Toll Bypass
Registering with CallManager
DTMF Relay
Securing SIP Gateways
Allowing H.323 to SIP Connections
Troubleshooting Tools
Case Study: Configuring SIP Between a Gateway and CallManager 5.x
Review Questions
Chapter 5 Circuit Options
Circuit Signaling
Analog Circuits
FXS/FXO
E&M
Digital Circuits
T1
E1
E1 R2
ISDN
Echo Cancellation
Review Questions
Chapter 6 Connecting to the PSTN
PSTN Circuit Selection Overview
Supported Analog Connection Types
Supported Digital Connection Types
Analog Trunks
Configuring FXO Connections
Configuring DID Connections
Configuring Centralized Automated Message Accounting Connections
Caveats and Restrictions
Digital Trunks
Configuring E1/T1 Physical Layer Connections
Configuring ISDN PRI Trunks
Configuring E1 R2 Trunks
Configuring T1 CAS Trunks
Configuring ISDN BRI Trunks
Case Study: Add an E1 R2 Connection to the Leeds Gateway
Review Questions
Chapter 7 Connecting to PBXs
Analog Trunks
Configuring FXO/FXS Connections
Configuring E&M Trunks
Digital Trunks
Configuring E1/T1 Physical Layer Connections
Configuring ISDN PRI Trunks
Configuring E1 R2 or T1 CAS Trunks
Configuring Transparent Common Channel Signaling
Case Study: Implementing a Cisco Voice Gateway at the Shanghai Office
Review Questions
Chapter 8 Connecting to an IP WAN
Applications for Connecting to an IP WAN
Design Considerations
Quality of Service
Using Class Maps to Classify Traffic
Using Policy Maps
Mapping to MPLS Classes
Link Fragmentation and Interleave
Compression
AutoQos
Providing Fax and Modem Services
Providing Fax Services
Providing Modem Services
Security
Securing Voice Media and Signaling
V3PN
NAT and VoIP
Firewalls and VoIP
Case Study: Using a T1 Link as a Tie Line
Review Questions
Chapter 9 Dial Plans
Numbering Plans
Private Numbering Plans
PSTN Numbering Plans
Overlapping Numbering Plans
Building a Scalable Dial Plan
Dial Peers
Inbound Versus Outbound Dial Peers
Dial Peer Matching
Inbound Dial Peer Matching
Outbound Dial Peer Matching
Verifying Dial Peers
Outbound Dial Peer Targets
POTS Versus VoIP Outbound Dial Peers
Dial Peer Operational Status
Dial Peers Versus Cisco CallManager
Case Study: Configuring PSTN Access
Review Questions
Chapter 10 Digit Manipulation
Basic Digit Manipulation
Digit Stripping
Forward Digits
Prefix Digits
Number Expansion
Voice Translation Rules and Profiles
Creating Voice Translation Rules
Building Regular Expressions
Creating Voice Translation Profiles
Applying Voice Translation Profiles
Blocking Calls Using Voice Translation Rules and Profiles
Testing Voice Translation Rules
Manipulating Caller ID
CLID Commands
Station ID Commands
Order of Operation in Digit Manipulation
Troubleshooting Digit Manipulation
Case Study
Review Questions
Chapter 11 Influencing Path Selection
Hunt Groups
Using the preference Command
Using the huntstop Command
Using Digit Manipulation
Using Trunk Groups
Tail-End Hop-Off
Call Admission Control
Local CAC Mechanisms
Measurement-Based CAC Mechanisms
Resource-Based CAC Mechanisms
Resource Reservation Protocol
POTS-to-POTS Call Routing Considerations
Case Study: Implementing Gateway-Controlled RSVP
Review Questions
Chapter 12 Configuring Class of Restrictions
COR Overview
COR Operation
Implementing COR
Assigning COR Lists with SRST
Assigning COR Lists with Cisco CallManager Express
Assigning COR Lists to SIP Phones with CallManager Express
Restricting Inbound Calls
Case Study: Implementing COR for Miami
Review Questions
Chapter 13 SRST and MGCP Gateway Fallback
SRST Overview
Fallback Time
Restoral Time
Configuring SRST
Gateway Configuration
CallManager Configuration
Dial Plan Considerations
Planning
Configuring SRST Dial Plan Patterns
SRST Features
Auto Attendant
Maximum Line Appearances
Conferencing
Transferring Calls
Forwarding Calls
Voice-Mail Integration
Music on Hold
SIP SRST
Configuring SIP Registrar Server
Configuring a Voice Register Pool
Call Preservation
Secure SRST
Configuring Secure SRST
MGCP Gateway Fallback
Configuring MGCP Gateway Fallback
Verifying and Troubleshooting SRST
Verifying and Troubleshooting MGCP Gateway Fallback
Case Study: Integrating SRST with an Analog Voice-Mail System
Review Questions
Chapter 14 DSP Resources
Need for DSP Resources
Determining the DSP Resources Required
DSP Types
Voice Termination
DSP Sharing
Transcoding and MTP Resources
Conference Bridge Resources
Configuring DSP Resources
Configuring Transcoding and Conferencing (C549)
Configuring Enhanced Transcoding and Conferencing (C5510)
Transcoding for CallManager Express
Case Study: Add DSP Resources to the Miami Gateway
Review Questions
Chapter 15 Using Tcl Scripts and VoiceXML
Tcl IVR and VoiceXML Application Overview
Programming Resources
Sample Applications
Auto Attendant
Basic ACD
Fax Detect
T.37 Store and Forward Fax
Malicious Call ID
Cisco Voice Portal
Embedded Event Manager
Downloading Tcl Scripts from Cisco.com
Configuring the Gateway to Use a Tcl Script
Initializing Tcl Scripts and Specifying Parameters
Applying TclScripts
Tcl Packages and Parameter Namespaces
Tcl Parameters in Cisco IOS Release 12.3(14)T and Above
Implementing the AA Tcl Script
Creating Audio Files
Restrictions and Caveats
Case Study: Implementing ACD Application
Review Questions
Part III Gatekeepers
Chapter 16 Deploying Gatekeepers
Gatekeeper Functionality
Gatekeeper Signaling
RAS Signaling
Gatekeeper Update Protocol
Gatekeeper Transaction Message Protocol
E.164 Number Resolution
Zone Prefixes
Technology Prefixes
Gatekeeper Call Routing Process
Call Admission Control
Gatekeeper Deployment Models
Redundancy
Resource Availability Indicator
Directory Gatekeeper
Gatekeepers with CallManager
Security with Gatekeepers
Tokenless Call Authentication
Review Questions
Chapter 17 Gatekeeper Configuration
Configuring Basic Gatekeeper Functionality
Configuring Gatekeeper Zones
Configuring Gateways to Use H.323 Gatekeepers
Technology Prefixes
Configuring Zone Prefixes and Dial Peers
Dynamic Prefix Registration
Configuring Call Admission Control
Multiple Gatekeeper Configurations
Configuring Directory Gatekeepers
Troubleshooting Gatekeepers
Registration Issues
Call Routing Issues
CallManager and Gatekeepers
Configuring a CallManager Gatekeeper Trunk
Gatekeeper Redundancy
Hot Standby Routing Protocol
Gatekeeper Clustering
Load Balancing
Troubleshooting Gatekeeper Clustering
Configuring Resource Availability Indicator
Configuring Gatekeeper Security
Troubleshooting Gatekeeper Security
Case Study: Deploying Gatekeepers to Assist in Migration to VoIP
Review Questions
Part IV IP-to-IP Gateways
Chapter 18 Cisco Multiservice IP-to-IP Gateway
IP-to-IP Gateway Overview
Cisco Multiservice IP-to-IP Gateway
Architecture
Media-Handling Modes
Protocol Support
Basic Configuration
Via-Zones
IP-to-IP Gateway Features
Video Support
Address Hiding
Security
DTMF Interworking
Fax Support
Quality of Service
Call Admission Control
Transcoding
VXML and Tcl Scripts
Billing
show Commands
debug Commands
Case Study: Providing Enterprise VoIP Trunking to VoIP Service of the Service Provider
CallManager Configuration
Review Questions
Appendix A Answers to Chapter-Ending Review Questions
158705258x TOC 7/27/2006
Index
Download - 103 KB -- Index
Other Things You Might Like

Book $55.99

eBook (Watermarked) $44.79