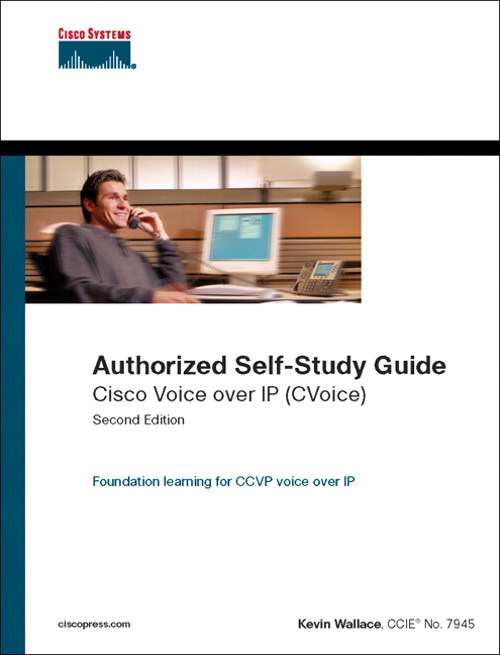 Register your product to gain access to bonus material or receive a coupon.
Cisco Voice over IP (CVoice) (Authorized Self-Study Guide), 2nd Edition
eBook (Watermarked)
Your Price: $42.39
List Price: $52.99

This PDF will be accessible from your Account page after purchase and requires the free Adobe® Reader® software to read it.

The eBook requires no passwords or activation to read. We customize your eBook by discreetly watermarking it with your name, making it uniquely yours.
Copyright 2007
Dimensions: 7-3/8" x 9-1/8"
Pages: 504
Edition: 2nd
eBook (Watermarked)
ISBN-10: 1-58705-410-8
ISBN-13: 978-1-58705-410-5
A new edition of this title is available, ISBN-10: 1587055546 ISBN-13: 9781587055546
Foundation learning for CCVP voice over IP
Kevin Wallace, CCIE® No. 7945
Cisco Voice over IP, Second Edition, is a Cisco®-authorized, self-paced learning tool for Cisco Certified Voice Professional (CCVP) voice over IP (VoIP) foundation learning. This book provides you with the knowledge you need to implement and support data and voice integration solutions at the network-access level. By reading this book, you will gain a thorough understanding of basic IP telephony operation and router configuration, support, troubleshooting, and integration with an existing public switched telephone network (PSTN).
Cisco Voice over IP lays the foundation for gaining hands-on skills and a significant understanding of packet telephony. Coverage includes analog and digital voice connections, voice interface configuration, voice dial peer configuration, VoIP fundamentals, VoIP signaling and call control protocols, and voice quality improvement and maintenance. Chapter review questions, practice items, real-world examples, and hands-on lab exercises all help reinforce learning. Whether you are preparing for CCVP certification or simply want to gain a better understanding of VoIP, you will benefit from the foundation information presented in this book.
Cisco Voice over IP is part of a recommended learning path from Cisco Systems® that includes simulation and hands-on training from authorized Cisco Learning Partners and self-study products from Cisco Press®. To find out more about instructor-led training, e-learning, and hands-on instruction offered by authorized Cisco Learning Partners worldwide, please visit: www.cisco.com/go/authorizedtraining.
Kevin Wallace, CCIE® No. 7945, CCVP, CCNP®, CCDP®, is a full-time instructor for Thomson NETg. With 17 years of Cisco internetworking experience, Kevin has been a network design specialist for The Walt Disney World Resort and a network manager for Eastern Kentucky University.
Understand traditional telephony network concepts and operation as well as the building blocks of packet telephony networks
Examine the interactions of telephony operations at an electrical level
Evaluate strategies for overcoming specific challenges in a VoIP network, such as the transmission of fax and modem tones
Attach a Cisco voice-enabled router to existing telephony devices, such as a PBX or an analog phone
Add call-routing intelligence to a Cisco voice-enabled router through the use of dial peers
Address potential challenges and design considerations associated with sending voice across an IP-based network
Understand the theory and configuration of the call control protocols including H.323, SIP, and MGCP
Mitigate voice quality issues with various Cisco quality of service (QoS) mechanisms
This volume is in the Certification Self-Study Series offered by Cisco Press®. Books in this series provide officially developed self-study solutions to help networking professionals understand technology implementations and prepare for the Cisco Career Certifications examinations.
Category: IP Communications
Covers: VoIP
Table of Contents
Introduction
Chapter 1 Fundamentals of Telephony Networks
Basic Components of Telephony Networks
CO Switches and Switching Systems
Privately Owned Switches
Call Signaling
Multiplexing
Fundamentals of Packet Telephony Networks
Benefits of Packet Telephony Networks
Packet Telephony Components
Call Control
Real-Time versus Best-Effort Traffic
IP Telephony Applications
Analog Interfaces
Digital Interfaces
IP Phones
Types of Deployment
Summary
Chapter Review Questions
Chapter 2 Analog and Digital Voice Connections
Analog Voice Fundamentals
Local-Loop Connections
Local-Loop Signaling
Trunk Connections
Trunk Signaling
Echo
Analog-to-Digital and Digital-to-Analog Voice Encoding
Sampling and the Nyquist Theorem
Quantization
Voice Compression Standards
Signaling Systems
Channel Associated Signaling
Common Channel Signaling Systems
Signaling System Interoperability
Enabling VoIP Fax and Modem Transmission
Cisco Fax Relay
T.38 Fax Relay
T.37 Fax Store and Forward
Fax Pass-Through
Modem Pass-Through
Modem Relay
Summary
Chapter Review Questions
Lab Exercise: Navigating Your Hands-On Lab
Task 1: Physical Connectivity
Task 2: Initial Configuration
Task 3: Exercise Verification
Suggested Solution
Chapter 3 Voice Interface Configuration
Configuring Voice Ports
Voice Applications
FXS Ports
FXO Ports
E&M Ports
Timers and Timing
Digital Voice Ports
ISDN
Common Channel Signaling Options
Monitoring and Troubleshooting
Tuning Voice Quality
Electrical Characteristics
Voice Port Tuning
Configuring Echo Cancellation
Summary
Chapter Review Questions
Lab Exercise: Voice Port Configuration
Task 1: Configure FXS Port Parameters
Task 2: Exercise Verification
Suggested Solution
Chapter 4 Voice Dial Peer Configuration
Configuring Dial Peers
Understanding Call Legs
Understanding Dial Peers
Configuring POTS Dial Peers
Configuring VoIP Dial Peers
Configuring Destination-Pattern Options
Characteristics of the Default Dial Peer
Matching Inbound Dial Peers
Matching Outbound Dial Peers
Configuring Hunt Groups
Collecting and Analyzing Digits
Manipulating Digits
Special-Purpose Connections
PLAR
PLAR-OPX
Trunk Connection
Tie-Line Connection
Summary
Chapter Review Questions
Lab Exercise: POTS and VoIP Dial Peers
Task 1: Configure POTS Dial Peers
Task 2: Exercise Verification
Suggested Solution
Lab Exercise: PLAR Connection
Task 1: Configure PLAR
Task 2: Exercise Verification
Suggested Solution
Chapter 5 VoIP Fundamentals
Understanding VoIP Requirements
Business Case for VoIP
VoIP Functional Components
VoIP Protocols
VoIP Service Considerations
RTP and RTCP
VoIP Network Architectures
Centralized Network Architectures
H.323 Distributed Network Architectures
SIP Distributed Network Architectures
Comparing Network Architectures
Simple Multisite IP Telephony Network
Interconnecting VoIP Protocols
Understanding Gateways
Practice Scenarios: Network Architecture
Building Scalable Dial Plans
Numbering Plans and Dial Plans
Scalable Dial Plans
Enhancing and Extending an Existing Plan to Accommodate VoIP
Accounting for Caller Mobility for 911 Services
Calculating Bandwidth Requirements
CODEC Payload Bandwidth Requirements
Impact of Voice Samples and Packet Size on Bandwidth
Data Link Overhead
Security and Tunneling Overhead
Calculating the Total Bandwidth for a VoIP Call
Effects of Voice Activity Detection on Bandwidth
Cisco Voice CODEC Bandwidth Calculator
Allocating Bandwidth for Voice and Data Traffic
Traffic Statistics
Establishing Network Objectives for Voice and Data
Meeting the Current Network Objective
Traffic Theory
Busy Hour
Erlangs
Traffic Probability Assumptions
Traffic Calculations
Call Density Matrix
Bandwidth Calculations
Security Implications of VoIP Networks
Security Policies for VoIP Networks
Threats to VoIP
Secure LAN Design
Communicating Through a Firewall
Delivering VoIP over a VPN
Summary
Chapter Review Questions
Lab Exercise: RTP Header Compression
Task 1: Change the Load Interval on Router R2's Serial Interface
Task 2: Take a Baseline Measurement
Task 3: Enable cRTP
Task 4: Verify cRTP
Suggested Solution
Chapter 6 VoIP Signaling and Call Control Protocols
The Need for Signaling and Call Control
VoIP Signaling
Call Control Models
Call Control Translation
Call Setup
Call Administration and Accounting
H.323 Concepts and Configuration
H.323 and IP
Functional Components of H.323
H.323 Gateways
IP-to-IP Gateways
H.323 Gatekeepers
Multipoint Conferences
H.323 Call Establishment and Maintenance
RAS Messages
Call Flows
Types of Multipoint Conferences
Deploying and Configuring H.323
SIP Concepts and Configuration
SIP and Associated Standards
Cisco SIP Support
SIP Components
SIP Applications
SIP Messages
Status Codes
SIP Addressing
SIP Call Setup Models
Robust SIP Design
Cisco's Implementation of SIP
Configuring SIP on a Cisco Router
Monitoring and Troubleshooting SIP
MGCP Concepts and Configuration
MGCP and Its Associated Standards
Basic MGCP Components
Basic MGCP Concepts
MGCP Sessions
MGCP Control Commands
MGCP Call Flows
Robust MGCP Design
Cisco's Implementation of MGCP
Configuring MGCP
Cisco Unified CallManager MGCP Configuration
Monitoring and Troubleshooting MGCP
Comparing Call Control Models
Call Control Model Feature Comparison
Strengths of H.323, SIP, and MGCP
Selecting Appropriate Call Control
Summary
Chapter Review Questions
Lab Exercise: H.323 Gatekeeper
Task 1: Configure the H.323 Gatekeeper
Task 2: Configure H.323 Gateways
Task 3: Verify the Configuration
Suggested Solution
Chapter 7 Improving and Maintaining Voice Quality
Optimizing Voice Quality
Factors that Affect Voice Quality
Quality Metrics
Objectives of QoS
AutoQoS
AutoQoS Features
Configuring AutoQoS on a Router
AutoQoS for Enterprise
Configuring AutoQoS on a Catalyst Switch
Implementing Call Admission Control
Effects of Bandwidth Oversubscription
CAC Operation
RSVP
CAC Tools
Summary
Chapter Review Questions
Lab Exercise: Router AutoQoS
Task 1: Configure AutoQoS on the Slower Interface
Task 2: Configure AutoQoS on the Faster Interface
Task 3: Exercise Verification
Suggested Solution
Appendix A Answers to Chapter Review Questions
Appendix B Cisco VoIP Applications
Glossary
Index
Other Things You Might Like

Book $55.99

eBook (Watermarked) $44.79