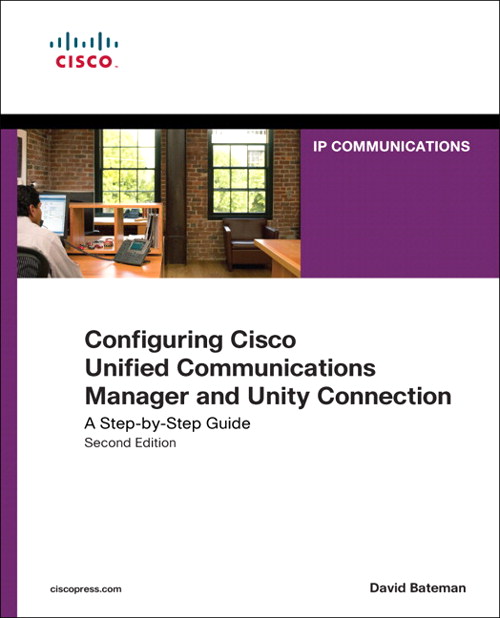 Register your product to gain access to bonus material or receive a coupon.
Configuring Cisco Unified Communications Manager and Unity Connection: A Step-by-Step Guide, 2nd Edition
eBook (Watermarked)
Your Price: $43.99
List Price: $54.99

This PDF will be accessible from your Account page after purchase and requires the free Adobe® Reader® software to read it.

The eBook requires no passwords or activation to read. We customize your eBook by discreetly watermarking it with your name, making it uniquely yours.
Copyright 2011
Pages: 704
Edition: 2nd
eBook (Watermarked)
ISBN-10: 1-58714-237-6
ISBN-13: 978-1-58714-237-6
The definitive, up-to-date guide to planning, configuring, and administering Cisco call processing and voice messaging.
This book brings together all the hands-on knowledge you need to successfully configure and administer Cisco's flagship IP voice systems, including Cisco Unified Communications Manager (CUCM), Unity, and Unity Connection. Fully updated for the new CUCM, Unity, and Unity Connection, version 8, it presents step-by-step procedures for every common and complex task that installers, integrators, and administrators will encounter.
Long-time Cisco voice implementer and instructor David Bateman begins with clear, well-organized explanations of Cisco Voice over IP technology, including its key functions and devices. Next, he guides you through preparation and deployment, including configuring CUCM for maximum performance, removing DNS dependencies, defining enterprise parameters, configuring regions, and enforcing security.
The author presents quick access, step-by-step solutions for dozens of post-deployment tasks, each with thorough instructions and cross-references to prerequisite tasks wherever needed. He demonstrates how to integrate features to create more powerful IP voice systems, thoroughly introduces Cisco's new management interface, and provides extensive coverage of the latest feature enhancements.
David Bateman is a certified Cisco instructor, CCNA, and director of curriculum development for Skyline-ATS. He has 20+ years of internetworking experience, including more than a decade as a senior LAN/WAN engineer in networks serving up to 5,000 users. He then ran the business operations of a technical services company while maintaining his existing networking client base. David has taught and implemented Cisco voice technologies since 2000. He authored this book's first edition, and co-authored CCNA Voice Exam Cram.
Establish a foundation for CUCM: configure services, set enterprise parameters, register devices, and more
Add gateways and client devices
Create dial plans, including route patterns, route lists, route groups, CTI route points, translation patterns, and route filters
Configure Class of Service (CoS) and Call Admission Control
Implement IP phone service, media resources, and Extension Mobility
Prepare to deploy Unity/Connection: verify integration; define system parameters; and create templates, distribution lists, and CoS
Add, import, and manage users
Make the most of Unity/Connection call management, from basic auto-attendant to advanced routing rules and audio-text
Integrate legacy voicemail systems
Master Unity/Connection's key administrative tools and utilities
Use time-of-day routing, call queuing, and other advanced features
This IP communications book is part of the Cisco Press® Networking Technology Series. IP communications titles from Cisco Press help networking professionals understand voice and IP telephony technologies, plan and design converged networks, and implement network solutions for increased productivity.
Table of Contents
Part I Communications Manager Configuration
Chapter 1 CUCM and Unity Connection Overview 1
Ensuring a Reliable Foundation 2
Infrastructure Overview 3
Inline Power 4
Voice VLANs 4
CDP Support 4
Voice Gateways 4
Creating a Reliable VoIP Infrastructure 5
Communications Manager Overview 7
Defining Communications Manager Components 8
Communications Manager Business Edition 10
Communications Manager Devices 10
Phones 11
Gateways Overview 12
Gatekeepers 14
Media Resources 15
Conference Bridge (CFB) 15
Transcoders 16
MoH 16
Annunciator 16
Understanding Communications Manager Deployment Models 17
Single-Site 17
Multisite WAN with Centralized Call Processing 17
Multisite WAN with Distributed Call Processing 17
Route Plan Overview 18
Typical Call Flow 19
Wildcards 20
Calling Privileges 21
Unified Messaging Overview 22
Software Architecture 23
Unity Software Architecture 23
Unity Connection Architecture 25
Following the Call Flow 25
Exploring Call Handlers 26
Defining Various Types of Users 29
Unity Connection Users 29
Unity Subscribers 30
User Parameters 31
Networking Overview 33
Unity Networking 33
Unity Connection Networking 35
Securing the Environment 35
Securing the Operating System 35
Communications Manager Security Issues 36
Unity Security Issues 38
Summary 39
Chapter 2 Preparing CUCM for Deployment 41
Configuring Communications Manager for Maximum Performance 41
Activating Communications Manager Services 42
Configuring Communications Manager's Enterprise Settings 43
Removing DNS Dependencies 48
Defining Enterprise Parameters 50
General Parameters 50
Communications Manager Administrator Parameters 52
CCMUser Parameters 53
CDR Parameters 55
Localization Parameters 55
Multi-Level Precedence and Pre-Emption (MLPP) Parameters 55
Security Parameters 56
Prepare Cluster for Roll Back 57
Phone URL Parameters and Secured Phone URL Parameters 57
User Search Parameters 58
CCM Web Services Parameters 59
Trace Parameters 59
User Management Parameters 60
Service Manager TCP Ports Parameters 60
CRS Application Parameters 60
Cluster Domain Configuration 60
Denial-of-Service Protection 60
TLS Handshake Timer 60
Cisco Support Use 60
IPv6 Configuration Modes 60
Cisco Syslog Agent 61
CUCReports Parameters 61
Logical Partitioning Configuration 61
Preparing Communications Manager for Device Registration 62
Device Pools 62
Common Device Configuration 66
Creating Communications Manager Groups 66
Defining Date/Time Groups 69
Configuring Regions 70
Building Device Pools 72
Summary 75
Chapter 3 Deploying Devices 77
Adding Clients 78
Defining Device Settings 78
Phone Button Templates 78
Softkey Template 80
Device Defaults 83
Adding Phones 84
Autoregistration 86
Manually Adding Phones 89
Add a Line to a Phone 99
Using BAT to Add Devices 106
Activating the BAT Service 107
BAT CSV and Template Overview 108
Creating a CSV File for BAT 110
Adding Phones Using BAT 113
Adding Phones Using TAPS 118
Adding Gateways 119
Adding H.323 Gateways 119
Device Information 121
Call Routing Information—Inbound Calls 123
Call Routing Information—Outbound Calls 124
Geolocation 125
Intercompany Media Engine 126
Incoming Calling/Called Party Settings 126
Adding MGCP Gateways 126
Adding IOS MCGP Gateways 127
Adding Non-IOS MGCP Gateways 132
Adding Intercluster Trunks 143
Device Information 144
Call Routing Information—Inbound Calls 147
Call Routing Information—Outbound Calls 147
Remote Cisco Communications Manager Information 149
UUIE Configuration 149
Geolocation Configuration 149
Summary 150
Chapter 4 Implementing a Route Plan 151
Understanding Call Flow 152
Understanding Route Groups and Route Lists 154
Creating Route Groups 157
Creating a Route List 158
Understanding Route Patterns 163
Creating Basic Route Patterns 166
Using Pattern Wildcards to Create a Basic Dial Plan 171
Advanced Route Plan Components and Behavior 173
Creating Route Filters 174
Creating Translation Patterns 179
Creating CTI Route Points 183
Adding a Line to a CTI Route Point 185
Directory Number Information 185
Directory Number Settings 186
AAR Settings 187
Call Forward and Pickup Settings 187
Park Monitoring 189
MLPP Alternate Party Settings 189
Line Settings for All Devices 190
Line Settings for This Device 190
Multiple Call / Call-Waiting Settings 190
Forwarded Call Information Display 191
Summary 191
Chapter 5 Configuring Class of Service and Call Admission Control 193
Rights and Restrictions 193
Understanding Call Search Spaces and Partitions 193
Creating Calling Search Spaces and Partitions 202
Applying Calling Search Spaces and Partitions 205
Assigning a CSS to a Phone 206
Assigning a CSS to a Line 206
Assigning a CSS to a Gateway or Trunk 207
Assigning a Partition to a Line (Directory Number) 209
Assigning a Partition to a Pattern 210
Implementing Call Admission Control 211
Configuring CAC for a Distributed Deployment 211
Configuring a Gatekeeper 213
Configuring a Gatekeeper-Controlled Trunk 215
Call Routing Information—Outbound Calls 219
Gatekeeper Information 220
Configuring CAC for a Centralized Deployment 221
Creating Locations 221
Assigning a Location to Devices 223
Special Services Configuration 224
Special Services Overview 224
Configuring Special Services Route Patterns 225
Summary 229
Chapter 6 Configuring CUCM Features and Services 231
Configuring Features 231
Creating Call Pickup Groups 231
Add a Call Pickup Number 232
Assign a Call Pickup Group to a Line 234
Creating Meet-Me Patterns 235
Creating Call Park Numbers 237
Creating Directed Call Park Numbers 239
Creating Intercoms 240
Creating Intercom Partitions 241
Intercom Calling Search Spaces 241
Creating Intercom Numbers 241
Assigning an Intercom DN to a Phone 242
Creating Forced Authorization Codes 244
Create a Forced Authorization Code 244
Assign a Forced Authorization Code to a Route Pattern 245
Configuring Client Matter Codes 246
Create a Client Matter Code 246
Assign a Client Matter Code to a Route Pattern 247
Configuring Voice Ports and Profiles 248
Creating Users 259
Configuring Advanced Services 262
Implementing Advanced Features 263
Configuring IP Phone Services 263
Extension Mobility 265
Creating and Managing Media Resources 273
Configuring an MOH Server 273
Assign an MOH Audio Source to a Phone 276
Creating Conference Bridges 276
Configuring MTPs 279
Creating Transcoders 279
Configuring Annunciators 281
Media Resource Management 282
Assign a Media Resource Group List to a Phone 285
Assign a Media Resource Group List to a Device Pool 286
Configuring Remote Site Failover 286
SRST Overview 287
Configuring SRST 287
Creating an SRST Reference to a Device Pool 288
Assign an SRST Reference to a Device Pool 290
Configuring AAR 290
Creating an AAR Group 291
Assign an AAR Group to a Line 292
Summary 294
Part II Messaging Configuration
Chapter 7 Unity Predeployment Tasks 295
Accessing and Navigating Unity Administrator 296
Accessing and Navigating Unity Connection Administrator 301
Unity Integration Verification 304
Communications Manager Integration 305
Voicemail Port Configuration 305
Unity Telephony Integration Manager (Communications Manager) 307
SIP Integration 311
SIP Configuration 311
Unity Telephony Integration Manager (SIP) 312
PIMG/TIMG Integration 315
PIMG/TIMG Configuration 315
Unity Telephony Integration Manager (PIMG/TIMG) 315
Defining Unity System Configuration 317
Creating Schedules and Holidays 318
View and Change a Schedule 319
Add a Schedule 320
Define a Default Schedule 320
Add a Holiday 321
Modify or Delete a Holiday 322
Defining Configuration Settings 322
Settings 322
Software Versions 326
Recordings 326
Contacts 328
Phone Languages 328
GUI Languages 330
Message Security 330
Message Subjects 330
Configuring Authentication Settings 331
Configuring Ports 332
Configuring Unity System Access and Policies 334
Defining Account Polices 334
Configuring Class of Service 337
Adding a CoS 337
Modifying a CoS 338
Creating and Managing Unity Public Distribution Lists 347
Creating Public Distribution Lists 347
Managing PDL Members 350
Unity Connection Integration Verification 351
Communications Manager Integration 351
Defining Unity Connection System Configuration 354
Defining General Configuration 355
Defining Mailbox Quotas 358
Configuring Message Aging Policy 359
Creating Schedules and Holidays 361
View and Change a Schedule 361
Configuring Unity Connection System Access and Policies 363
Configuring Authentication Rules 363
Configuring Restriction Tables 366
Configuring CoS 368
Understanding Roles 371
Defining the Dial Plan 372
Summary 375
Chapter 8 User/Subscriber Reference 377
Defining Various Types of Subscribers 377
Exchange 378
Networked Subscribers 378
Unity Connection Users 378
Creating Users 378
Exploring Templates 379
Creating Unity Subscriber Templates 381
Configuring Subscriber Template Profile Settings 384
Configuring Subscriber Template Account Settings 386
Configuring Subscriber Template Passwords Settings 386
Configuring Subscriber Template Conversation 388
Configuring Subscriber Template Call Transfer 394
Configuring Subscriber Template Greetings 398
Configuring Subscriber Template Caller Input 402
Configuring Subscriber Template Messages Settings 405
Configuring Subscriber Template Distribution Lists Settings 407
Configuring Subscriber Template Message Notification Settings 408
Configuring Subscriber Feature Settings 412
Creating New Unity Subscribers 414
Importing Unity Subscribers 417
Creating Unity Connection User Templates 420
Configuring User Template Basics Settings 424
Configuring Password Settings 426
Configuring Template Passwords 427
Configuring Roles 427
Configuring User Template Transfer Rules 427
Configuring User Template Messages Settings 430
Configuring User Template Message Actions 432
Configuring User Template Caller Input 434
Configuring User Template Mailbox Settings 435
Configuring User Template Phone Menu 437
Configuring User Template Playback Message Settings 439
Configuring User Template Send Message Settings 442
Configuring User Template Greetings 444
Configuring User Template Post-Greeting Recording 446
Configuring User Template Message Notification Settings 447
Creating New Unity Connection Users 451
Importing Unity Connection Users 454
Unity Connection Contacts 456
Creating Unity Connection Contact Templates 456
Creating Unity Connection Contacts 457
Managing Users 460
Managing User Access 460
Unlocking an Account 460
Resetting Passwords 461
Changing a Subscriber's Extension 462
Changing a Subscriber's CoS 463
Granting Access to Licensed Features (FaxMail, Text-to-Speech, CPCA) 463
Granting Additional System Access Rights 465
Managing Call Transfer and Greetings 466
Allowing Screening and Hold Options 466
Changing Maximum Greeting Length 467
Enabling and Disabling Greetings 468
Modifying Caller Input Options 469
Managing Message Access, Notification, and Indication 472
Allowing Subscribers to Send to Distribution Lists 473
Allowing Messages Deleted from the Phone to Be Saved in the Deleted Items Folder 474
Enabling Live Reply for a Subscriber 474
Creating Private Lists 475
Configuring Message Notification 476
Adding Alternate Extensions 480
Adding Alternate Names 482
Assigning External Service Accounts (Unity Connection Only) 483
Add SMTP Proxy Addresses (Unity Connection Only) 483
Changing Maximum Outside Caller Message Length 484
Adjusting Urgent Message Marking 484
Enable MWI on Another Extension 485
Adding and Removing Users from a Distribution List 486
Conversation Management Settings 487
Changing Menus from Full to Brief 487
Changing How a User Searches for Other Users 488
Changing What Message Count Is Played to a User 489
Changing the Order in Which Messages Are Played 490
Changing What Header Information Is Heard While Listening to Messages 492
Summary 493
Chapter 9 Call Management 495
Understanding Call Flow 495
Call Flow Architecture 496
Call Handler Overview 497
Creating Basic Call-Routing Systems 499
Call Handlers 500
Creating and Configuring Unity Call Handlers 500
Configuring Unity Call Handlers 502
Profile Settings 502
Call Transfer Settings 504
Greetings Settings 507
Configuring Call Handler Caller Input Settings 510
Configuring Call Handler Messages Settings 513
Creating and Configuring Unity Connection Call Handlers 514
Configuring Unity Connection Call Handlers 516
Configuring Call Handler Basics Settings 517
Configuring Call Handler Transfer Rules 518
Configuring Call Handler Caller Input 520
Configuring Call Handler Greetings 522
Configuring Call Handler Post-Greeting Recording 525
Configuring Call Handler Messages Settings 525
Configuring Call Handler Owners 526
Directory Handlers 527
Configuring Unity Directory Handlers 528
Directory Handler Search Options Settings 529
Directory Handler Match List Options Settings 531
Directory Handler Caller Input Settings 533
Configuring Unity Connection Directory Handlers 534
Unity Connection Directory Handler Greeting 539
Configuring Auto-Attendant 540
Creating Advanced Call-Routing Systems 542
Using Interview Handlers 543
Creating and Configuring Interview Handlers in Unity 543
Creating and Configuring Interview Handlers in Unity Connection 546
Creating an Audio Text Application 549
Remotely Managing Call Handlers 551
Configuring Call Routing 552
Creating and Configuring a Call Routing Rule in Unity 553
Creating and Configuring a Call Routing Rule in Unity Connection 557
Managing Restriction Tables 560
Configuring Unity Restriction Tables 561
Configuring Unity Connection Restriction Tables 563
Summary 565
Chapter 10 Implementing Unity Networking 567
Unity Networking Overview 567
Networking Components 568
Locations 568
Message Addressing 568
Network Subscribers 568
Voice Connector 568
Interoperability Gateway 569
Schema Extensions 569
Unity-to-Unity Networking Overview 569
Unity–to–Legacy Voicemail Networking Overview 570
Unity Networking Configuration 571
Defining Digital Networking 571
Unity to Non-Unity Networking Concepts 577
Defining AMIS Networking 577
Defining VPIM Networking 578
Defining Bridge Networking 580
Unity Connection Networking Overview 581
Networking Unity Connection to Unity Connection 582
Networking Unity Connection to Unity 583
Networking Unity Connection to Other Systems 585
Summary 586
Chapter 11 Exploring Unity/Connection Tools 587
Using Unity Tools 587
Unity Web-Based Tools 587
Monitoring 588
Reports 592
Subscriber Reports 593
System Reports 595
Using Advanced Tools 599
Administration Tools 600
Audio Management Tools 608
Diagnostic Tools 609
Reporting Tools 612
Switch Integration Tools 613
Using Unity Connection Tools 614
Unity Connection Administration Tools 614
Task Management 615
Bulk Administration Tool 616
Custom Keypad Mapping 617
Migration Utilities 618
Grammar Statistics 618
SMTP Address Search 619
Show Dependencies 619
Unity Connection Reports 619
Phone Interface Failed Logon Report 622
Users Report 622
Message Traffic Report 622
Port Activity Report 622
Mailbox Store Report 622
Dial Plan Report 623
Dial Search Scope Report 623
User Phone Login and MWI Report 623
User Message Activity Report 623
Distribution Lists Report 623
User Lockout Report 623
Unused Voice Mail Accounts Report 624
Transfer Call Billing Report 624
Outcall Billing Detail Report 624
Outcall Billing Summary Report 624
Call Handler Traffic Report 624
System Configuration Report 625
SpeechView Activity Report By User 625
SpeechView Activity Summary Report 625
Summary 626
Part III Leveraging the Power of Communications Manager and Unity
Chapter 12 Maximizing CUCM and Unity/Connection 627
Advanced Communications Manager Features 627
Configuring Administrative Rights 627
Time-of-Day Routing 631
Creating a Time Period 632
Creating a Time Schedule 633
Assigning a Time Schedule to a Partition 634
Hunt List 635
Creating a Line Group 635
Creating a Hunt List 637
Creating Hunt Pilots 639
Advanced Unity/Unity Connection Features 642
Enabling Call Queuing 642
Configuring Destination Call Screening 643
Unique Solutions 644
Enhanced Vacation Schedules 644
Configuring Unity/Connection as a Meet-Me Conference Manager 647
Managing Multilocation Overlapping Extensions 648
Summary 649
Appendix Additional Reference Resources 651
TOC, 4/4/2011, 9781587142260
Other Things You Might Like

Book $55.99

eBook (Watermarked) $44.79