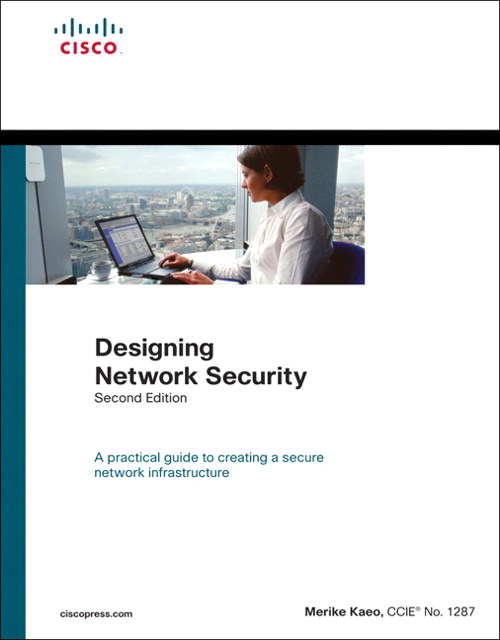 Register your product to gain access to bonus material or receive a coupon.
Designing Network Security, 2nd Edition
eBook (Watermarked)
Your Price: $43.99
List Price: $54.99

This PDF will be accessible from your Account page after purchase and requires the free Adobe® Reader® software to read it.

The eBook requires no passwords or activation to read. We customize your eBook by discreetly watermarking it with your name, making it uniquely yours.
Copyright 2004
Dimensions: 7-3/8" x 9-1/8"
Edition: 2nd
eBook (Watermarked)
ISBN-10: 1-58705-370-5
ISBN-13: 978-1-58705-370-2
A practical guide to creating a secure network infrastructure
Understand basic cryptography and security technologies
Identify the threats and common attacks to a network infrastructure
Learn how to create a security policy
Find out how to recover from a security breach
Study specific implementation scenarios for securing your network environment
Learn about advances in security technologies
Designing Network Security, Second Edition, is a practical guide designed to help you understand the fundamentals of securing your corporate network infrastructure. This book takes a comprehensive look at underlying security technologies, the process of creating a security policy, and the practical requirements necessary to implement a corporate security policy.
You will gain a thorough understanding of basic cryptography, the most widely deployed security technologies, and key emerging security technologies. You will be able to guide the architecture and implementation of a security policy for a corporate environment by knowing possible threats and vulnerabilities and understanding the steps required to perform a risk management assessment. Through the use of specific configuration examples, you will learn about the features required in network infrastructure equipment to implement the given security policy, including securing the internal corporate infrastructure, Internet access, and the remote access environment.
This new edition includes coverage of new security features including SSH on routers, switches, and the PIX(r) Firewall; enhancements to L2TP and IPSec; Cisco(r) LEAP for wireless networks; digital certificates; advanced AAA functionality; and Cisco Intrusion Detection System features and products. Additional practical examples include current security trends using VPN, wireless, and VoIP networking examples.
This book is part of the Networking Technology Series from Cisco Press(r), which offers networking professionals valuable information for constructing efficient networks, understanding new technologies, and building successful careers.
Table of Contents


Introduction.

I. SECURITY FUNDAMENTALS.
1. Basic Cryptography.
Cryptography. Authentication and Authorization. Namespace. Key Management. Key Escrow. Summary. Review Questions.
2. Security Technologies.
Identity Technologies. Application Layer Security Protocols. Transport Layer Security Protocols. Network Layer Security. Link-Layer Security Technologies. Public Key Infrastructure and Distribution Models. Summary. Review Questions.
3. Applying Security Technologies to Real Networks.
Virtual Private Networks (VPNs). Wireless Networks. Voice over IP (VoIP) Networks. Summary. Review Questions.
4. Routing Protocol Security.
Routing Basics. Routing Protocol Security Details. Summary. Review Questions.
II. THE CORPORATE SECURITY POLICY.
5. Threats in an Enterprise Network.
Types of Threats. Motivation of Threat. Common Protocol Vulnerabilities. Common Network Scenario Threats and Vulnerabilities. Routing Protocols. Social Engineering. Summary. Review Questions.
6. Considerations for a Site Security Policy.
Where to Begin. Risk Management. A Security Policy Framework. Summary. Review Questions.
7. Design and Implementation of the Corporate Security Policy.
Physical Security Controls. Logical Security Controls. Infrastructure and Data Integrity. Data Confidentiality. Security Policy Verification and Monitoring. Policies and Procedures for Staff. Security Awareness Training. Summary. Review Questions.
8. Incident Handling.
Building an Incident Response Team. Detecting an Incident. Handling an Incident. Incident Vulnerability Mitigation. Responding to the Incident. Recovering from an Incident. Summary. Review Questions.
III. PRACTICAL IMPLEMENTATION.
9. Securing the Corporate Network Infrastructure.
Identity - Controlling Network Device Access. Integrity. Data Confidentiality. Network Availability. Audit. Implementation Examples. Summary. Review Questions.
10. Securing Internet Access.
Internet Access Architecture. External Screening Router Architecture. Advanced Firewall Architecture. Implementation Examples. Summary. Review Questions.
11. Securing Remote Dial-In Access.
Dial-In Security Concerns. Authenticating Dial-In Users and Devices. Authorization. Accounting and Billing. Using AAA with Specific Features. Encryption for Virtual Dial-In Environments. Summary. Review Questions.
12. Securing VPN, Wireless, and VoIP Networks.
Virtual Private Networks. Wireless Networks. Voice over IP Networks. Summary. Review Questions.
IV. APPENDIXES.
Appendix A: Sources of Technical Information.
Appendix B: Reporting and Prevention Guidelines: Industrial Espionage and Network Intrusions.
Appendix C: Port Numbers.
Appendix D: Mitigating Distributed Denial-of-Service Attacks.
Appendix E: Answers to Review Questions.
Glossary.
Index.
Other Things You Might Like

By Cindy Green-Ortiz, Brandon Fowler, David Houck, Hank Hensel, Patrick Lloyd, Andrew McDonald, Jason Frazier
eBook (Watermarked) $38.39