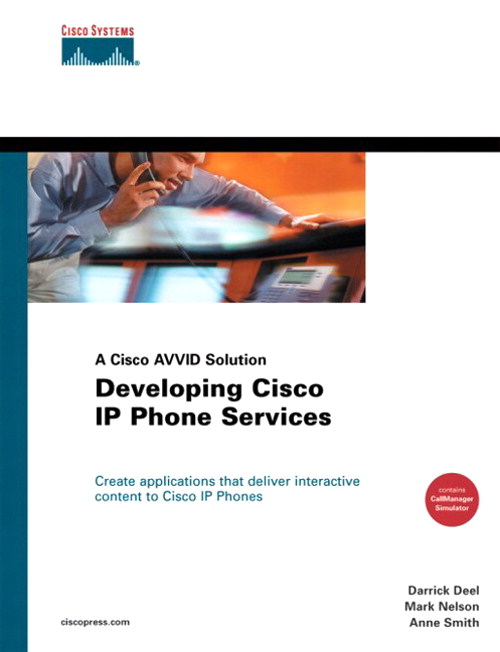 Register your product to gain access to bonus material or receive a coupon.
Developing Cisco IP Phone Services: A Cisco AVVID Solution
Book
Sorry, this book is no longer in print.
Copyright 2002
Edition: 1st
Book
ISBN-10: 1-58705-060-9
ISBN-13: 978-1-58705-060-2
Create applications that deliver interactive content to Cisco IP Phones
Learn information and techniques vital to building and integrating third-party services for Cisco IP Phones
Understand the development process using XML and HTTP client and server applications to successfully build a service
Discover advanced services information about objects, advanced runtime generation, and other XML development tools
Utilize the provided CallManager Simulator to support an IP phone for development purposes Get the most out of your IP phone systems with strategies and solutions direct from the Cisco team
Services on Cisco IP Phones help you enhance productivity, gain the competitive advantage, and even help generate revenue. Services are simply applications that run on the phone rather than on a PC or a web browser. By developing services tailored to your particular needs, you can achieve unlimited goals.
Cisco AVVID IP Telephony provides an end-to-end voice-over-IP solution for enterprises. Part of that solution are Cisco IP Phones, a family of IP-based phones. Cisco IP Phones feature a large display, an XML micro browser capable of retrieving content from web servers, and the ability to deploy custom services tailored to your organization's or enterprise's needs.
Developing Cisco IP Phone Services uses detailed code samples to explain the tools and processes used to develop custom phone services. You'll learn about XML, CallManager, Cisco IP Phones, and the history behind why Cisco chose XML to deploy phone services. You'll find detailed information to help you learn how to build a service, how to build a directory, and how to integrate your service with Cisco CallManager.
This book complements and expands on the information provided in the Cisco IP Phone Services Software Developer's Kit (SDK). With the information in this book, you can maximize your productivity using the tools provided in the SDK and the custom tools provided on the companion CD-ROM. Beginner and advanced service developers alike benefit from the information in this book. Developing Cisco IP Phone Services represents the most comprehensive resource available for developing services for Cisco IP Phones.
Companion CD-ROM
The CD-ROM contains the sample services that are covered in the book, development utilities from the Cisco IP Phone Services SDK, and new tools written specifically for this book such as XML Validator. One of the most useful applications on the CD-ROM is the CallManager Simulator (CM-Sim). CM-Sim significantly lowers the requirements for service development. You only need a Windows-based PC with CM-Sim and a web server running, and one Cisco IP Phone 7940 or 7960.
This book is part of the Cisco Press Networking Technologies Series, which offers networking professionals valuable information for constructing efficient networks, understanding new technologies, and building successful careers.
Related Article
Online Sample Chapter
How This Book Can Help You Achieve Business Goals
Downloadable Sample Chapter
Download - 1 MB -- Chapter 1: How This Book Can Help You Achieve Business Goals
Table of Contents


Foreword.


Introduction.


1. How This Book Can Help You Achieve Business Goals.

Increase Productivity. Gain the Competitive Advantage. Generate Revenue. If You Want Something Done Right—. Can I Get Rich Developing Services? Deploying Services on Cisco IP Phones. Tips for Building Successful Services. About the CD-ROM. Forum on HotDispatch. The Horse's Mouth. AAC Associates. Berbee. Calence. Conclusion.
2. The Basics.
CallManager Architecture. Key Components of the Network Architecture. Low-level Networking. Higher-level Communication Protocols. The Cisco IP Phone. IP Phone Services Capability. Phone-Initiated Service. Beyond Simple Text. What Is an IP Phone Service? The Services Menu. Service Architecture. Web Servers, Web Development. Already a Web Developer? Languages. Scripting Languages. Hybrid Systems. XML. A History Lesson. The Highly Improved Modern World. HTTP-A Generic Envelope. XML-A Generic Wrapper. XML-What is it? XML-A Few Details. XML Tools. A Simple Sample. Using XML Objects. Training and Support for the Cisco IP Phone Services SDK. Additional Resources, Further Reading. Networking Infrastructure. Administration, Programming, and Care of Web Servers. Administration of CallManager. Conclusion.
3. Phone Services Primer.
How to Do it, in a Nutshell. XML and Cisco IP Phones. Services and Directory Architecture. Providing Help for Your Services or Redirecting the i Button. HTTP and Cisco IP Phones. HTTP Client. HTTP Server. Identifying a Requesting Client Device. Push vs. Pull. URIs. Stream Control. Soft Key Support for Directories and Services. New Characters for Cisco IP Phones. Security. Client Authentication. Authenticating to the Phone's HTTP Server. Fail Over and Fail Back. Conclusion.
4. Using Cisco IP Phone XML Objects and Tags.
Using Soft Keys and URLs/URIs. Understanding Objects. CiscoIPPhoneMenu. Definition. CiscoIPPhoneText. Definition. CiscoIPPhoneInput. Definition. CiscoIPPhoneDirectory. Definition. Custom Directories. CiscoIPPhoneImage. Definition. CiscoIPPhoneGraphicMenu. Definition. CiscoIPPhoneIconMenu. Definition. CiscoIPPhoneExecute. Definition. CiscoIPPhoneResponse. Definition. CiscoIPPhoneError. Definition. XML Considerations. Mandatory Escape Sequences. Cisco IP Phone XML Object Quick Reference.
5. Using HTTP.
HTTP Requests and Responses. HTTP Client. Cisco IP Phone Browser Request Method: GET. HTTP Client Headers. HTTP Client Sessions. HTTP Server. Push. Accessing Device Information. Conclusion.
6. XML Conventions.
What is XML? Structured Documents. XML Basics. Tags. Attributes. Elements and Content. Objects. An XML Browser that Ships with Windows. Nitty-gritty. The Prolog. Escape Sequences. Comments. XML Structure Rules-Your Friend the Schema. Rules-Who Needs Them? Two Varieties of Schema. DTD Out-XML Schema In. Validating. Debugging XML Problems. Need More? Conclusion.
7. Building a Service.
Enhancing the End User's Experience. Guidelines for Custom Soft Keys. Web Server Error Messages. Version Compatibility. Voice Anomaly Tracking (VAT) Service. VAT Service Overview. Conclusion.
8. Building a Directory.
Behavioral Differences with Directories vs. Services. Designing a Directory Using Primitives. Making the Directory Appear on Cisco IP Phones. Making a Directory with the LDAP Search COM Object. Conclusion.
9. Integrating a Service with Cisco IP Phones.
Using CallManager Administration. Adding a Phone Service. Updating or Deleting a Phone Service. User Subscription. Providing Default Services to All Phones. Appending the Device Name. Conclusion.
10. Techniques for Advanced Services.
Adding Graphics. Generating Graphics for Applications Using Arrays. Numeric Digits to CiscoIPPhoneImage Sample. Runtime Conversion of Graphics. Manipulating Graphics at Runtime. Capturing the Phone's Display. Pushing Content. Conclusion.
11. XML Development Tools.
Graphics Conversion Control. Server-side Conversion. Installation. Methods and Properties. An Example. URL Proxy Control. Installation. Methods and Properties. A Short Example. LDAP Search Control. Installation. Use. Output Options. An Example. Photoshop Graphics Filter. Installation. Validator. Installation. Using Validator. Conclusion.
12. Cisco CallManager Simulator.
The Function of CM-Sim. The TFTP Server Role. The CallManager Role. Routing Calls. Limitations. CM-Sim Installation. System Requirements. Using CM-Sim. Configuring CallManager. Phone Setup. Step 1—Enable Network Configuration Changes. Step 2—Enable the Alternate TFTP Server. Step 3—Enter the TFTP Address. Step 4—Save and Restart. Configuring the Default Phone Settings. Configuring Specific Cisco IP Phone Settings. Seeing it in Action. Internals. Debugging with Command Line TFTP. Conclusion.
Appendix A. Glossary.
Index.
Index
Download - 191 KB -- Index
Other Things You Might Like

Book $55.99

eBook (Watermarked) $44.79